Fresh strawberry pie is a wonderful summer treat. A simple recipe everybody will love, made with Jello and a premade pie crust. Plus, almost any fool, including me, can pull this off. Make it your signature summer dish.

Introduction
I have no inspiration recipe to refer to since we have used this recipe for over 40 years. It was a tightly guarded recipe in my wife's family. The "secret" Big Boy strawberry pie recipe. But of course, it is not that secret.
There are many variations around the net. Some add the jello and then thicken, some mix the sugar and cornstarch first and add boiling water, but it still needs to be cooked more to thicken... umm ok. It does not matter.
The volume of glaze varies some from recipe to recipe. But mu volume is correct. We have done this well over a hundred times.
My Rating

The easiest rating of the year. I can live on this and will try sometime soon.
🥧Pie Crust
I have done pie crusts from scratch, and nothing beats a homemade pie crust, but it is a fair amount of work for me. The main features of this pie are the strawberries and the glaze. That is what you will focus on and not the crust.
I used the refrigerated Pillsbury crust, which I find quite acceptable. Get your crust any way you want; homemade, Pillsbury refrigerated, or one of the frozen varieties.
🍓Strawberries
Get nice ripe berries. This takes one pound, but we like to cram a few more into the pie, so we buy a few more.
Some people put the large strawberries in the crust and then pour the glaze over them. I make a mess when I do it that way, and some strawberries end up not covered with glaze. Plus, it is fussy and hard to eat.
Cut them up a little to make bite-size and mix into the glaze. It works better and is easier to eat. Be sure the glaze cools before adding the berries; we don't want to cook them.
🥣The Glaze
We are making the glaze. But you can buy packages of glaze. Please don't do that. It is almost tasteless. Do not use sugar-free jello, and please use the Jello brand.
✔️Tips
Be sure the berries are dry before adding to the glaze. If wet, the glaze will not stick well to the berries.
Getting the cornstarch to dissolve and not clump may take a bit of mixing. Add it slowly while you continuously mix.
Store in the refrigerator. It will not freeze well.
This is great the first day and second day. By the third day, the berries deteriorate some.
📖Summer Recipes

🔪Instructions
Simple ingredients. Get the best looking ripe strawberries you can.
Start with a pre-baked pie crust. I did a Pillsbury refrigerated one. Just follow the instructions on the package.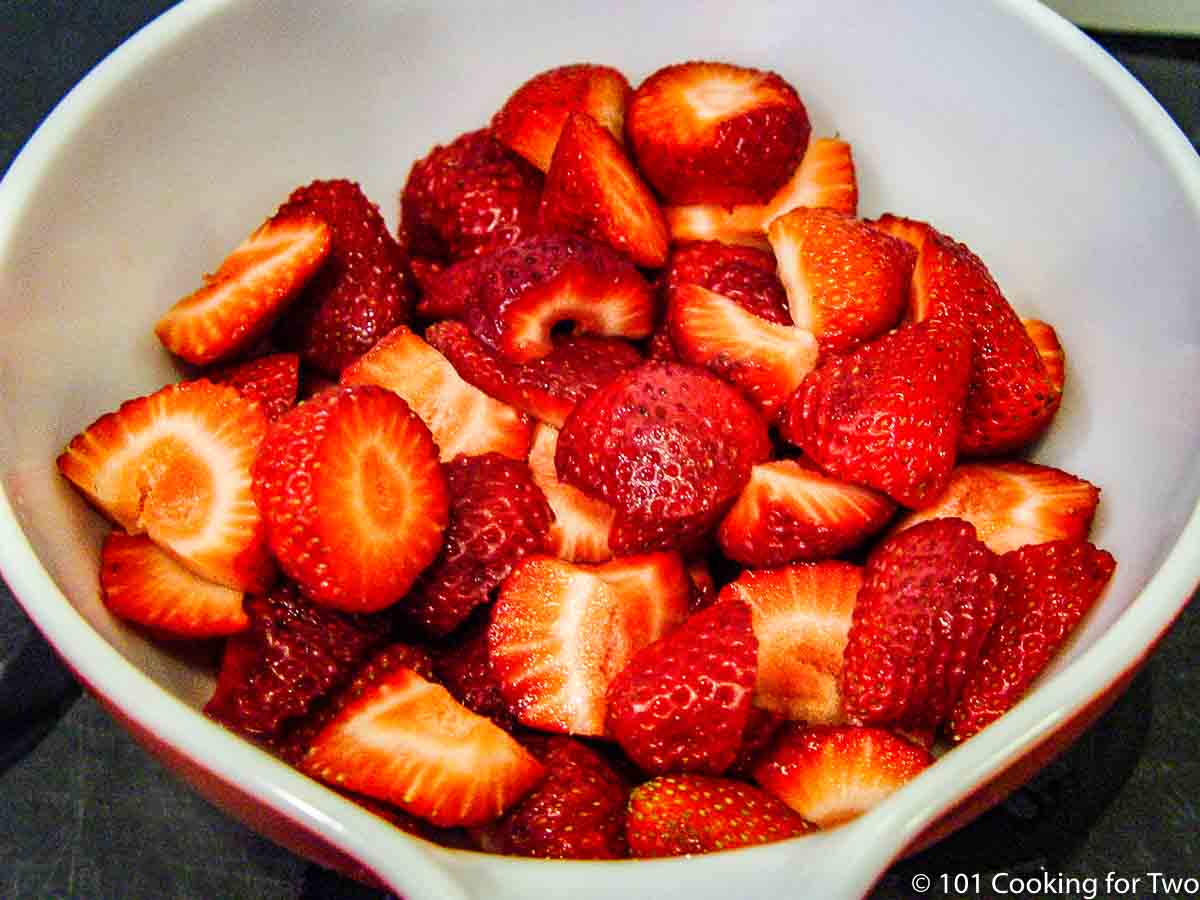 Clean and slice up one pound of strawberries. Set them aside and let them air dry while you make the glaze. The glaze sticks better to dryer berries.
In a larger saucepan, add 1 cup sugar to 1 ½ cups water over medium heat. Sprinkle in ¼ cup Cornstarch slowly while stirring.
The mixture will turn cloudy. Stir continuously over medium heat, and in about 4-5 minutes, it will turn clear and thicken. When the thickening is complete (about 30 seconds after it started to clear), remove from heat. Add a 3oz package of Strawberry Jello to the mixture and stir completely dissolved.
Allow the mixture to cool to room temperature (about 30 minutes). Then stir in the berries.
Add the berry mixture to the pie crust.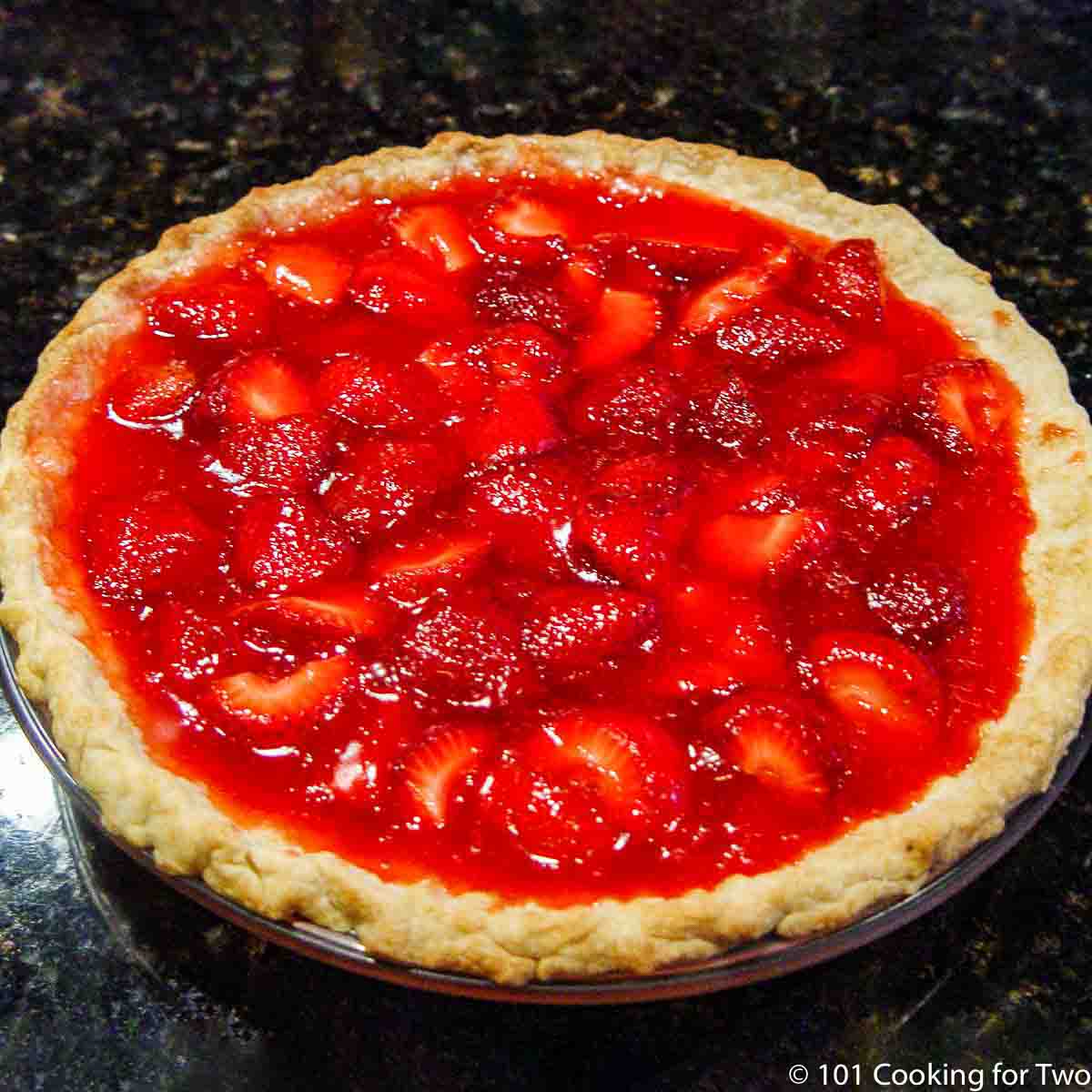 Refrigerate for at least 2 hours (3 plus is better) before cutting. Keep refrigerated between servings. This is great the first day and second day. By the third day, the berries deteriorate some.

Do you want more recipes from 101 Cooking for Two? Sign up for the newsletter and get all posts delivered straight to your inbox!
📖 Recipe
Publisher's note: This recipe was originally published on June 23, 2012. Updated with expanded options, refreshed photos, and a table of contents to help navigation.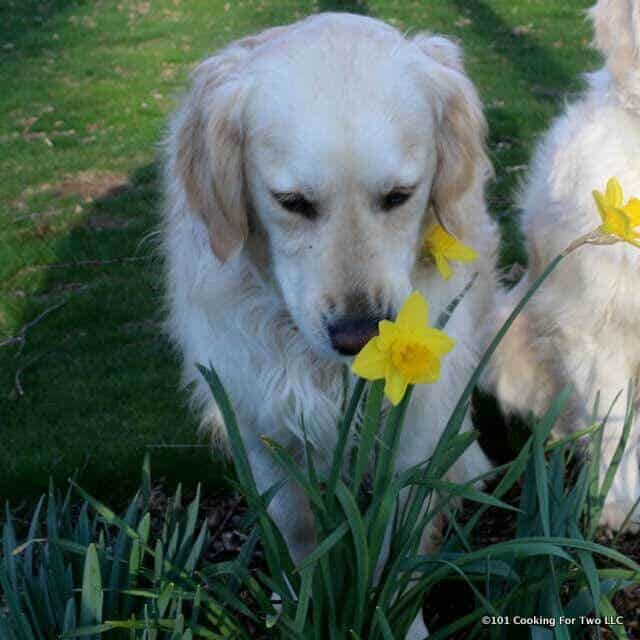 Featured in: