Happy Independence Day to the USA. And a special call-out our great friends, Canada, which is celebrating Canada Day on July 1, which is commonly known as Canada's independence day, which is somewhat correct but not quite.
Every year I look for fun and easy recipes for you and yours to enjoy. And please don't forget food safety. Check it out at Summer Food Safety.
♨️Non-Grilled Main Dishes
Ok, you don't have to have meat, but at my house you do. Something like Grilled Portobello Mushrooms works well as a non-meat alternative if you have a mixed crowd.
My main suggestions are grill recipes, but there are some great oven recipes you can do for fun, also. Check out Oven Baked Chicken Legs; The Art of Drummies, Crispy Baked Chicken Thighs, or Healthy Baked Chicken Nuggets.
Or check out my easy Kansas City Oven Baked BBQ Beef Brisket or Oven Pulled Pork from Pork Butt.
🐄Grilled Beef Recipes
There are lots of ways to enjoy beef for the holiday. Check out the Father's Day Steak Recipe Roundup for the steak lovers out there.
🐓Grilled Chicken Recipes
Nothing can beat some great grilled chicken. A classic grilled dinner.
🐖Grilled Pork Recipes
I'm listing pork last because I think of it first. My wife called this blog "all pig all the time" for several years.
My recent Pulled Pork Recipe Roundup will give you a ton of choice for great pork. But let's get to a couple of great choices.
Side Dishes
Man can not live by meat alone—time to have a great side dish.
Special Treats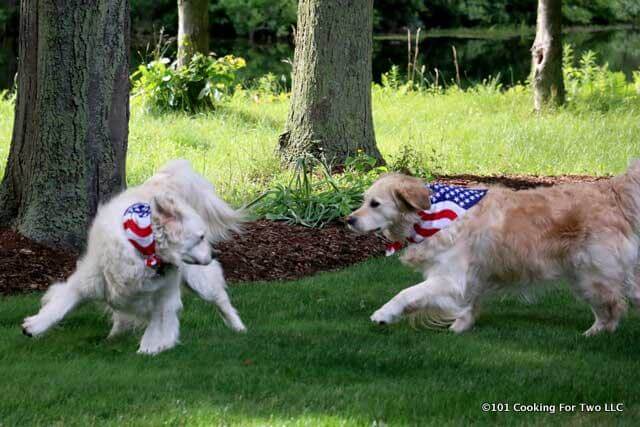 Have a great fun and a safe holiday.

Wifo, Molly, Lilly, and DrDan
Do you want more recipes from 101 Cooking for Two? Sign up for the newsletter and get all posts delivered straight to your inbox!
Editor's Note: Originally Published July 1, 2017. Updated yearly for republication.