Using either the stovetop or crockpot, this easy chicken spaghetti has one of the best homemade marinara sauce you will ever taste. Packed with chicken and great Italian flavor, this will become a family favorite.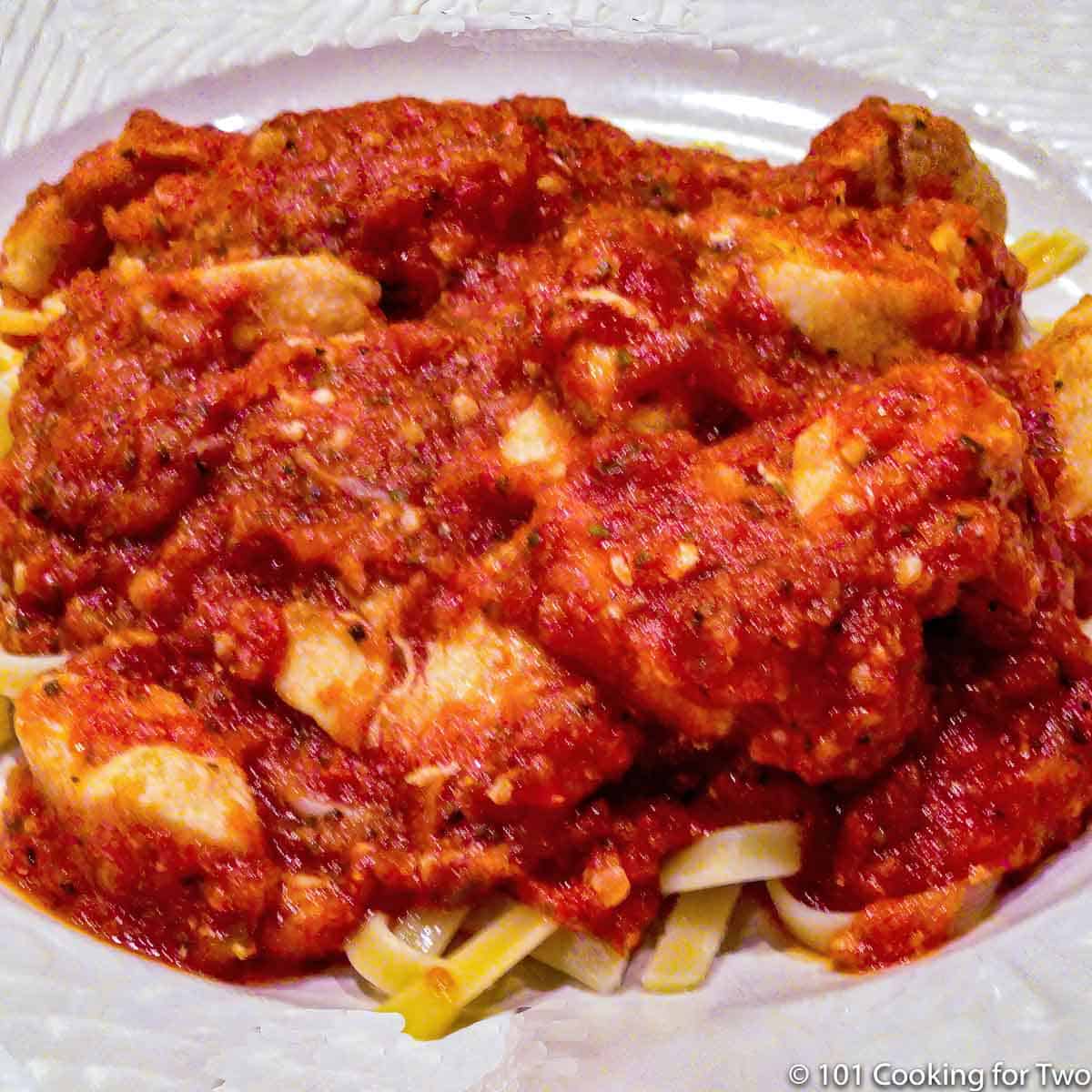 Introduction
Yummers, according to my wife, this great-tasting easy dinner recipe is ready in only 30 minutes with these simple step by step photo instructions.
Somewhat inspired by an American Test Kitchen recipe called Quick Tomato Sauce that is a quick, flavorful marinara which they state will cook in about the time of cooking the pasta.
The only trouble with the original recipe was no meat. We are meatasauruses at this house, and chicken is the favorite. So instead of about 15 minutes, it took 30 minutes. Not bad, not bad at all.
My Rating

I did a 5 rating initially but went back to a 4. But it's a very high 4. An excellent everyday meal.
📋Ingredients
The Chicken
For the chicken, I chose the classic skinless boneless chicken breasts. You can use thighs, and that would be a great choice. Cut the raw chicken into smaller cubes so they are bite-size and will cook quickly.
You can use rotisserie chicken. Add it with the tomatoes.
The Tomatoes
The crushed tomatoes will go a long way to making this recipe great. So pick your best.
The texture of the sauce can be varied and is more of a "personal taste" thing. I want mine more of a thicker sauce thing. You might want more chunky. You might also decide to use sauce or diced tomatoes. Make the sauce yours.
Grating the onion
I followed the ATK suggestion of grating the onion to release the flavor faster. A very nice trick for a quick recipe like this. And is the key to the quick sauce.
If you don't want to grate, just a good dice will do but try to cook a bit longer. But try the grating, it is worth the slight extra work.
♨️Tips
Process the chicken as stated in this recipe, but you can cut the breasts into 2-3 chunks each if you want to shred at the end and mix it back in.
The onion can be chopped or shredded.
Cook on low for about 3 hours until chicken is 165°. The main time variation is due to chicken size.
If shredding, remove the chunks from the pot, shred and then add back to the pot. Cook another 30-60 minutes to infuse with flavor.
This will fit in a 3 quart or bigger crockpot. A double recipe in a 6 quart or bigger crockpot.
📖Italian Recipes
Italian Sausage Marinara Sauce

🖼️Step-by-Step Instructions
Trim chicken breast of any fat. Cut into slices across the grain of the meat about ⅜ inch thick then cut again the other way to make more bit size pieces.
Melt 1 tablespoon butter in a large nonstick frying/saute pan over medium-high heat, then add garlic and cook for about 30 seconds before adding chicken.
Shred onion with the large side of a shredder. You can also chop the onion instead. After cooking the chicken for about 5 minutes, add the onion and continue to cook until some browning of the chicken and clearing of the onion (about 10-12 minutes total). Check some of the larger pieces with an instant-read thermometer to be sure you get to a safe 165 internal temperature on the chicken.
Add all other spices and tomatoes. Simmer until your pasta is cooked.


Do you want more recipes from 101 Cooking for Two? Sign up for the newsletter and get all posts delivered straight to your inbox!
📖 Recipe
Editor's Note: Originally Published January 29, 2010. Updated with expanded options, refreshed photos, and a table of contents to help navigation.