Old fashioned scalloped potatoes and ham is a great casserole for an everyday meal or potluck dinner. Made from scratch, this will be one of your favorite dinner recipes.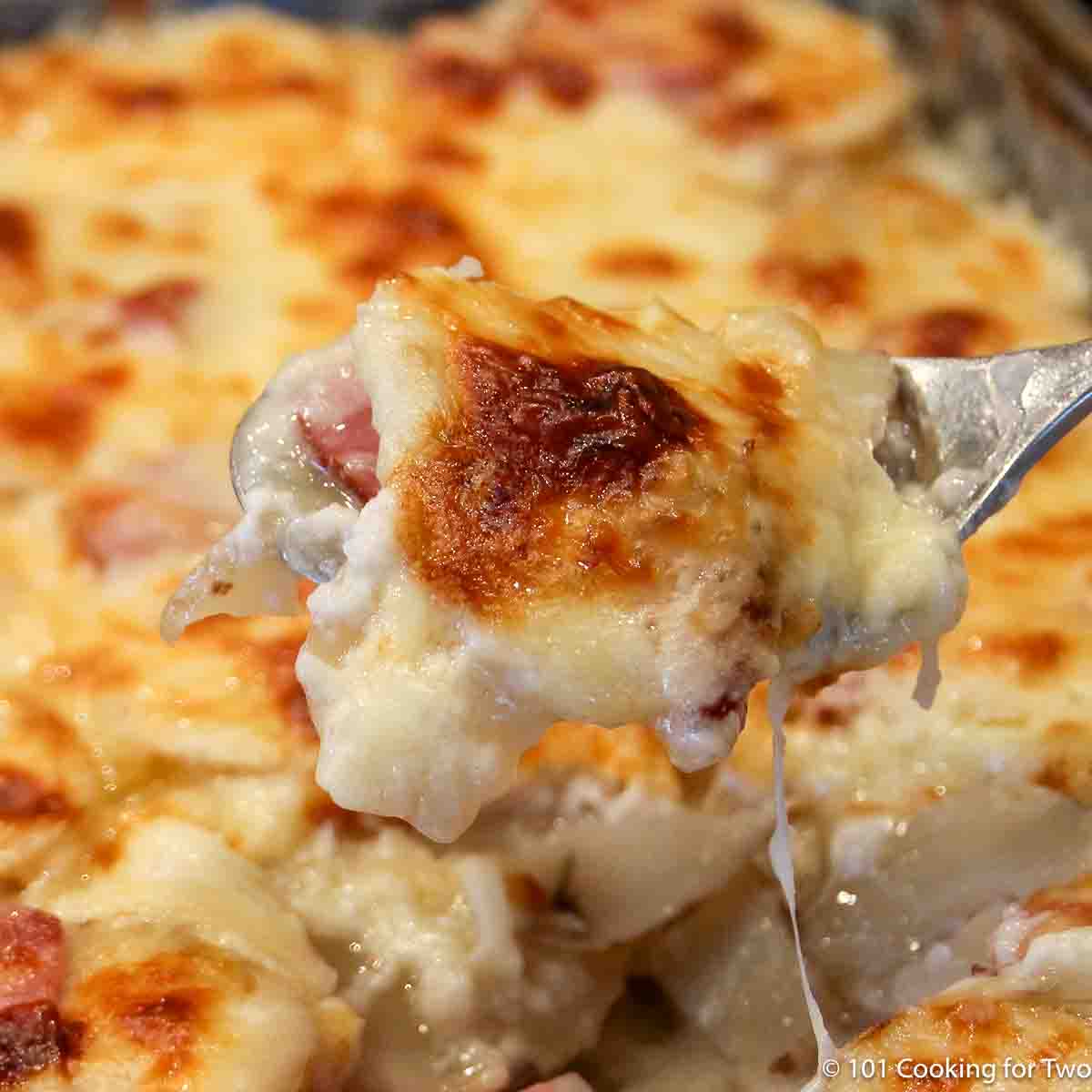 Introduction
This is one of our favorite comfort foods. With these simple step by step photo instructions, you get it perfect results the first time and every time.
As usual, I read way too many recipes, but most were very similar. The inspiration piece will be a Pioneer Woman recipe on Food Network. But I could use several others as inspiration also. A few changes to simplify the instructions, add the step-by-step pictures, and decrease the fat some.
I know this is cooking for two, but this fits our lifestyle. Since it is the whole meal, we will eat a double amount, and I was cooking for leftovers, also.
This is a recipe that is easily cut in half, but for this amount of time and work, I want more return. But instructions for decreasing the size of the recipe is in the notes of the recipe card.
My Rating

I had originally rated this a solid four, but with the evolution of the recipe with perhaps 25 repeat cookings, it has made it to the five range. Low 5 but still a 5 for me.
Scalloped vs. Au Gratin
Scalloped is anything baked in a casserole with a sauce that could be cheese or any other sauce. Au Gratin means "with cheese." So this recipe could be called Scalloped or Au Gratin or Scalloped Au Gratin.
Take the cheese out and just use a white sauce and you have Scalloped but not Au Gratin. Now you know.
So, this could also be called Au Gratin potatoes and ham. I was brought up calling this scalloped, so I'm using that, but Au Gratin may be more correct.
📋Ingredients
Potatoes
All potatoes will cook about the same, so use what you want and have available, but usually, Russet potatoes are used. I like to leave the skin on but remove if you want.
Cheese
The original recipe called for Monterey Jack, and I used that the first few times. Mostly I now use a mild cheddar. A nice Gruyere would be nice also.
⏰Time
The original recipes ( many of them) suggest total cooking times of 60-70 minutes. While it is "done," there is still a little firm in the potatoes that my wife and I don't like.
I have done this 20 plus times, and I now do a total of about 2 hours of total cooking time. So I have changed the instructions, but feel free to cook for the original recommended 40 minutes covered and 25 minutes uncovered if you want firmer potatoes.
✔️Tips
Recipe Size
This recipe is written for a full-size casserole of 9X13 inches. I'm calling that 8 servings, but we love the leftovers and try to cook for that. But, I do adjust this down some if I'm short on ham.
But many of you want a smaller "for two" or "for one" casserole. Here are the "cut in half" tips.
Use a 6X9 or 8X8 pan.
In the recipe card, adjust the number of servings to 4. That will do the math an change the ingredient amounts displayed. WARNING- this does not adjust the instructions, so you will need to follow the amounts in the ingredients and not the instructions.
Cooking time does not change to a little shorter, so check a bit early.
Storage
Good refrigerated for 3-4 days and can be frozen for 3-4 months.
📖Scalloped Potato Recipes
Old Fashion Scalloped Potatoes
Also, see What to Do With Leftover Ham for ham ideas.

🖼️Step-by-Step Instructions
Preheat oven to 350° convection or 375° conventional.
Scrub and cut 4 medium russet potatoes. Peeling is optional. Slice thin, and a mandolin is recommended. If you use a mandolin, please follow the manufactures safety instructions.
Chop 1 small onion. Chop, slice, or cut your ham into bite-size pieces.
Over medium-high heat in a medium saucepan melt 4 tablespoons butter and add the onion. Cook until clearing, about 3-4 minutes. Sprinkle in 4 tablespoons flour and mix well. Continue to cook and whisk for about 2 minutes until browning some.
Add 3 cups of milk slowly while continuing to whisk. Whisk and cook until thickening well. About 3-4 minutes. During this part, add 1 teaspoon salt and ½ teaspoon pepper.
Prep a 9 by 13 inch casserole dish with a coat of butter.
Add about ⅓ of the potatoes—top with ⅓ of the ham, ½ cup cheese of choice, and ⅓ of the sauce. Repeat two more times but use a full cup of cheese on the top layer.
Cover with aluminum foil.
Bake for 90 minutes, then uncover and cook another 20-25 minutes until nicely brown and bubbling.
Allow to sit for about 10 minutes before serving.


Do you want more recipes from 101 Cooking for Two? Sign up for the newsletter and get all posts delivered straight to your inbox!
📖 Recipe
Editor's Note: This recipe was originally published on April 12, 2014. Updated with expanded options, refreshed photos and a table of contents to help navigation.