Nothing beats a crispy fried chicken tender. These moist tenders start with a buttermilk marinade, covered with a chunky coating, and then fried to perfection on your stovetop.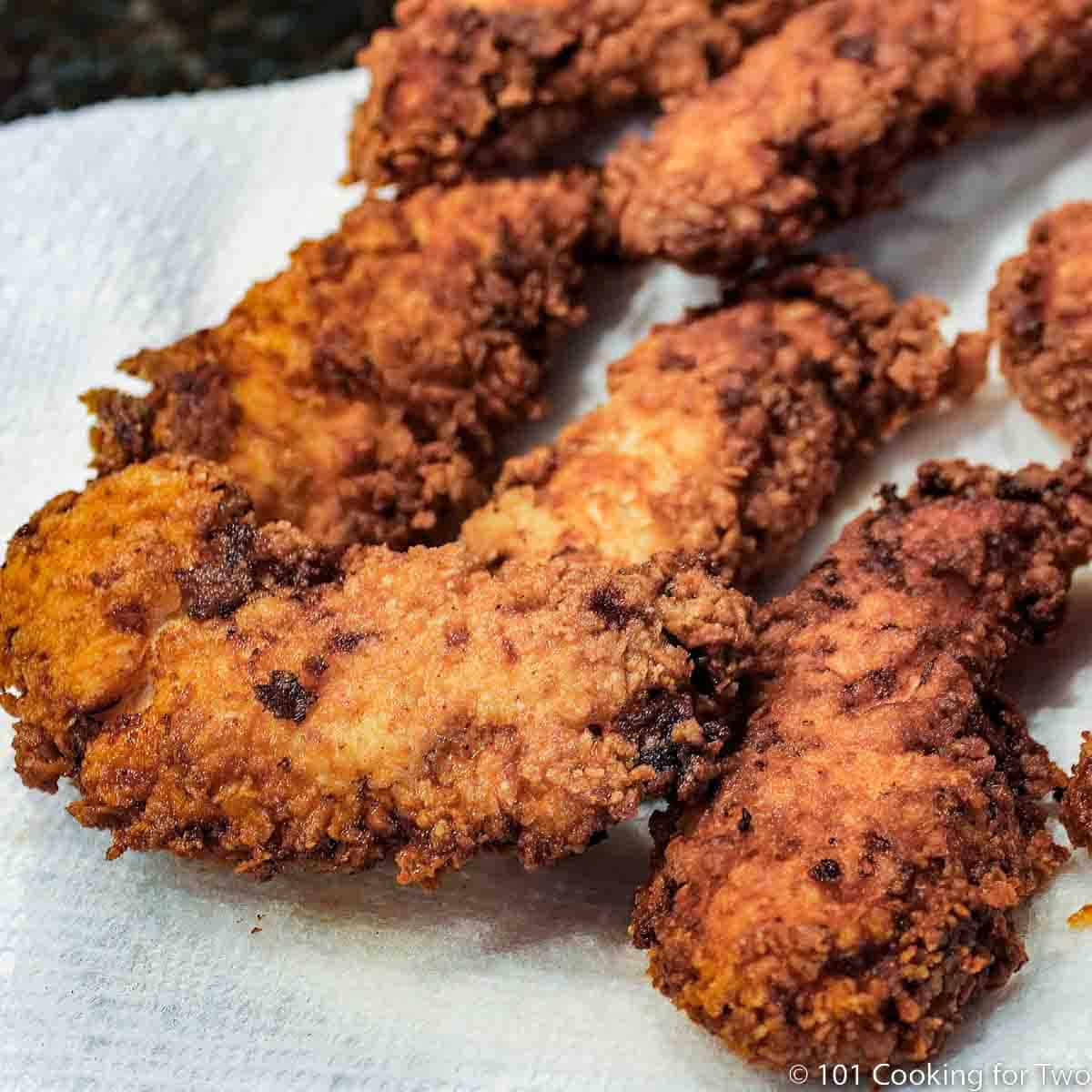 Introduction
Everybody loves crispy and moist chicken tenders; even picky kids love them. But this traditional "kid food" is loved by most adults, too. Plus, they are a top seller at every fast-food drive-thru country.
There is a reason everybody loves them. They are convenient and taste great. Let's learn to get that great taste (or even better) at home with these easy to follow step by step photo instructions.
This is very much an adaptation of a Pioneer Woman recipe. Most other recipes made a simple thing hard, and it really is not that hard.
My Rating

I started to give a high four since it is just chicken strips, but it is a great chicken strip: easy, tasty, and crunchy.
🐓Chicken
The chicken tender is located on the underside of the chicken breast. If you eat whole bone-in breasts, it is right next to the bone and separates easily.
This is the chicken version of the beef and pork tenderloin, which we all love for their tenderness. They are all tender because they are muscles that do almost no work.
A pound of chicken tenders will have 7-8 tenders usually. There will be a tendon that needs to be trimmed, and occasionally there will be a very big one that should be flattened some to even out cooking time.
Many times we will "fake" chicken tenders by cutting skinless boneless chicken breasts into strips. If you do this, cut across the grain as much as better. But if you pay attention, it is not quite the same in texture. Real tenders are preferred.
🥣Coating
The key to the crispy crust is to get chunks of the breading to stick. I first saw this coating technique on Cooks Country. But the same technique is also in the model recipe.
By adding some liquid to the flour coating, it will clump a little. When cooked, those clumps will make a much crisper coating.
Cooks Country discovered this by noticing that when a flour-based coating was used, the chicken later in the cooking had a crunchier coating that was due to some clumping in the flour. So why not just do that in the beginning and make all the batches crispier.
Spicing
The spicing is very simple, just some seasoning salt and a little pepper. I tested several other suggested spice combinations, and none of them topped just seasoning salt. More work for worse results is just not good.
Most recipes avoided pepper. I think to prevent any heat, but it also will add flavor. So it is there as an option. For the pepper, if you have white pepper, that is much preferred since it seems to be the secret ingredient to that KFC taste.
For a spicy adult-like taste, add a bit of cayenne pepper.
♨️Frying
This is a stovetop frying recipe, so we are shallow frying using oil in a large frying pan. You can use those countertop deep-fryers if you have one.
So start with a large frying pan, I'm like using a 12-inch cast-iron pan. But other pans can be used. You will see both in the pictures.
The oil should be a neutral oil, like corn or canola. The oil temperature needs to be monitored and kept between 325° and 375°. Start at the high end of the range since the temperature will drop when the tenders are added. Once you add the tenders, you will need to turn up the burner to keep the temperature in range.
🥛The Buttermilk
Buttermilk and regular milk both contain calcium and an enzyme that will tenderize meat by breaking down proteins. Buttermilk will have a lower pH and that acid can break down some proteins, also. The thickness of buttermilk is from the lower pH causing casein proteins to coagulate and thicken.
You can make a substitute for buttermilk by adding 1 tablespoon lemon juice or vinegar per cup of regular milk and letting it rest for about 5 minutes before using it.
There is also powder buttermilk that I frequently have on hand. It is available in most stores next to the powdered milk.
If you want nothing to do with the milk thing, trim and pat dry the tenders then use a whipped egg to coat first instead of milk. You can also skip the buttermilk in the coating thing or just use water to make it clumpy.
📖Kid Chicken Recipes
Oven Baked Chicken Legs - The Art of Drummies

🖼️Step-by-Step Instructions
This is all you need.
Pat dry 1 pound of chicken tenders or cut skinless boneless chicken breasts into strips. Trim well.
Put strips into a deep bowl and cover with buttermilk. It took only a cup for me. Let soak for 15- 20 minutes while you work on the coating and oil. If you are cooking a large amount, preheat the oven to 200 with a cooking sheet for a place to hold the cooked strips.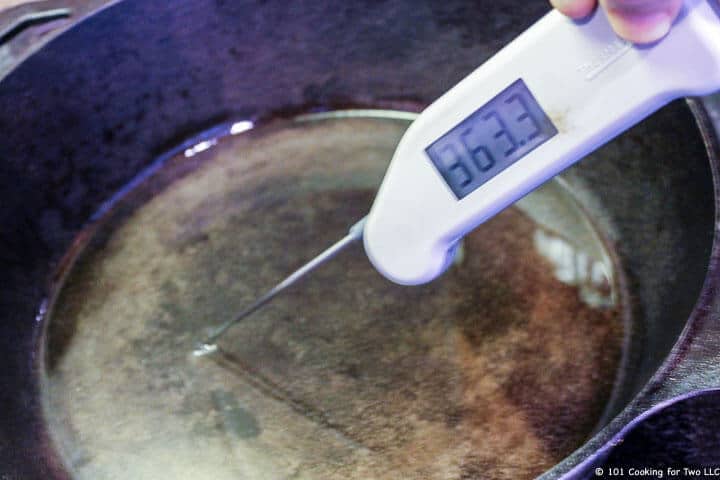 Heat ¼ to ½ inch of oil in a large pan over medium heat. I used about 2 cups in a 12-inch fry pan. Get to a steady temperature of about 365°. Don't be under 325° or above 375°.
Mix 1 ½ cups AP flour with 1 tablespoon of Lowey's seasoning salt. Options of adding 1 teaspoon white pepper or ½ teaspoon of black pepper. Also, an option of ⅛ teaspoon cayenne pepper. Other seasoning salts should be fine or make your own spicing combination. Mix well.
Now drizzle ¼ cup buttermilk into the flour mixture while continuously mixing.
It will make a "shaggy" coating.
Remove the chicken from the buttermilk and coat in the flour mixture.
Coat well and place it on a plate. Let sit for 5 minutes before cooking.
When you place the chicken in the oil, the temp will drop. Increase the burner setting some at this point to maintain the temp in the 325°-375° range.
Cook in batches about 3-4 minutes per side until golden brown and internal temp of 165°. These can cook very quickly if your oil temperature is high. If the oil is colder, the time increase, and they will start absorbing lots of oil.
Drain on a paper towel. Tent with the plate with foil or place in a 200° oven to keep warm while you do more batches.


Do you want more recipes from 101 Cooking for Two? Sign up for the newsletter and get all posts delivered straight to your inbox!
📖 Recipe
Originally Published September 16, 2012. Updated with expanded options and discussions. Refreshed photos, some from other cookings so they may not match the pan but convey the meaning. And a table of contents added to help navigation.