Oven baked chicken legs are a simple dinner the whole family will love. Just trim, pat dry, simple spices, and bake them in the oven. You will have perfect crispy, juicy chicken legs every time with these easy step by step photo instructions.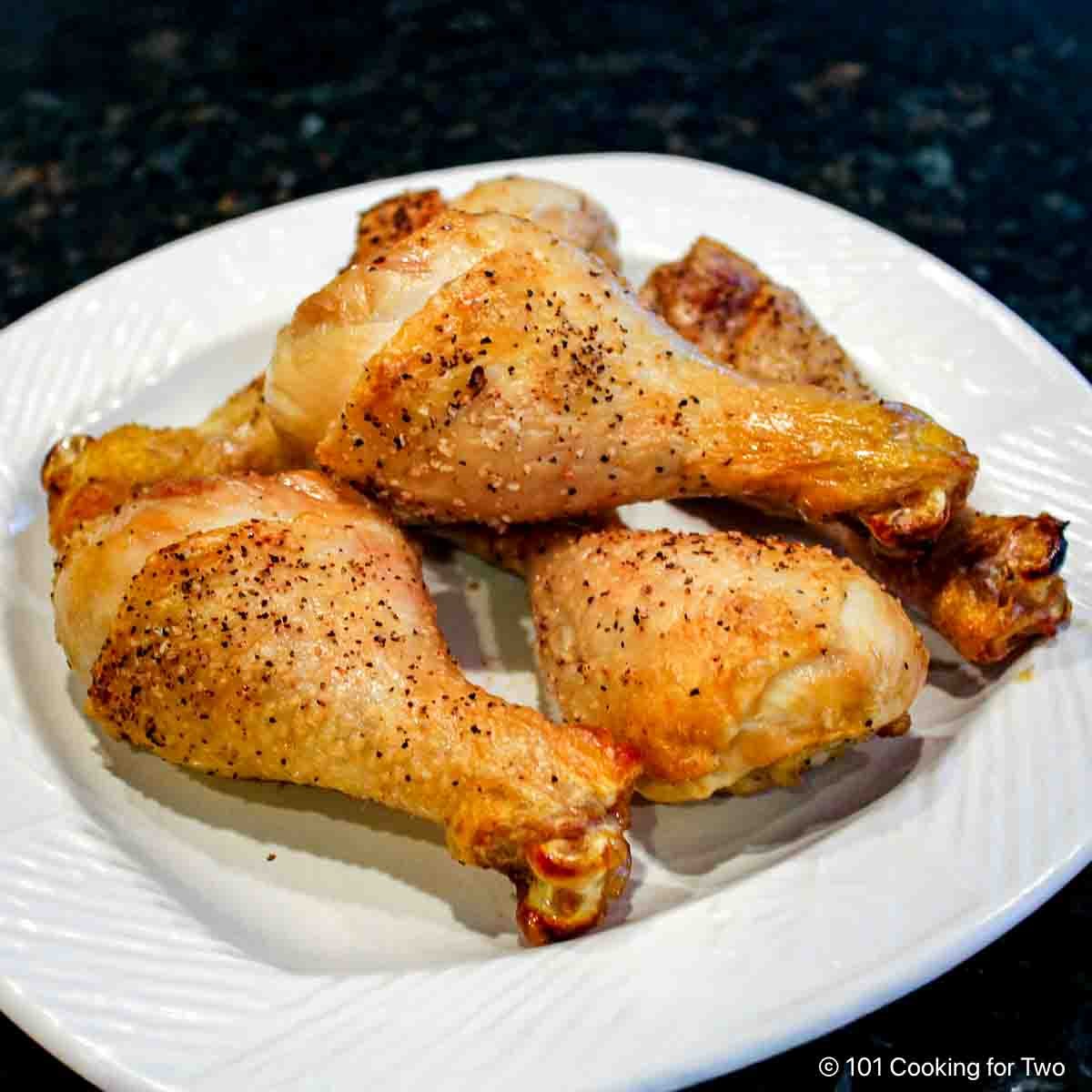 Introduction
Everybody loves great chicken legs (AKA drumsticks). Kids, grandparents, and mom and dad all love a crispy drumstick. Now you can have them anytime you want. Plus they are economical.
Skip to the next section if you want to skip the story.
Last year I took several weeks working on grilled chicken legs to get them just right. We were having a large retirement party for several family friends, and I was providing the meat course for a hundred people.
I initially wanted to grill all 150 pieces of chicken, but after I got the smaller batch perfected, it was obvious that mass cooking that large was not possible on a home grill. See Grilling Chicken Drumsticks – The Art of Drummies.
But the grill recipe work did show that the secret of a great chicken leg (drumstick) was in the internal temperature of 185. Not 165, which is the safe chicken temperature, but 185 produces the moist tender chicken legs you will ever have.
So I switched my attention to the oven with excellent results. See Chicken for a Hundred. Since then, I have done mainly oven drummies. Here is the scaled-down version.
My Rating

Just excellent. It always brings a child-like smile to my wife's face.
♨️Cooking
DO NOT SKIP THE PAT DRY, or you will not have crispy skin. (See Chicken: To Rinse or Not To Rinse? about rinsing the chicken)
Check the cut joint area for loose parts. You may be handing this to a child and don't need loose bone aspirated.
I like cooking this on a rack to get the meat off the pan, and with convection, all sides of the legs will be nice.
Cook at high temp, and you must use a thermometer to be sure you get to 185. Do not guess.
Spice as you want. I often add the Cayenne, but if you have little ones, skip it.
Scale to any amount you need
Seasoning
I generally use my All Purpose Seasoning; 7:2:1 and 7:2:2 but just some coarse salt and pepper or just the seasoning of your choice.
Skip the seasoning and brush with your favorite BBQ sauce the last 5 minutes to make great oven-baked BBQ drumsticks.
⏰How Long to Bake
There are three variables: the chicken leg size, oven temperature, and the desired internal temperature. I'm aiming for 185° (see next section), so at 425° for about 35 minutes.
ALWAYS COOK TO A FINAL INTERNAL TEMPERATURE. PLEASE, NEVER BY TIME ALONE.
Chicken legs at 350°F convection or 375°F conventional – about 45-50 minutes
Chicken legs at 375°F convection or 400°F conventional – about 40-45 minutes
Chicken legs at 400°F convection or 425°F conventional – about 35-40 minutes
Chicken legs at 425°F convection – about 35 minutes (I don't suggest 450°F conventional, do 425°F conventional and add a few minutes)
Remember, all these numbers vary by your oven, also.
The lower the temperature you use, the less crispy your chicken legs will be.
🌡️Best Final Internal Temperature
Many want to cook chicken legs to 165°, which is the minimum safe internal temperature for chicken for the FDA. There is a difference between safe and done. Pork is safe at 145°, but you sure won't want your pulled pork to be cooked to 145°. It would be terrible.
Also, a lot of recipes cook "until fluids run clear." Excuse me, but what does that mean? You should be standing there, poking it with a knife and losing all the moisture — not a good idea. Also, I suspect that it may even be below the safe minimum temperature.
While I cook my chicken breast to 165, there is way too much fibrous tissue in chicken legs. They will be tough and stringy. Just plan not done. Please use 185° as you finish temperature. Check the comments if you need confirmation.
🖊️Other Notes
Why Use a Rack to Bake?
A lot of the fat drained during cooking on the rack. You can cook this without a rack, but you will be happier with a rack.
Storage
Good just refrigerated for 3-4 days. Also, they should freeze fine for 3-4 months. Reheat by thawing first then reheat in an oven.
📖Related Recipes
Crispy Oven Baked Chicken Thighs
Crispy Baked Split Chicken Breasts
Side Dish Recipes
Easiest Crispy Oven Baked French Fries

🖼️Step-by-Step Instructions
Preheat oven to 425° convection. Pat dry the chicken legs with paper towels.
Trim off any extra skin and any loose joint pieces.
Spice to taste. Here I'm using a light sprinkling of my 7:2:1 seasoning. If you don't have that, then just some salt and pepper to taste. Other seasonings at your option.
Place the legs on a prepared cooking pan with the thicker part of the chicken legs to the outside. I usually line with aluminum foil to help clean up. A rack elevates the chicken to help all sides cook evenly. You can do it without the rack but better with it. Of course, a heavy spray of PAM on the rack or foil.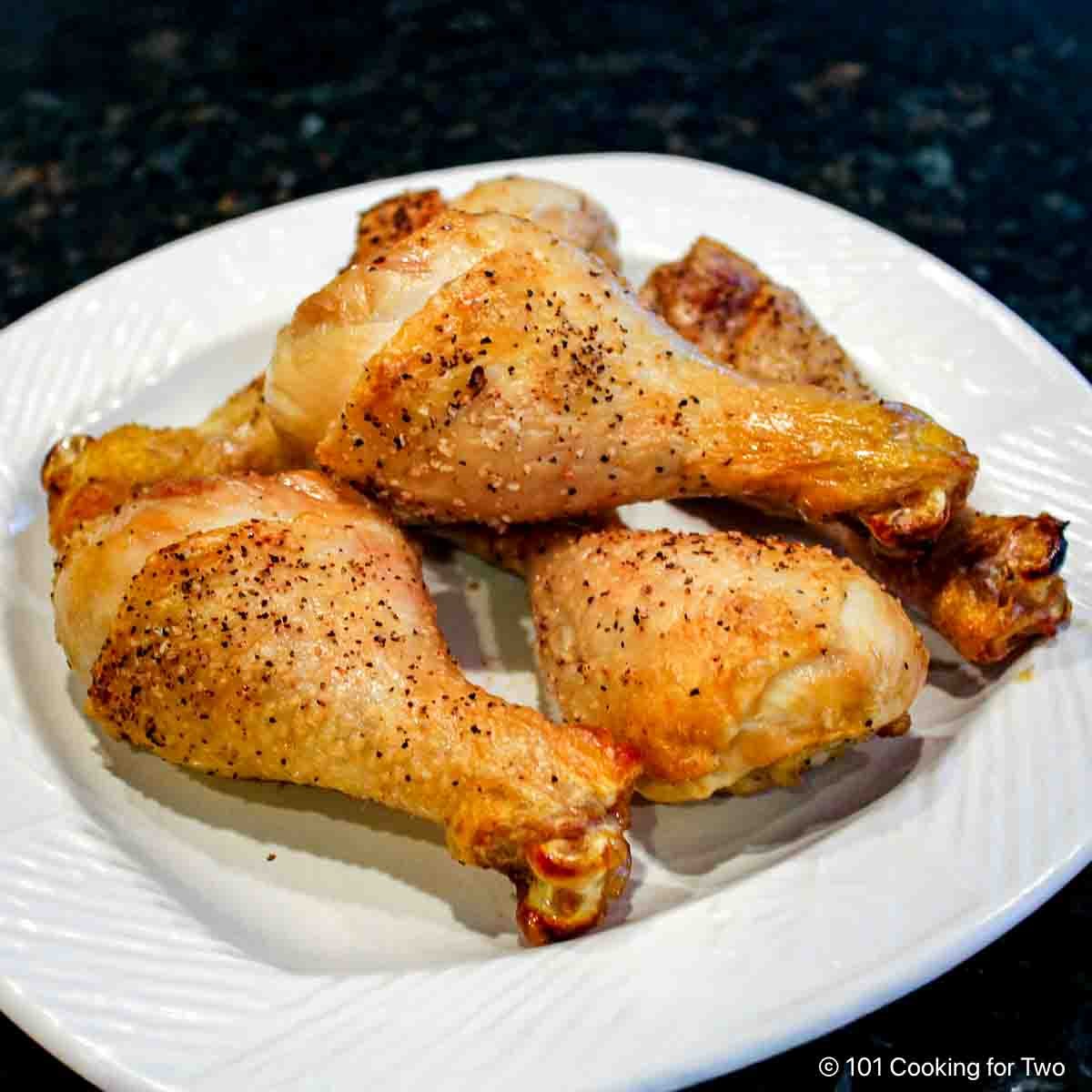 Cook to 185° plus internal temp. DO NOT STOP SHORT of 185°. About 35 minutes in my oven. Let sit for 10 minutes before serving. They are way too hot to eat right away and will be better after a rest.


Do you want more recipes from 101 Cooking for Two? Sign up for the newsletter and get all posts delivered straight to your inbox!
📖 Recipe
Editor's Note: Originally published September 9, 2012. Updated with discussion and photos updated to improve the presentation and add more information. The recipe remains the same. Please enjoy the update.