Deliciously crispy skin and juicy inside, oven baked chicken thighs have it all. They are quick, economical, tasty, and require almost no skill — a great recipe for two or a crowd. Just one pan and a bit of seasoning will get you some of the best baked chicken you will ever taste.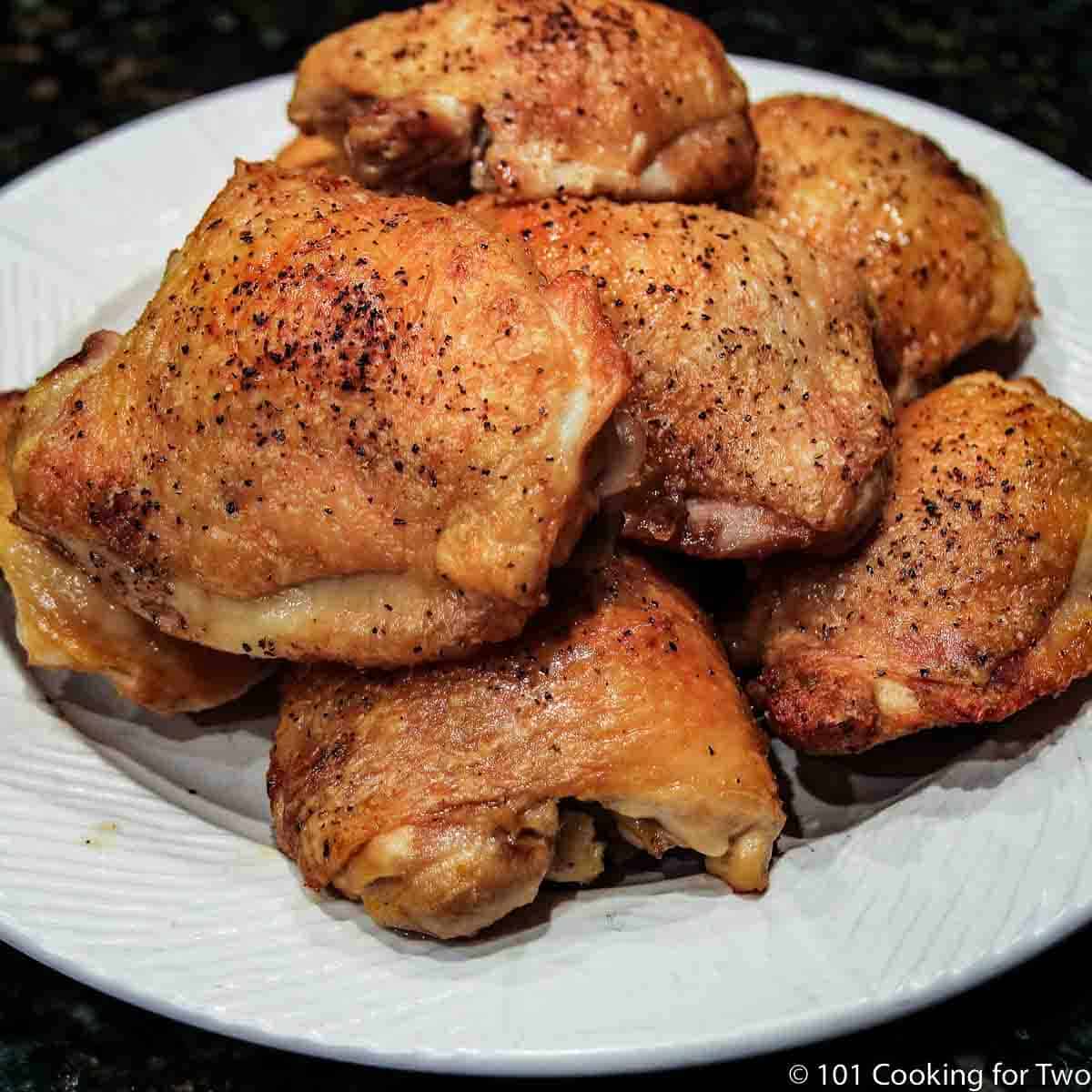 Introduction
An easy recipe with simple step by step photo instructions to get great tender and juicy thighs every time. So easy, it will be one of your normal rotation of recipes.
This is a slight modification of my Oven Baked Chicken Legs – The Art of Drummies recipe. People kept asking for a thigh specific recipe. The baking time differs slightly, but the biggest difference is the trimming and dealing with the fat.
My Rating

A very strong five.
🍲The Method
We are aiming for crispy skin and eliminating a lot of fat.
DO NOT SKIP THE PAT DRY, or you will not have crispy skin. See Chicken… To Rinse or Not To Rinse? about rinsing the chicken.
Trim off any trimmable fat.
Get the thighs up on a rack to let the rendered fat drain. It also gets them out of the drained fat.
Cook at high temp and use a thermometer to be sure you get to 185°F. Do not guess. Thighs are safe to eat at 165°F but tender at 185°F.
Spice as you want. I often add the Cayenne, but if you have little ones, skip it.
Scale to any amount you need.
Skip the seasoning and brush with your favorite BBQ sauce the last 5 minutes to make great oven baked BBQ thighs.
COOK TO THE INTERNAL TEMPERATURE, not by time along.
🐓Chicken Thighs
The chicken's dark meat is moist and flavorful. Why? Mostly the fat keeps it that way.
They are economical and always available.
Are delicious.
Make great leftovers.
How much fat is there?
Since we are dealing with a natural product, there is some variability but think of a thigh having about two to three times the fat of chicken breasts.
Here are the numbers from the National Chicken Council. Roasted, a skin-on thigh has 15.5 grams of fat while a skin-on split chicken breast is 7.8.
⏰

🌡️Time and Temperature

Chicken thighs and drumsticks should generally be cooked at high temperatures. This will give you great crispy skin along will getting the meat done to a proper temperature.

I use 425°F by convection for about 30 minutes to a final internal temperature of 180-185°F, which is best for thighs. See the next section for a discussion about the final internal temperature.

If no convection, bake still at 425°F, but it will take about 35 minutes, but remember to cook to the final internal temperature.

Cooking time will vary by your oven plus the thickness and size of the chicken. Boneless will be about 5-10 minutes less.
350°F convection or 375°F conventional – about 45-50 minutes
375°F convection or 400°F conventional – about 40-45 minutes
400°F convection or 425°F conventional – about 35-40 minutes
425°F convection – about 30 minutes - This is the preferred temperature.
Always cook to a final internal temperature. Please, never by time alone.
🌡️Internal Temperature
Many recipes suggest cooking chicken to 165°F, which is the minimum safe internal temperature by the FDA. But there is a difference between safe and done. Pork is safe at 145, but you sure won't want your pulled pork to be cooked to 145°F. It would be terrible.
Also, some recipes call for cooking "until fluids run clear" or "no pink at the bone." How are you supposed to do that? Also, I suspect that it may even be below the safe minimum temperature since the pinkness disappears at about 155°F.
While I cook my chicken breast to 165°F, there is way too much fibrous tissue in thighs. They will be tough and stringy. Just plan not done. Please use 180-185°F as you finish temperature. Check the comments if you need confirmation.
🐓Boneless or Skinless
The boneless skin-on chicken thighs will be great here. But the cooking time will be less since the bone is not absorbing heat, and they tend to be thinner. About 5-10 minutes less, but your thermometer is a must use for them.
Skinless boneless thighs will work with a good brush of oil. But you will miss out on the crispy skin.
Remember, you will need to decrease the cooking time by 5-10 minutes from the skin-on bone-in version. Please use an instant-read thermometer to check the final internal temperature.
✔️Tips
Why Use a Rack?
A lot of the fat drained during cooking on the rack. You can cook this without a rack, but you will be happier with a rack.
Can I Freeze Them After Cooking?
Yes, sealed well, they should be fine for 3-4 months. Reheat by thawing first then reheat in an oven.
Also, good just refrigerated for 3-4 days.
Oven Smoke and What to do about it.
Smoking ovens have been an issue for some due to high temp cooking. I haven't had a problem, BUT it is probably related to multiple factors.
First, if there is trimmable fat, trim it.
Use a pan with some side on it to keep any splatter contained.
If your oven has convection roast and convection bake, use the bake mode.
You could turn down the oven by 25-50 degrees. This will increase the cooking time some and may prone to drying out some. Remember to cook to an endpoint, not by time.
Of course, the oven should be clean, so the smoke isn't coming from a previous splatter.
Some water in the pan under the rack will prevent the smoking issue. Fat drips and then hits the water and will be 212 degrees immediately and will not smoke.
📖Related Recipes
Oven Baked Chicken Legs – The Art of Drummies
Grilled Chicken Drumsticks – The Art of Drummies

🖼️Step-by-Step Instructions
Preheat oven to 425°F convection. Pat dry the chicken.
Trim any loose skin with no meat off.
Prep a baking sheet. Line with aluminum foil, add a rack and give a heavy spray of PAM.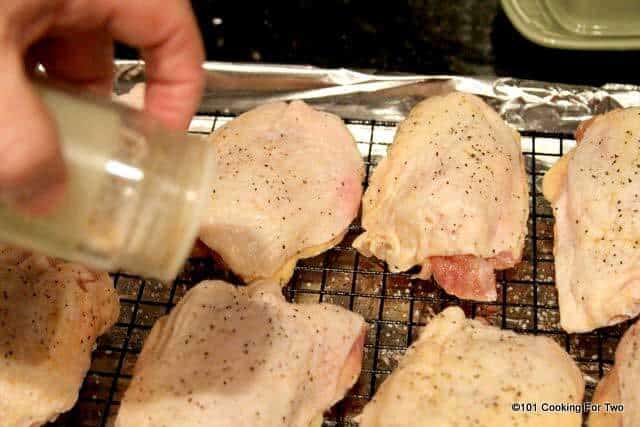 Place thighs skin down and sprinkle lightly with the spices of your choice. I went with 7:2:1 or 7:2:2. If you don't have that, then just a little salt and pepper to taste. A pinch of cayenne would be good also. Flip and tuck in any thin parts underneath and sprinkle skin side.
With skin side up, bake until internal temp of 180° to 185°F. About 30 minutes of cooking time, then rest for 5 minutes or more before serving.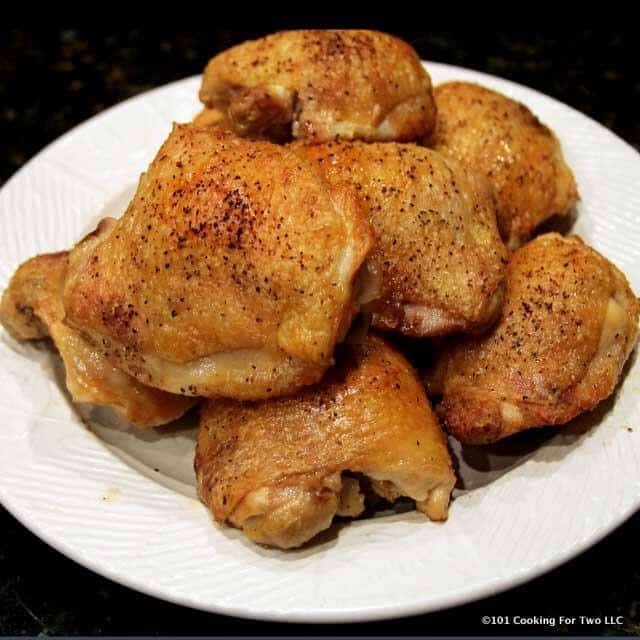 Do you want more recipes from 101 Cooking for Two? Sign up for the newsletter and get all posts delivered straight to your inbox!
📖 Recipe
Editors Note: Originally Published January 24, 2014. This recipe is part of my family of chicken recipes. There have been updating photos and added information since the original version.