Grill up these easy moist and chicken tenders for the kids or the kid in you. Ultra simple with these easy to follow step by step photo instructions.
Introduction
Do you have one of "those" kids? You know, the one who won't eat what you cook and you end up doing something separate and almost always unhealthy.
This is the solution — minimal work, time, and guaranteed to calm that 3-year-old dinner monster. You have steak, and they have healthy chicken tenders.
My Rating

A solid 4 for the adult but a 5 for little ones.
🐓The Chicken
Chicken tenders are the chicken equivalent of a beef or pork tenderloin. So moist and tender if done right.
I like to cut the tendon that is attached to the meat off. You can't chew it, and the kids tend not to like it there.
You can also cut strips of chicken breasts to do this if you want, but they will cook a bit slower. But you are cooking to a final internal temperature anyway so it will be fine.
♨️The Grill
You want a grill surface temperature of about 450°. With tenders, a little under is much better than a little over on the temperature.
On my grill that is about medium or slightly more. On most gas grills, it will be medium-high.
A grill surface thermometer will help you a lot to be a better griller. Please see A Beginners Guide to Grill Temperature on a Gas Grill.
This can be done easily on a charcoal grill but not directly over the coals.
👨‍🍳The Technique
Coat with a little olive oil. Then some salt, pepper and garlic powder to taste. Put over medium heat for 4-5 minutes flip once, and you're done in another 4-5 minutes. Make that about 12 minutes total time.
Give them a little sauce to dip like some ranch dressing or BBQ, and they will be in kiddy heaven.
📖Kid-Friendly Chicken Recipes
Oven Baked Chicken Legs: The Art of Drummies

Grilled Chicken Drumsticks: The Art of Drummies

Healthy Baked Chicken Nuggets

Spicy Baked Chicken Strips

🖼️Step-by-Step Instructions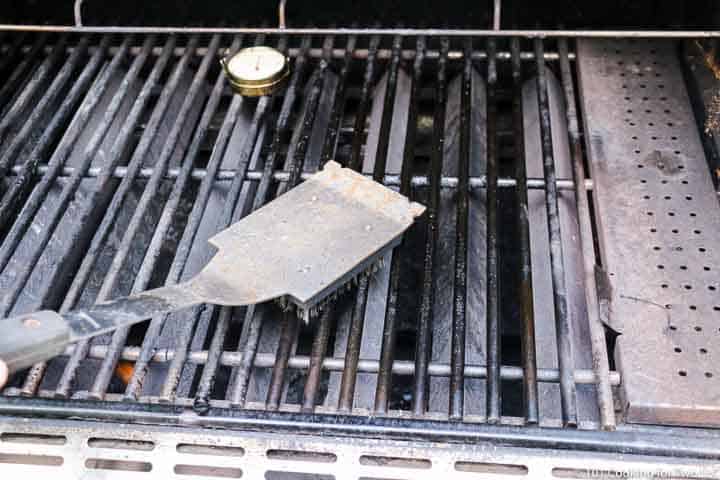 Preheat grill to a surface temperature of about 450° which is medium-high on most gas grills and medium on a hot gas grill. Clean and oil the grill surface well.
Pat dry the chicken tenders. Trim the tendon as much as is easy to cut.
In a mixing bowl, mix 6 tenders with olive oil, kosher salt, pepper, and granular garlic powder (optional). Adjust spices and oil according to the number of tenders and your taste.
Place over direct heat.
Grill until the chicken turns from a pink color to white along the edge (about 5 minutes). You will see the white moving up the sides. Flip and grill another approximate 4-5 minutes until internal temperature is 165°. Time will vary with the size and thickness of the tender and your exact grill temperature.


Do you want more recipes from 101 Cooking for Two? Sign up for the newsletter and get all posts delivered straight to your inbox!
📖 Recipe
Editor's Note: Originally Published May 30, 2013. Updated with expanded options, refreshed photos, and a table of contents to help navigation.