Time for an easy and great-tasting white chicken chili. Ready in about one hour in your multicooker/pressure cooker. This chili is great for any diet with only 1 gram of fat and just over 200 calories per serving. It will become a standard at your house.
Introduction
White chicken chili recipes are always some of the most popular recipes on this site. This is a multicooker/pressure cooker adaptation of one of my best crockpot chili recipes, Low Fat High Taste Crock Pot White Chicken Chili.
While Instant Pot™ is the most common and my preferred brand of the new generation of pressure cookers, I will use the more generic multicooker/pressure cooker term here.
That recipe was based on Excellent White Chicken Chili, which is a modification of a Pioneer Woman recipe. And conversion to crockpot then to this pressure cooker recipe.
My Rating

This five is from my wife (two servings). A nice five from me, also.
♨️Multicooker/Pessure Cooker Notes
I grew up in an environment of almost daily use of a pressure cooker. For several reasons, I have been hesitant to add this increasingly popular method of cooking.
First, I'm just not in that much of a hurry. And for short cookings, which is what I usually do, it doesn't make much sense because the pot takes time to get up to pressure. Plus, I would have a pan to clean. But many other things we cook in slow cookers can benefit from a pressure cooker.
Second, hmm, how do I put this? My mother was not the most "careful" cook. There were many minor issues and several more major events.
Fortunately, all injuries were relatively minor, consisting of mostly first-degree but some second-degree burns. There are no hospitalizations or major injuries, but this should highlight the importance of reading your manual and following the safety rules.
How Does a Pressure Cooker Work?
Briefly, heat is applied to a closed system causing water to become steam which increases the pressure in the system. The higher the pressure, the hotter the steam can become.
Multicookers/pressure cookers usually operate at 11.6 PSI (pounds per square inch) above the prevailing atmospheric pressure corresponding to a maximum temperature of 242 degrees at sea level. The maximum temperature decreases as elevation increases.
Stovetop pressure cookers can be up to 15 PSI with a maximum temperature of about 250 degrees.
In addition to increasing the temperature to cook the food faster, the pressure will hydrate the food leading to very moist and tender meats.
See The Shop for recommended Instant Pot™ brand of multicooker/pressure cooker.
👨‍🍳Crock Pot Recipe to Pressure Cooker
You will read about converting crockpot recipes to the pressure cooker using eight hours on low or four hours on high in the slow cooker to 25-30 minutes in the multicooker/pressure cooker.
Ok, that is a rough ratio the is helpful, but in this recipe, I know the chicken breast will take 15 minutes to get to 165°, which is what I need to shred easily.
I could add all the ingredients at the start, but my beans are already cooked, and I want them and the chopped chilis to have more texture.
Last was healthier. Now healthier means different things to different people, but I mean lower calorie density and lower fat for me (a doctor, remember). This recipe fits most reasonable diets. At least healthier than my previous cheese-filled chicken chili.
📖Chili Recipes
Soup Nazi's Mexican Chicken Chili
Ultra Simple Crock Pot White Chicken Chili

🖼️Step-by-Step Instructions
Trim two medium size skinless boneless chicken breast. About 1 - 1 ½ pounds.
Chop one medium onion and mince one jalapeno. Add to the multicooker pot.
Use a 6 quart or larger multicooker or pressure cooker. Add one 14 oz can chicken broth, 1 tablespoon cumin, 2 teaspoon paprika, 2 teaspoon chili powder, 3 garlic cloves minced, ½ teaspoon salt, ½ teaspoon pepper. ¼ - ½ teaspoon of cayenne pepper optional.
Add chicken.
Cook on high pressure for 15 minutes. It will take about 10 minutes to get up to pressure. Do a quick release of pressure when cooking time is over.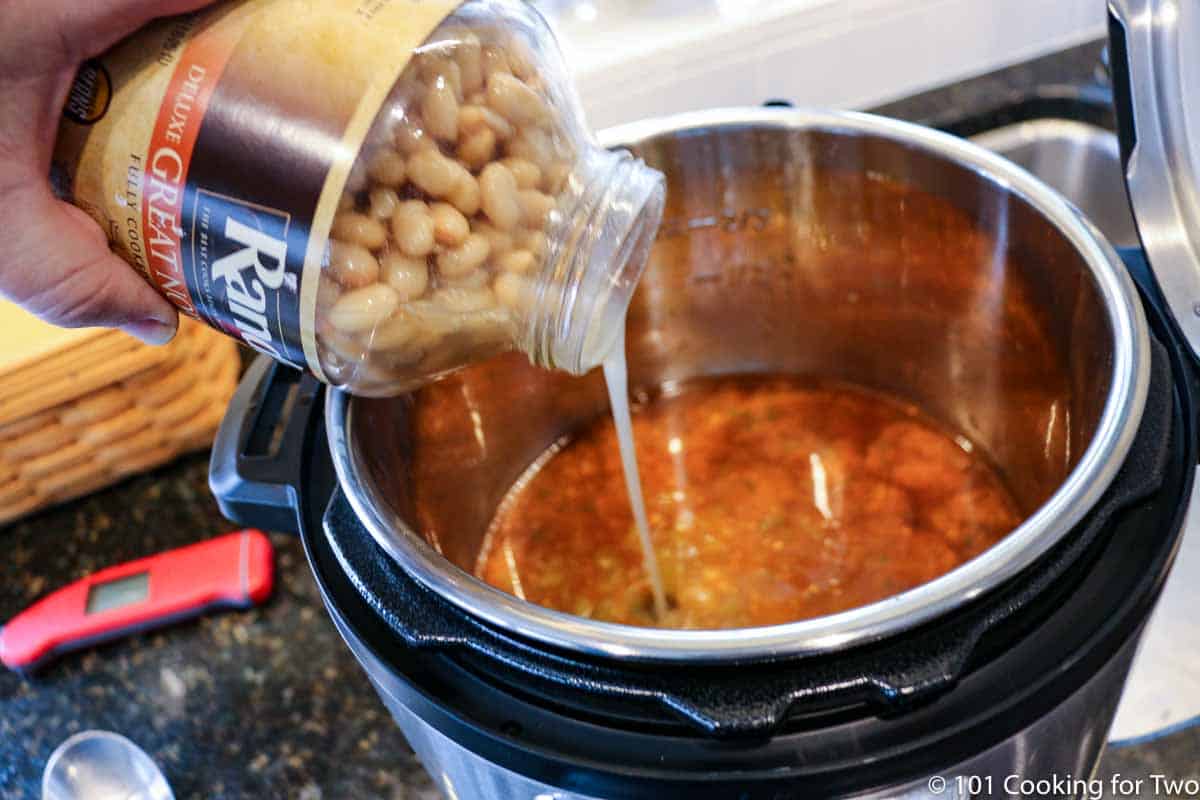 Remove the chicken from the cooker, add 48 oz jar pre-cooked Northern beans (do not drain), and one small can of green chilies.
Shred the chicken with forks. DO NOT USE FINGERS. Place back in the pot with the liquid.
Cook on high for 10 minutes. It may take up to 15 minutes to get up to pressure due to the mass that has been added.
Do a rapid release of pressure.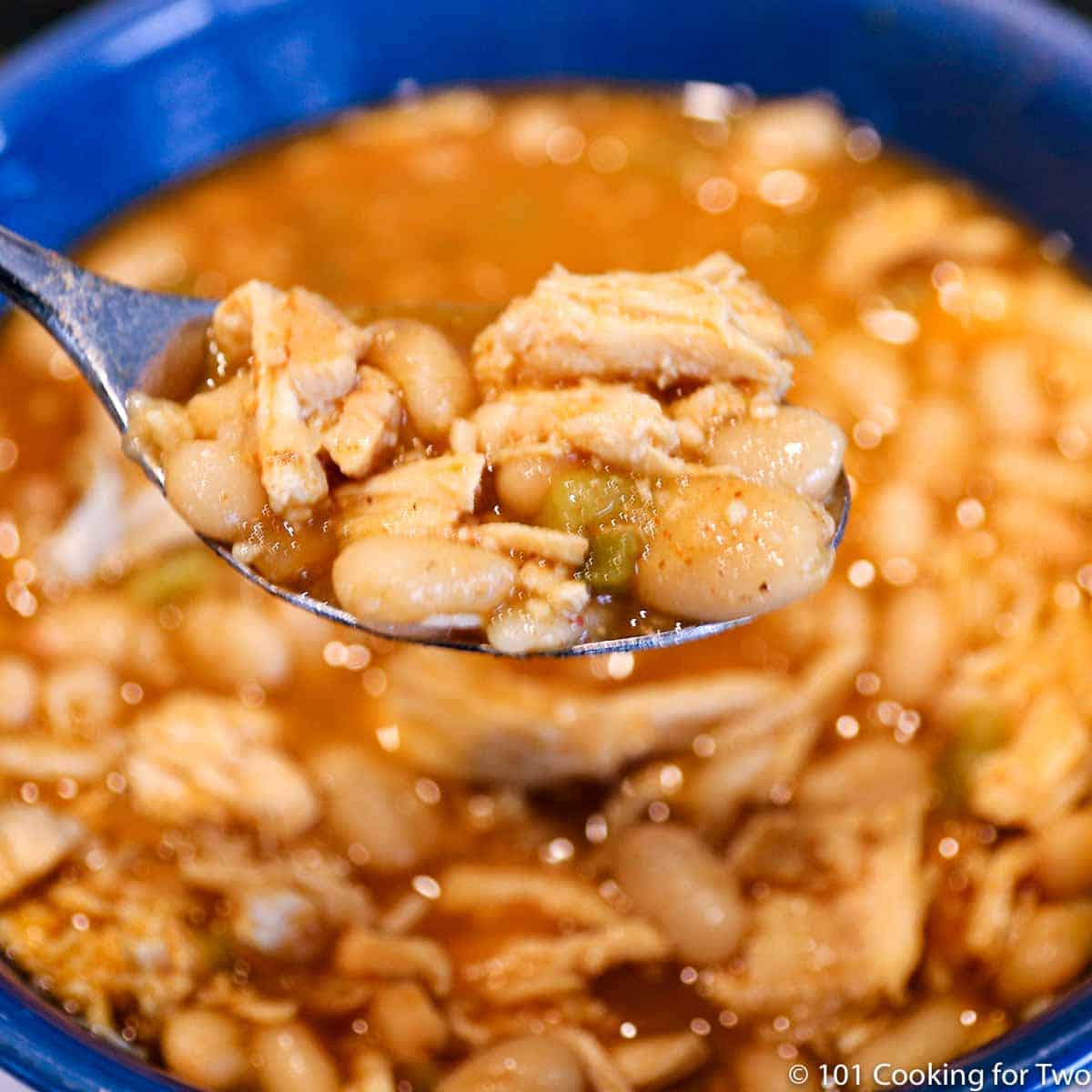 Do you want more recipes from 101 Cooking for Two? Sign up for the newsletter and get all posts delivered straight to your inbox!
📖 Recipe
Originally Published April 8, 2018. Updated with expanded options, refreshed photos, and a table of contents to help navigation.