Learn how to grill boneless country-style pork ribs with these easy to follow step by step photo instructions. Great taste with minimal work.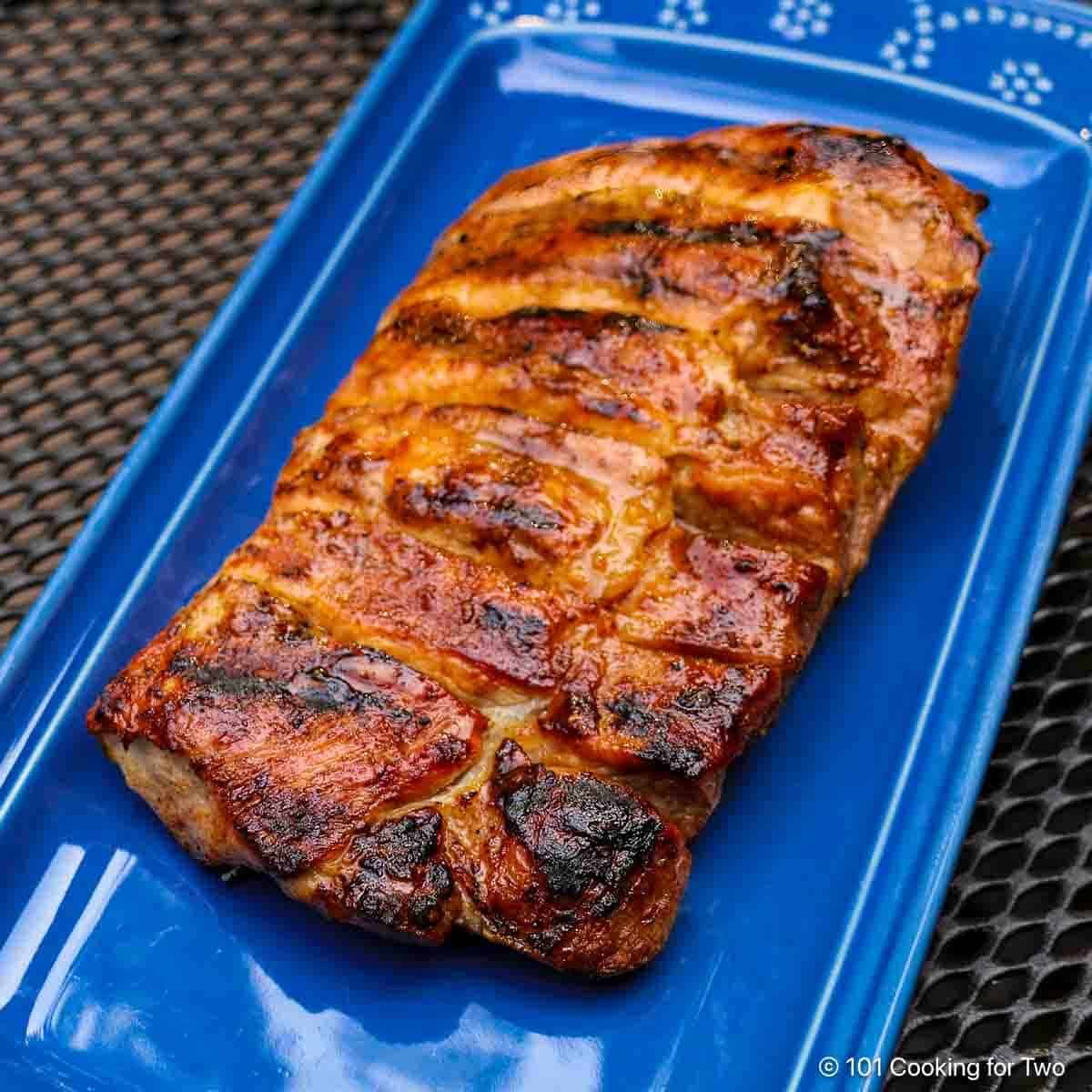 Introduction
Boneless country-style ribs are one of my favorite "cooking for two" meals. It is about the right size with two large serving or 3-4 more reasonable size servings.
They are also cheap, cook rapidly, and freeze well. And finally, they are lean and healthy with great taste.
It is leaner than lots of pork (healthier). And they can be prepared in many ways (grill, stovetop, and oven). You just need to know-how.
My Rating

Low 5 or high 4. Great taste and the drying was minimal.
🐖What are Boneless Country Style Pork Ribs?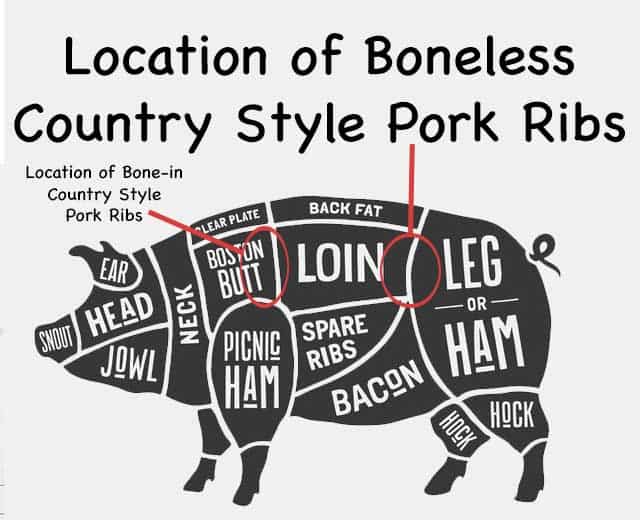 Boneless country-style pork ribs are not real ribs. They are the tail end of a whole pork loin cut in half and scored to make "ribs." So more a pork chop than real ribs.
Usually, that scoring is not very deep, so I like to deepen the cut to a little over half the thickness of the meat. I consider this to be more surface area for seasoning.
Unfortunately, there are also "bone-in country-style pork ribs," which may get confused with the boneless variety. The boneless are the tail end of a pork loin and are lean while the bone-in variety is more like a slice of pork shoulder.
The bone-in ribs need to be cooked more like a pork shoulder (AKA pork butt), meaning low and slow while the boneless ribs are lean and are usually cooked more rapidly.
If you have the bone-in country-style ribs, check out Slow Grilled Bone-In Country Style Pork Ribs.
🧂To Brine or Not
These "ribs," because they are lean, can tend to dry if overcooked. But if not overcooked, they can stay moist like a nice pork chop.
A brining would fix some of the moisture issues and add taste depending on the brine. But this would add hours and take it out of the weeknight recipe class.
A suggested brine would be 2 tablespoon table salt 1 tablespoon sugar and 2 cups of water for 1-4 hours. Other spices like allspice, garlic, pepper, etc. can be added.
I will be continuing to do these ribs by this method and brine if it fits my schedule.
♨️The Grill
These are a lean cut, unlike normal ribs, so low and slow is not recommended. I suggest a nice medium grill temperature of about 450° surface temperature. You can use a higher temperature, but they will dry out more.
To learn about controlling the surface temperature of your grill, please see A Beginners Guide to Grill Temperature on a Gas Grill.
🌡️⏰Temperature and Time
For many years, due to the fear of trichinosis, which was a parasite found in undercooked pork, pork was cooked to 170 by common wisdom. However, with modern farming methods, that has not been a risk in the USA for decades.
The FDA went to a recommendation of 160° for a number of years. Then in 2012, went to the current recommendation of 145° with a 3-minute rest.
Taste and moisture wise, 145° is correct. There will be a little pink left in the pork at 145°, and if you are like my wife, who wants no pink, you will be more comfortable at 150° or even 155°. Please do not go over 155° for this cut, or it will begin to dry.
Also, the 145° recommendation is not for ground pork, which is 160°. And cuts like pork butt and ribs like baby back ribs, although safe at 145°, would not be considered done cooking.
The grilling time is about 20 minutes, depending on the grill, the thickness of the meat, and the final internal temperature you want. As always, cook to a final internal temperature and never by time alone.
🥣Rub and Sauce
First, you don't have to use a rub. Since they are so like pork chops, if you have a favorite pork chop recipe, you can adapt it here. But I like to do the "rib" thing.
I tend to use a premade rub with this recipe since it is all about laziness. So you will see rub from Gate's of Kansas City in the pictures along with their sauce.
But here is a great homemade rub that I keep around during grilling season. This makes enough for 2 slabs. Cut in half to have less leftover if you want, but I save it for next time.
8 tablespoons (½ cup) brown sugar
3 tablespoons kosher salt
1 tablespoon chili powder
1 teaspoon black pepper
1 teaspoon onion powder
1 teaspoon garlic powder
What Sauce to Use?
Again, I tend to use premade out of laziness. I love my Gate's BBQ Sauce from Kansas City, which I buy by the case. Bull's-Eye Original Barbecue Sauce is recommended by CI.
But if you want the best sauce ever, try my Memphis BBQ Sauce.
📖Boneless Country Style Pork Rib Recipes
Grilled Boneless Country Style Pork Ribs with Simple Rub
Grilled Memphis Boneless Country Style Pork Ribs
30 Minute BBQ Boneless Pork Ribs

🔪Instructions
Optional: Brine first if you have time. 2 cups water, 1 tablespoon table salt, and 1 tablespoon brown sugar for 1-4 hours in the refrigerator. Rinse well and use a rub without salt.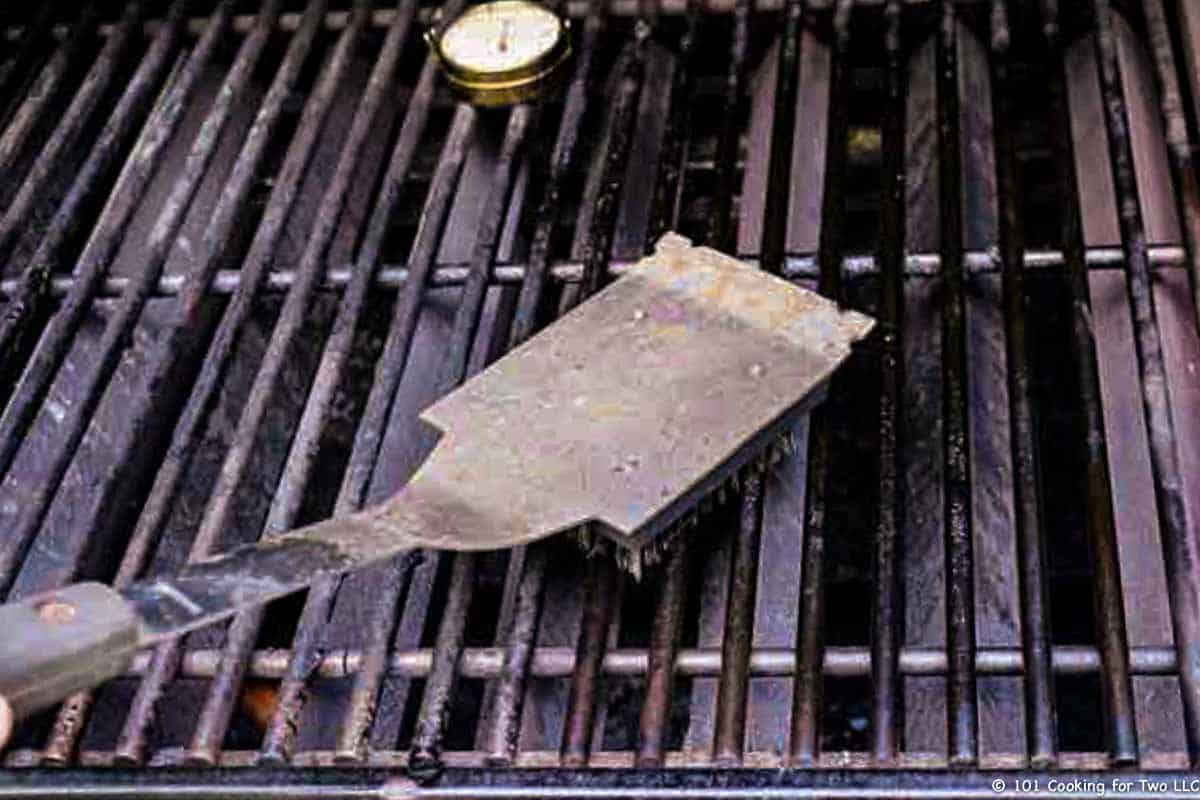 Clean and oil grill grates, then preheat grill to a grill surface temperature of 450°-500°.
Trim ribs of any excess fat. Deepen the cuts that are already in the ribs to about 75% through.
Coat both sides of ribs with a rub of your choice. Be sure to get in the cuts. Rub in and let rest for 10 minutes while preheating the grill.
Place over direct heat and close lid. Flip about every 5 minutes and grill until an internal temperature of about 145°-150°. About 20 minutes, depending on the grill and the thickness of the meat.
The last few minutes, coat with sauce on both sides and grill until brown. Let stand for 5 minutes before cutting.


Do you want more recipes from 101 Cooking for Two? Sign up for the newsletter and get all posts delivered straight to your inbox!
📖 Recipe
Editor's Note: Originally Published March 26, 2010. This has been a constant popular post on this blog even though it hasn't been updated for over eight years. The post has been completely rewritten, all photos re-shot, expanded options, and a table of contents to help navigation.