An all in one dinner with tender and juicy pork tenderloin combined with potatoes and carrots. Cooked on a sheet pan or in a shallow dish, your easy dinner is done in well under one hour. Think of it as comfort food for the lazy cook.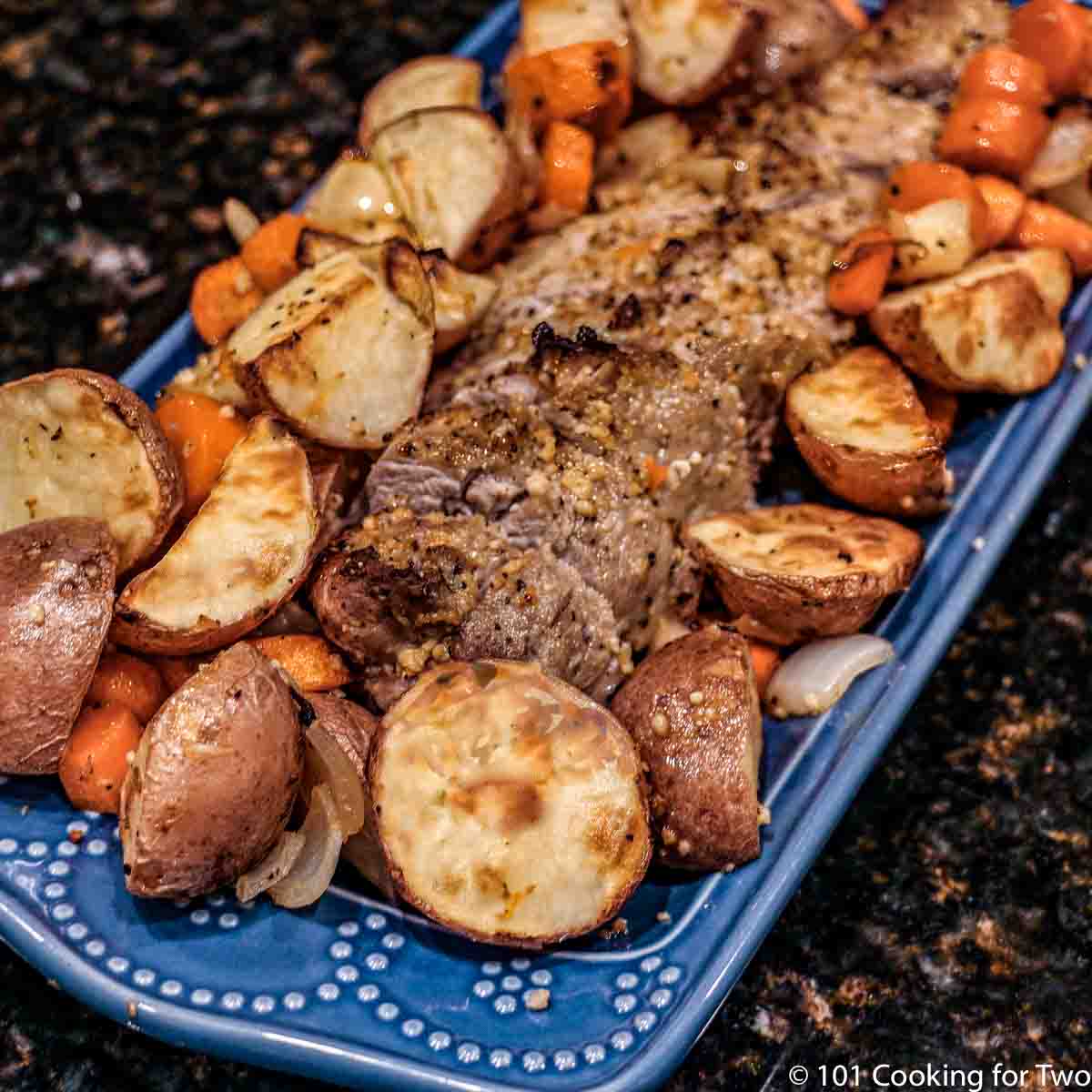 Introduction
Pork tenderloins are a great meat for smaller households and if you need more, just double it up. Add some veggies, and you have a complete meal all in one dish.
There are lots of one dish/sheet pan recipes out there. Recipes like this do tend to over-cook the meat, but a tenderloin can take it in style. Pork tenderloin is an ideal meat to use. It is forgiving since it stays tender with almost anything you do to it.
I have no inspiration recipe for this recipe. I read many but mostly just imagined what we wanted to have and just did it.
We like things roasted potatoes and carrots, and my wife was asking for pork tenderloin since I hadn't done one for a while, but you can use other vegetables if you want.
My Rating

A nice solid 4.
🐖Pork Tenderloin
Many commenters on this blog over the years seem to get pork loin and pork tenderloin confused.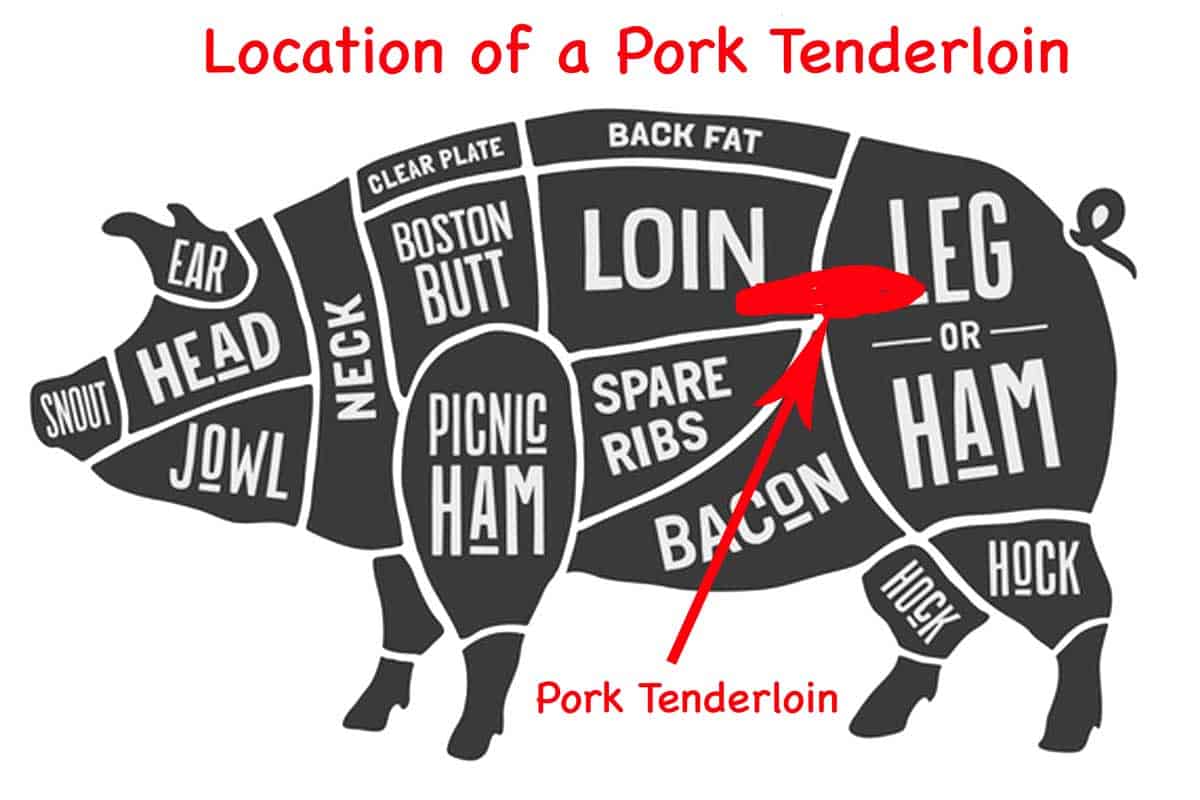 The tenderloin refers to the psoas muscle along the lower back. The psoas is generally the most tender cut since it is not used for movement.
A pork tenderloin usually weighs about 1 to 1 ½ pounds. A very large one could push towards 2 pounds, so if it is bigger, it is not a tenderloin. Be sure you are right since using a pork loin like this would have very poor results.
Be sure to use pork tenderloin and not a pork loin.
How Long to Cook the Pork Tenderloin?
The first thing to be aware of with this recipe is that the tenderloin will be "over-cooked" to some people. If you want your tenderloin 140 or 145 (pink), it won't be that. This is what my wife likes to call "done." She wants no pink.
But since it is the tenderloin, it is still moist and fork-tender. If you want a lower temperature, take the meat out 5-8 minutes early when it reaches the desired internal temperature and tent it lightly with foil while the veggies finish cooking.
But without the searing, the tenderloin's color will be a bit pale, and the potatoes, although done, will not have that nice browning I love. So a few minutes under the broiler at the end to get to the desired color is recommended.
🥕The Vegetables
The cooking time for vegetables will vary some by the type of vegetable.
Root vegetables, like potatoes and carrots, will take longer. About 30 minutes for 1-inch chunks of potatoes and 25 minutes for thinner carrots.
Note that a done potato has an internal temperature of at least 190°, but 200°-210° is much better.
Softer vegetables like broccoli, peppers, zucchini, bell peppers, and yellow squash will take about 15 minutes.
If you want to use other veggies, check roasting times at How to Roast Any Vegetable - The Kitchen.
✔️Tips
You can speed up the prep. Buy very small potatoes, use "baby carrots," use crushed garlic or garlic powder and onion powder. But it only takes a few minutes more prep to get things right.
The smaller potatoes are great, but those "baby carrots" are really cut out of large "woody" carrots. They have some tastes, but I'm not a big fan. But they do cook fairly well.
The Pan
I used a large baking dish, but a smaller sheet pan would be fine. If you double this recipe, use a large sheet pan.
Storage
Good refrigerated for 3-4 days and can make "freezer meals" that should be good for 3-4 months.
📖Sheet Pan Recipes
Easy Sheet Pan Chicken Fajitas
Sheet Pan Chicken Breasts with Carrots and Potatoes

🖼️Step-by-Step Instructions
Preheat oven to 400° convection or 425° conventional.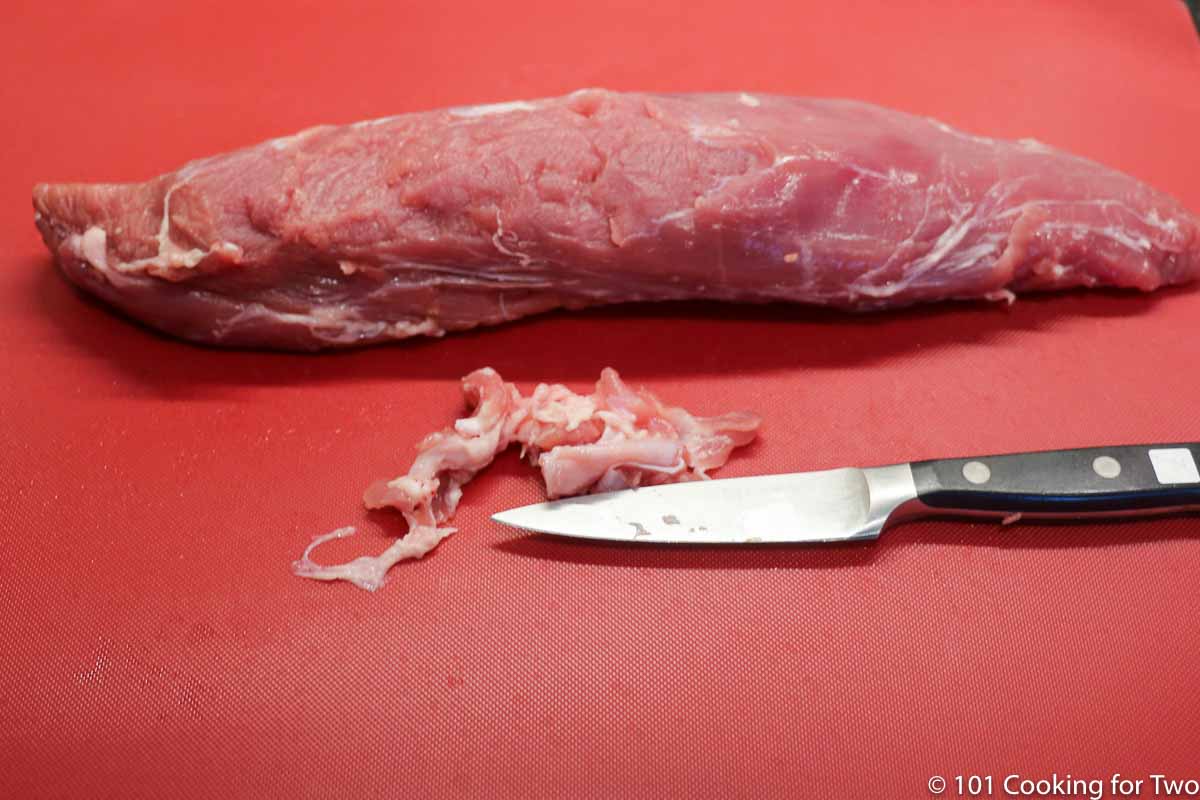 Trim a pork tenderloin of fat and silverskin.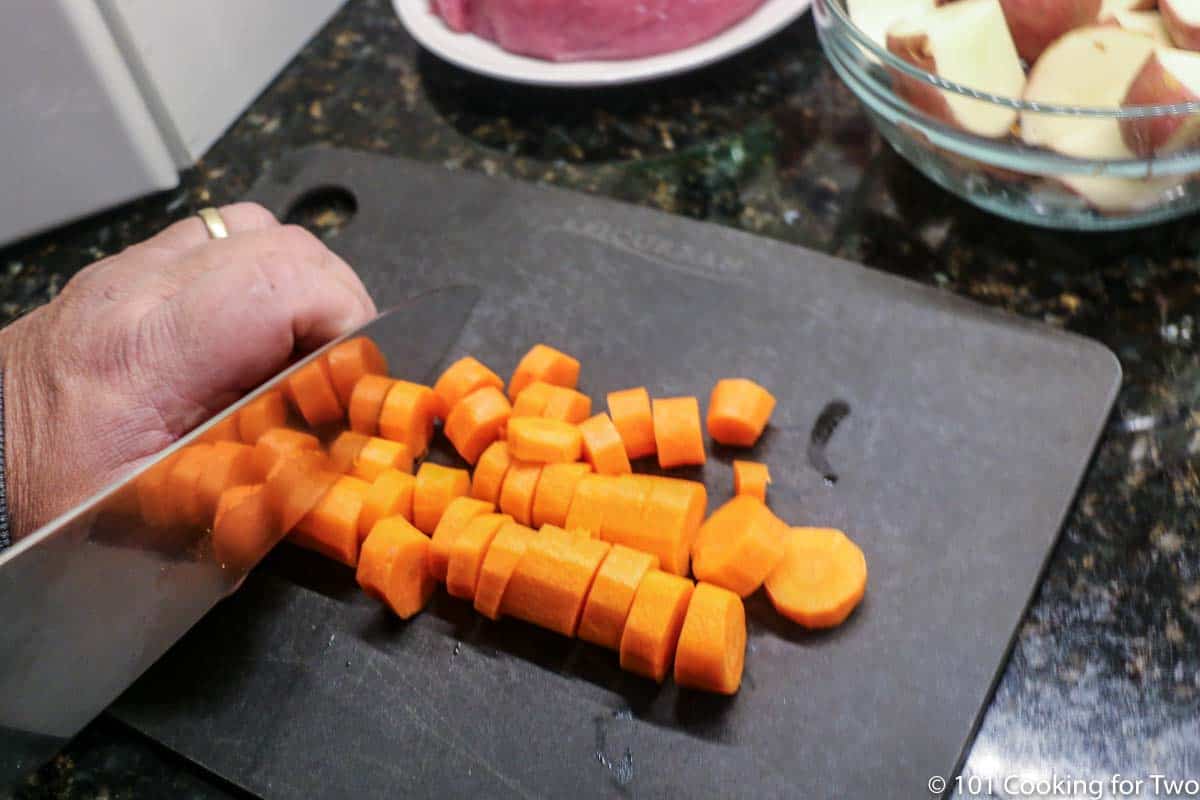 Peel and cut 3 medium carrots into ½ inch medallions. Clean and cut 1 pound of red potatoes into about 1 inch pieces. Roughly chop one half of a medium onion.
Add all the veggies to a 1-gallon ziplock bag. Add the trimmed tenderloin to the bag. Add 1 teaspoon kosher salt, ½ teaspoon pepper, 2-4 cloves of crushed garlic, and 2 tablespoons olive oil. Seal bag and mix well.
Prep a large baking dish or smaller sheet pan with a spray of PAM. Dump the tenderloin and veggies and spread evenly.
Bake until tenderloin is 150°-160° per your taste, and potatoes are tender. About 30-35 minutes. In the last few minutes, turn on the broiler and get the color you want. Your cooking time may be a bit longer depending on the tenderloin's size, the veggies, and your oven.
You can use the broiler for a minute or two if you want more browning at the end. Allow the tenderloin to rest for at least 5 minutes before cutting.


Do you want more recipes from 101 Cooking for Two? Sign up for the newsletter and get all posts delivered straight to your inbox!
📖 Recipe
Editor's Note: Originally Published December 17, 2017. Updated with expanded options, refreshed photos, and a table of contents to help navigation.