Classic baked mac and cheese with a crunchy bread crumb and Parmesan topping. The best comfort food for every day or that "take a dish" event. Just follow these easy step by step photo instructions.
Introduction
Everybody loves creamy mac and cheese. It brings out the kid in us all. Many of us grew up with "the blue box." Now that was really bad, so we have stepped up our game as adults.
I have lots of great recipes for this classic. I have an easy crockpot version. I have stovetop versions. And I have one pot version. But I wanted something different today.
I must admit to loving a panko bread crumb topping, especially when combined with Parmesan cheese and butter. So good.
So to go with the topping I craved, I wanted a casserole-type dish. That calls for eggs to get things to say together.
My Rating

Very nice. A higher 4 or a lower 5.
📋Ingredients
Pasta
I'm a traditionalist, so it is regular elbow macaroni for me usually. But use the pasta you have or like.
Non-traditional pasta is probably fine in this recipe. I expect most gluten-free pasta will do well, also. But as they say, your mileage may vary. So substitutes are up to you if you want to try them.
Egg
Eggs will make mac and cheese set up more and give more of a custardy texture. Without the egg, you get a creamier, looser texture. So it is a matter of taste. My crock pot recipes are modeled on other recipes that did have eggs. I remove them to change the texture in those recipes.
Temper the Egg
If you add a cold egg to a hot liquid, you will frequently get the proteins coagulated (think cooked), and it won't mix in a liquid. So to add an egg to the cheese sauce, will need to raise the temperature to prevent coagulation.
I suggest a technique called tempering in the egg. You slowly add the hot liquid from a recipe to the egg before adding the egg to a hot liquid to avoid cooking the egg when adding to the recipe if you are a visual learner, try Food Networks How to Temper Eggs video.
Cheese
The type of cheeses is a matter of choice. I used sharp cheddar here, but there are many good choices. For some reason, Velveta is a favorite of mine and does give a nice creamy effect.
👨‍🍳Recipe Size
As written, this is an eight-serving recipe. That is fine for most families and a potluck or take a dish gathering, but for smaller households, that is a bit much.
Modifications to cut the recipe in half.
Four large servings are much more cooking for two friendly.
Use the serving adjustment in the recipe card. It will change the amount of the ingredients but not the wording in the instructions. Cooking time will remain about the same.
The egg is whipped before using so you can estimate half or just use the white of the egg.
The baking dish size will change from 12X9 to 6X9. You can also use a 9 inch round or 8X8 square dish.
📖Mac and Cheese Recipes
Uncooked Macaroni Crock Pot Mac and Cheese

🖼️Step-by-Step Instructions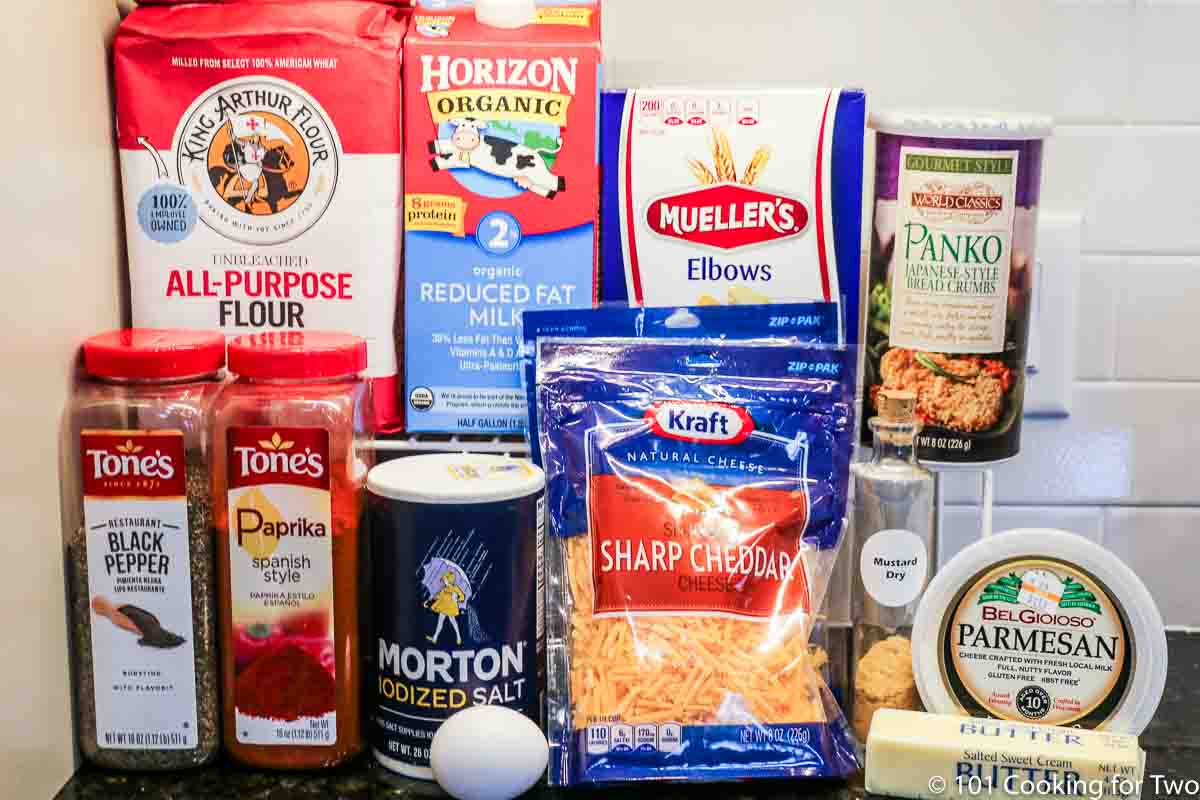 Preheat oven to 350° if cooking now. Prepare a 9 by 12 baking dish with a light coat of butter.
Cook and drain 1 pound of pasta—Cook to al denta per the package instruction.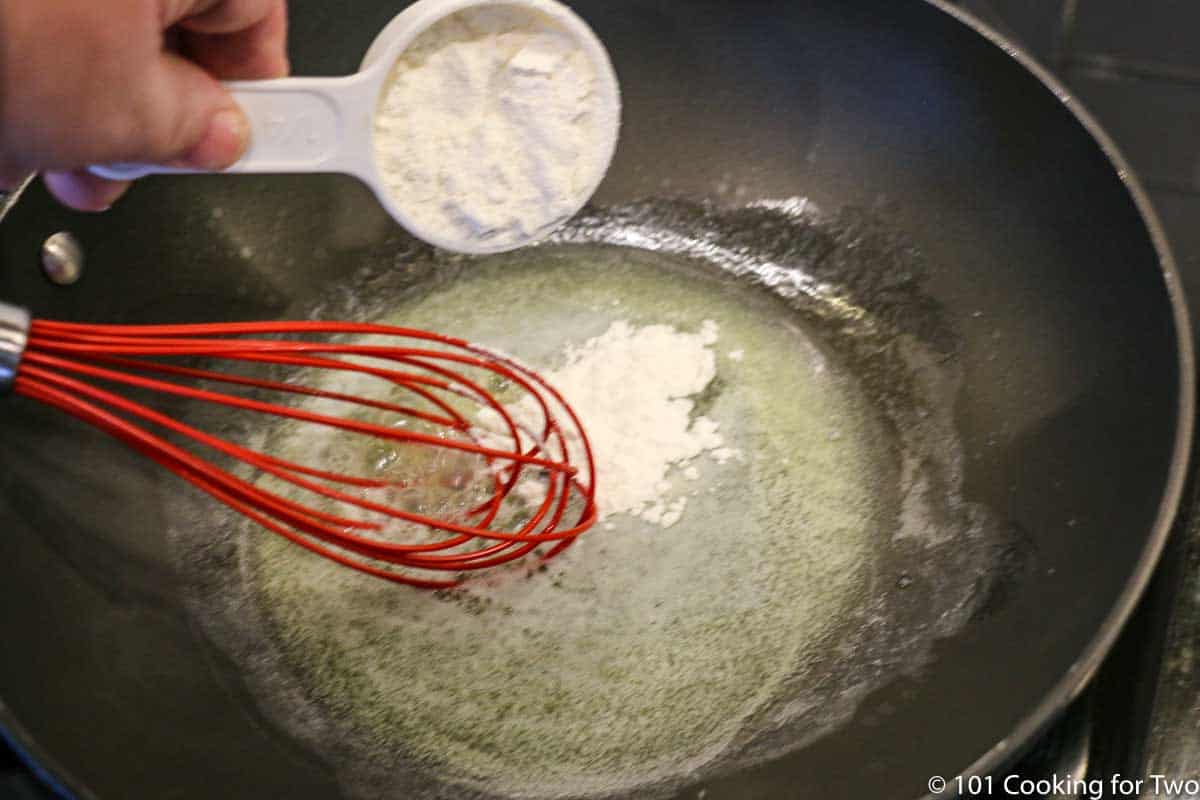 While cooking pasta in a small bowl, lightly beat one egg. Then melt 4 tablespoons butter over medium heat in a large pan. Add 4 tablespoons flour to the melted butter and whisk continuously until browning some, about 3 minutes.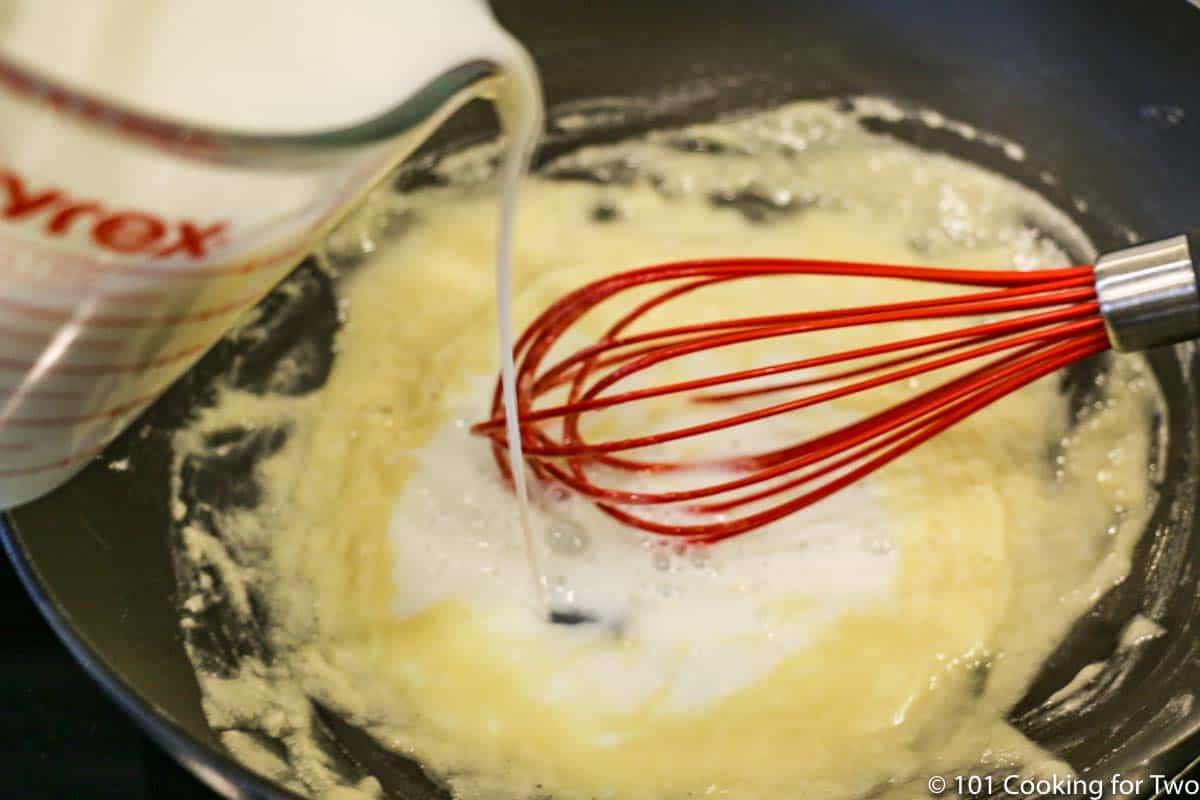 Add 1 cup of milk and whisk until smooth, then add in the remainder 1 ½ cups of milk. Whisk continuously until thickened.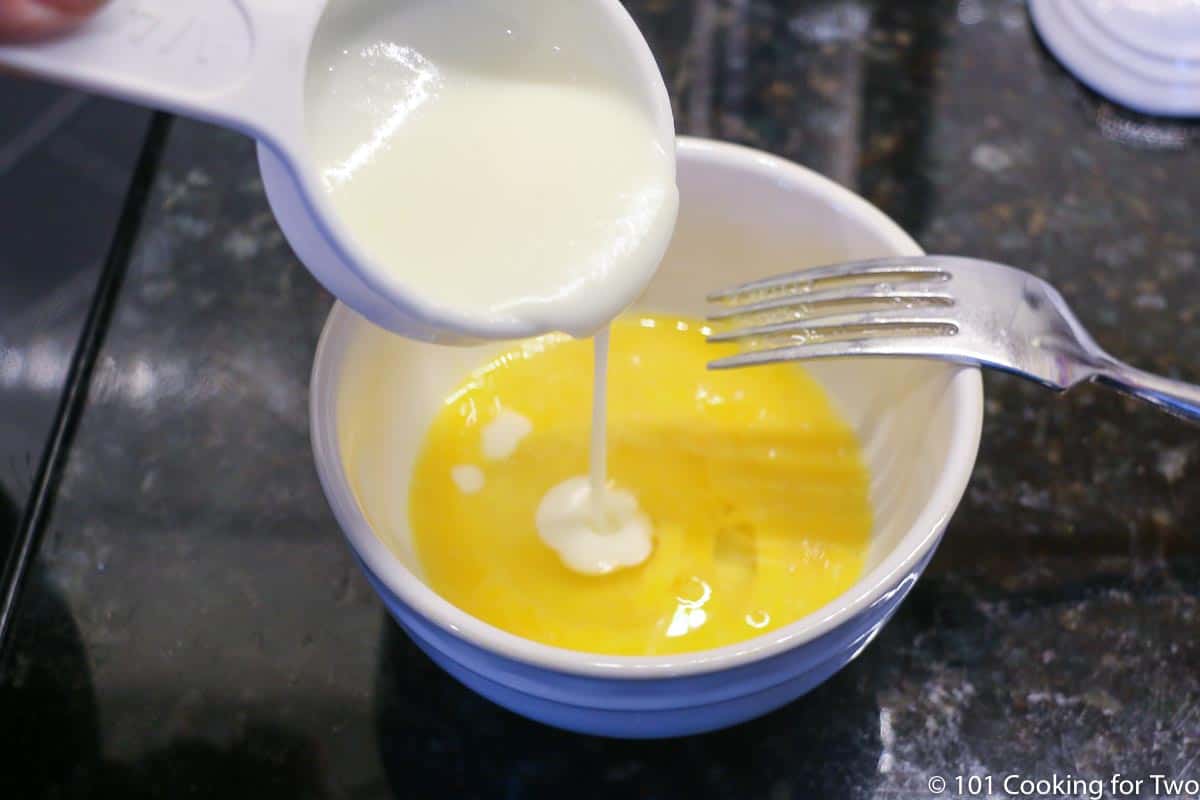 Remove ¼ cup of the hot milk mixture and slowly mix it into the egg.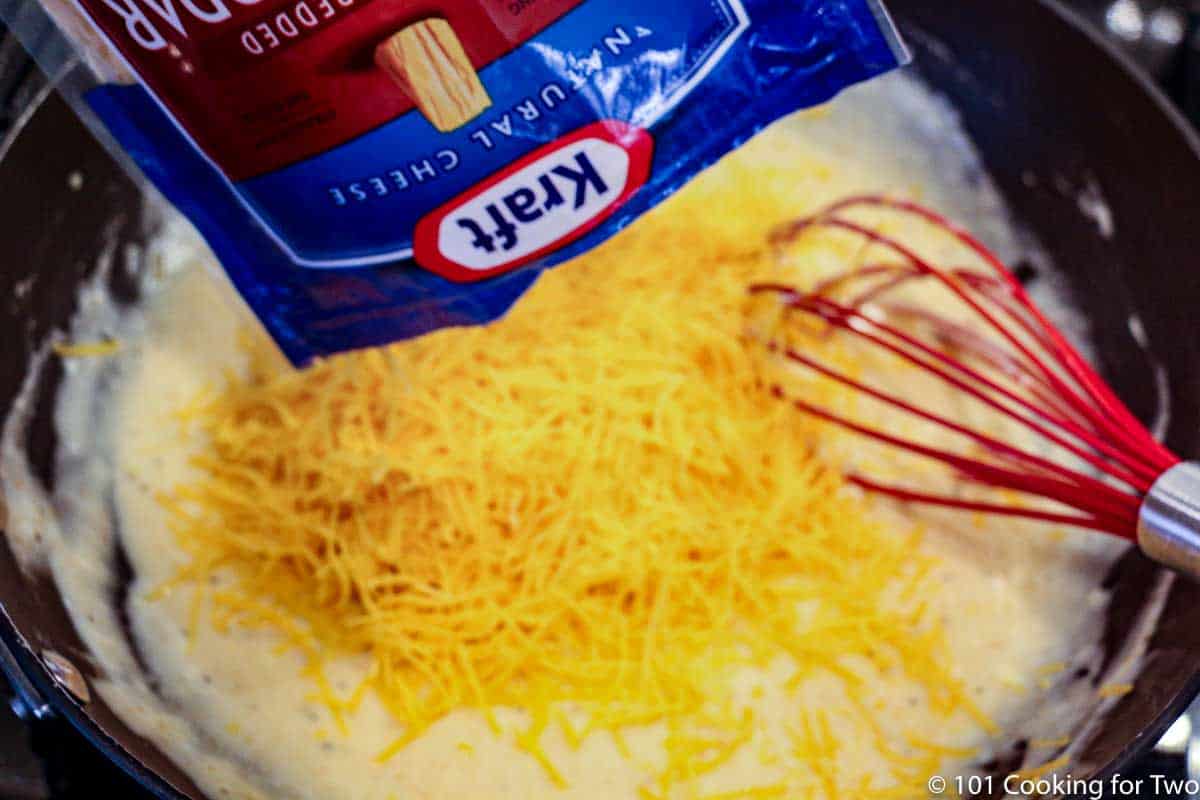 Add the egg to the thickened milk mixture while continuing to whisk. Add in 2 teaspoons of dry mustard, 1 teaspoon salt, ½ teaspoon pepper, and ½ teaspoon paprika. Add 3 ½ cups of cheese of choice and mix until smooth.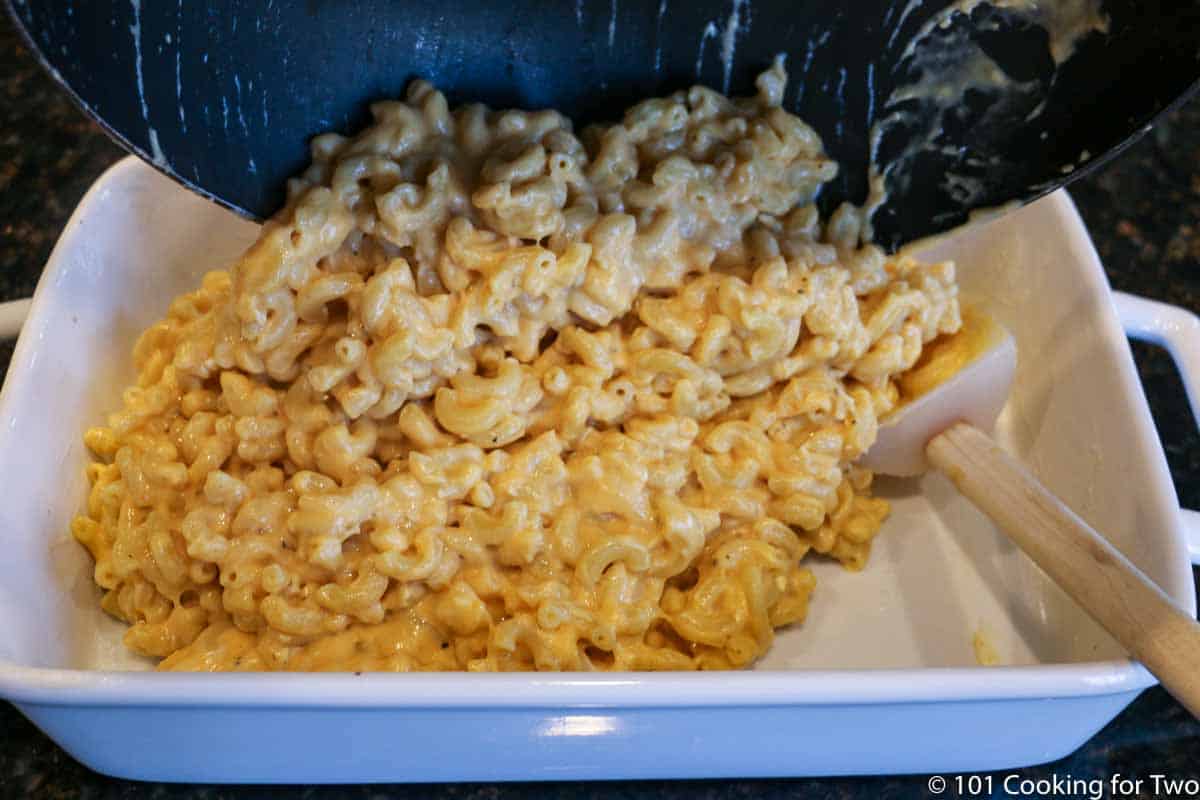 Mix in the cooked pasta and then add to the casserole dish.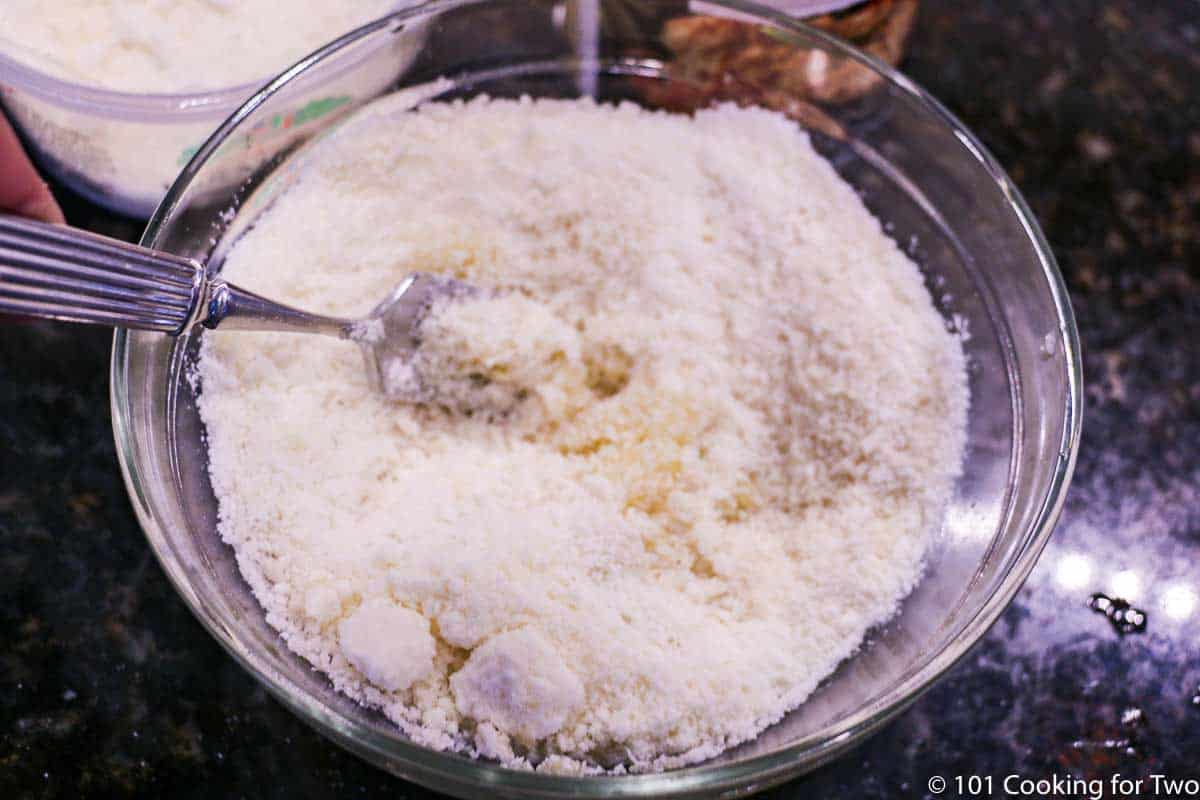 Mix topping. In a medium bowl, mix 1 cup Panko bread crumbs with ½ cup grated Parmesan cheese. Add 4 tablespoons melted butter and mix well.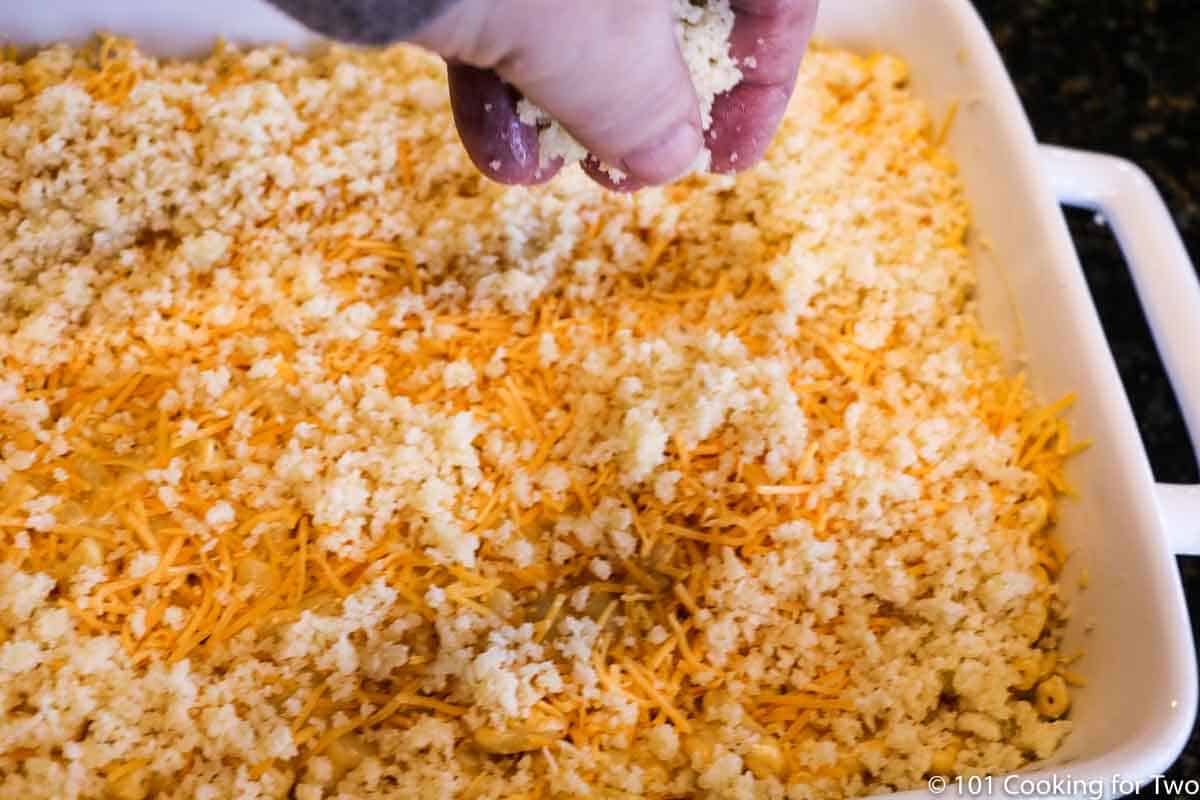 Add ½ cup of cheese of choice, then add the bread crumb Parmesan topping. You can now cover and refrigerate for later or cook now.
Cook until nicely brown and edges bubbling. About 30 minutes.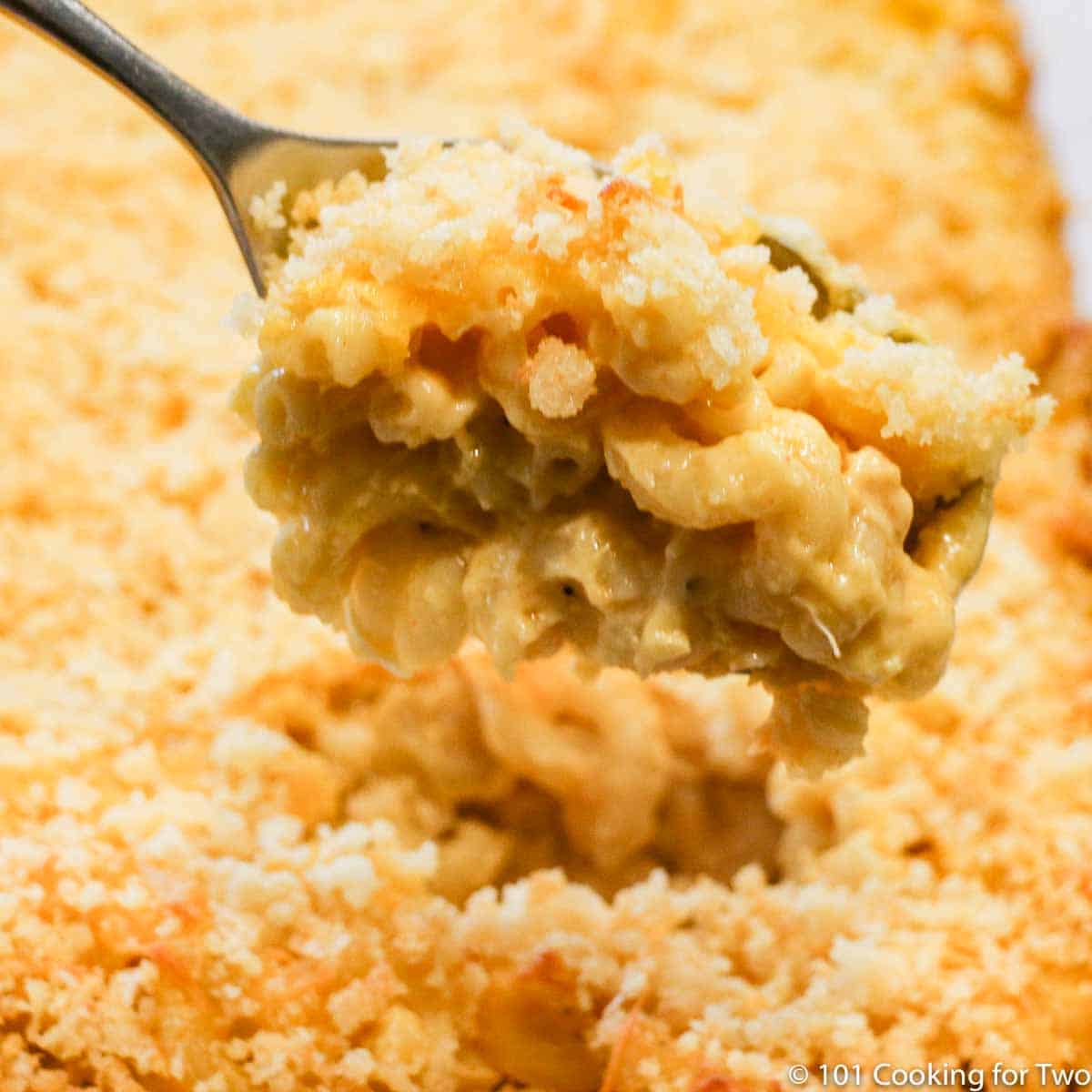 Do you want more recipes from 101 Cooking for Two? Sign up for the newsletter and get all posts delivered straight to your inbox!
📖 Recipe
Originally Published March 20, 2017. Updated with expanded options, refreshed photos, and a table of contents to help navigation.