These super-easy pork medallions from tenderloin will become a summer favorite. A healthy grilled dinner recipe the whole family will love that only takes 10 minutes on the grill. How simple can it get?
Introduction
I'm always up for a quick, tasty meal, and my wife is always up for garlic... and me cooking.
So start with a pork tenderloin... hard to screw that up. Cut into 1 ½ inch slices but leave the "tail" 3 inches to fold over on itself. Then season to taste... here I add garlic but season to your taste.
Grill over a medium-high grill for about 10-12 minutes and you're done. You can do that... right?
My Rating

A nice strong four. Pushing a 5 with the Mexican spice.
🐖Pork Tenderloin
I think I will do most of my grilled pork tenderloins this way this summer.
First, I'm lazy, and this is one flip and almost impossible to mess up. Second, since the pieces are uniform, they will all cook about the same with no overcooked/undercooked areas. Third, more surface area for seasoning and grill taste. Win, win, and win.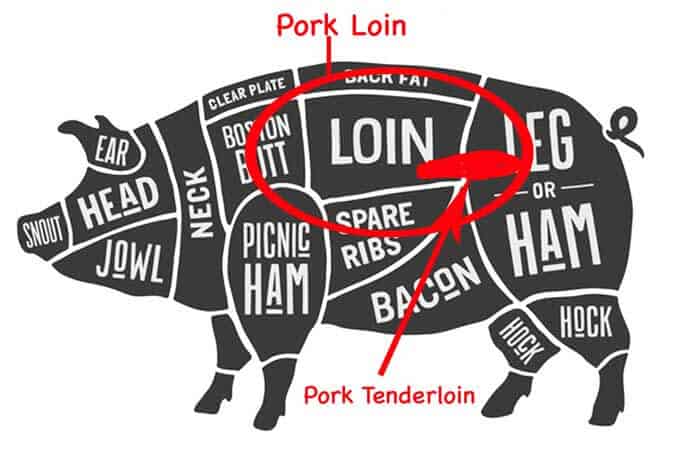 Please be sure you are using pork tenderloin for this recipe. People seem to get confused with pork loin. Slices of pork loin are really pork chops. The tenderloin will have a different texture and taste.
♨️The Grill
Almost any gas grill will do. We want a grill surface temperature of 450° to a maximum of 500°. On most gas grills will be at about 60-75%, and an el-cheapo may be close to max.
Investment of $10 in a grill surface thermometer is always a good idea. DO NOT look at the thermometer on the hood of your grill; it is not even close.
For help on grill surface temperature, please see my A Beginners Guide to Grill Temperature on a Gas Grill.
Charcoal should be fine. Just don't crank up the heat all the way and watch the temperature.
Of course, preheat, clean and brush with vegetable oil.
🇲🇽Grilled Mexican Pork Medallions
These are as good as they sound. Tasty pork tenderloin spiced to your taste. Just use this rub to give them some great Mexican flavor and serve with beans and rice.
Mexican seasoning: 2 teaspoon chili powder, 1 ½ teaspoon garlic powder, ½ teaspoon oregano, 2 teaspoon cumin, and ½ teaspoon salt. Add a touch of cayenne if you want a little heat.
📖Tenderloin Recipes
Grilled Bacon Wrapped Pork Medallions
The Best Grilled Pork Tenderloin: Memphis Style
How to Grill a Pork Tenderloin on a Gas Grill

🖼️Step-by-Step Instructions
Preheat grill to medium-high with a surface temperature of 450° to 500°. Notice I said surface temperature, not that thermometer on the grill hood.
Trim the pork tenderloin of any trim-able fat and silver-skin. Cut the "tail end" off at 3 inches and cut the remainder into 1 ½ inch slices. At the halfway mark of the 3-inch "tail" cut through ¾ of the way and bend over on itself.
Compress all pieces to about one inch thick — season to taste. I used one teaspoon seasoning salt with ½ teaspoon garlic powder. But choose the seasoning of your choice. The optional Mexican seasoning is great.
Grill for 5-6 minutes and flip. Aim for an internal temp of 140°-145°—total grill time about 10-12 minutes.
Allow to rest for 5 minutes before serving.


Do you want more recipes from 101 Cooking for Two? Sign up for the newsletter and get all posts delivered straight to your inbox!
📖 Recipe
Originally Published April 3, 2016. Updated with expanded options, refreshed photos, and a table of contents to help navigation.