This Parmesan mayonnaise baked chicken breast recipe has everything. It's extremely moist, the great taste of Parmesan, and a little crunchiness. Plus, it is SIMPLE. You can never have enough great chicken breast recipes.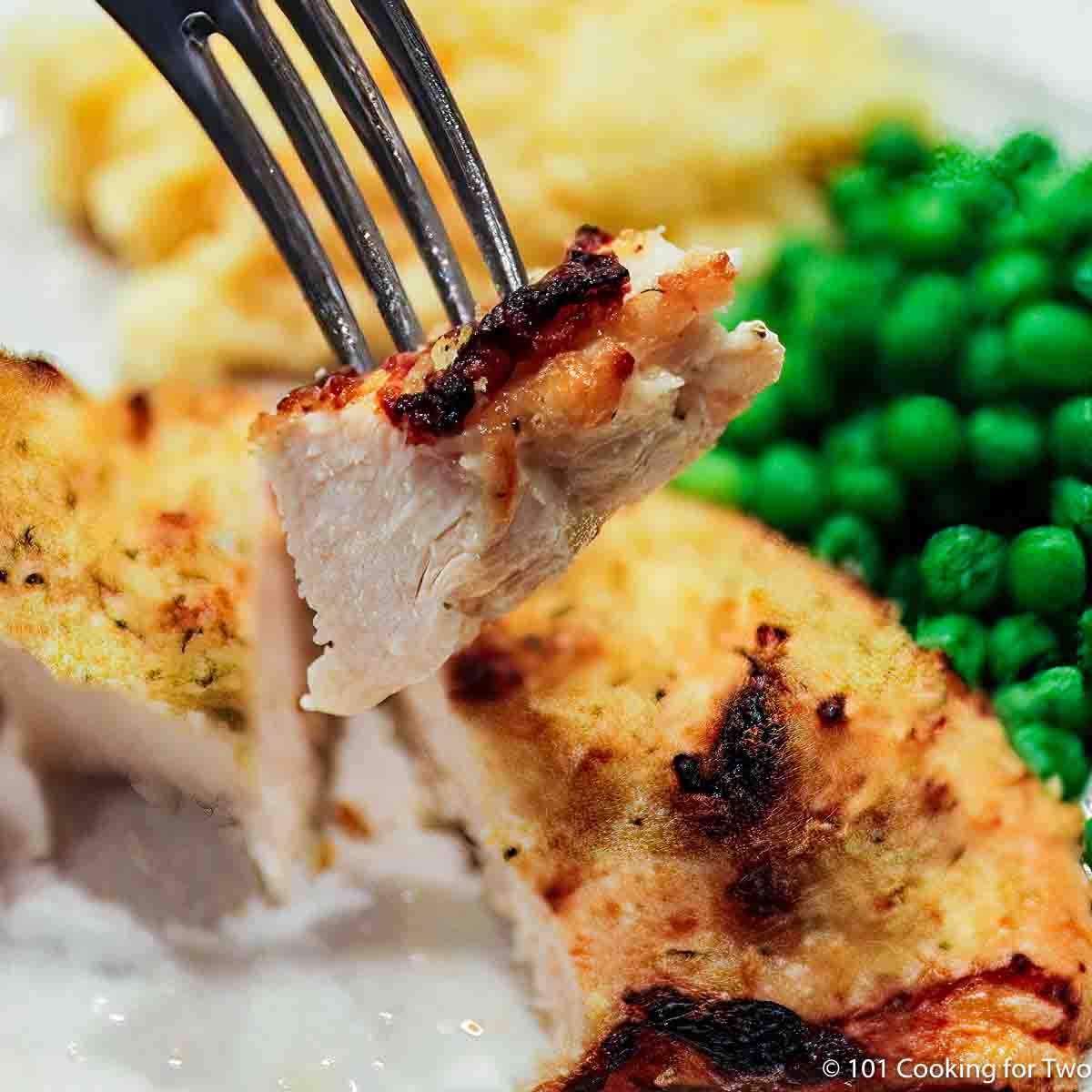 Introduction
This recipe has a skill level of 2/10. Anybody can handle this easy dinner recipe.
This is a baked chicken recipe using an easy, tasty coating. The "inspired by" for today goes to Melt in Your Mouth Chicken Breast at Food.com.
While it is a top rate recipe, I thought it needed a little crunch and some other small touches. But otherwise, a wonderful recipe.
The recipe starts with a base of some mayo. Add some Parmesan and seasoning. Coat some well-trimmed skinless boneless chicken breasts.
To add crunch sprinkle all sides with some Italian bread crumbs. Bake and you're in chicken heaven.
My Rating

The wife started chanting 5 and then changed Christmas dinner to this. I think she liked it. And so did I.
🐓Chicken Breasts
This recipe uses skinless boneless chicken breasts which have "grown" in my lifetime. Once upon a time, we were talking 6-8 oz. Now mostly about 10-12 oz and occasionally a full pound.
Try to pick chicken that is all about the same size. The results overall will be better since they will cook more evenly. If you are cooking more than two, larger breast to the outside of the pan helps a lot.
🥣Coating
You need a base, and the original recipe calls for mayo. You will see in the comments that even the "mayo haters" love it. You can use a lower fat if you wish. Other similar recipes use yogurt. The yogurt is frequently non-fat.
The coat of the mayo should be light. Too much will make the chicken wet.
A final note on the mayo, Miracle Whip is NOT mayonnaise. It has some sweetness and multiple other spices. If you use it in this recipe, please realize it may convey some flavors.
The Bread Crumbs
It is always tempting to add more of something you like. I like Panko breadcrumbs. But a LIGHT sprinkle. If you do more, you will have a "Panko Chicken," so let's be careful.
This is an easy recipe to adjust. Cut in half for two or double for a full family. Cut the fat with low-fat mayo or use nonfat Greek yogurt.
👨‍🍳Method
I love cooking my chicken on a rack. You really need to get a rack. For a few dollars, you will become a much better cook. But get one that is "oven-safe." Some racks are cooling racks only and have a coating.
If your local store does not have them, Amazon will. I list a few in Cooking for Two Shop, but others will work.
The Flip
I'm adding a suggest flip of the chicken halfway through the cooking. Some (not me nor many others) are having problems with a soggy bottom.
A couple of possibilities occur to me. First, previously frozen chicken or older chicken can release more fluid. Also, too much or thinner mayo could contribute. Or nothing they did.
Either way, the flip should help those cases and won't hurt. Use a fork for the flip. Tongs may remove some coating.
Food Safety Tips
Chicken should not be rinsed for food safety. It will splatter germs over your kitchen. For more details, please see Chicken… To Rinse or Not To Rinse? .
📖Chicken Recipes
Baked Parmesan Crusted Chicken Breasts
Pan Seared Oven Baked Chicken Breast

🖼️Step-by-Step Instructions
Preheat oven to 375° convection or 400° regular oven. Trim and pat dry 3-4 skinless boneless chicken breasts.
Mix in a medium bowl ½ cup mayonnaise, ¼ cup Parmesan cheese (fresh shredded preferred), ¾ teaspoon seasoning salt (I used Lawry's), ½ teaspoon garlic powder and ¼ teaspoon pepper.
Prepare a cooking sheet with aluminum foil (to help clean up) and a rack. The rack will help crispness all around. You can do without the rack, but the bottom will not be crispy. Give the rack a good spray of PAM.
Dip the chicken in the mayonnaise Parmesan mixture. Be sure to get all surface coated. Finger use allowed, but be sure to wash well after. Note: keep it light.
Lightly sprinkle with some Italian bread crumbs on both sides. I used about ⅓ cup on three large breasts. You are not coating them but just adding some crispy and flavor.
Bake until an internal temp of 165°. This will vary by oven but mostly by the size of the chicken. At 20 minutes into baking, flip the breasts with a fork. The total cooking time of about 40 minutes for medium to large. 45 minutes for huge. Let rest for 5 to 10 minutes before serving.


Do you want more recipes from 101 Cooking for Two? Sign up for the newsletter and get all posts delivered straight to your inbox!
📖 Recipe
Editors Note: Originally Published December 12, 2012, It has been buried on the blog for a while and needed to see the light of day. The pictures are re-edited. The text is re-written and buffed up.