One of the best chicken breast recipes you will ever make with a crispy golden Parmesan crust. Quick enough for an easy weeknight dinner or impress everybody at fancier meals.
Introduction
You can never have too many great chicken recipes. Just follow the easy step-by-step photo instructions for a great meal.
I based this on an allrecipe.com recipe. I added some panko bread crumbs and garlic since all chicken must have garlic at our house. With the Parmesan combined with paprika and garlic, you get a tasty main dish.
My Rating

A solid 5. One of my best chicken recipes. Also, makes a great leftover.
🐓Chicken Breast
Chicken breasts were 6-8 oz. years ago are now mostly about 10-12 oz or more.
Try to use chicken breasts that are all about the same size. The results overall will be better since they will cook more evenly.
Trim any trimmable fat and look for blood vessels and even bones. Pat dry and do not rinse. See Chicken... To Rinse or Not To Rinse? for a safety discussion about rinsing.
Some breasts are just too thick to cook well. By evening out the thickness some, you will ensure more even cooking. Otherwise, the thinner parts of the breast will be overcooked by the time the thickest part is done.
Try to thin those fatter chicken breasts to about ¾ inches in the thickest parts. You can use a meat mallet or even the bottom of a heavy pan. Please be sure to cover the breasts while doing this to prevent unsafe splatter. I like to use a freezer bag for safety.
♨️Cooking Method
Always place the thicker part of the breast towards the outside of the tray when baking chicken breasts.
I suggest cooking chicken on a rack if you have one. You will get airflow under the chicken and better crispier results.
You really need to get a rack if you don't have one. Be sure to get one that is "oven-safe." Some racks are cooling only and have a coating.
If your local store does not have them, Amazon will. I list a few in Cooking for Two Shop, but others will work.
👨‍🍳The Coating
This recipe requires grated Parmesan cheese. I much prefer freshly grated for a much better taste.
If you let the chicken sit for 5 to 10 minutes after coating before cooking, the coating will stick better.
I like to add a bit more coating to the top before going into the oven to thicken the crust. Also, a light spray of PAM (oil) will prevent that dried bread crumb thing that can happen in the oven.
Final Note: There is enough coating for four breasts, but I only had three, so the pictures are of three large breasts, but the recipe will say four so you can scale it correctly.
📖Chicken Breast Recipes
Parmesan Mayonnaise Baked Skinless Chicken Breast
Pan Seared Oven Baked Chicken Breast
Oven Fried Chicken - Is it KFC?

🖼️Step-by-Step Instructions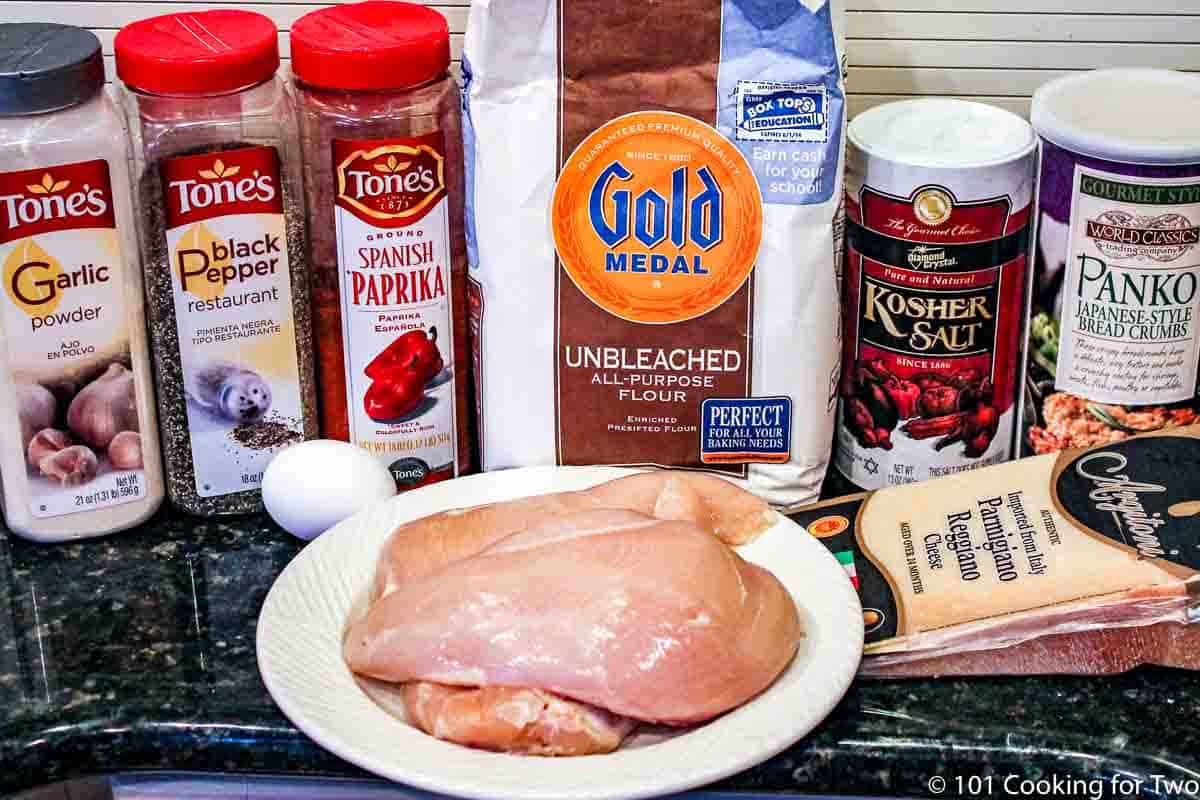 Preheat the oven to 350° convection or 375° conventional oven. Trim and pat dry 3-4 skinless boneless chicken breasts.
Prep a baking pan. Aluminum foil for easy cleanup, a rack to help crisp all sides, and a good spray of PAM. If you don't have the rack, just spray or oil the foil.
Grate ½ cup of fresh Parmesan. Fresh is better but use pre-grated if necessary. Set up a dredge line with one egg whipped in pan one. In pan two, add ¼ cup AP flour, ¼ cup Panko breadcrumbs, ½ cup grated Parmesan cheese, 2 teaspoons paprika, and ½ teaspoon each of salt, pepper, and garlic powder.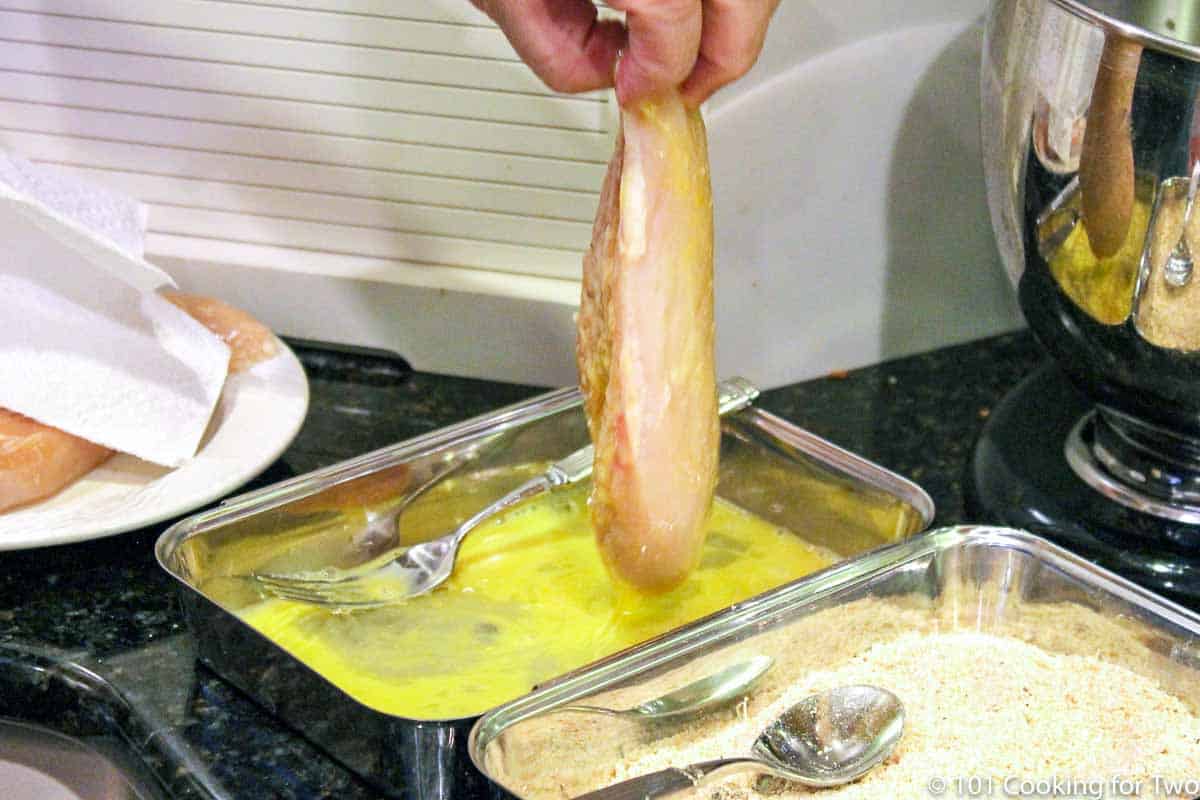 Dip the chicken breast in the egg, coat well and shank off excess.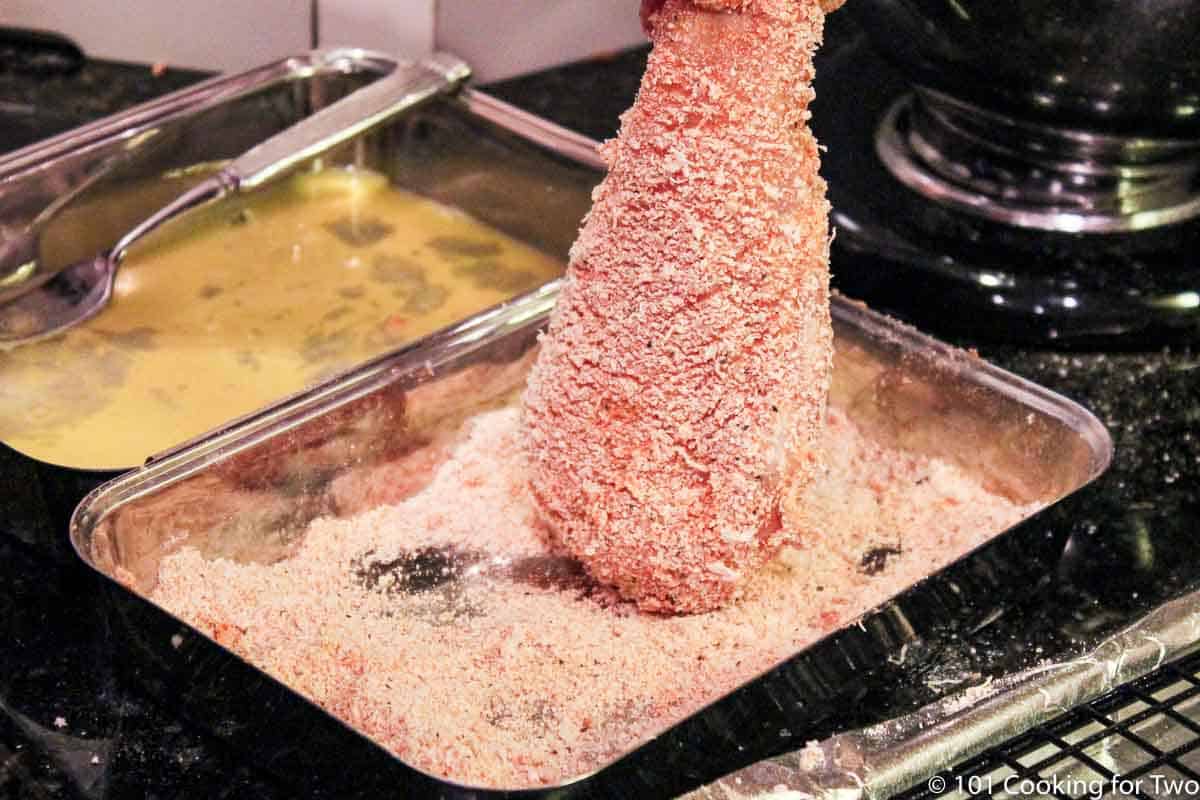 Dip the chicken in the breading mixture and pat it on. Shake off the excess. Place on the prepared rack
Add a little extra topping to each breast. Give them a light spray of PAM. Bake until an internal temp of 165°. About 35 minutes.


Do you want more recipes from 101 Cooking for Two? Sign up for the newsletter and get all posts delivered straight to your inbox!
📖 Recipe
Editor's Note: Originally Published January 26, 2013. Updated with expanded options, refreshed photos, and a table of contents to help navigation.