Parmesan roasted green beans are a delicious recipe that is a great easy side dish for any meal. Let's learn to pick out the best beans and then bake them with these simple step by step photo instructions.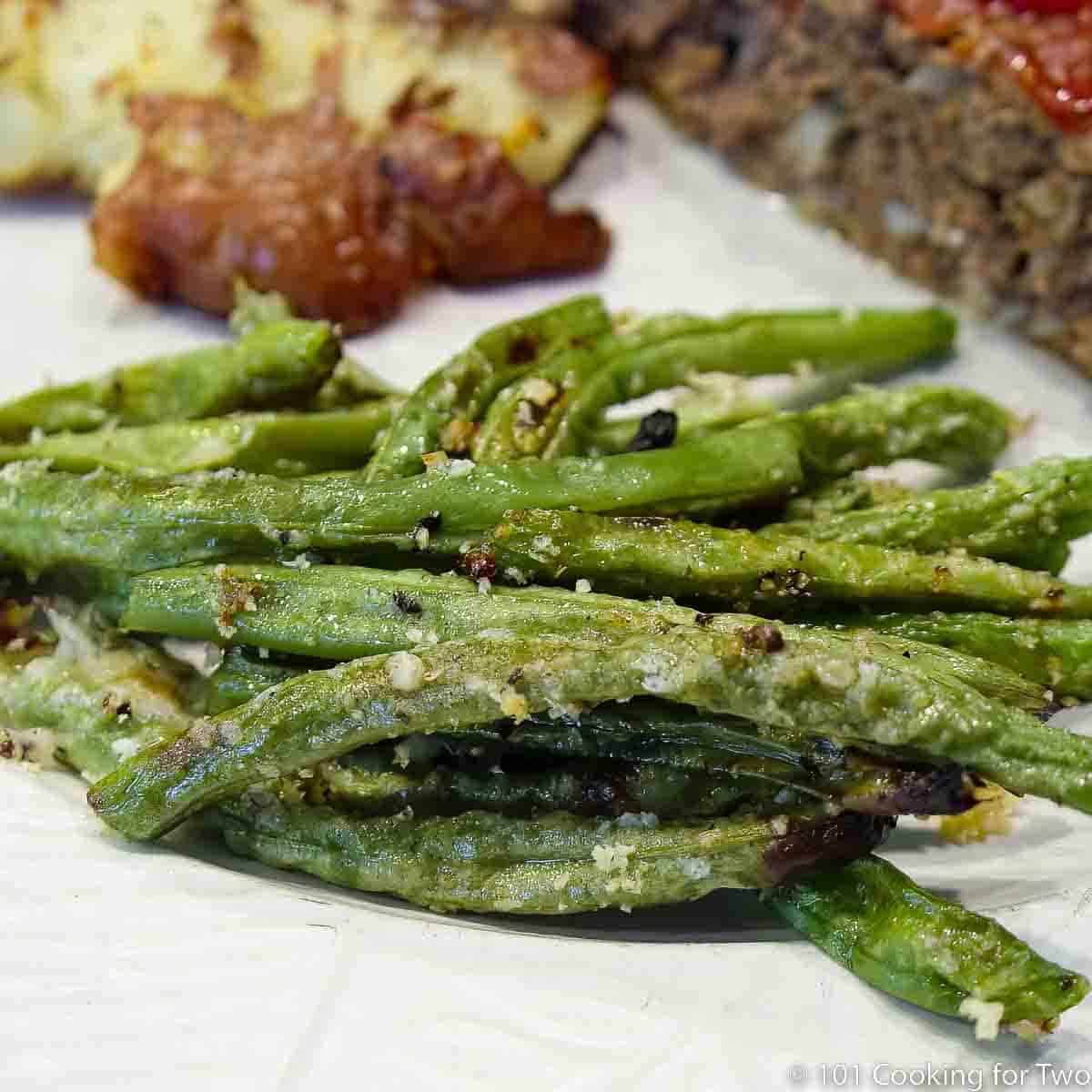 Introduction
We all need a collection of easy, dependable side dishes that can deliver dependable, great taste every time. Add this one to the collection.
This is a Tyler Florence recipe from Food Network. I have decreased the size (this is "cooking for two") and have simplified the technique a bit along with more detailed instruction.
My Rating

A solid 4.
🛒Green Beans
This is a fresh green bean recipe and not for frozen beans. So let's learn how to find the best fresh beans.
While reasonable fresh green beans are available year-round, the peak season is June through September, and local fresh will be best.
Of course, fresh off the vine is the best or farmer's market. Use the store produce department if you must.
Specifically, look for green beans that are firm and have a vibrant green color. Try to avoid bigger beans with swelling around the seeds.
Try to use beans that are about the same size. The skinny ones seemed to cook over and were a little dry.
📋Other Ingredients
Good quality olive oil and Parmesan cheese are highly recommended. These are providing most of the taste, so they need to be good.
A little salt and pepper. You can add a bit of garlic powder if you want. I generally use my All Purpose Seasoning - 7:2:1 and 7:2:2, which has all three and is always next to my stove.
📖Green Bean Recipes
Green Beans with Toasted Almonds
Green Bean Casserole Without Soup

🖼️Step-by-Step Instructions
Preheat oven to 375 degrees convection or 400 degrees conventional. Clean and trim ½ pound of green beans. Try to use beans of constant size — the skinny ones with dry out.
In a medium bowl, combine beans with 2 teaspoons of olive oil. Mix well, then add ¼ teaspoon kosher salt and ⅛ teaspoon pepper and mix again.
Cover a baking sheet with parchment paper. Spread the beans evenly across the paper. Cover with ¼ cup Parmesan cheese (fresh preferred).
Bake until browning some, 10-15 minutes.


Do you want more recipes from 101 Cooking for Two? Sign up for the newsletter and get all posts delivered straight to your inbox!
📖 Recipe
Originally Published July 8, 2012. Updated with expanded options, refreshed photos, and a table of contents to help navigation.