No frying is needed to get great crispy skin on your game day wings. Toss in homemade Buffalo sauce, and you have an American favorite. You can easily make these at home with one secret ingredient. Plus, it is healthier.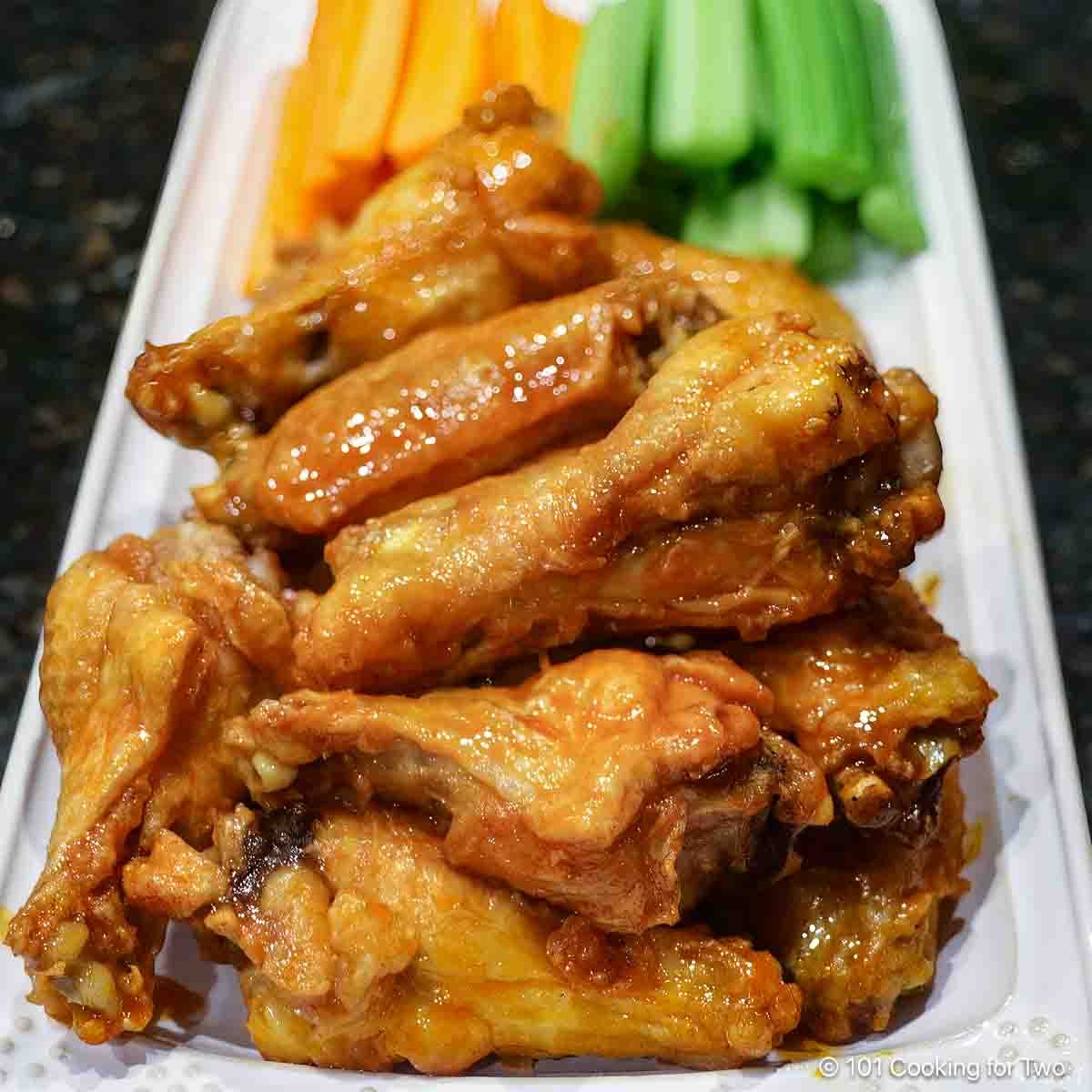 Introduction
Chicken wings have become a favorite munchie for viewing any sports event. Every sports bar has a "special recipe." We even have a highly successful restaurant chain founded on "wings." And trying to buy some at your supermarket the week before the big game will be unsuccessful.
Everybody wants crispy wings, and like typical Americans, we usually deep fry. Not very healthy but to me, also, not very special. Then it is all about the coating sauce and the dip. This can be good or not so much. Most wings seem to taste better with some alcohol.
Let's make something special at home, to our own taste that does not need alcohol to be acceptable. We want crispy, with some great taste, that is easy to make, and healthier would be good, too. This screams for baked chicken wings.
My Rating

Very surprising five to us. We have not been the biggest fan of Buffalo Wings. I think I have tried too many bad examples. But now I'm good again. My wife gave them a five, and I agreed.
🤐Secret Ingredient
The big secret to crisp chicken skin in the oven is baking powder. Used in a coating, it will pull water out the skin and make it crispy. Just don't ever buy baking powder with aluminum in it. The after-taste is bad and would ruin this dish.
👨‍🍳Method
The trick with these chicken wings is how to get them crisp in the oven. The secret, baking powder, will draw moisture out of the wings and contribute to browning.
Initial cooking in a low oven allows the baking powder to do its work. Follow by some higher temperature cooking, a tasty coating, and a dipping sauce of your choice.
I had done this technique before with my Crispy Skin on Split Chicken Breast but had to be reminded by reading In Search of the Best Oven-Fried Buffalo Wings from Food Lab.
The Food Lab article was very complete but way too fussy. So I went back to Cooks County, and amazingly it was simple–amazing considering it is coming for Cooks Illustrated.
The Cooks Country Oven-Fried Chicken Wings (subscription required) basically coat the wings with baking powder, a little garlic powder, and salt.
Then bake in a low oven for 30 minutes, then crank up the temp to finish them off. Way simple. Just coat with the sauce of your choice, and the big game munchies are ready.
🥣The Sauce
I suggest the traditional Buffalo hot sauce. This technique can be used with many flavors of wings other than Buffalo. BBQ seems to be a favorite but choose a different sauce if you like.
BBQ Sauce
Skip the Buffalo coating.
Mix ½ cup of your favorite BBQ sauce with 1 tablespoon melted butter. Give the wings a light brushing of the BBQ about 10 minutes at the end of cooking (be sure to flip to get both sides) than a heavier brush when they come out.
It somewhat depends on the amount of sauce you want on the wing. The light brushing gives a base for the second coat to stick.
🔥Smoking Oven Issues
Smoking ovens have been an issue for at least one user due to higher temperature cooking. I haven't had the problem, BUT it is probably related to multiple factors.
If there is trimmable fat, trim it.
Use a pan with some side on it to keep any splatter contained.
If your oven has convection roast and convection bake, use the bake mode.
You could turn down the oven by 25-50 degrees. This will increase the cooking time and may prone to drying out some. Remember to cook to an endpoint, not by time.
Of course, the oven should be clean, so the smoke isn't coming from a previous splatter.
Some water in the pan under the rack will prevent the smoking issue. It will cool the fat when it drips. While I commonly use this in other high-temperature cooking, one of the main features here is the crispy skin. Water is the enemy of crispy–clean the oven first.
📖Crispy Chicken Recipes
Oven Baked Chicken Legs – The Art of Drummies
Crispy Oven Baked Chicken Wings
Crispy Garlic Grilled Split Chicken Breast

🖼️Step-by-Step Instructions
Start by preheating an oven to 250°. Have a lower and a middle rack.
Trim about 2 pounds of chicken wings of any loose joint parts. It is fine not to cut the wings apart or just trim off the tip. Pat dry and then pat dry again.
Prep a baking tray with aluminum foil and a baking rack. Spray heavily with PAM.
Mix 1 tablespoon baking powder (without aluminum ) with ½ teaspoon salt and ½ teaspoon garlic powder. Add to a 1-gallon ziplock bag. Add chicken wings and shake well to coat.
Arrange the wings on the tray with the biggest pieces in the corner and the thinnest in the middle. Place in the preheated oven on the lower rack and bake for 30 minutes. Then move the tray to the middle rack and increase the oven to 400° convection or 425° conventional.
Prepare the Buffalo sauce to coat the wings. Melt two tablespoons butter and combine with ¼ cup hot sauce and 1 ½ teaspoon molasses.
Bake until golden brown and crispy. About an additional 40 minutes.
Allow to cool for 5 minutes, then coat with the Buffalo sauce or sauce of your choice.
Serve hot with Blue Cheese Dip and veggies.
CHECK OUT MY BLUE CHEESE DIPPING SAUCE


Do you want more recipes from 101 Cooking for Two? Sign up for the newsletter and get all posts delivered straight to your inbox!
📖 Recipe
Editor Note: Originally published January 30, 2016. Updated with expanded options, refreshed photos, and a table of contents to help navigation.