Lean, healthy, and tasty shredded pork from loin that's great for a hundred or the family. Just follow these easy step by step photo instructions. Cut the recipe down or triple it as needed. Cook ahead or freeze.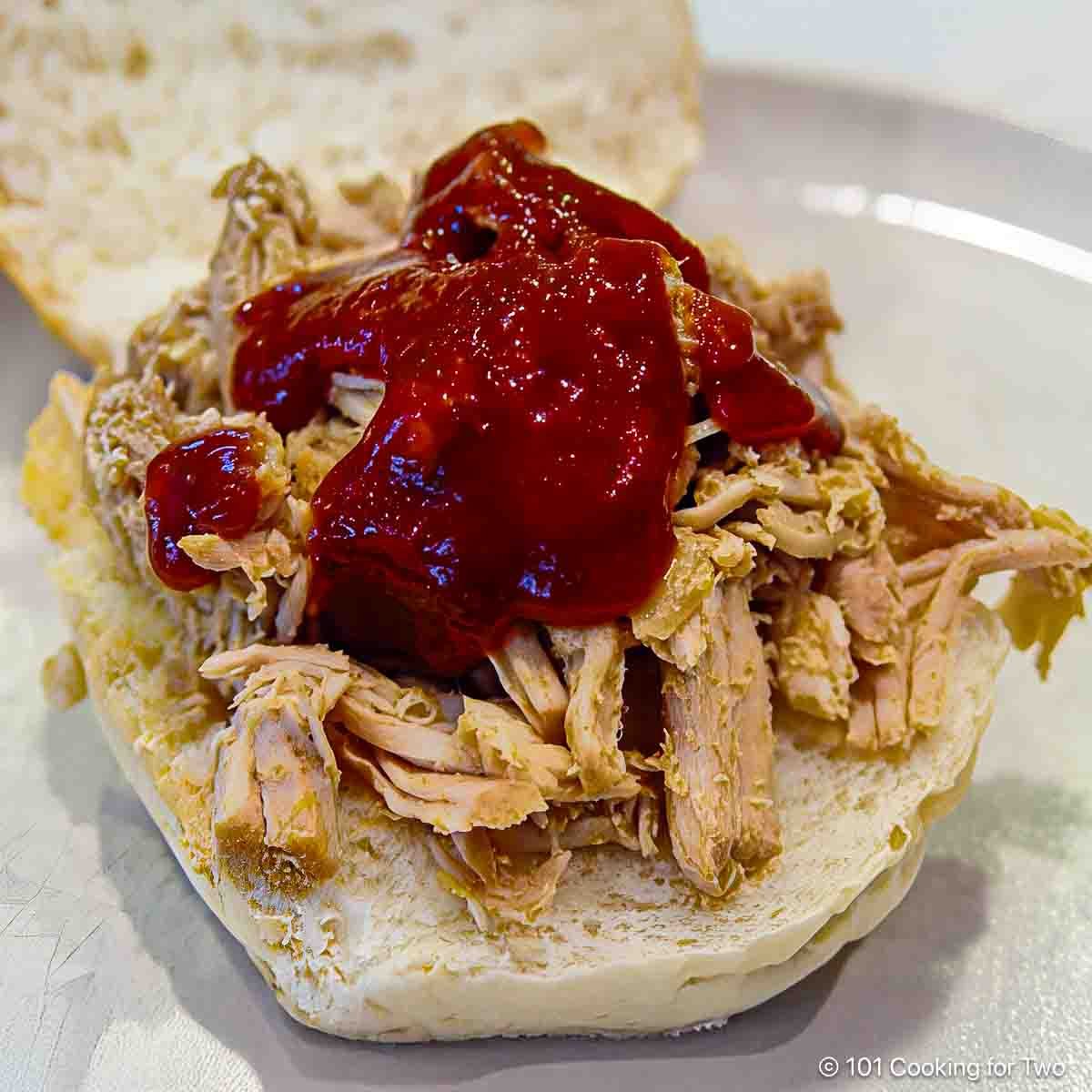 Introduction
Some would call this "pulled pork," but I generally call it shredded saving the term for pork butt recipes.
This was the "trial run" for another "mass cooking." I decide to publish it in this smaller form but scaling it up to a hundred servings, or more is simple.
This is a modification of a recipe I had developed and used over the years for shredded pork loin on the stovetop. I use broth that as spiced up, slices of pork loin, and then braise it on the stovetop covered on simmer for several hours.
But it is easier for large amounts to do this oven method. Feeding a large group has never been so easy.
The Technique:
1) Trim a center-cut pork loin of extra fat and any silver skin.
2) Braise in beef broth seasoned with chili powder, onion, and liquid smoke.
3) Do the cooking in the oven in a covered pan, so I don't need to pay attention.
4) Cook to 180+ so it will fall apart with melting all the connective tissue. And the tightened-up cells start to relax.
5) Cool and shred by hand.
6) Add some of the braising liquid back in to add moisture and a LOT of taste.
My Rating

Very high 4 or a lower 5. Really nice and very smoky. Not quite equal to pork butt pulled pork, but you will live longer, and this is a great cheap way to feed a hundred people.
🐖Pork Loin
This recipe uses a center-cut boneless pork loin. You will see them on sale at the meat department frequently and are usually about 5-6 pounds. A lot for a "cooking for two" home. But, cut the recipe down or triple it as needed. Cook ahead or freeze.
Remember, pork chops are just slices of pork loin. So, it can dry a lot. Also, if you decide to not cook the whole loin, do some 1-inch chops for the freezer.
🔪Preparing the Meat
The silver skin on the pork loin is tougher than on pork or beef tenderloins. If you don't want to fight it, you could leave it initially and remove it during the hand shredding. The same for the fat. I'm fat adverse.
You might also run into the small piece of meat on the side. I believe this is the tail end of the pork tenderloin. If you can trim it out, then cut it into a couple of pieces and put it in the pan with the braising fluid.
I have run into an occasional pork loin that seems to be "tougher." If you hit one of this (and I don't think you can tell until cooked), then try to be sure to do the overnight rest in the refrigerator after adding fluid the first time. This is to allow the braising liquid to absorb.
Cut the loin into 1 to 2-inch slices. If you decide to freeze some of the raw loin. Cut it 1 inch thick and use as a center-cut pork chop (that is what it is).
👨‍🍳The Braising Fluid
The braising fluid is simply beef broth with some spicing. You can use chicken, vegetable or even pork if you can get it. But I think the beef adds a nice taste to this. Please buy a good quality beef broth. The cheap ones are bad.
After cooking, reserve about 2 cups or a little more of the fluid per 5 pounds of loin.
After shredding, add back some of the braising fluid. Start with about a cup per 5 pounds. I usually end up abound 1 ½ cups.
This is a little like a casserole, it is better warmed up the next day. It is still good the day of cooking but a noticeable difference.
An overnight rest in the refrigerator covered tightly allows the braising fluid to absorb. Add some of the remaining fluid if needed the next morning.
I usually end up using about 1 ½ cups total per 5-pound loin. So save at least 2 cups at the beginning.
✔️Tips
Make it Mexican
Remove the liquid smoke and add 2 teaspoons of cumin. Great for any Mexican cuisine.
How Much to Cook, Storage, and Reheating
If you are using this for a large group, calculate ¼ pound per sandwich. If it is the lone main dish, then 1 ½ sandwiches per person.
Good refrigerated for 3-4 days and freezes very well for 3-4 months at least. So a great cook ahead dish for a large group.
For a large event, I reheat in a crock pot on low. Depending on the amount you have, it may take a few hours or more. You can also reheat in the oven covered with foil.
If frozen, thaw before reheating.
Can I add sauce to reheat?
No, never do that to any pork. The tomato acid will break down the texture of the meat the longer it sets. Just let the people add their own sauce. I like to take a variety of choices, but my Memphis BBQ sauce is always the favorite.
📖Party Size Recipes
Oven Pulled Pork from Pork Butt
Memphis Barbecue Sauce; A Wonderful Thing

🖼️Step-by-Step Instructions
Trim a whole center-cut pork loin of extra fat and silver skin. Cut into about 1 ½ inch slices across the grain.
You could use a dutch oven or any oven safe pan that you can seal shut.
Chop one onion. Add to the pan along with the spices, broth, and liquid smoke. Add pork slices. It may not be entirely submerged. Add a little water if needed to almost cover the pork.
Seal with aluminum foil and place in a 300° oven for 2 ½ hours give or take a little. I did not preheat. It's a long cooking time and doesn't matter.
Remove from over. Move pork to a plate to cool a bit before shredding.
Reserve 2 cups of the braising liquid per 5 pounds of pork and discard the remainder.
After the pork is cooled, hand shred disregarding anything that you don't want to eat.
Add back one cup of the braising liquid.
Mix well and add more liquid if needed. Refrigerate overnight if possible. Save the rest of the braising liquid to add on future warmups.


Do you want more recipes from 101 Cooking for Two? Sign up for the newsletter and get all posts delivered straight to your inbox!
📖 Recipe
Editor's Note: Originally Published August 18, 2011. Updated with expanded options, refreshed photos, and a table of contents to help navigation.