One pot, one hour, one of the best broccoli cheese soups ever. Better than restaurant quality soup for your family or company. You will love this soup.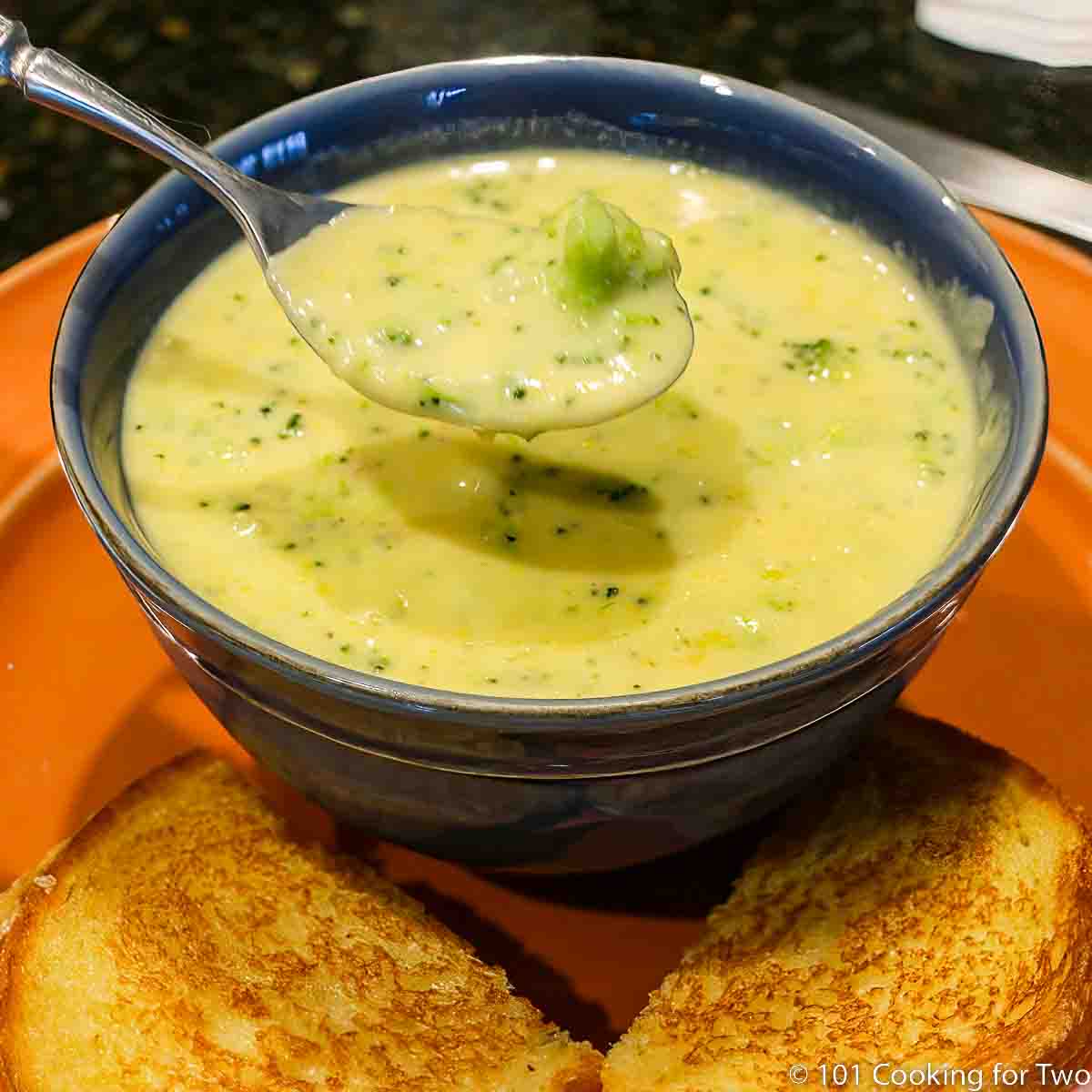 Introduction
This is my favorite homemade soup. It is the perfect comfort food for a cold day, and I never make a single batch. We can't stop eating this soup.
I had researched for several weeks and had a couple of inspirational recipes. I ended up combining Pioneer Woman with an Allrecipes recipe.
I wanted one pot. I wanted to cook the broccoli in the soup and not separately. And I didn't want to use any cream. I don't ever have cream, and although this is not low-fat, there are some things I just won't do.
Nothing matched my needs, so I combined recipes. The results are better than I ever expected.
I presented my wife with this wonderful homemade soup with grilled ham and swiss sandwich. She was a very happy wife.
My Rating

A solid 5. One of my top recipes.
🥦The Broccoli
I generally use fresh broccoli for this soup. One large head will cleanout to be about 2 cups of florets. But it is fine to be a little over or under on the amount of broccoli.
I do chop up the medium size stems, but the large thick trunk, I generally skip.
Can I use Frozen Broccoli
Yep, measure by volume. A good size head of broccoli will make about 2 cups. You can up the broccoli a bit if you want. Also, the frozen broccoli may take a few minutes more to get tender, so cook to tender and not by time if using frozen.
🧀The Cheese
I fess up. I like Velveeta. So here I used sharp cheddar and Velveeta. But choose the cheeses you like. Most will want a mixture of different cheddars.
A few comments on cheese quality. The best cheeses are always blocked cheese. It can be cut/shredded as needed. But really in a soup, I use a brand name shredded.
Some people (as always) will have some issues. All this recipe asks the cheese to do is melt and taste good. So if your cheese separates or clumps, it is your cheese, not the recipe. Usually, this will be generic poor quality cheese or outdated cheese.
Some cheese, like Velveeta, is processed and is designed to melt smoothly. Part of your cheese, being something like Velveeta, will add some smoothness.
👨‍🍳Variations
Copycat Panera Broccoli Cheese Soup
If you want to copycat Panera, then just add one cup matchstick-cut carrots and one stalk thinly sliced celery at the same time as the broccoli.
Make it Bacon Broccoli Cheese Soup
Everything is better with bacon. This is my wife's addition. Chop 3 strips of bacon into ½ inch squares and fry until done. Drain and add along with the cheese.
Make it Cauliflower Cheese Soup
Several commenters want to use cauliflower in place of the broccoli. This is fine, but cauliflower may take a few minutes more to cook. So use the same volume but use the same endpoint of the cauliflower being tender, and you should be fine.
❄️Storage
Good refrigerated for 3-4 days. It will freeze well for 3-4 months. It never lasts more than 2 days at our house.
📖Comfort Soup Recipes
Crock Pot Broccoli Cheese Soup
Old Fashion Vegetable Beef Soup
This recipe is part of our Our Best Soups.

🖼️Step-by-Step Instructions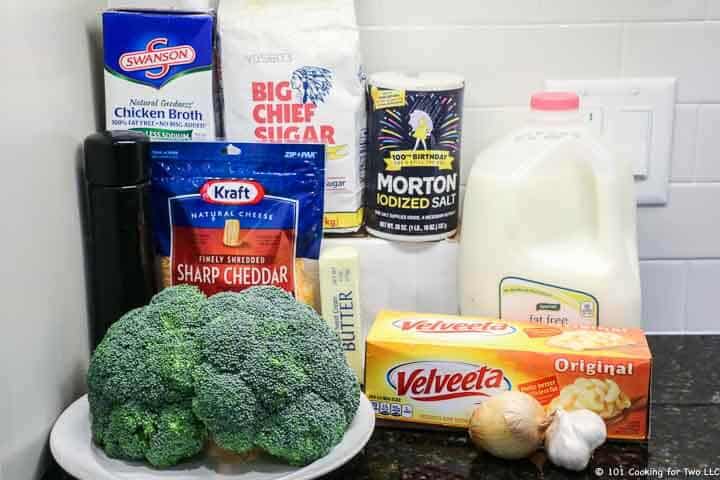 These are double batch pictures. The recipe discussion below is a single batch, and the ingredient list is for a single batch, but pictures are for a double batch.
Rinse and spoon size chop one head of fresh broccoli. I discarded the broccoli stalk. This should be about two cups.
Mince a small or ½ of a medium onion. Over medium-high heat melt four tablespoons butter. Add onion and cook until clearing. About 3 minutes. Add one clove minced garlic and cook one more minute.
Decrease the heat to medium. Add ¼ cup flour and continue to cook and stir continually until browning some. About 3 minutes.
Slowly add two cups of chicken or vegetable broth continuing to stir. Add ½ teaspoon of salt and ½ teaspoon pepper. Allow to thicken some then add two cups of milk. Bring to a boil and allow to thicken.
Add broccoli, cover, and turn down the heat to simmer. Simmer until broccoli is tender. About 25 minutes.
Option: Some people like to run an immersion blender through the soup at this point. I only wanted a little of that blending, so I used a potato masher.
Add 2 cups of cheese of choice. I used sharp cheddar and Velveeta. Simmer another 5 minutes and serve.


Do you want more recipes from 101 Cooking for Two? Sign up for the newsletter and get all posts delivered straight to your inbox!
📖 Recipe
Editor's note: Originally published December 19, 2015. This has become one of my go-to recipes and is being updated with expanded options, refreshed photos, and a table of contents to help navigation.