Learn the secret to tasty, moist, and crispy baked split chicken breasts. A great bone-in chicken recipe for an easy and economical family dinner the whole family will love.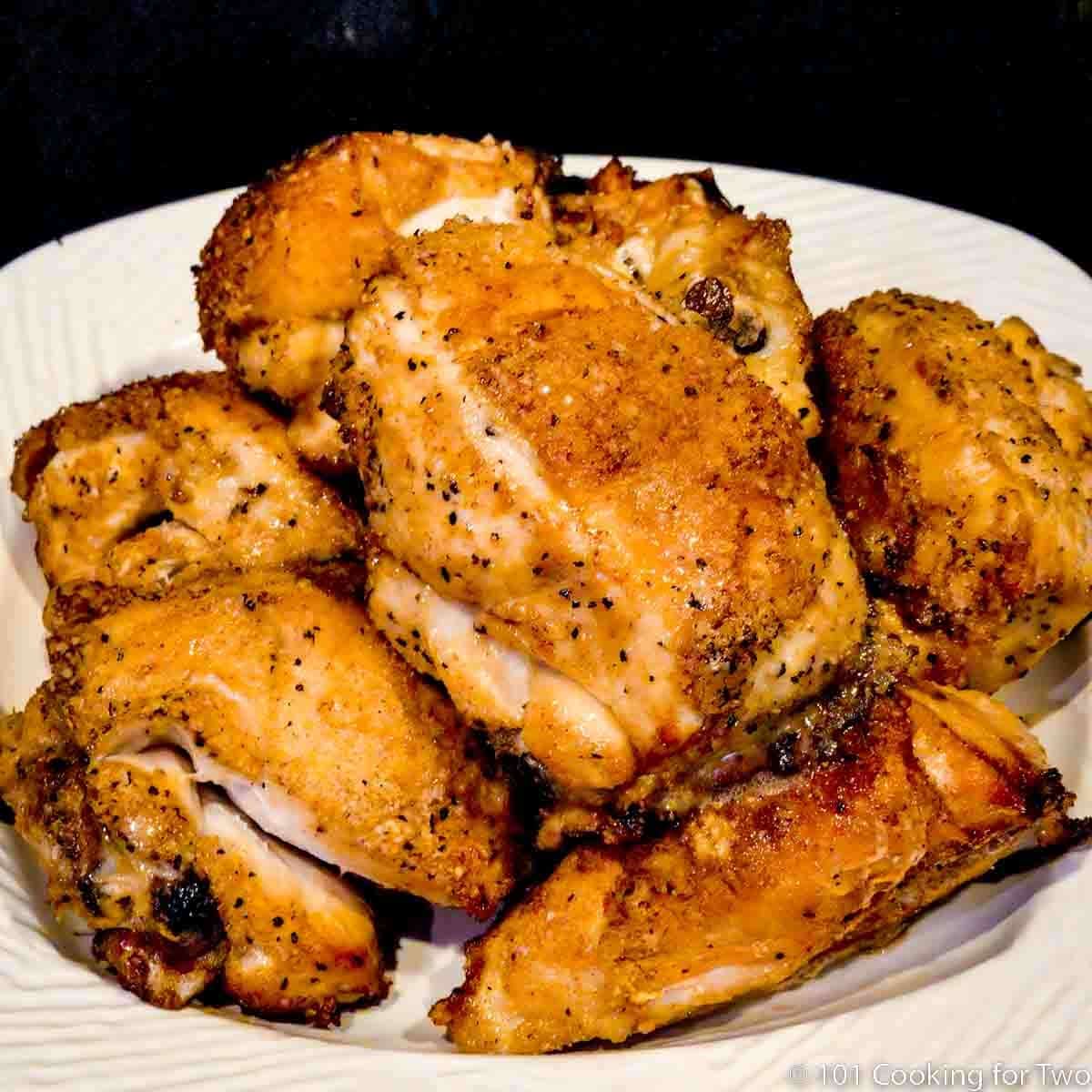 Introduction
Many believe that bone-in and skin-on chicken has superior flavor and is extra moist and juicy. Who am I to disagree?
The trouble that most people have with bone-in chicken breasts is their huge size. They are hard to cook to a safe temperature, and the serving size is just too big. We can easily fix both those issues by just learning to prep them right with a few minutes of trimming.
Let's get it right the first time and every time with these easy step by step photo instructions. It is much easier than you think.
My Rating

This is so good that it has become our everyday roasted chicken recipe. It can't get much better than that.
🐓Split Chicken Breasts
Split chicken breasts are also known as skin-on bone-in chicken breasts. Most feel they have more taste and moisture than the more popular skinless version.
They are called split chicken breasts because, during processing, the entire breast is removed with some ribs. It is then "split" down the middle of the breast bone to produce two pieces.
But they have become progressively bigger over the last few decades. They are now too big for a reasonable serving size for most people.
They are also hard for most home cooks to get to a safe internal temperature without overcooking the outside. So most will skip them as an option or settle for poor results. We can fix that.
👨‍🍳The Secret
The "secret" to the success of this recipe is how to prepare a split chicken breast before cooking. You get a better serving size, more even cooking, and more surface area for the great spices.
Step one is cutting off the attached rib section. There is no meat, it takes seasoning, and tends to overcook.
Step two is to cut the breasts into two or three pieces. Trying to cook the whole thing at once will almost always burn it on the outside before reaching a safe 165° internal temperature.
⏰🌡️Time and Temperature
The best oven temperature is 400° convection or 425° for about 35 minutes. The time will vary by the size and thickness of the chicken pieces.
The reason for a bit higher temperature is two. First, we are aiming for crispy skin. And second, we cut those large breasts into pieces so the center will cook faster.
You can lower the recommendations by 25°, and the cooking time will increase by about 5 minutes.
The specific safe endpoint of cooking is a final internal temperature of 165° and not any less. Like most meat, never cook by time, always cook by temperature.
✔️Tips
Spicing
Like all recipes, season to your taste. Feel free to change it up.
I added some cayenne for the touch of spiciness. The recommended ½ teaspoon is about a 5/10 spice level for me. Cut it down or just skip it if you want.
The garlic is a little heavy for some. But like all spicing, adjust to your taste.
Do I need a rack?
No, but it is better with a rack. If you don't have one, use a good coat of oil on the tray to prevent sticking.
What's with the baking powder?
I used some baking powder to increase the crispness. A trick from Cooks Illustrated, although I have modified the technique.
The baking powder will pull water out of things like chicken skin. I find it works fairly quickly.
Some recipes will call for hours or overnight with the baking powder on the chicken, but looking at the science, I don't feel that is needed. Works for me.
I do suggest using aluminum-free baking powder. I just never buy baking powder with aluminum, which many can taste.
Or skip the whole baking powder thing. You will still have good results. Not quite as crispy.
Food safety
We no longer recommend rinsing chicken due to contamination of the surrounding area. Just a good pat dry with a paper towel is good. See Chicken... To Rinse or Not To Rinse? for details.
Also, the final internal temperature of the chicken in the thickest part needs to reach 165°.
📖Crispy Chicken Recipes
Oven Baked Chicken Legs – The Art of Drummies
Crispy Oven Baked Chicken Wings
Crispy Garlic Grilled Split Chicken Breast

🖼️Step-by-Step Instructions
Preheat oven to 400° convection or 425° conventional oven.
Pat dry chicken, then trim the chicken of any trim-able fat and remove the rib area and discard.
Cut the chicken into chunks—the normal size ones in half and the super humungous ones into thirds.
Prepare a baking pan with aluminum foil, a baking rack, and spray with PAM. Combine spices and then sprinkle and rub on all surfaces. Place on a rack with larger pieces in the corners. And thinner edges to the center.
Bake until internal temp of 165°. About 35 minutes depending on your oven and thickness of the chicken.


Do you want more recipes from 101 Cooking for Two? Sign up for the newsletter and get all posts delivered straight to your inbox!
📖 Recipe
Editor's Note: Originally Published May 25, 2011. Updated with expanded options, refreshed photos, and a table of contents to help navigation. Please enjoy one of our easiest, most flavorful chicken recipes.