Super easy to make, and one of the best homemade chilies you will ever have. This versatile chili is perfect in a smaller crock pot and can easily be adjusted to your taste and needs.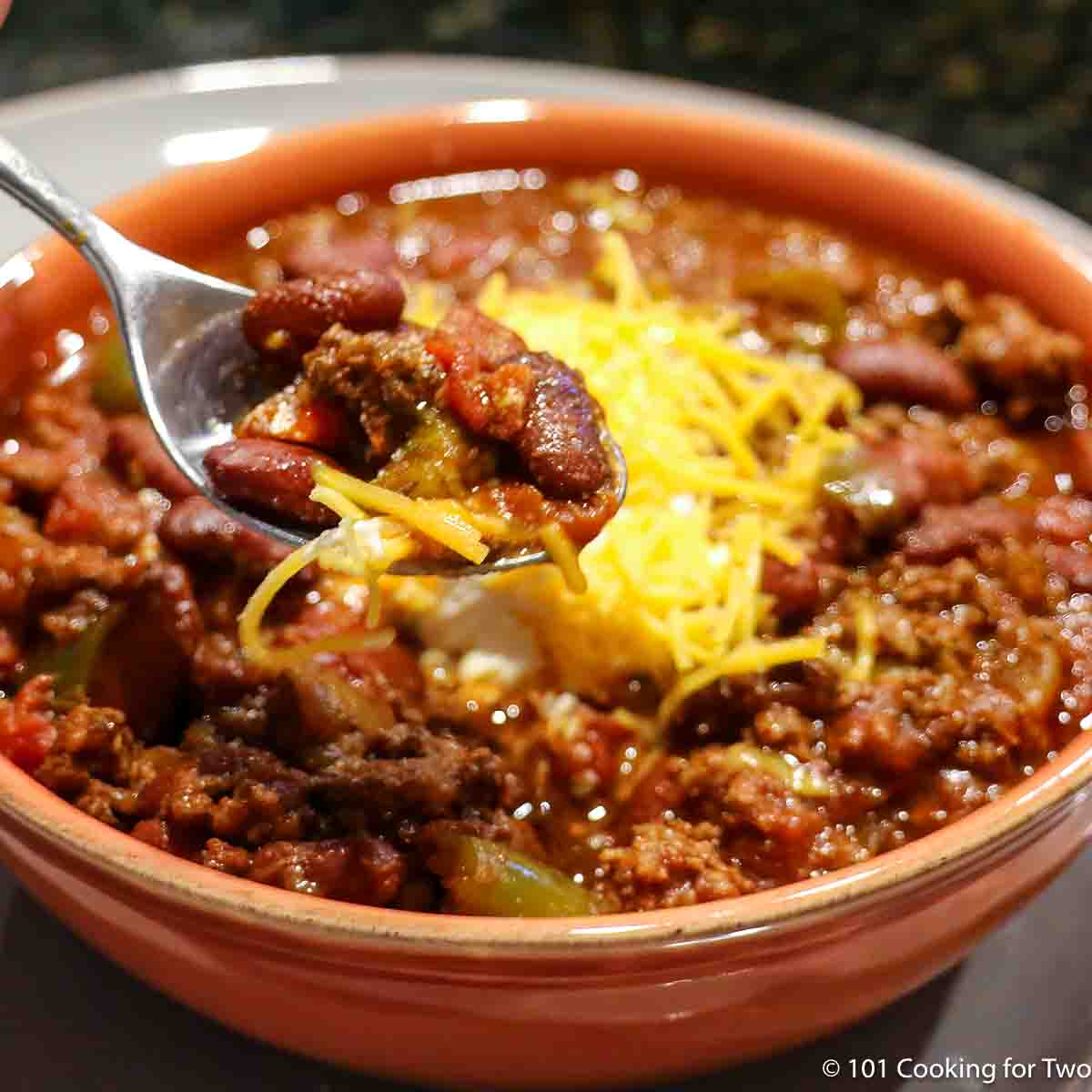 Introduction
Who says everyday chili needs to be blah? This wonderful hardy red ground beef chili recipe made in your crock pot. Great for every day, a tailgate, or family get together.
I have a lot of chili recipes, 13 at last count, and I love them all. But my wife (Wifo) asked for plain red chili. Just an "everyday" red ground beef chili. Not chicken, black bean, or anything else "special'. Just a "plain chili" as she calls it. An "all-American" chili, so to speak.
It needed to be ground beef, with kidney beans and tomato-based. A nice medium heat was mandatory. Not hot, read that as no jalapeno, although it would be a nice addition to this recipe.
I had an older chili recipe, Crock Pot Red Beef Chili, that was published only in the second month of this blog and had a fair amount of heat. A little change here, a little tuck there, and I had a recipe that I really could eat every day. I have "retired" the previous recipe.
My Rating

A very solid 5, and yes, I could survive on this alone. I suggested an all-chili diet. I got slapped down, but she did love it.
🐄The Meat
This recipe is based on ground beef, but you can use any other ground meat. Each will have a slightly different taste profile, but the spices and tomato products will even things out.
So this is a good place for ground turkey or ground chicken if you want.
Precook the ground meat.
Ground meat needs to be precooked for crock pot recipes. This is not a safety thing but a texture thing. While the meat will cook well past the 165 safe temperature in the cooker, it will cook in clumps and not broken apart, which you want for a good chili texture.
♨️Crock Pot Size
This is scaled for a smaller crock pot. A 2 ½ quart is the smallest you should use. A double recipe needs 4 quarts or larger. And a triple recipe fits in a crock pot of 6 quarts or larger.
This is an easy recipe to adjust. Use the serving adjustment just above the ingredients in the recipe card area. That will do the math for you. It will not adjust to numbers in the instruction section, however.
The serving size is about 1 ½ cups. It will freeze well and is good in the refrigerator for 3-4 days.
👨‍🍳Tips
This is a great recipe for what it is. It is an everyday ground beef red chili. And this is now our standard beef chili, and I'm sure it will be yours.
You can make it as a crockpot turkey chili if you want.
You can make it hotter with a minced jalapeno pepper or a bit more cayenne pepper.
If you want, you can modify the beans, take out the bell pepper, or other changes.
If you make a single batch, you will have half a pepper and some tomato paste leftover. Both will freeze well. Chop the pepper before freezing. With the tomato paste, make one tablespoon-size mound and freeze for future use.
This is a thick chili. Add more water some beef broth if you like your chili more like soup.
🧂A Sodium Note
Chili can get out of hand on sodium content. I rinsed the beans that help the sodium. I always use low sodium beans any more. And if you add broth to thin the chili, use low sodium broth.
❄️Storage
It will be good in the refrigerator for 3-4 days and will freeze well for 3-4 months.
📖Crock Pot Chili Recipes
Ultra Simple Crock Pot White Chicken Chili - This is the easiest and best chicken chili ever.
Crock Pot Three Bean Turkey Chili
Low Fat High Taste Crock Pot White Chicken Chili

🖼️Step-by-Step Instructions
NOTE: Images are for a double batch. The instructions and ingredients are for a single batch.
The ingredients are what you would expect.
Start by browning one pound of ground beef. After 3-4 minutes, add one small onion chopped. Add minced or crushed garlic near the end of browning—about 8 minutes in total. Drain and add to a small crock pot.
Chop half of a green pepper. Rinse and drain one can light kidney beans.
Add one 14 oz can diced tomatoes, a half of 6 oz can tomato paste, ½ cup water, 3 tablespoons chili powder, 1 teaspoon cumin, ½ teaspoon oregano, ½ teaspoon salt (to taste), ¼ teaspoon pepper, ⅛ teaspoon cayenne pepper (optional and adjust to taste).
Cook on low for 8 hours or 4 hours on high.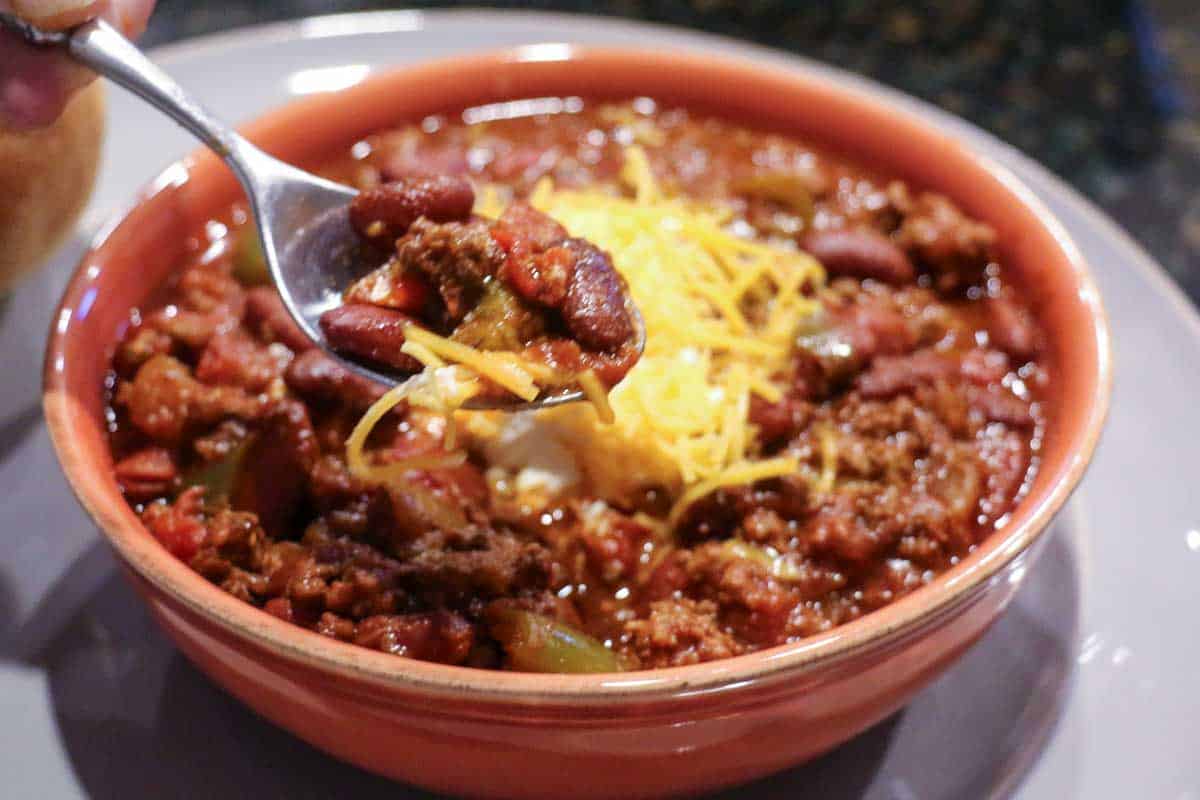 Do you want more recipes from 101 Cooking for Two? Sign up for the newsletter and get all posts delivered straight to your inbox!
📖 Recipe
Editor's Note: Originally published January 19, 2015. The text and options have been expanded. I have published it now as a smaller recipe. I generally make a double batch, and that was initially published. I have also refreshed all the photos and added a table of contents to help with navigation. Please enjoy this excellent chili.