Great melt-in-your-mouth pulled pork is now an easy economical dinner recipe. Cooked all day low and slow in your crock pot, pork butt becomes pull-apart tender for the family or a crowd.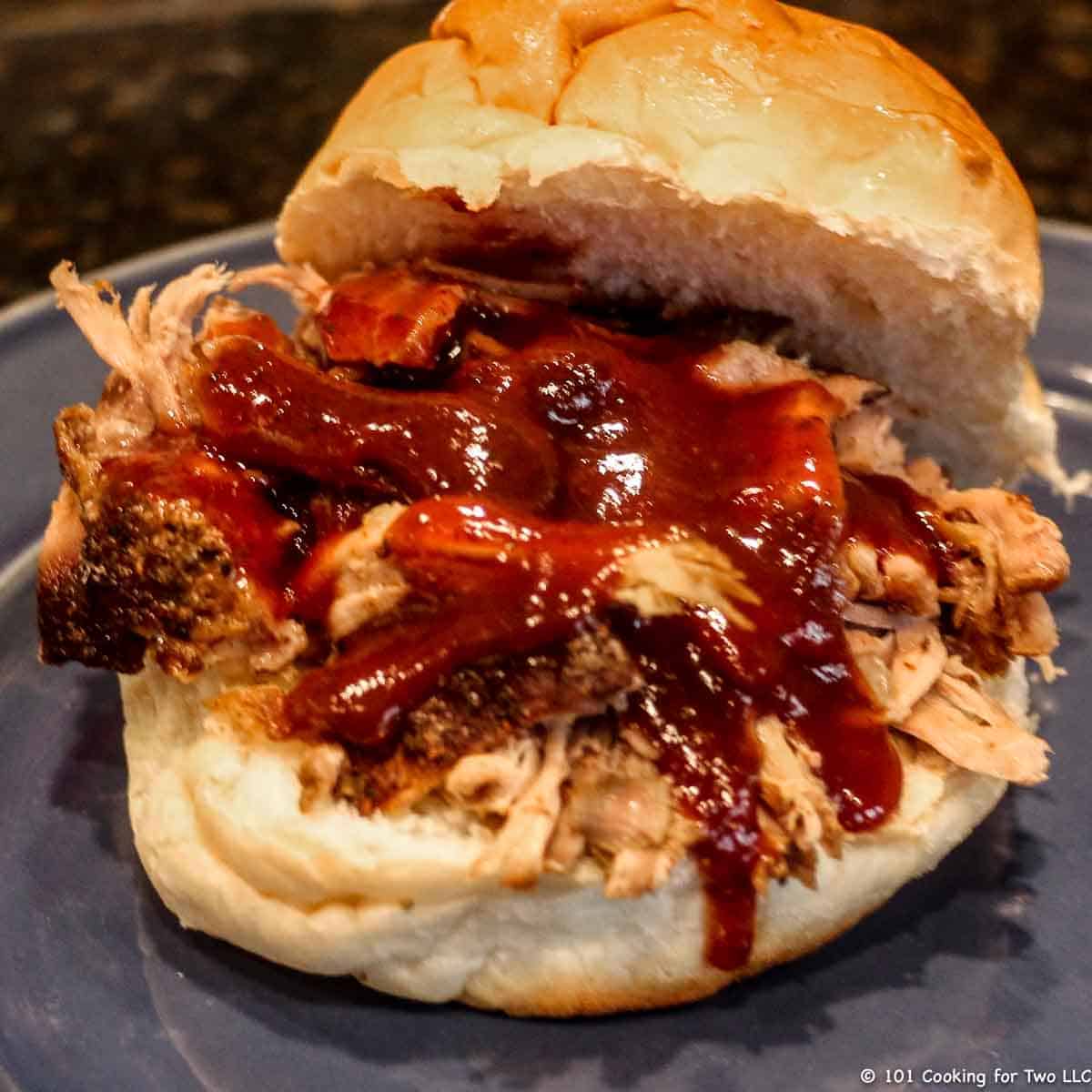 Introduction
I love pulled pork, but most of us do. I can fake it with other cuts of pork, but pork butt (AKA pork shoulder) is the "right" cut.
Cooking it low and slow is also the right way. And lastly, it should be cooked dry, not braised in liquids which is also wrong. Let's do it the right way.
There are many slow cooker recipes with condensed soup, packets of onion soup mix, broth, and many other things that should never touch a pork butt. Plus the suggestion that it is "done" in 4-6 hours on low... not possible.
I'm starting with my usual great homemade rub (but feel free to use your favorite). Wet with liquid smoke, apply the rub and cook low and slow in a crock pot. Now the secret ingredient., aluminum foil, but don't wrap it, elevate it to keep it out of the fat.
My Rating

A very nice 5. Almost equal to my oven and grill versions.
👨‍🍳What is "The Right Way"
The four easy secrets to the best pulled pork in a crock pot the "right way".
Use pork butt or pork shoulder only. No other meats qualify for this recipe. Recipes for other meats listed below and in the Pulled Pork Recipe Roundup.
It is cooked dry with an appropriate rub. Not braised in cola, broth, or other liquids. That is just wrong. (Suggested rub included.)
It is not cooked in the drained liquid/fat. It drains away in the smoker, so it will here also. (Elevated with balls of foils.)
Cooked to an internal temperature where it can shred correctly and the connective tissue melts. (Long cooking time and check the temperature at the end.)
🐖The Meat
What is Pork Butt?
Like many cuts of meat, there are multiple names about the same thing. Pork butt and Boston butt are the same.
Pork shoulder is the thinner area of this cut but is commonly cooked and used the same as the butt. It has a bit less marbling and less fat and is usually not separated from the butt.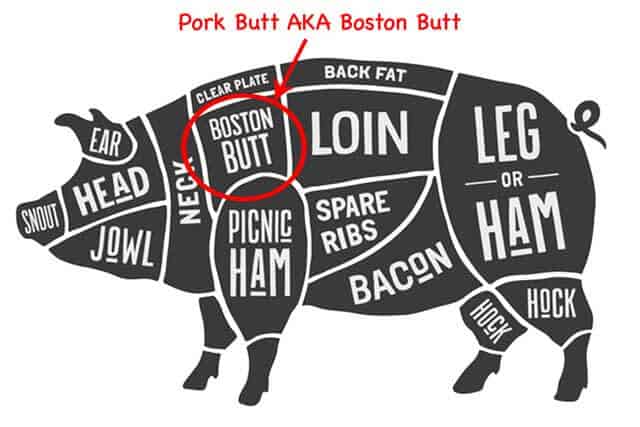 If you are wondering, butt means thick, so that is why the term "butt" is used. Lastly, the picnic ham and picnic shoulder are not the same as this cut.
A bit more about the meat:
I designed this for about a 4-pound pork butt. You can do bigger. Generally, if it fits in the crock pot without touching the sides, it will work. BUT the time will be longer but not in direct proportion to weight. So an 8 pounder is not double a 4 pounder. It is more in proportion to thickness.
Bone-in or boneless does not matter. But with bone takes a bit longer.
Fat pad up or down does not matter. But I tend to do fat pad down or side.
📋 The Rub
I provided a suggested rub, but any rub you want will be fine. The suggest rub has an average amount of salt for a rub. Some find that too much. We are now decreasing our own salt intake so I usually decrease it by 50% and can't tell the difference.
Frequently, I put the rub on and cooked right away. That works quite well but if you plan ahead, then apply the rub the night before and wrap in plastic wrap.
⏰How long to cook?
I want a recipe that can be put on in the morning before you leave for work and be ready in 9-10 hours when you get home with most crock pots but there may be some variation.
I like to take my pork butt to 195+ range. And prefer 200-205, but some crock pots just won't get there in most crockpots. So settle for 185 only if you must, but 195 or even 200 is really good.
♨️How to Reheat?
I like to reheat on a sheet pan, I sprinkle with a little water on my hand (don't overdo it). Cover tightly with foil and into the oven at 250-300 until hot. The time varies by how you shredded it and the amount on the tray. You can then turn the oven down (keep it covered) or transfer to a crock pot on low to keep warm. (usually 45 minutes or so in the oven for me). I know that is not very exact but you get the idea.
Never reheat with sauce applied, the acid will destroy the texture.
🖊️Other Notes
Liquid Smoke
I like the liquid smoke, but some people object out of principle. Well, you're lucky it doesn't have onion soup mix. But leaving out will be fine and only a minor change in the final results.
If you do use the liquid smoke, please only use one with water and smoke listed as ingredients and nothing else. Cheap liquid some will ruin this. I use Wright's.
Storage
Good refrigerated for 3-4 days but I prefer 2 days since the texture seems to suffer. It will freeze well for 3-4 months.
Sauce Suggestions
I suggest my homemade Memphis Barbecue Sauce; A Wonderful Thing. This sauce always disappears and others are left untouched at parties. But use any sauce you love.
One quick reminder, do not reheat with BBQ sauce. The acid in it will destroy the texture of the meat.
📖BBQ Recipes
Pulled Pork on a Gas Grill – Not That Hard
Oven Pulled Pork from Pork Butt
Easiest Crock Pot Shredded Pork Tenderloin

🖼️Step-by-Step Instructions
Start with a pork butt AKA pork shoulder 3-4 pounds. And a rub of your choice.
Prep a large crock pot with six balls of aluminum foil. Make about 2 inch balls but then squish down to 1 inch high and arrange in the bottom.
You may use the rub of your choice, or mine is ½ cup dark brown sugar, three tablespoons kosher salt, one tablespoon chili powder, one teaspoon garlic powder, one teaspoon onion powder and one teaspoon pepper.
Pat dry the pork and the coat with about two tablespoons good quality liquid smoke.
Generously apply the rub. You could wrap with plastic wrap and refrigerate overnight at this point or cook right away.
Place on the foil balls and cook on low undisturbed for 9-10 hours.
Bake until internal temp of 190 plus. About 9-10 hours, but will vary some with the thickness of the meat and the crock pot. Remove from crock pot onto a large sheet of heavy-duty foil.
Wrap tight with the foil then wrap with several towels. Allow to rest for at least 15 minutes but 2-3 hours is fine if wrapped well. Shred with forks. It will fall apart.


Do you want more recipes from 101 Cooking for Two? Sign up for the newsletter and get all posts delivered straight to your inbox!
📖 Recipe
Editor's Note: Originally Published April 9, 2016. Updated with expanded options, refreshed photos, and a table of contents to help navigation.