These easy chicken fajitas with moist and tender chicken and sauteed vegetables make a great weeknight dinner in about 30 minutes. Cook your favorite Mexican at home today.
Introduction
We all love chicken fajitas, but now you can make this classic Mexican recipe at home from scratch. And yours will be better than the restaurants.
The "secret" to this recipe is the marinade. Using a liquid that will penetrate slices of chicken instead of dry spices on a whole chicken breast, you get the outstanding flavor in a short time.
Just follow the simple step-by-step photo instructions. Only a little work and almost no skill, and you have a new house favorite.
Only a little work and almost no skill, and you have a new house favorite. Happy almost Cinco de Mayo.
Here is the "other" restaurant favorite: Beef Steak Fajita. I knew that chicken wouldn't be far behind.
I always go back and forth chicken or beef... beef or chicken... What to do? Your choice. But both are easy and if you care, much cheaper at home. Another candidate for house favorite recipe.
Start with chicken, clean it, and cut up. Now marinade, cook in a heavy cast-iron skillet then do some veggies, and you are good to go.
I wanted something that would fit ingredients that I almost always have on hand. I'll do an "inspired by" to an Allrecipe.com recipe. There are many great finds there. I kicked the spice up some and added an expanded explanation.
My Rating

I always love great Mexican, and this is it.
🐓The Chicken
Fresh chicken is preferred here. Use skinless boneless breasts or thighs. I don't recommend pre-cooked shredded chicken like a rotisserie chicken.
I cut the chicken into strips and then broke them up during cooking. This gives a little of that shredded texture while still having chunks. Cut them into small cubes if you want, but I think the little cubes look like dog food—but they will cook and taste great.
🥣Homemade Marinade
The key to why this recipe is so good is the marinade. Most home recipes are some dry spice mix from the store. It is just not acceptable after you try this.
By slicing the chicken before seasoning, we are opening up a lot more surface area for the liquid to penetrate instead of a dry seasoning on the surface of a whole chicken breast.
The marinade will work fairly quickly. So if the chicken goes in at the beginning, by the time you have prepped and cooked the onion and peppers, it will be excellent.
Like many marinades, longer is better. So 2 hours will get every bit of flavor, and you can leave it longer, like overnight, if that works better for your timing.
The ingredients of the marinade are fairly standard outside of the liquid smoke. Skip it if you want, but it adds a nice touch of smoke. If you do use it, it must be of good quality.
Serving Suggestions
We are all familiar with the sizzling presentation at the restaurant. Just move that skillet to the table and proceed—it will sound and smell familiar.
Generally, fajitas are served on tortillas. You can heat fajitas in foil in an oven but I give them a light sprinkle of a few drops of water, wrap in a thin dish towel and microwave for 10-20 seconds.
Suggested Toppings
Cheese - usually cheddar
Salsa or pico de gallo
Sour cream
Guacamole
📖Chicken Fajita Recipes
Easy Sheet Pan Chicken Fajitas
Grilled Chicken Fajitas in 30 Minutes

🖼️Step-by-Step Instructions
Start by mixing a marinade in a 1-gallon zip lock. 2 tablespoon lime juice, 4 tablespoon water, 1 tablespoon olive oil, 1 teaspoon kosher salt, ¼ teaspoon liquid smoke (optional), ½ teaspoon cayenne pepper, 1/ 4 teaspoon pepper, 1 teaspoon soy sauce, 1-2 cloves of garlic crushed.
Clean and trim about 1 ½ pound of skinless boneless chicken breasts. This is about 2 medium large ones. Don't worry if you're a little over or under that amount. Cut the chicken into strips about ½ inch thick.
Add to the marinade for about 15 minutes, but refrigerated 2 hours is a bit better. Overnight is fine, also.
Put 1 teaspoon oil in a large cast-iron pan and heat over medium-high heat. While heating, slice up a large onion and one or two peppers. I like medium red and green pepper. If your pepper is large, you only need one. Mix 1 tablespoon water, 1 teaspoon lime juice, and 1 teaspoon soy sauce in a small bowl.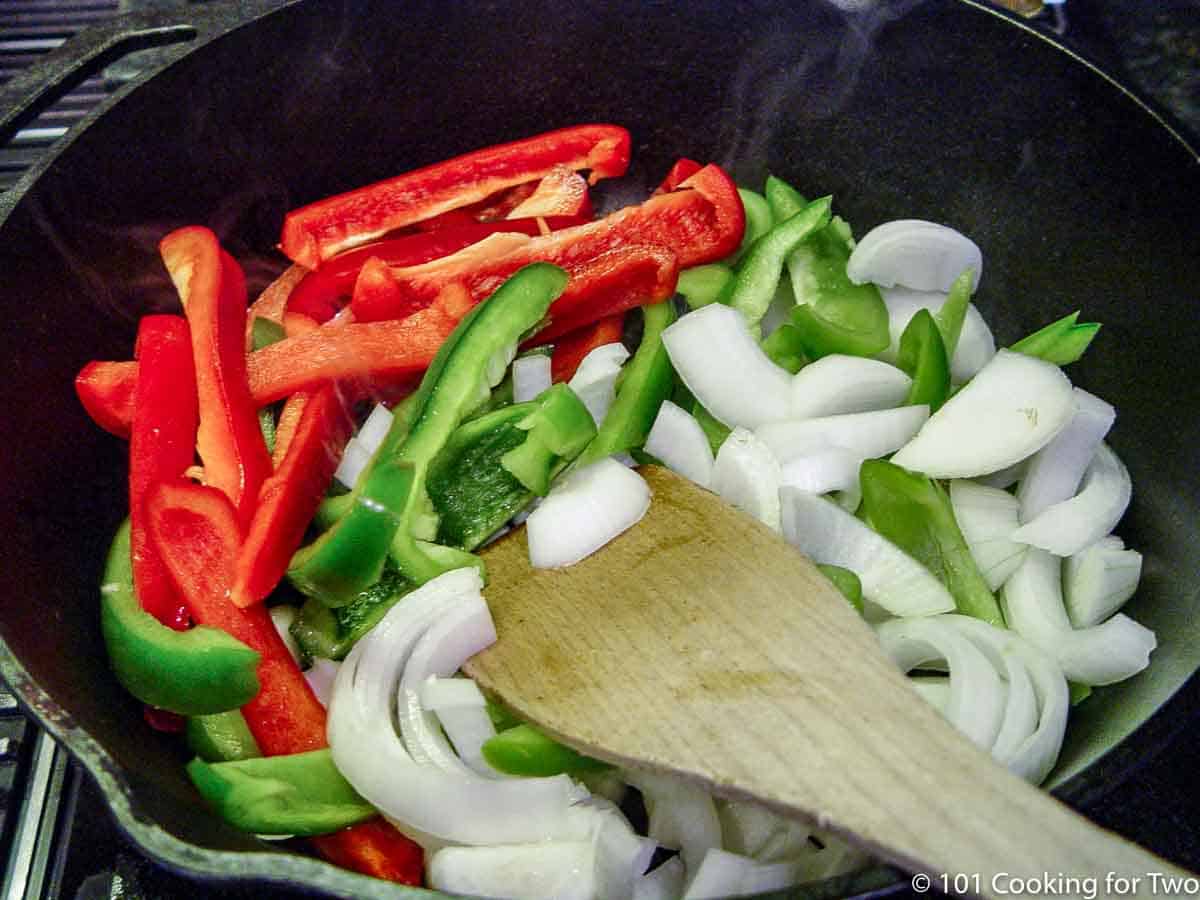 When the oil is hot, add the veggies and after a few minutes add the water, soy sauce, and lime mixture. When onions are are clearing and starting to brown (about 8-9 minutes), remove from pan and set aside and cover.
Add a little oil to the pan. When hot, add the drained chicken and brown. Near the end of cooking, break apart the chicken with a wooden spoon. This will make much smaller pieces and prove the meat is cooked. About 8-9 minutes. Please check a few of the large pieces with an instant-read thermometer to be sure you are to 165°.
When the chicken is done, move the meat to one side and add the veggies back to the pan. Cook and stir for a minute or two until veggies are reheated.
Serve hot in the skillet with heated tortillas, sour cream, guacamole, and anything else you like. An easy way to heat tortillas is to sprinkle a dish towel with some water put tortillas inside and heat in a microwave.


Do you want more recipes from 101 Cooking for Two? Sign up for the newsletter and get all posts delivered straight to your inbox!
📖 Recipe
Originally Published May 3, 2012. Updated with expanded options, refreshed photos, and a table of contents to help navigation.