Chicken Quesadillas with sautéed onions, green peppers, seasoned chicken, and melted cheese in a crispy tortilla. A great easy weeknight dinner in only 30 minutes you can do at home with common ingredients.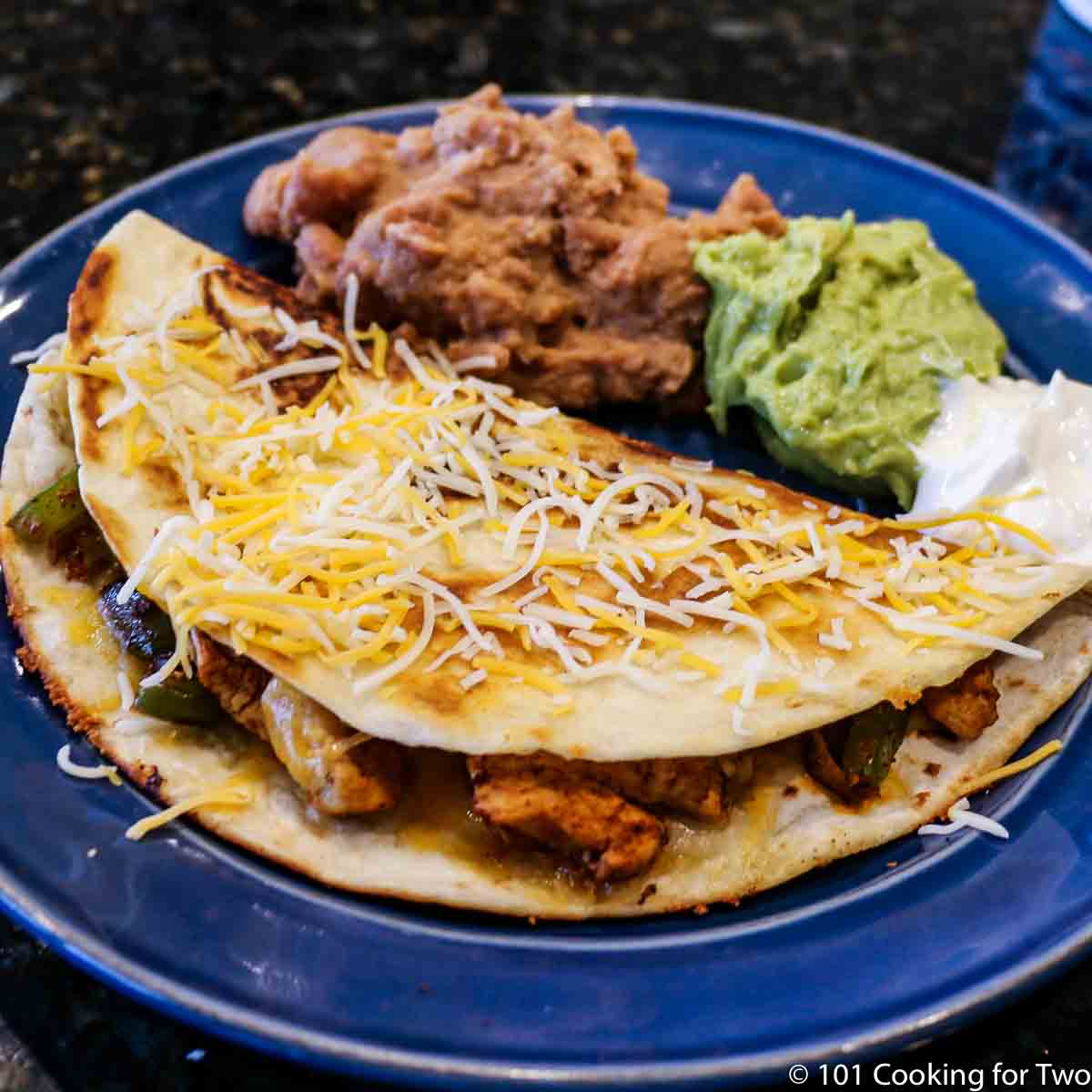 Introduction
This recipe was inspired by one of our favorite local Mexican restaurants where it is called Chicken Fajita Quesadillas in honor of it tasty fajita like filling.
I do love fajitas, but the servings are generally just too large. But put that in a cheesy quesadilla, and you have a great dish.
It is not a hard recipe, and it uses common pantry ingredients and kitchen utensils. Nothing special goes in, but something very special comes out.
My Rating

An easy 5 rating. It is easy and very tasty. I could eat this at least weekly.
What is a Quesadilla?
A quesadilla is usually grilled flour tortillas filled with cheese but can have meat or other ingredients. They can be made with corn or wheat tortillas although wheat is most common. It can be either two whole tortillas or one folded.
These chicken quesadillas are filled with all the great tastes of fajitas in a convenient handheld easy home-cooked meal. Or doll them up for a more complete meal.
🐓The Chicken
I suggest skinless boneless breasts, but thighs would be fine. Also, the amount can vary by what amount of meat you want in your quesadilla. The measurement would, of course, need some adjustment.
You can use also use pre-cooked chicken. A rough rule of thumb is one pound of raw chicken is about 3 cups of cooked shredded chicken.
You would add pre-cooked chicken after a few minutes of cooking the pepper and onion, and add the spices at the same time then get the pepper and onion done.
♨️Cooking Method
While you can cook quesadillas in many ways, just a large fry pan will work well.
I prefer to start with a hot oiled pan and a single 8 to 10-inch flour tortilla. I find 12-inch size hard to manage and too big for convenient serving.
Start with covering the tortilla in the pan with cheese, and if using a filling, it should be warm and placed it on only half the tortilla. When the tortilla is crispy and browned, fold the half without the filling over the filling—done.
📖Chicken Fajita Recipes
Easy Sheet Pan Chicken Fajitas
Grilled Chicken Fajitas in 30 Minutes

🖼️Step-by-Step Instructions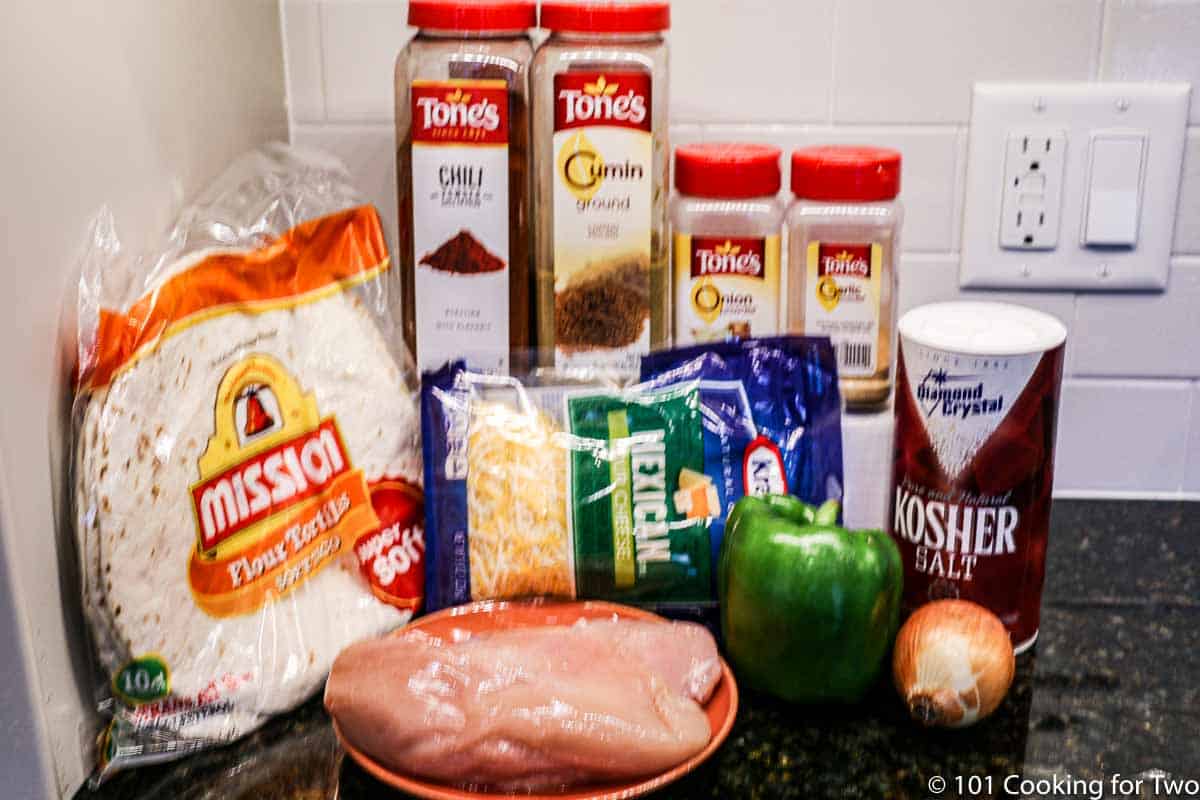 Everyday ingredients. You could use pre-cooked chicken or thighs.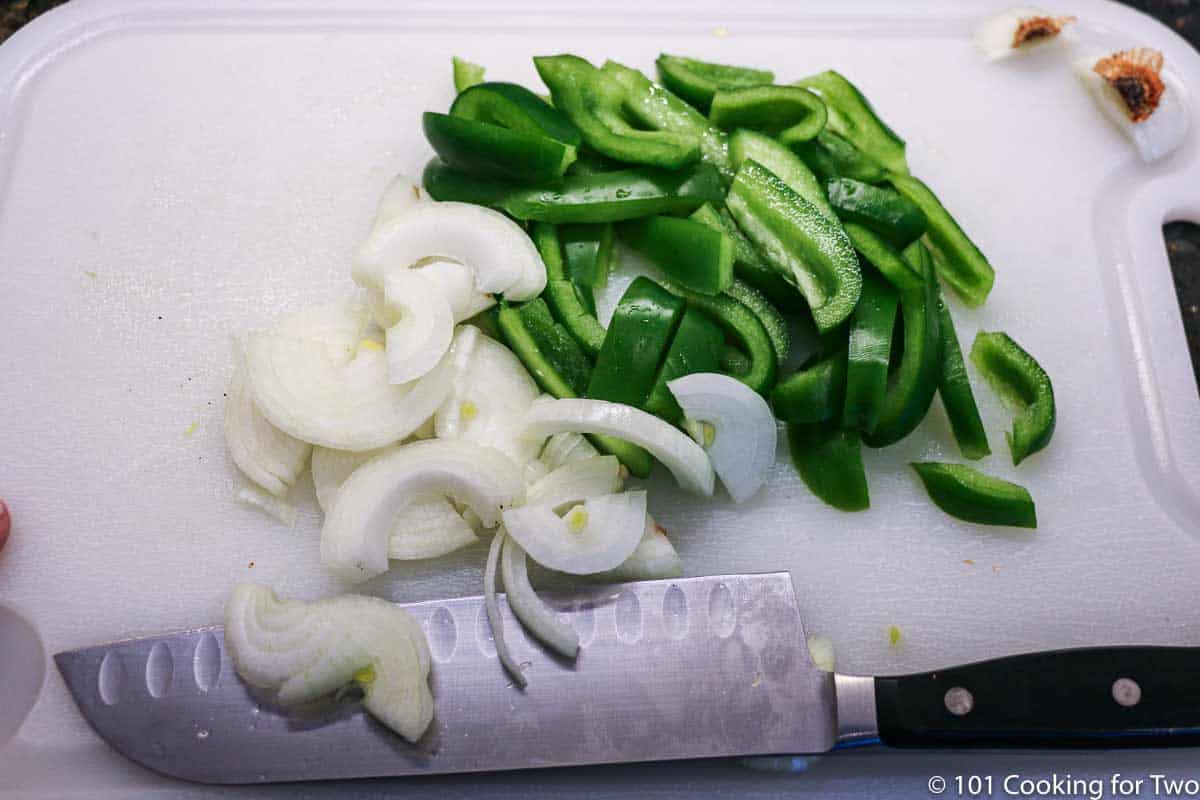 Slice 1 medium onion ¼ inch slices. One green or red pepper ½ inch wide and 1 to 1 ½ inch strips.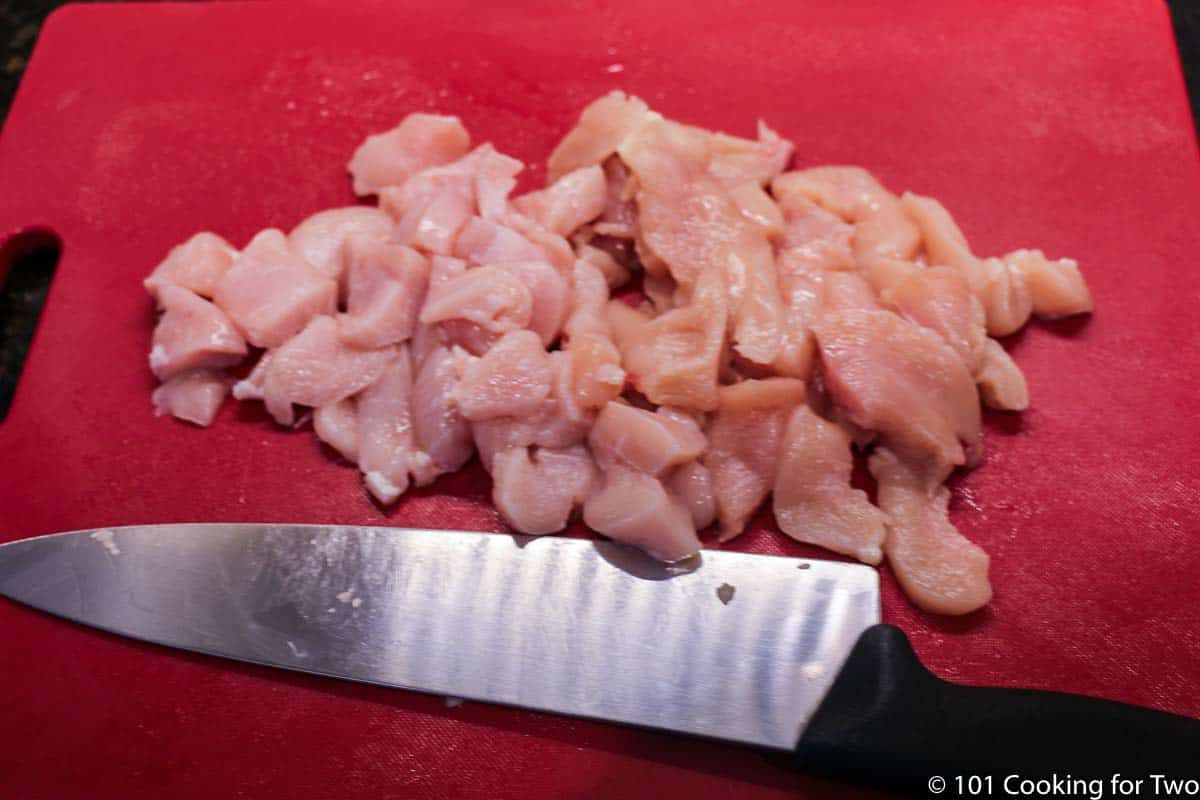 Trim ¾ to 1 pound skinless boneless chicken breast into ¼ inch thick slices cross-grain and small bite-size pieces.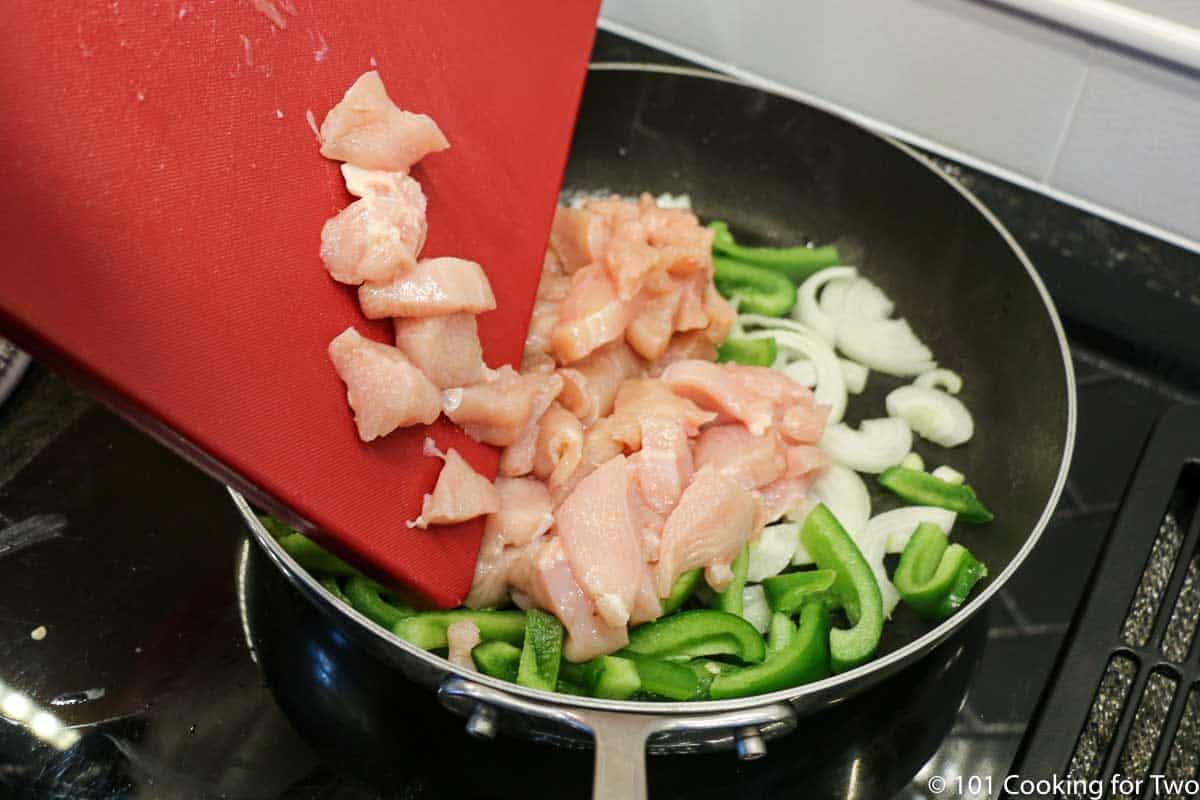 In a large skillet over medium-high heat, add 1 tablespoon oil and when shimmering, add the veggies and chicken. Mix in 2 teaspoon chili powder, ½ teaspoon each of cumin, onion powder, garlic powder, and kosher salt.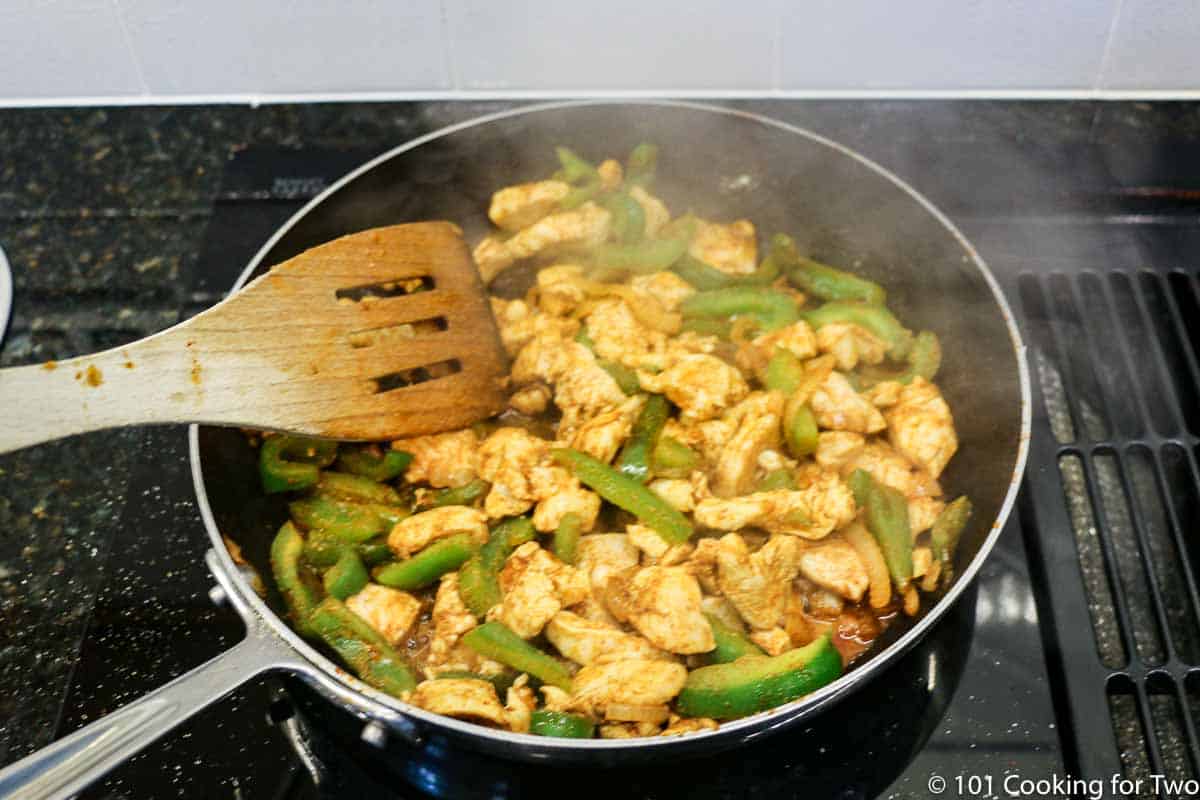 Stir frequently. Cook until chicken is done to 165°, and onion and pepper are tender. About 10 minutes. You can stop here and refrigerate or freeze for later, but it needs to be hot when used in the next step.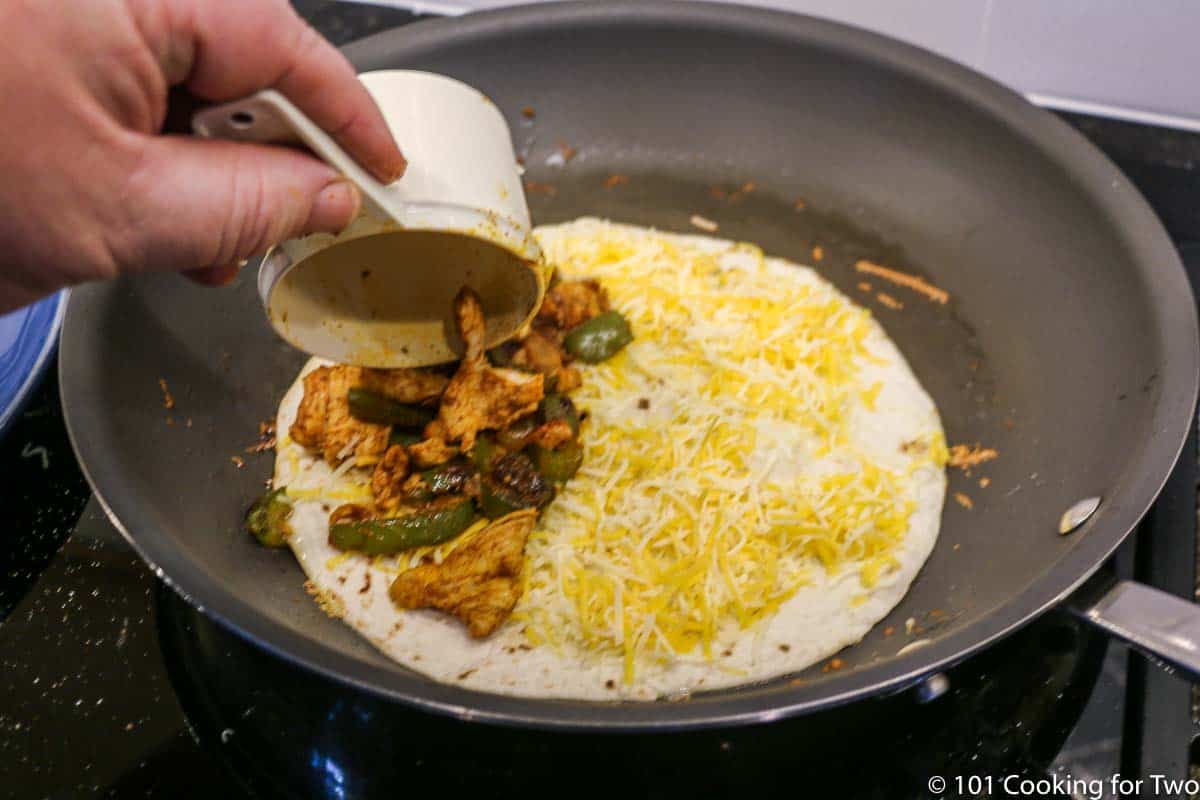 In a large skillet over medium to medium-high heat, add 2 teaspoons of vegetable oil. When shimmering, add an 8-inch tortilla. Working quickly, sprinkle top with about ½ cup shredded cheese over the entire surface and about ¾ cup of the chicken mixture over one-half of the surface.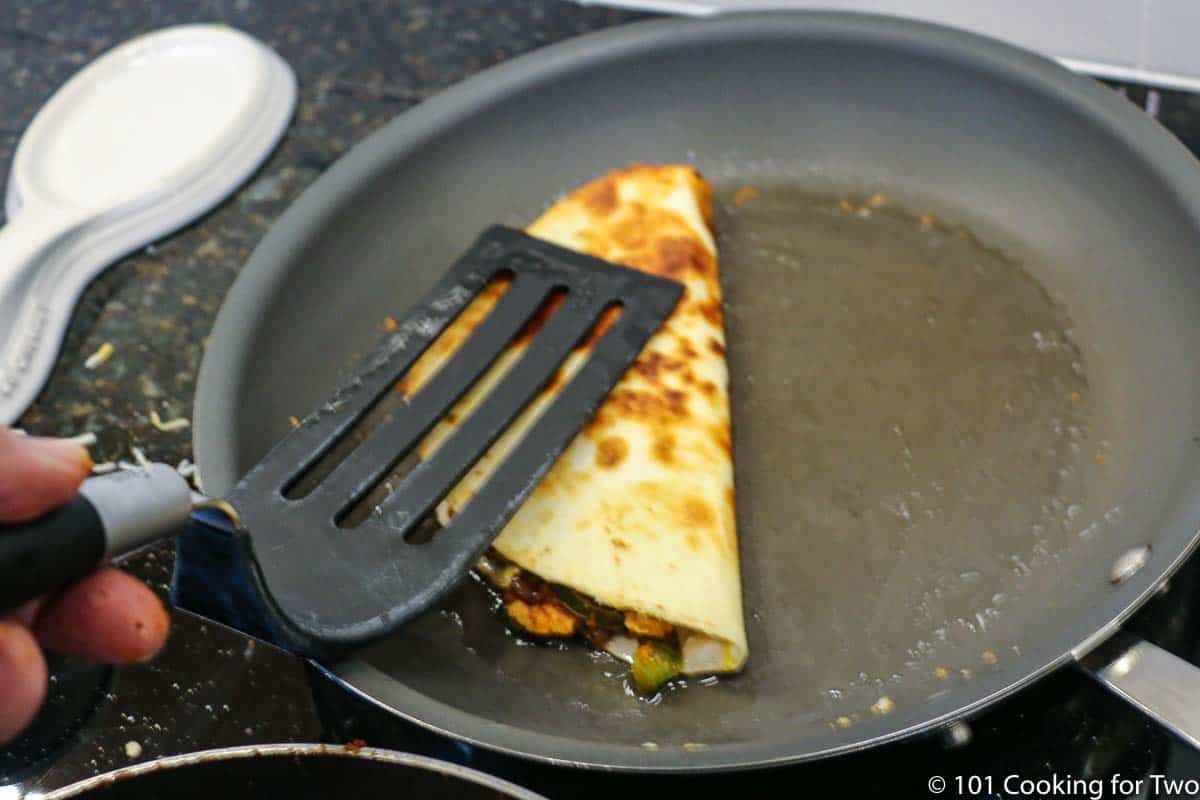 When the cheese starts to melt, flip the half of the tortilla without the chicken over the chicken half. Remove to plate and tent lightly with foil and continue to repeat cooking more. You will probably need to add a teaspoon or so of oil for each new tortilla.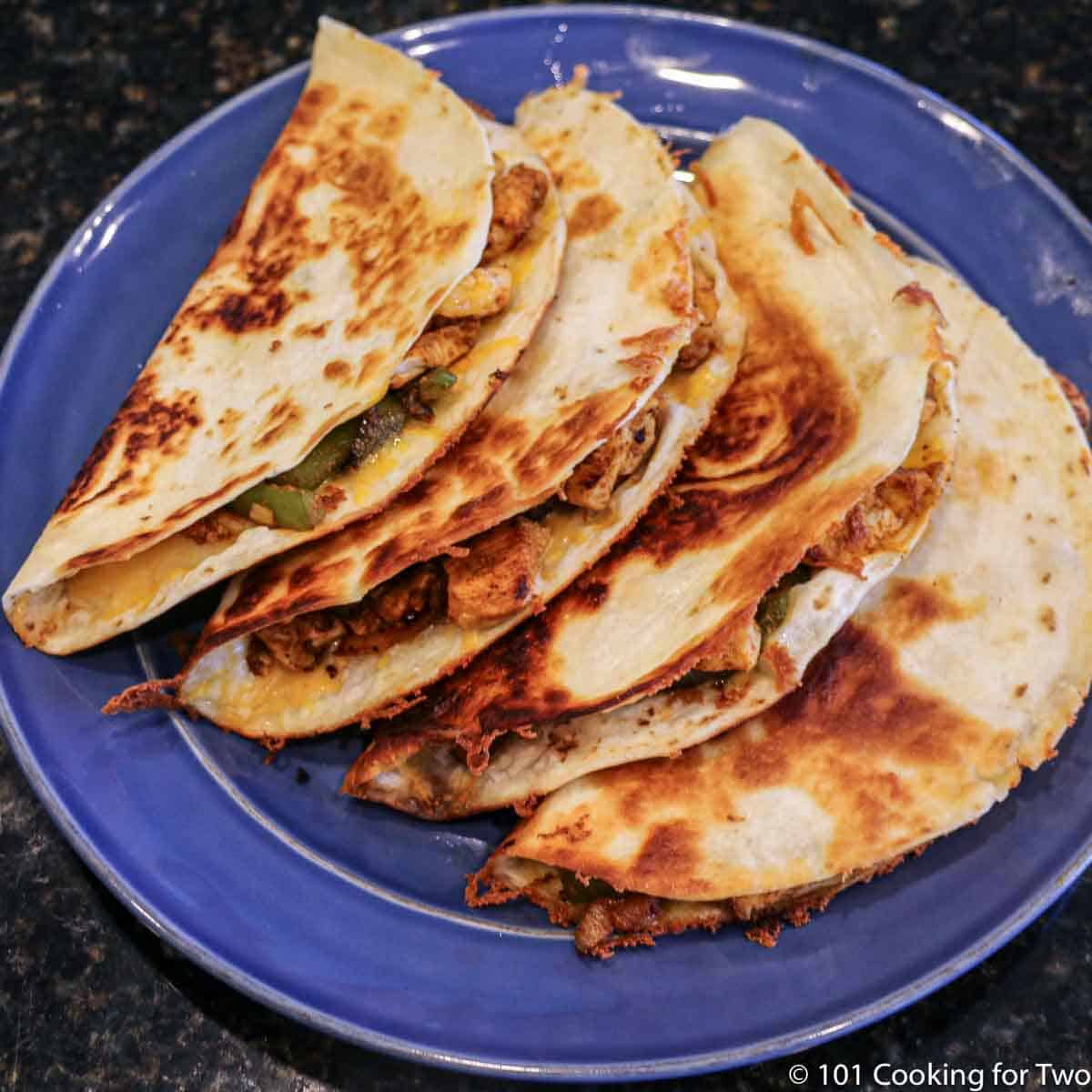 Do you want more recipes from 101 Cooking for Two? Sign up for the newsletter and get all posts delivered straight to your inbox!
📖 Recipe

Editor's Note: Originally published on May 2, 2017, as Chicken Fajita Quesadillas. Updated with expanded options, refreshed photos, and a table of contents to help navigation.