Quick and easy with wonderful taste, this simple marinade for grilled chicken breasts makes a great main course for a special dinner or the perfect topping for a lunch salad.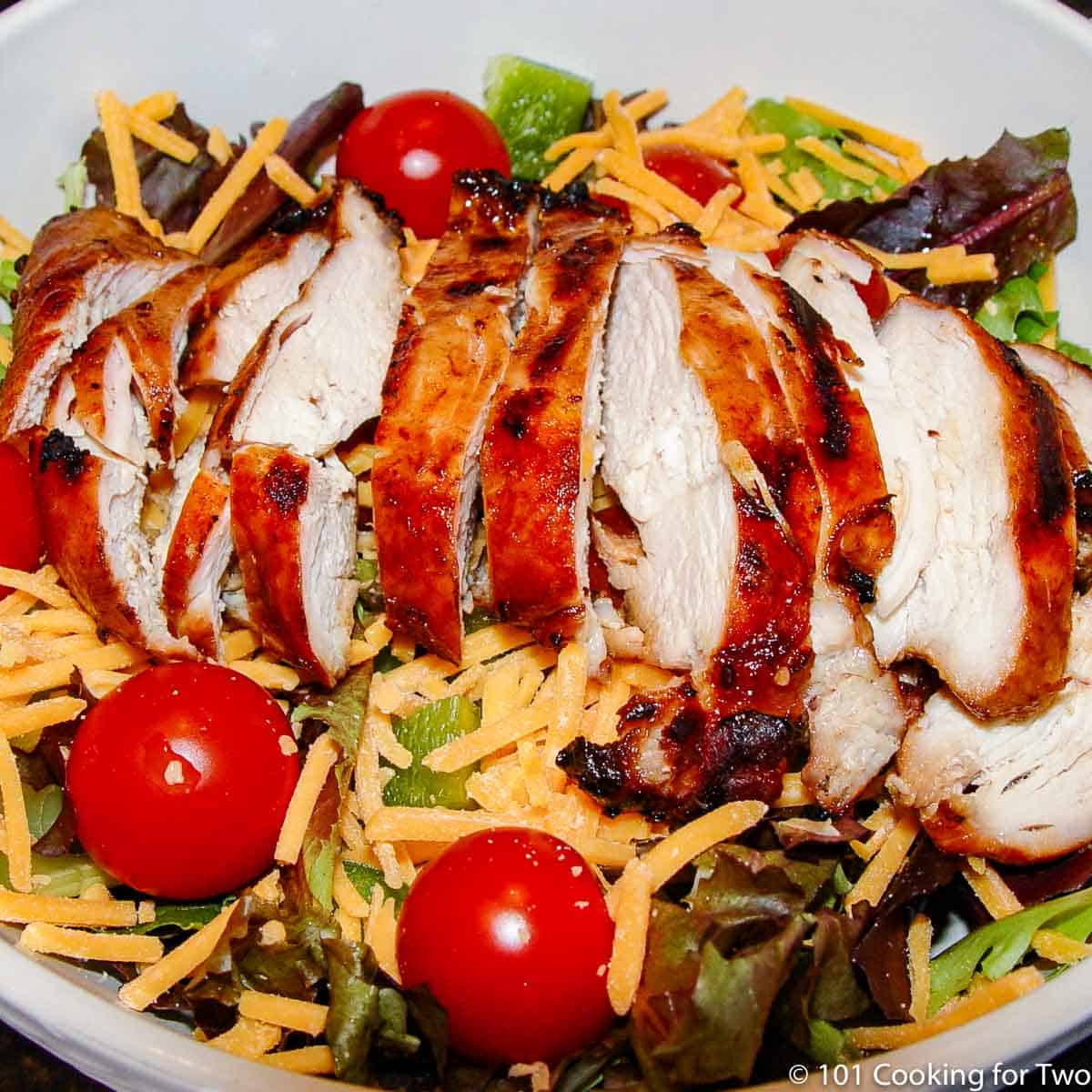 Introduction
This could easily be a weeknight recipe since 20-30 in the marinade works well. Just enough time to heat, clean and oil the grill. If you brine first (not a bad idea ever with grilled skinless chicken), do not add the salt.
My Rating

A very solid 4 and could be a lower 5 if you brine.
🐓The Chicken
We all know that skinless boneless chicken breast can be tasteless and have a hockey puck quality if not done correctly so careful grill is a must.
The first tip is to try to cook chicken breasts of about the same size and thickness. If one is just thicker, a meat mallet or bottom of a heavy pan can be used to even them out.
A brine is always a good thing, and if you have time, you will be glad you did. A recommended quick brine of 2 cups of water and 2 tablespoons salt for 30 minutes to 2 hours.
This is relatively heavy in salt and is recommended by Cooks Illustrated. The chicken gets saltier if over 1 hour so I'm suggesting 1-hour max.
To me (a safety guy), I don't like raw chicken at room temperature for more than 20 minutes. Actually, 20 minutes will do a fairly good job of brining these.
While we no longer recommend rinsing chicken, you should always rinse carefully after brining. Also, don't add any more salt after a brine is used.
This marinade is extremely tasty and has soy sauce, brown sugar, olive oil, lemon juice, garlic, and a little salt.
♨️The Grill
The most important part of this recipe is to not rush the cooking. I used a grill surface temperature of 450° which is a tad above medium on most grills. Total grill time of about 30 minutes.
If you have questions about controlling your grill temperature, please check my A Beginners Guide to Grill Temperature on a Gas Grill.
📖Other Marinades
Garlic Lemon Marinaded Grilled Skinless Boneless Chicken Breast
Buttermilk Grilled Skinless Boneless Chicken Breast
Garlic Marinated Grilled Flank Steak

🖼️Step-by-Step Instructions
Trim chicken breasts of any excess fat.
Optional brine: If you have time, brine is always a good thing for skinless boneless chicken breasts. I suggest a brine with a simple brine of 2 cups water and 2 tablespoons table salt for 20-120 minutes. If you brine, remove the salt from the recipe. If you like the minimal salt taste, use only 1 tablespoon of salt.
In a 1-gallon zip lock bag, combine soy sauce, brown sugar, olive oil, crushed garlic, and lemon juice. Add salt if you didn't brine. Add chicken to bag, remove extra air and seal.
Place in a large bowl after mixing well. If using in 30 minutes or less, leave at room temperature. If longer then refrigerate. You should then remove from refrigeration about 30 minutes before grilling and rinse.
Clean and oil grill grates and preheat to a surface temperature of 450°-500° which is about medium-high on most grills. I recommend a surface thermometer to be able to control your grill well.
Remove breasts from marinade and place over direct heat.
Flip about every 5 minutes. Remove from the grill at an internal temperature of 165°. About 30 minutes of total grill time.
Allow to rest for about 5 minutes before serving.


Do you want more recipes from 101 Cooking for Two? Sign up for the newsletter and get all posts delivered straight to your inbox!
📖 Recipe
Originally published April 17, 2010. Updated with expanded options, refreshed photos, and a table of contents to help navigation.