Marinade your flank steak with this sweet and savory marinade that is loaded with garlic then grill for a tender and juicy meal every time. Serve on fresh greens for a delicious and easy meal.
Introduction
We love great grilled beef, and flank steak just screams flavor but needs a nice marinade not only to add the flavors you want but to tenderize some.
I looked around for model recipes, and the closest I could find to our taste was Grilled Marinated Flank Steak at SimpleRecipe.com. I was cooking for a happy wife so more garlic and less honey. This simple marinade works great and we have used it a number of times.
My technique of cooking differs some. I did direct high-temperature grilling here to get nice char on the outside of the meat to get a Maillard reaction. I love that taste.
My Rating

I'm going to a low five. Maybe a high 4. But lots of great garlic flavor for the wife.
🐄Flank Steak
Flank steak is located on the belly of the cow near the rear legs. The skirt steak is located just in front of the flank. The flank is leaner and finer grain than the skirt steak. While often confused, they are not the same. Flank steak is also occasionally called "London Broil."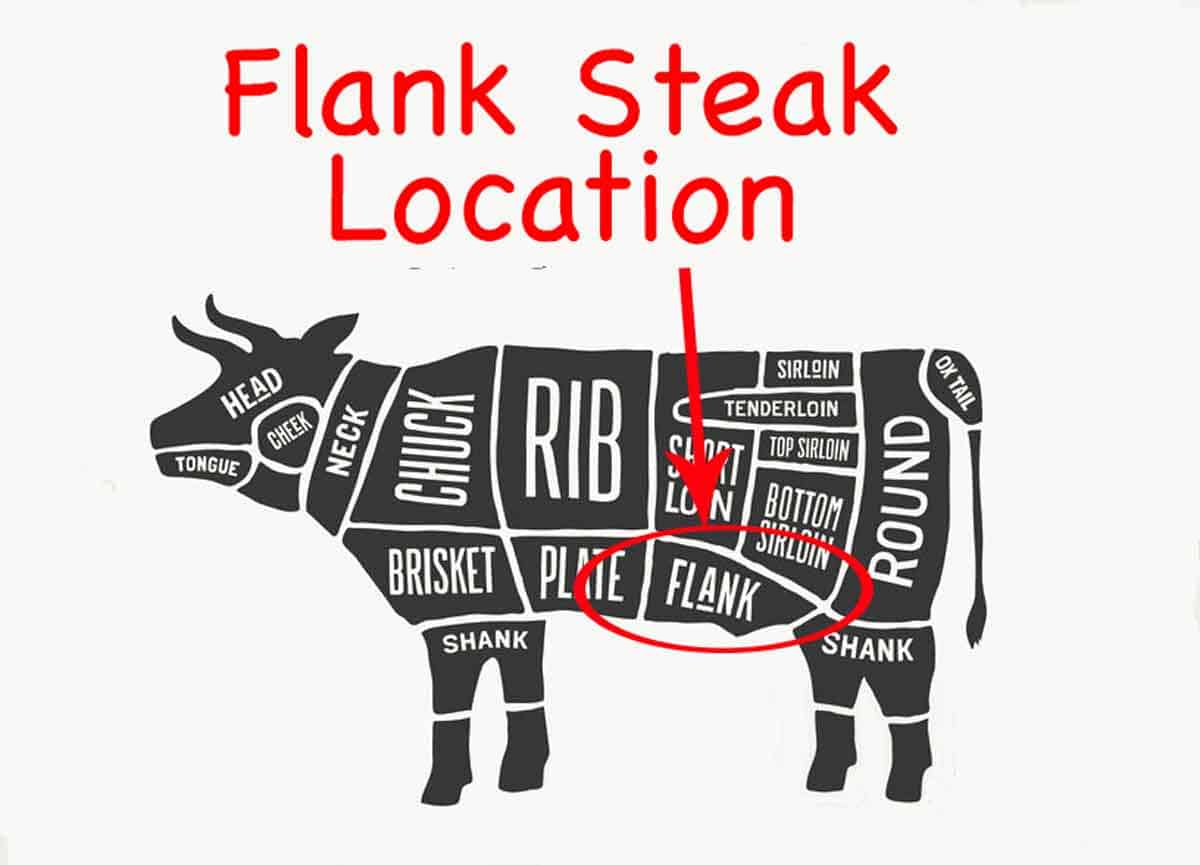 Flank is very lean and is generally used for grilling, roasting, or broiling. It can become tough rapidly if overcooked and should never be cooked more than medium.
It is usually cooked by searing at high temperatures to rare or slightly more and cut across the grain to help tenderness. If cooked correctly, it is tender and extremely tasty.
🥣The Marinade
A marinade will add flavor to the surface of the meat, and the salt will help pull fluid and with its great flavor into the meat. Water-soluble flavors like garlic and soy work especially good for this. Other flavors like ginger and rosemary can also be added.
Sugars like honey or brown sugar are frequently will help intensify the browning of the meat.
You will get good results in about 2 hours but can marinade longer up to 24 hours.
✔️Tips
The steak needs to be cooked to a rare or medium-rare level and not a bit more. If you want your beef not to be red, don't buy flank steak.
Be sure to let the steak rest for 5-10 minutes after grilling before cutting.
Cutting cross-grain is a must, or you will be chewing a lot.
You need about ⅓ pound of meat per serving.
Serving Suggestion: This is great on a salad due to the intense flavor. Serving with rice is also a popular choice.
📖Grilled Beef Recipes
How to Grill a T-bone or Porterhouse Steak - A Tutorial
How to Grill a Filet Mignon on a Gas Grill
How to Grill a Ribeye Steak on a Gas Grill

🖼️Step-by-Step Instructions
Start by trimming the flank steak of any visible fat.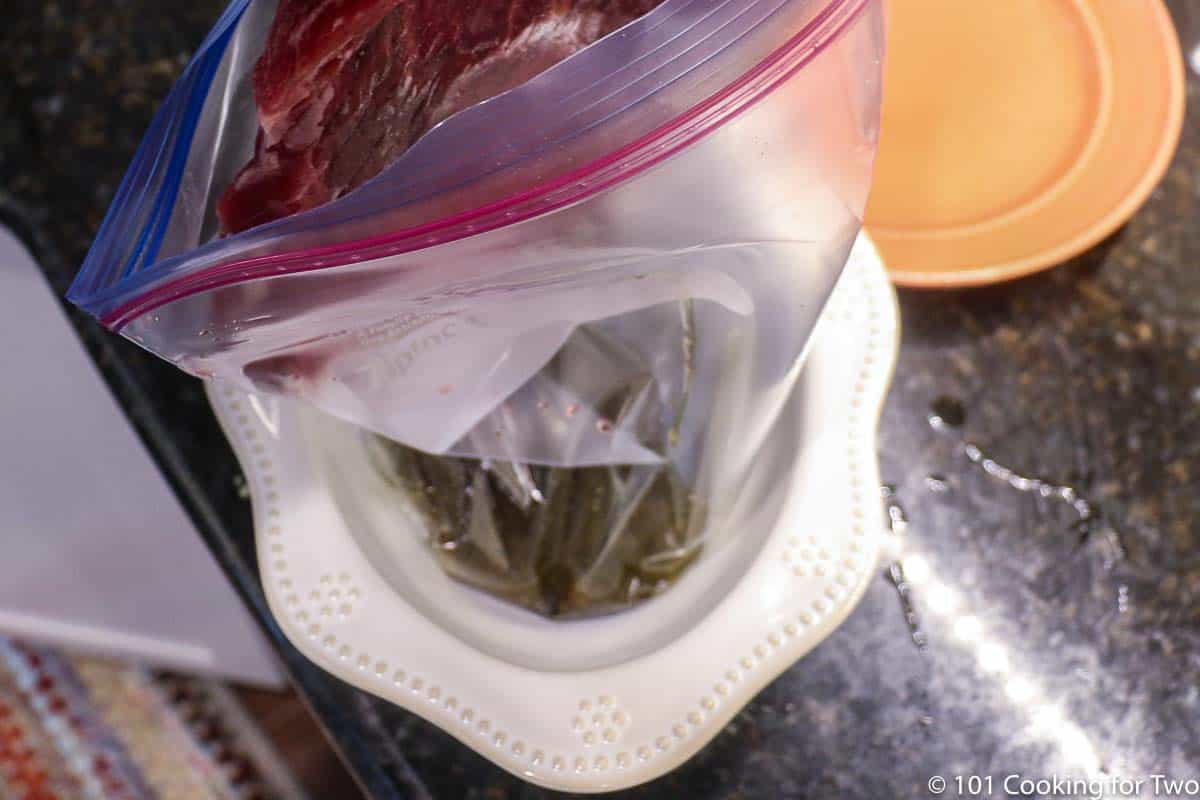 Mix marinade in a 1-gallon ZipLock bag or non-reactive container. Add steak and refrigerate for about 2 hours.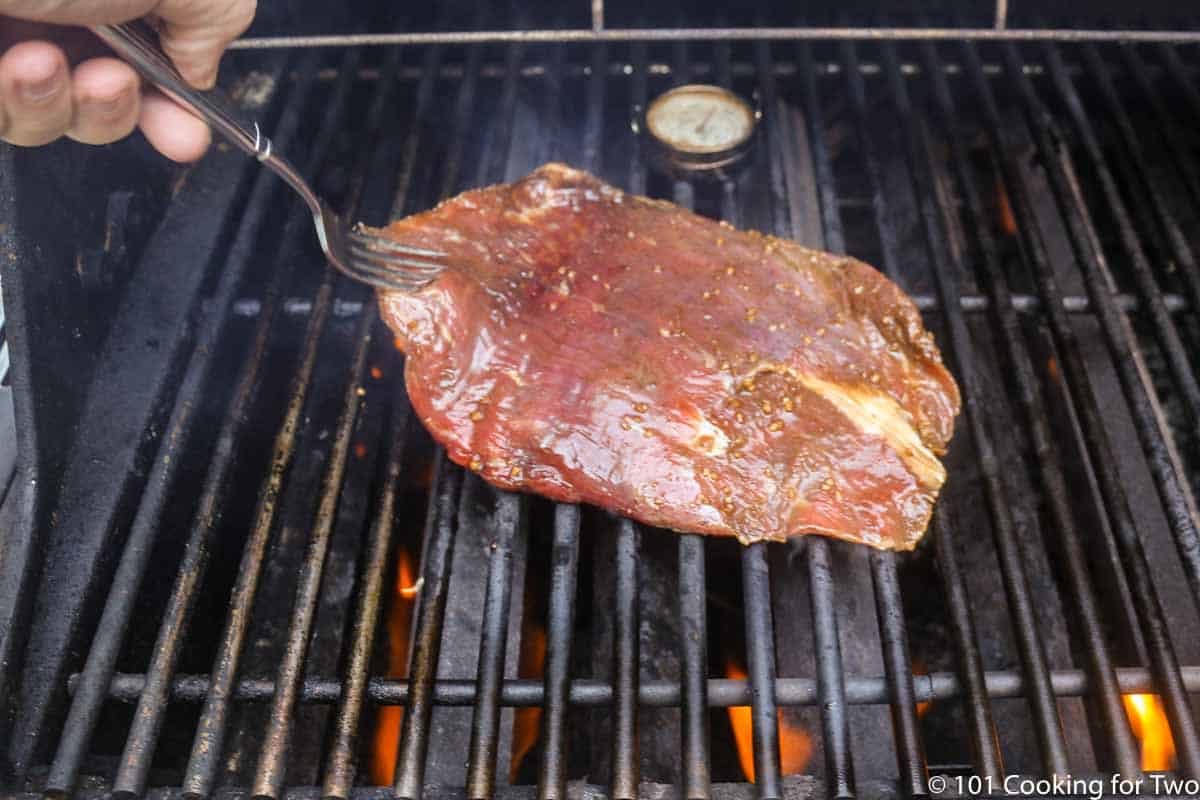 Preheat grill on high. You want a surface temp of 550°-600°. Clean and oil grates. Move meat from marinade directly to grill. Discard the marinade.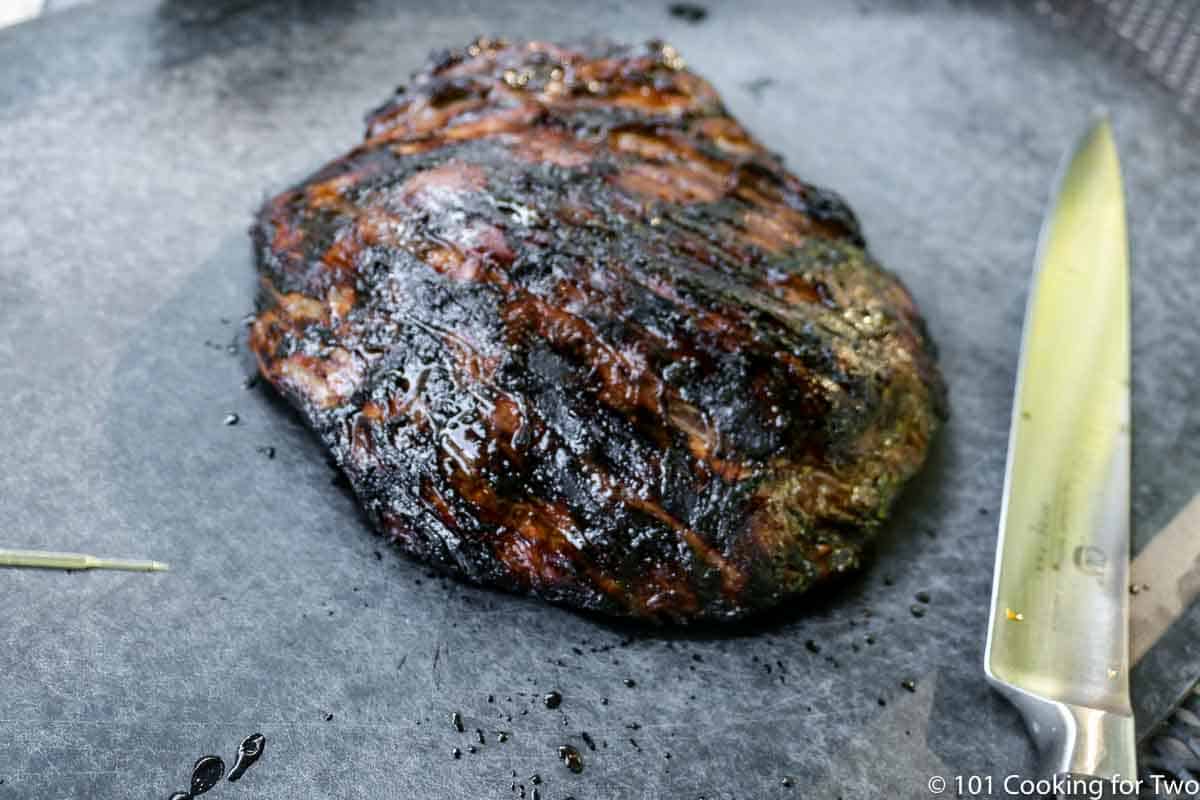 Grill for 5-6 minutes per side to an internal temp of 125° to 130°. Do not overcook this meat. Remove and allow to rest for 5-10 minutes.
Cut cross-grain about ¼ inch thick. Serve hot over greens.


Do you want more recipes from 101 Cooking for Two? Sign up for the newsletter and get all posts delivered straight to your inbox!
📖 Recipe
Editor's Note: Originally Published September 3, 2016. Updated with expanded options, refreshed photos, and a table of contents to help navigation.