Grilled side dishes are often overlooked, but are a great compliment to your grilled masterpiece. These ultra-simple grilled carrots with honey glaze have a little char along with great color and sweetness will quickly become a standard on your grill.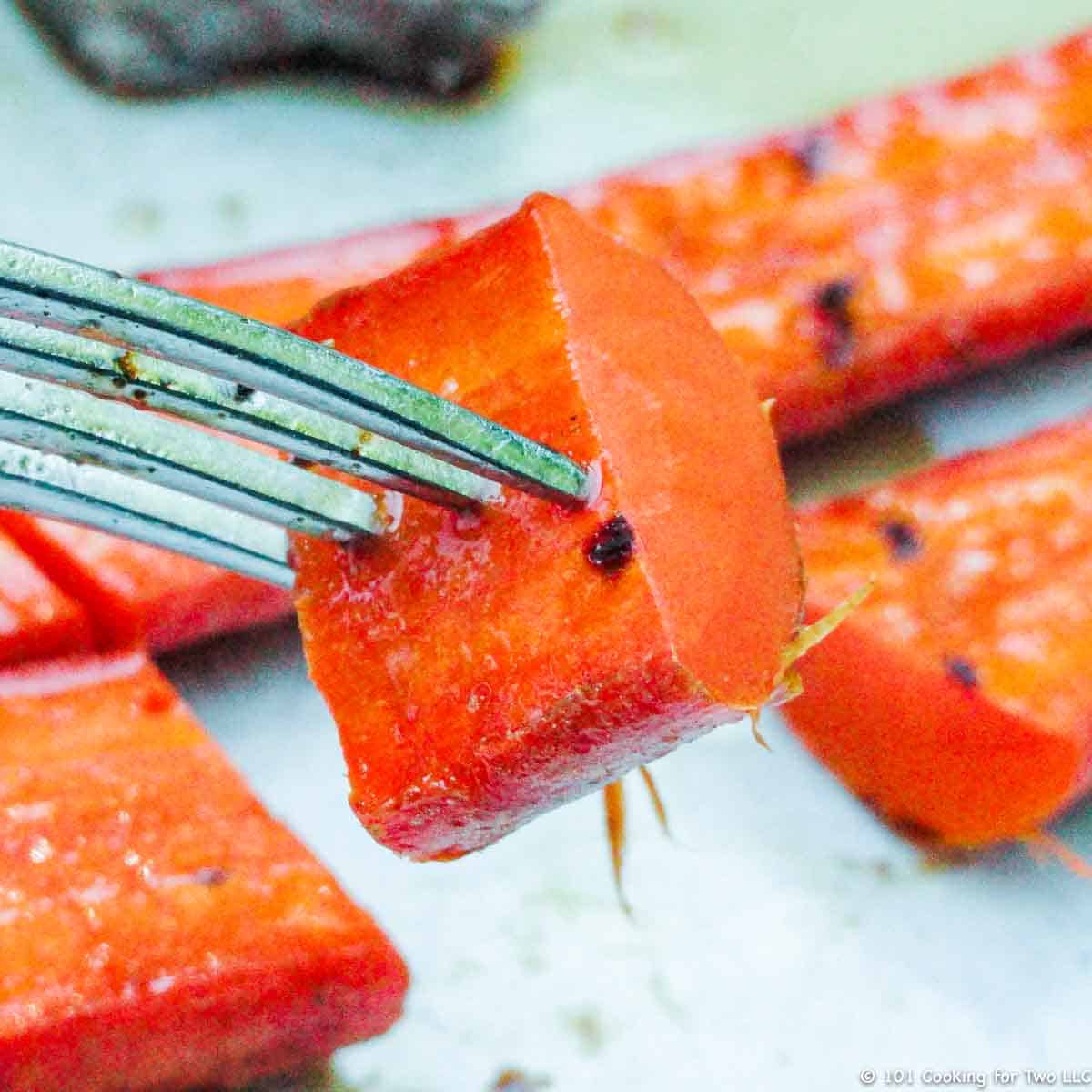 Introduction
Grilled fruits and vegetables are frequently overlooked with all the planning for your cookout. But we all need to make an effort to include them.
These grilled carrots are sweet, soft, and add lots of color to your meal with almost no work or cost. And they are the perfect complement to any grilling.
This recipe is as simple as a quick prep of the carrots, a brush of oil, and then toss them on the grill with what you are already cooking. A bush of glaze halfway through, and you have the star of the meal.
I included a wonderful easy honey-brown sugar glaze. Although optional, it adds a tone of sweetness.
My Rating

A solid 4 for me and a bit higher for my wife. It is very hard to give a 5 rating to carrots.
🥕Carrots
I'm not a fan of "baby carrots" for this recipe. They tend to be very wood-like.
Pick nice fresh carrots. If they are over ¾ inch thick, cut them in half longways, but can be cooked whole if smaller. Try to use carrots that are about the same thickness throughout its length and all carrots about the same size.
You may peel or not. Also, trim the top and the thin end off and brush with olive oil.
♨️Cooking
The Grill
I always talk about grill surface temperature, and carrots are a good match for the midrange 350°-450°. This is chicken and pork.
I generally grill beef very hot, but cooking carrots over direct heat that high is not advisable or the surface of the carrot will burn before they are cooked through. So if cooking above 450°, then decrease the burners on a portion of the grill.
Method
Once your carrots are trimmed and brushed with oil, prepare the glaze.
Choose if you are grilling in a grill pan or directly on the grates. Either is fine but must be oiled well. If you are running a grill over 450°, then decrease the temperature in one area to use.
Flip the carrots about every 5 minutes. About 10 minutes into cooking, bush with the glaze.
A carrot needs to be "tender," and that is defined by your taste. Mostly, it will be over 190. That will take about 15-20 minutes, usually.
The Glaze
This is optional but recommended. It will enhance the flavor and make them something special.
I did try just honey, and it had very little sweet taste, the brown sugar fixed that.
📖Grilling Side Dish Recipes
Brown Sugar Cinnamon Glazed Grilled Pineapple
Grilled Stuffed Tomatoes: Italian Style

🖼️Step-by-Step Instructions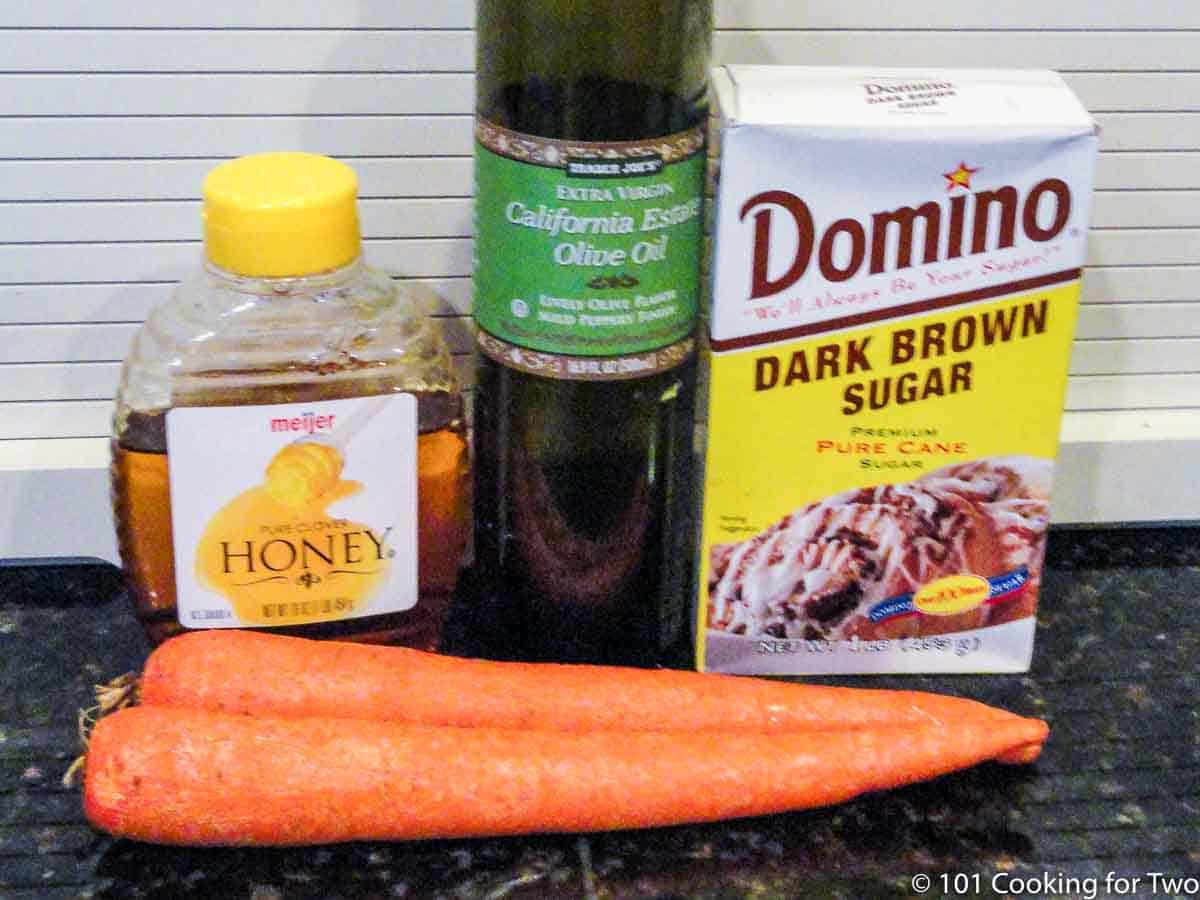 Preheat grill to medium (surface temp of about 350°-450°).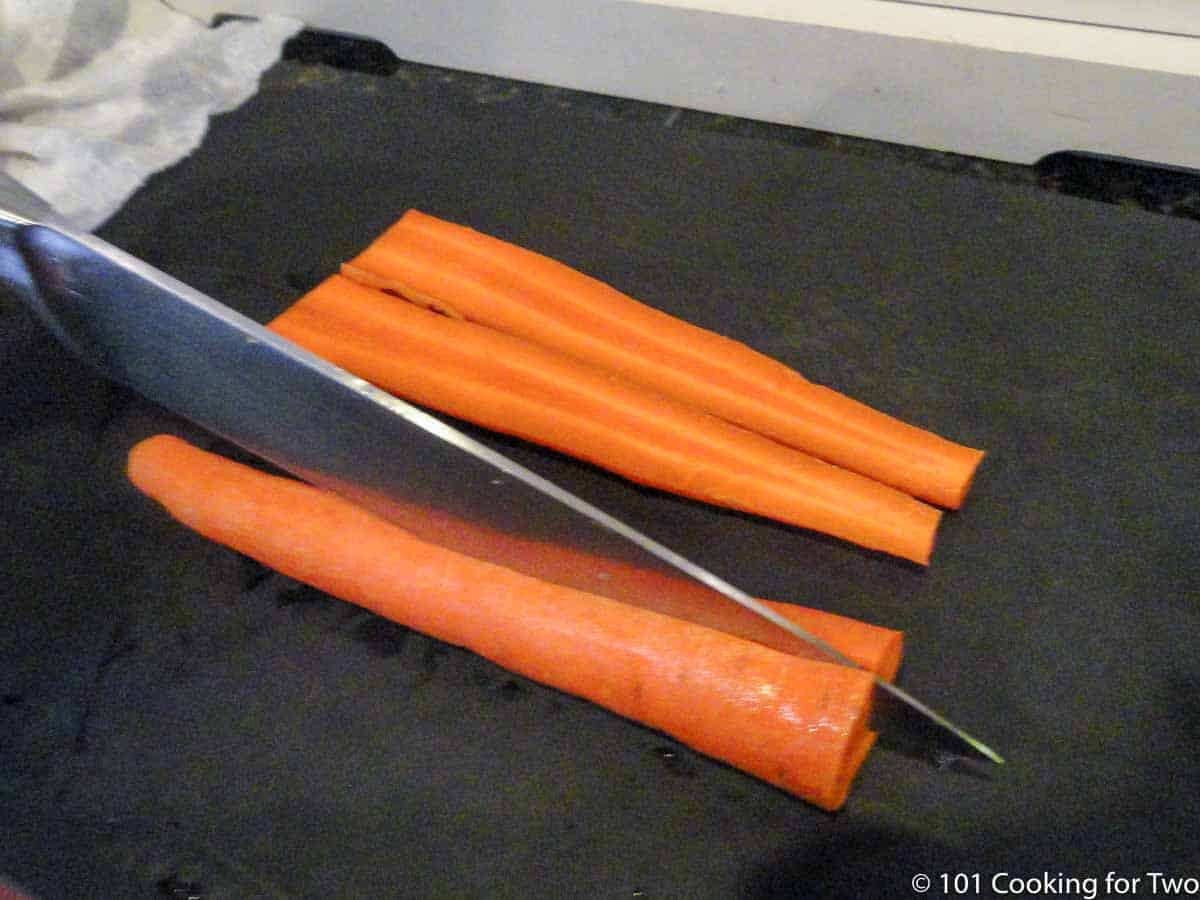 Prep the carrots. Scrub well or peel. Cut off the root and skinny tip. If thicker than ¾ inch, cut in half lengthwise. Mix 1 tablespoon honey, two teaspoons brown sugar, and 1 teaspoon olive oil, heat in the microwave for 15 seconds to get hot and stir to combine the sugar.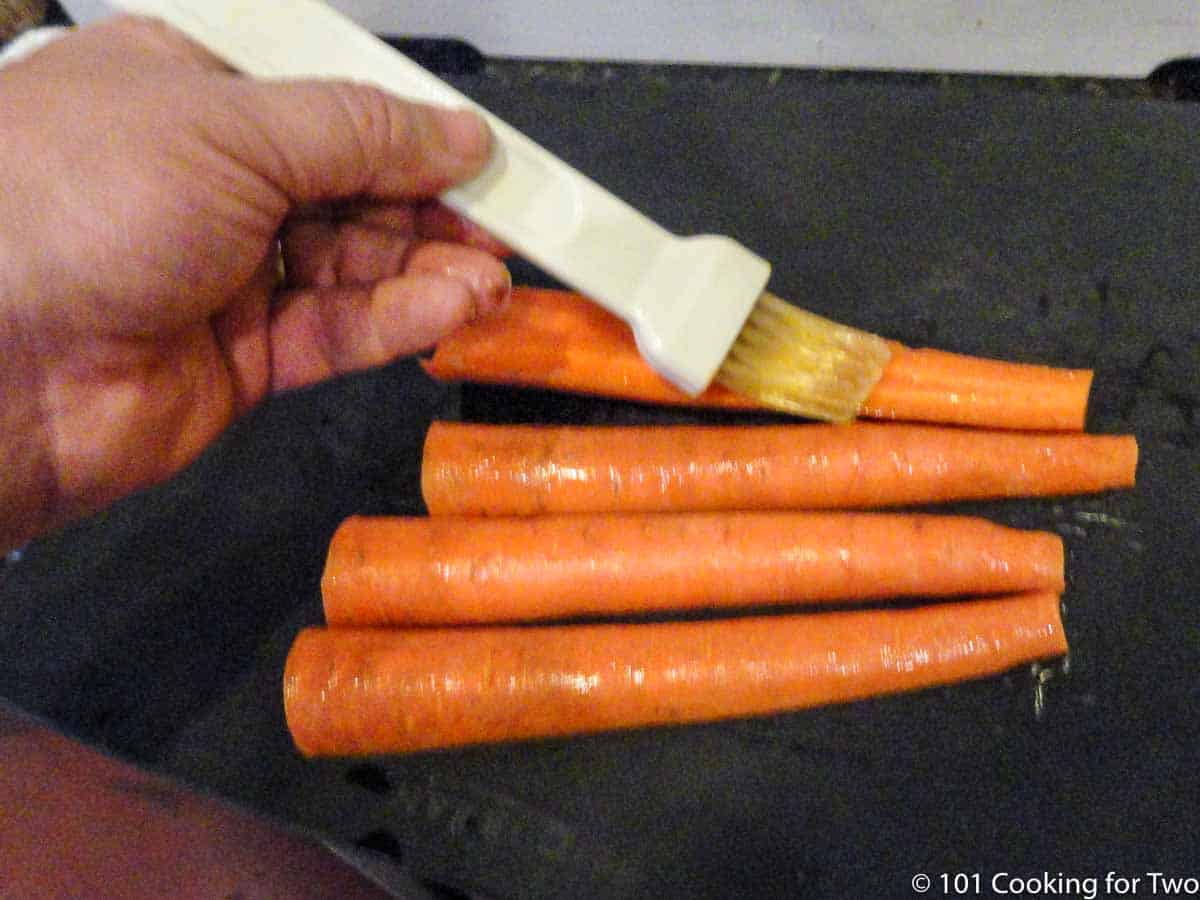 Give the carrots a good brush of olive oil, and don't forget the cut ends. Don't brush with glaze yet.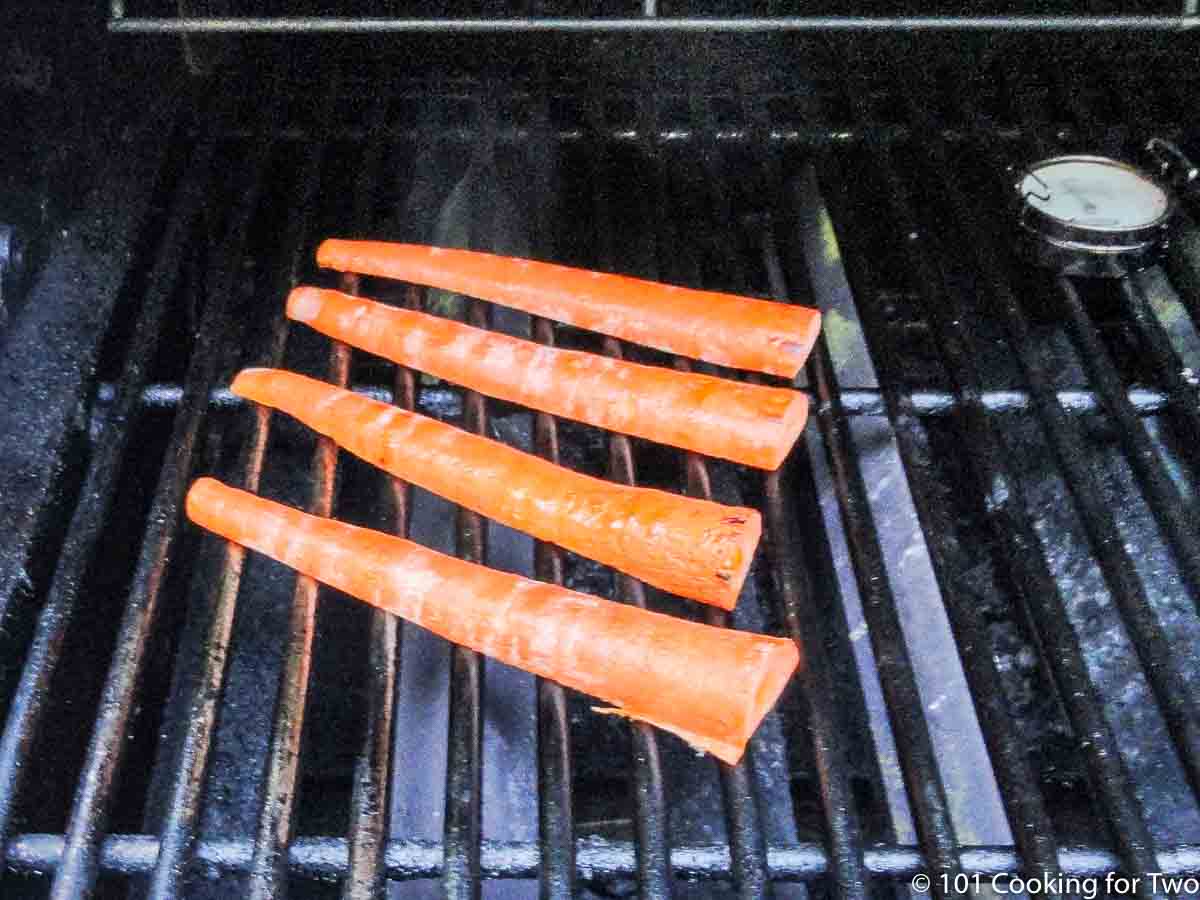 You can use a grill pan or grill directly on the grates, but be sure either is well oiled. Flip the carrots every 5 minutes or so.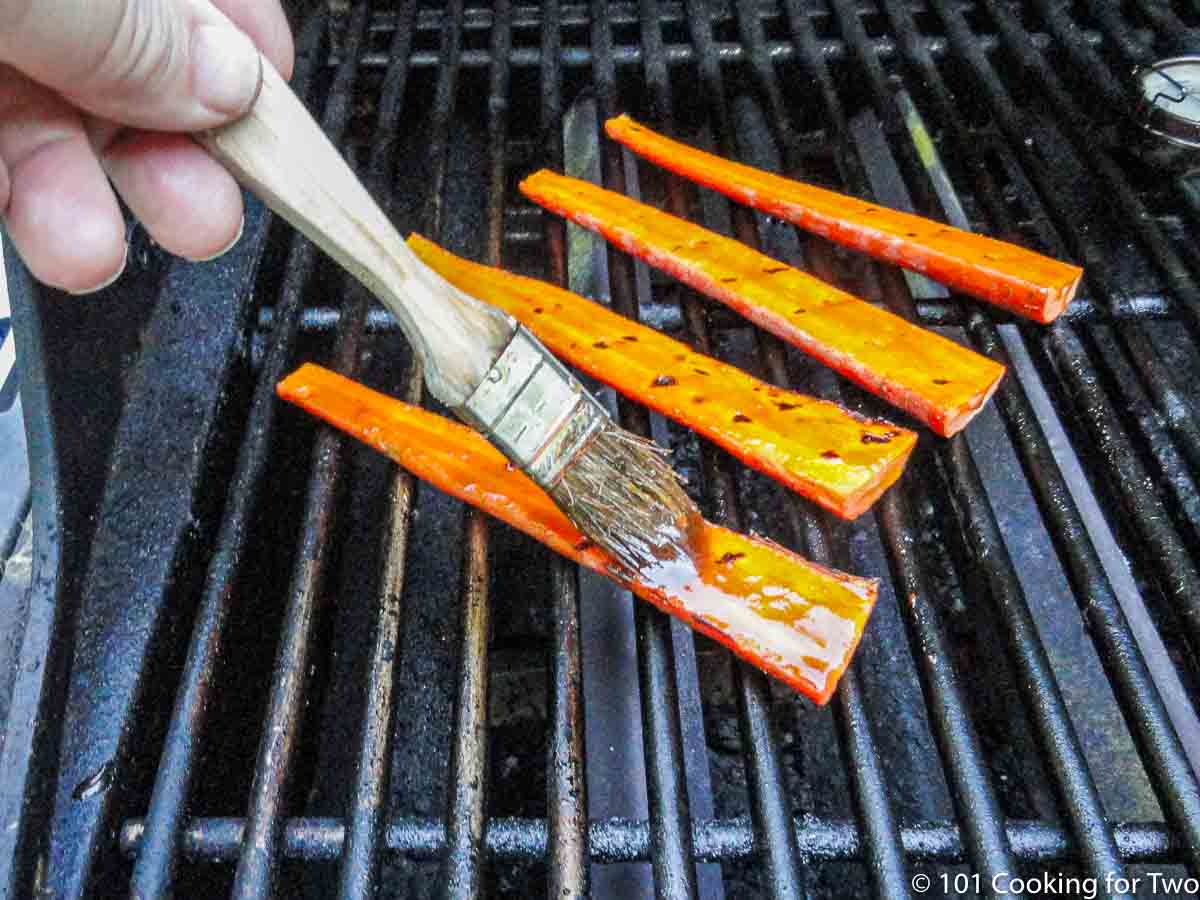 About 10 minutes into grilling, brush with the honey solution, flip and brush again.
Grill until internal temp over 190° in the thickest part and tender, about 5-10 minutes more.


Do you want more recipes from 101 Cooking for Two? Sign up for the newsletter and get all posts delivered straight to your inbox!
📖 Recipe
Originally Published June 20, 2013. Update with expanded details and refreshed photos. A table of contents added for navigation.