Ultra-simple grill peaches are the perfect ending to your meal. Grilling brings out the sweetness of fruit, and these juicy peaches will become a favorite, especially with some ice cream.

Introduction
I'm always looking for easy grilled side dishes. They seem a little scarce, especially ones that are this good and so easy.
I wanted to do halves and add a little sugar and cinnamon. And I need simple, really simple.
After checking some variations, I had a solid plan. Just cut them in half, oiled, grilled one side, flipped and topped with the mixture of sugar and cinnamon, and cooked until soft (internal temp was 165°). It is just that simple.
My Rating

I do love these and need to do them more.
🍑 Peaches
Freestone peaches that are still moderately firm when squeezed are a good choice here. You don't want unripe nor over very ripe peaches.
I have always hated to eat the peach skin, but this was not "fuzzy" after grilling and was fine but will peel off easily when done.
♨️ The Grill
The grill needs to be in the medium range. So it matches most chicken, pork chop and pork tenderloin recipes.
For beef recipes, you will need to turn down the heat on a section of the grill to get in the 450° range.
📖 Grill Side Dishes
Brown Sugar Cinnamon Glazed Grilled Pineapple
Grilled Stuffed Tomatoes: Italian Style
Grilled Carrots with Honey Glazed

🖼️Step-by-Step Instructions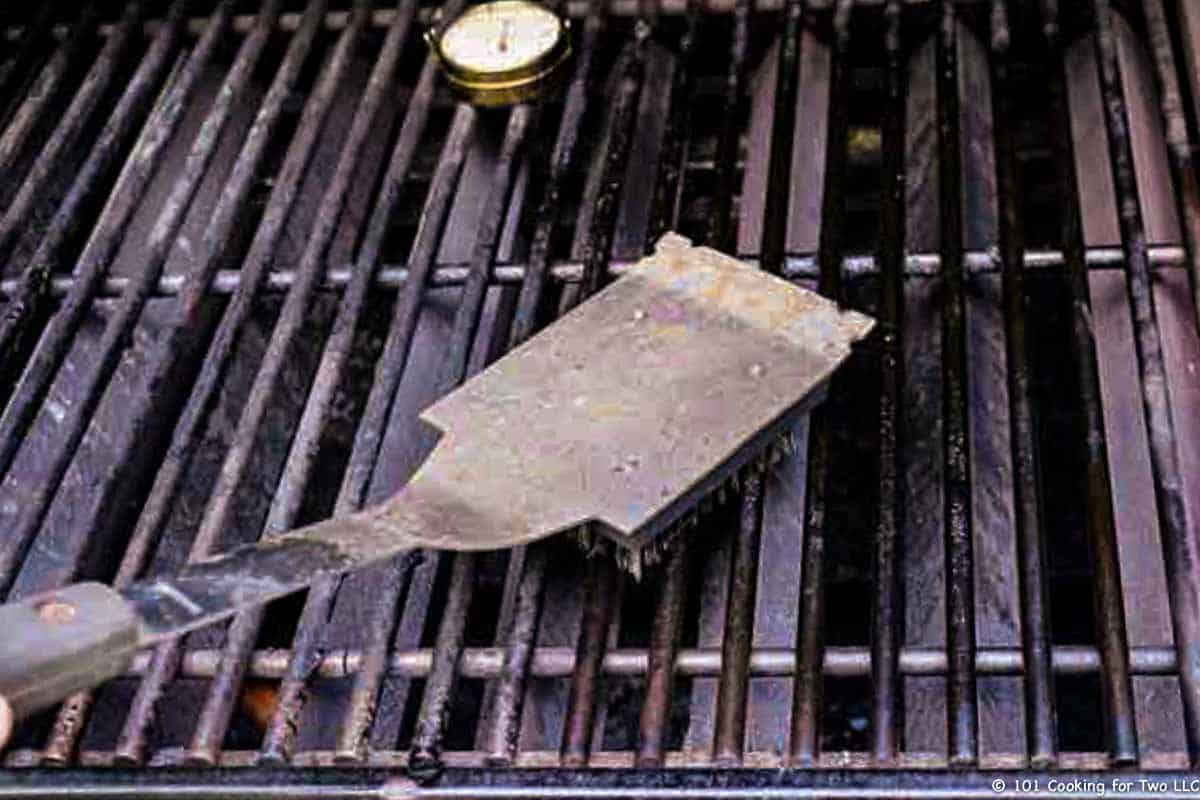 Preheat grill to a surface temperature of about 450°. Medium if you don't want to bother with a surface thermometer. The exact temperature for this is not as important as some other recipes but not blazing hot.
Wash peaches well split along the seam and remove the pit.
Mix 1 teaspoon cinnamon and 2 tablespoons sugar in a small bowl.
Bush all sides with oil.
Place peaches cut side down and grill with the lid closed for about 4-5 minutes until good grill marks are present. Flip peaches and apply ¼ of the cinnamon mixture to each half.
Grill until peaches are soft, and sugar mixture is melted. About 5 minutes more. Go by firmness and appearance, not by time. If you are obsessive about a thermometer, the internal temperature was 165° when done.


Do you want more recipes from 101 Cooking for Two? Sign up for the newsletter and get all posts delivered straight to your inbox!
📖 Recipe
Editor's Note: Originally Published July 15, 2010. Updated with expanded options, refreshed photos, and a table of contents to help navigation.