It's time for some tasty flaky biscuits on the grill with these easy to follow photo instructions. Grill on and enjoy a biscuit on me.

Introduction
I have been on the search for grilled sides, and I have tried this several times, but I now have it right. The answer was quite simple. All I needed to do was turn down the heat and rotate the pan. Dah...
I'm a biscuit guy. Show me a great biscuit, and I will follow you home. But in a "cooking for two" household, they are just darn convenient. You can keep the ingredients and whip up a fresh bread side dish is minutes instead of buying a nice loaf, and having it go to waste.
My Rating

I almost always have extra space on the grill for an easy side like this—a very nice standard biscuit.
♨️The Grill
Grill temperature is important. You usually think of doing biscuits at a high temperature in the oven. But high in the oven is 425° while high on a grill is usually 550° to 700°. Not the same.
So biscuits are not doable on a high grill but work fine in the 400°-450° range, which is what I define as a medium grill. This is where I cook pork and chicken but not beef.
✔️Tips
Use any drop biscuit recipe you want. I went with a simple one from an old Betty Crocker Cookbook that I have used for years. I tend to bump up the baking powder a bit for more lift.
If you don't have buttermilk, you can substitute by adding 2 teaspoons of vinegar or lemon juice to ¾ cup of milk and let it sit for a few minutes.
I tend to use a 10 inch cast iron pan for this, but any solid bottom grill pan would work.
Grilling Side Dishes
Brown Sugar Cinnamon Glazed Grilled Pineapple
Grilled Stuffed Tomatoes: Italian Style
Grilled Carrots with Honey Glazed

🖼️Step-by-Step Instructions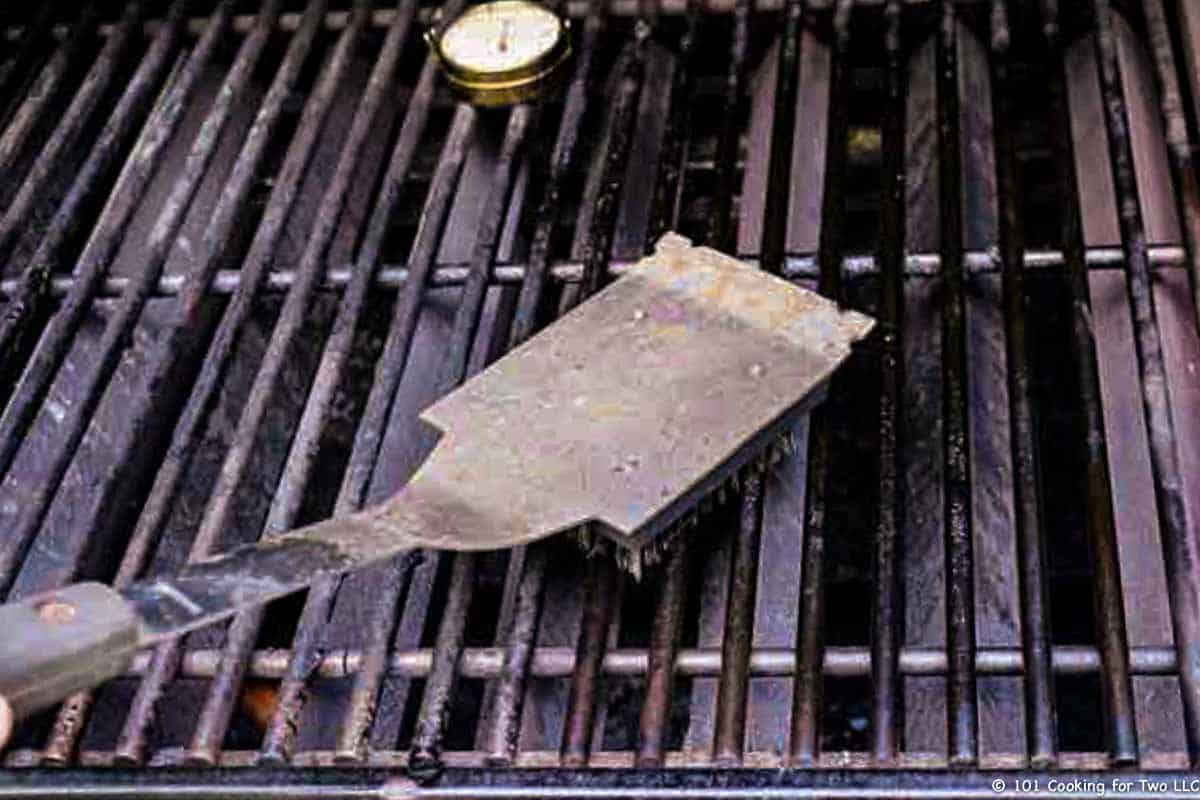 If the grill is not already on, preheat to medium, which is a grill surface temperature of 400°-450°. If the grill is on, then adjust the temperature to 400°-450°.
First, combine 2 cups flour, 1 tablespoon baking powder, and 1 teaspoon salt. Mix well. Using the fork, cut in 6 tablespoons butter.
Brush a cast-iron skillet with 1-2 teaspoons of oil. You may use any grill safe pan with a solid bottom.
Mix ¾ cup buttermilk into dry. Mix until moist.
Using a large tablespoon heaping with dough, make eight biscuits and place in pan.
Place on grill over medium heat. Rotate pan after 5-6 minutes.
Cook until browning nicely 15-18 minutes but somewhat variable due to the grill and pan.


Do you want more recipes from 101 Cooking for Two? Sign up for the newsletter and get all posts delivered straight to your inbox!
📖 Recipe
Editor's note: Originally Published June 1, 2011. Updated with expanded options, refreshed photos, a slight update to technique to reflect current practice, and a table of contents to help navigation.