The Juicy Lucy Burger is a regional classic from Minnesota. Consider it a cheese-stuffed burger. You can easily enjoy this at home on the grill or stovetop. No trip to Minnesota for you although you should go sometime, it is very nice.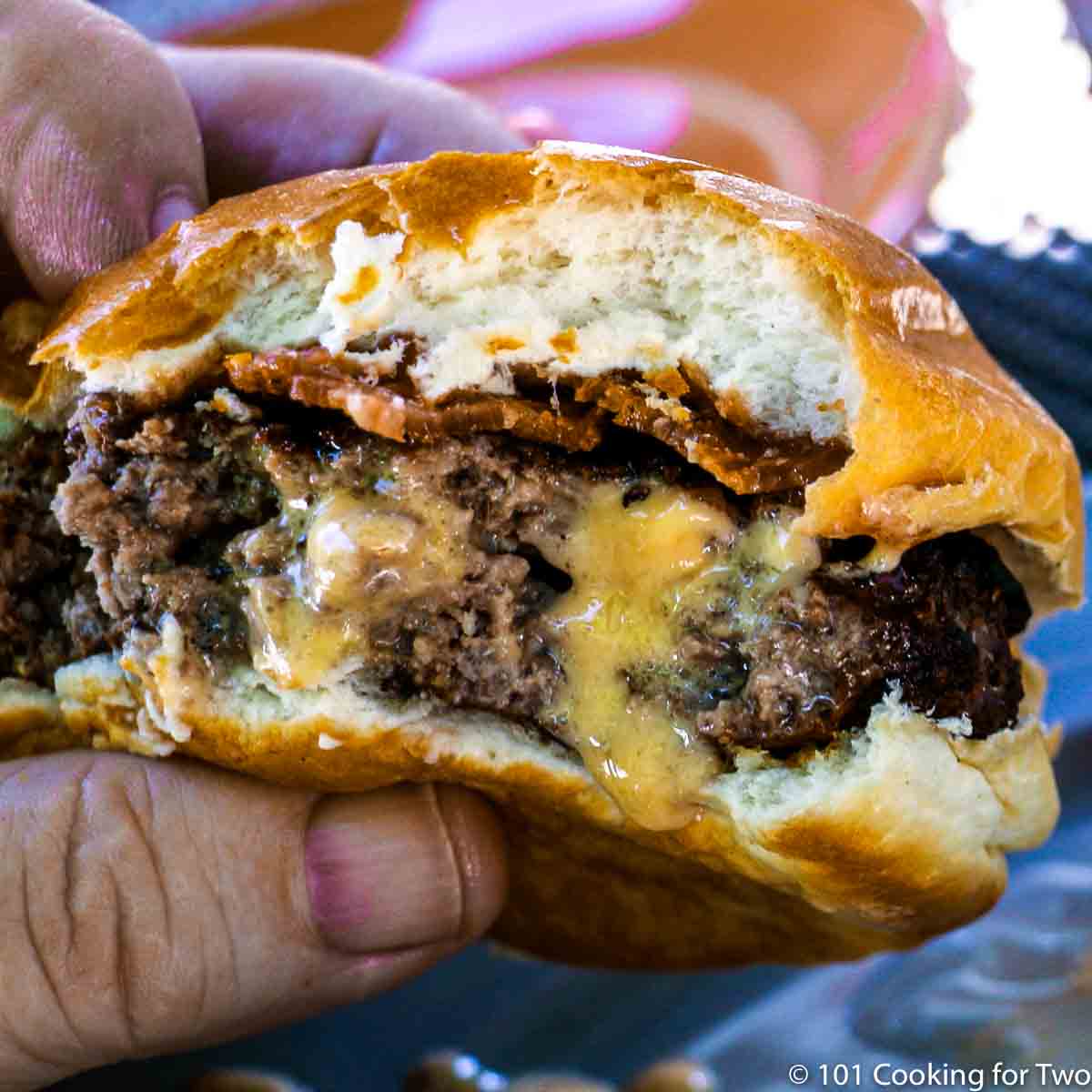 Introduction
So what is a Juicy Lucy (AKA Jucy Lucy) burger? Basically, an inside-out cheeseburger. It doesn't sound too tough. It's not that hard plus adds a nice surprise in the middle. It will just step that burger up a notch. See Wikipedia for more history of this regional delight.
I'm from Iowa, and I have heard tail of this Minnesota wonder but was reminded last week while watching the Food Network. The specific show shall remain anonymous since I follow the "if you can't say anything nice, don't say anything at all" rule. Let's just say food safety was not a consideration.
So I started with my How To Grill An Excellent Burger - A Tutorial. and used 7:2:2 seasoning. The choice of cheese is up to you, but I opted for the classic processed American cheese slice... this is the middle America we are talking about. And if I had Velveeta, I would have used it. Secret confession... I really like Velveeta on my burgers, much to my wife's embarrassment.
My Rating

Low 5 or very high 4. I love a good burger, and this is one.
🐄The Meat
Generally, store-bought ground beef is fine ─ use 80/20 ground beef.
There is a difference between hamburger and ground beef. Ground beef has a variable amount of fat, but the fat is from the beef being ground. Hamburger can have up to 30% fat and fat, from trimming other cuts can be added. I choose #1, not #2.
Most burger gurus suggest 20% fat for the moistest, tasty burger. I think they are right. Fat does taste good.
♨️Grill or Stovetop
These can be cooked on a stovetop or grill.
Your grill can be a gas grill or charcoal grill. It does not matter for this to work. Just get it hot, cleaned, and oiled.
For the stovetop, use a large frypan over medium-high heat with a little oil. Cast-iron works great, but other frypans are fine.
🧀The Cheese
You can use the cheese you want, but American seems to be popular. I have also use harder cheeses like cheddar or co-jack.
Most cheeses except the very hardest cheese will melt in the 120°-130° range. In other words, it will be liquid after it cooks a little. So a word to the wise, let it cool a little before biting in.
✔️Tips
The edges may leak a little, just work on your technique next time.
Many will add more cheese on top. Fine if you want, and it is the "classic" way.
I like my burger to cook to 165°, but 160° is safe.
📖Burger Recipes
How to Grill a Hamburger - A Beginner Tutorial
Smokehouse Burger on a Gas Grill

🖼️Step-by-Step Instructions
Use the cheese of your choice. American is traditional but use the cheese you prefer.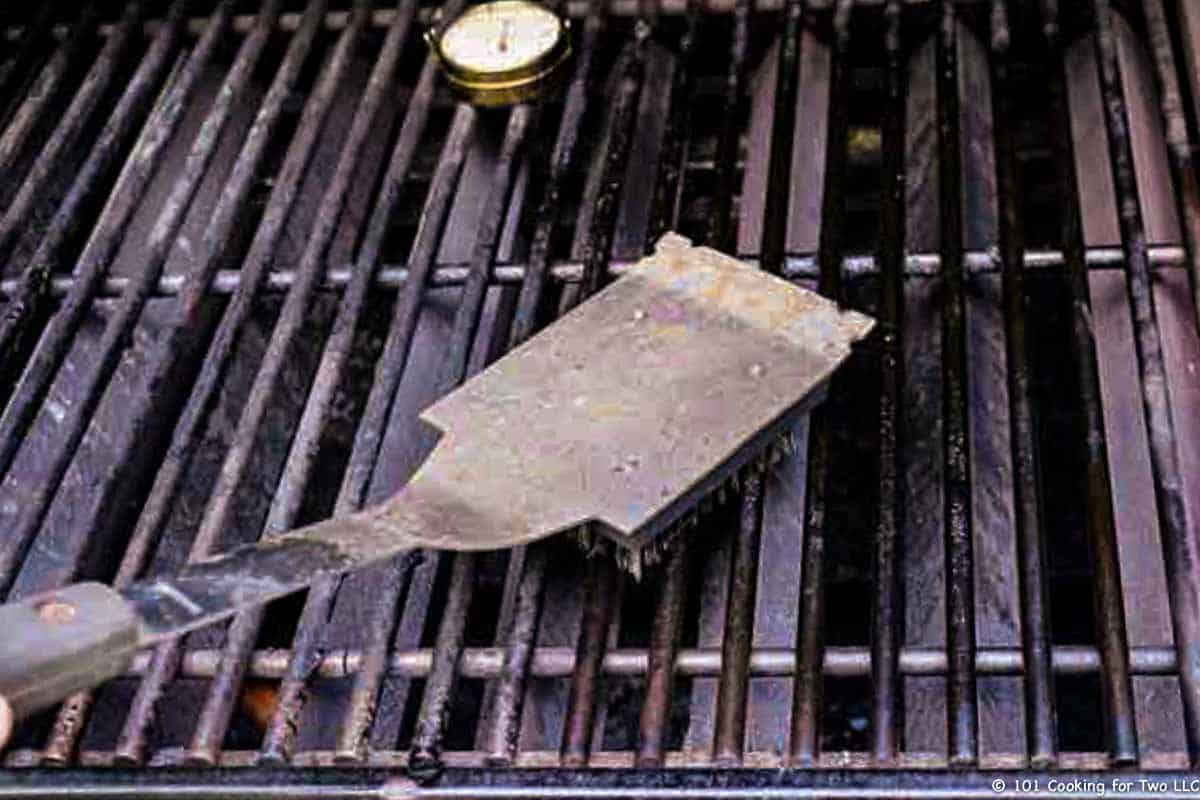 Grill: Preheat grill on high. Clean and oil well. You don't want to rip this open with sticking.
Stovetop: Heat a small amount of oil in a large skillet over medium-high heat. Cast-iron is preferred if you have it.
Divide ground beef into approximately 3 oz balls. Between two pieces of plastic wrap, flatten the beef into patties of about 5-inch diameter and ¼ inch thick. The bottom of a pan is recommended here.
Add cheese. One standard slice of processed American cheese works well here with folding the corners in. Try to keep the cheese as far from the edge as possible. You can use a different cheese if you want.
Add a second flattened patty on top and seal the edges. The final diameter should be about 4 inches. Sprinkle with some salt and pepper. I used my 7:2:2 spice mix. Press a dimple into the middle of one side about ⅛ inch deep and 1 ½ inch diameter.
For both stovetop and grill: 5 minutes on the first side, then 3-5 on the second side to get to 160° meat temperature.
Let sit for 5 minutes before serving with lots of napkins.


Do you want more recipes from 101 Cooking for Two? Sign up for the newsletter and get all posts delivered straight to your inbox!
📖 Recipe
Editor's note: Originally published July 25, 2015. Updated with expanded options, refreshed photos, and a table of contents to help navigation.