Easy to make delicious grilled portobello mushrooms that even meat lovers will love. Using a simple, flavorful marinade of soy sauce, lemon, and garlic, and then grilled over high heat, these portobellos are bound to please everybody.
Introduction
A meaty-textured portobello mushroom can be a great alternative to a hamburger. They can cook right along with your burgers in the same amount of time and grill temperature. Plus, a portobello mushroom has about 20 calories, but of course, that changes with the marinade.
Grilled portobello mushrooms are becoming more common but have not commonly been in our cooking rotation. We were schooled in grilled portobellos a few years ago at a cooking school, and it has always been on our to-do list—time to get it done right.
My Rating

A nice alternative to have in your grilling bag of tricks.
🍄Portobello Mushrooms
A portobello mushroom is a mature form of the common or button mushroom. So basically, it is the same mushroom as you are used to but allow to grow and mature. They are cultivated in many countries and are one of the most common of all mushrooms.
The spelling has common variations include portobello, portabella, and portobella. They are all the same, and all the spellings are acceptable.
Definitely, clean the mushrooms with a good rinse and pat dry. Also, remove the stems.
♨️The Grill
Generally, this are grilled directly on the grill grates for about 10 minutes total time over direct high heat. That can vary a bit, so go by the color.
The 10 minutes will closely match the time for grill hamburgers over high heat so you can cook them together and offer a wonderful choice to your guests.
🥣Marinade
Nobody uses the same marinade, so use what you want. I use olive oil, soy sauce, lemon juice, and garlic, and it has a great taste with common pantry ingredients.
Many others will frequently use some balsamic vinegar. Since I'm not the biggest fan, I skipped it but add 1-2 teaspoons if you wish.
✔️Tips
Scale the recipe to the number needed. This is "cooking for two," so I picked two (big surprise). But I have scaled up to 10 mushrooms with this recipes.
You should remove the stem for this and can keep it for another use. But leave the veins. The veins are commonly removed with stuffing the mushroom, but here they pickup taste from the marinade.
📖Grill Recipes
How to Grill a Hamburger – A Beginner Tutorial
How to Grill a Pork Tenderloin on a Gas Grill

🖼️Step-by-Step Instructions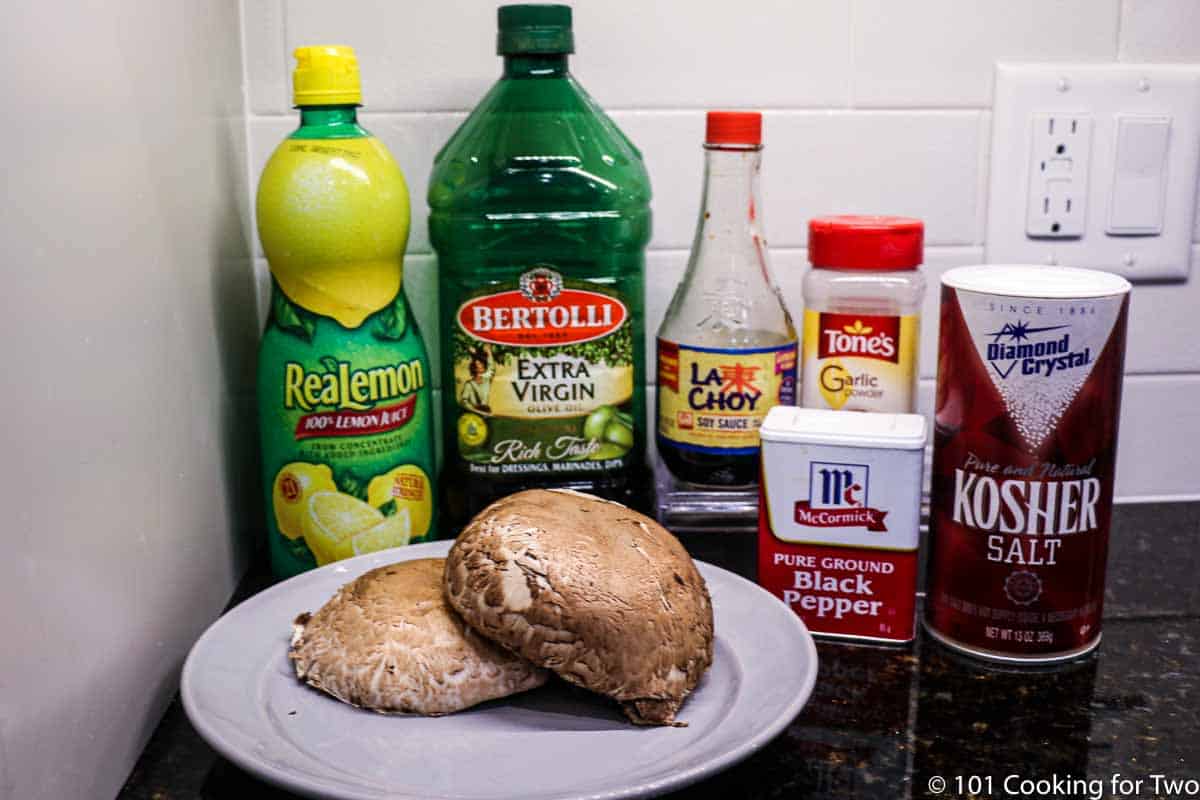 Wash and pat dry the mushroom caps. Break off the stem, but leave the veins.
Mix marinade of 2 tablespoons olive oil, 1 tablespoon soy sauce, 1 teaspoon lemon juice, ½ teaspoon garlic powder, ½ teaspoon kosher salt and ¼ teaspoon black pepper.
Brush the top of mushrooms with a generous amount of the marinade. Flip over and brush the bottom. Pour any remainder into the bottom of the mushrooms. Cover and refrigerate for 1-2 hours.
Grill over direct high heat. Start with the bottom side up. Grill for 4-5 minutes and flip for another 4-5 minutes.


Do you want more recipes from 101 Cooking for Two? Sign up for the newsletter and get all posts delivered straight to your inbox!
📖 Recipe
Editor's Note: Originally Published August 13, 2017. Updated with expanded options, refreshed photos, and a table of contents to help navigation.