Quick and easy on a grill or the stovetop, these healthy pork fajitas are bursting with great Tex-Mex flavors. These fajitas are an easy weeknight dinner or good enough for a special meal.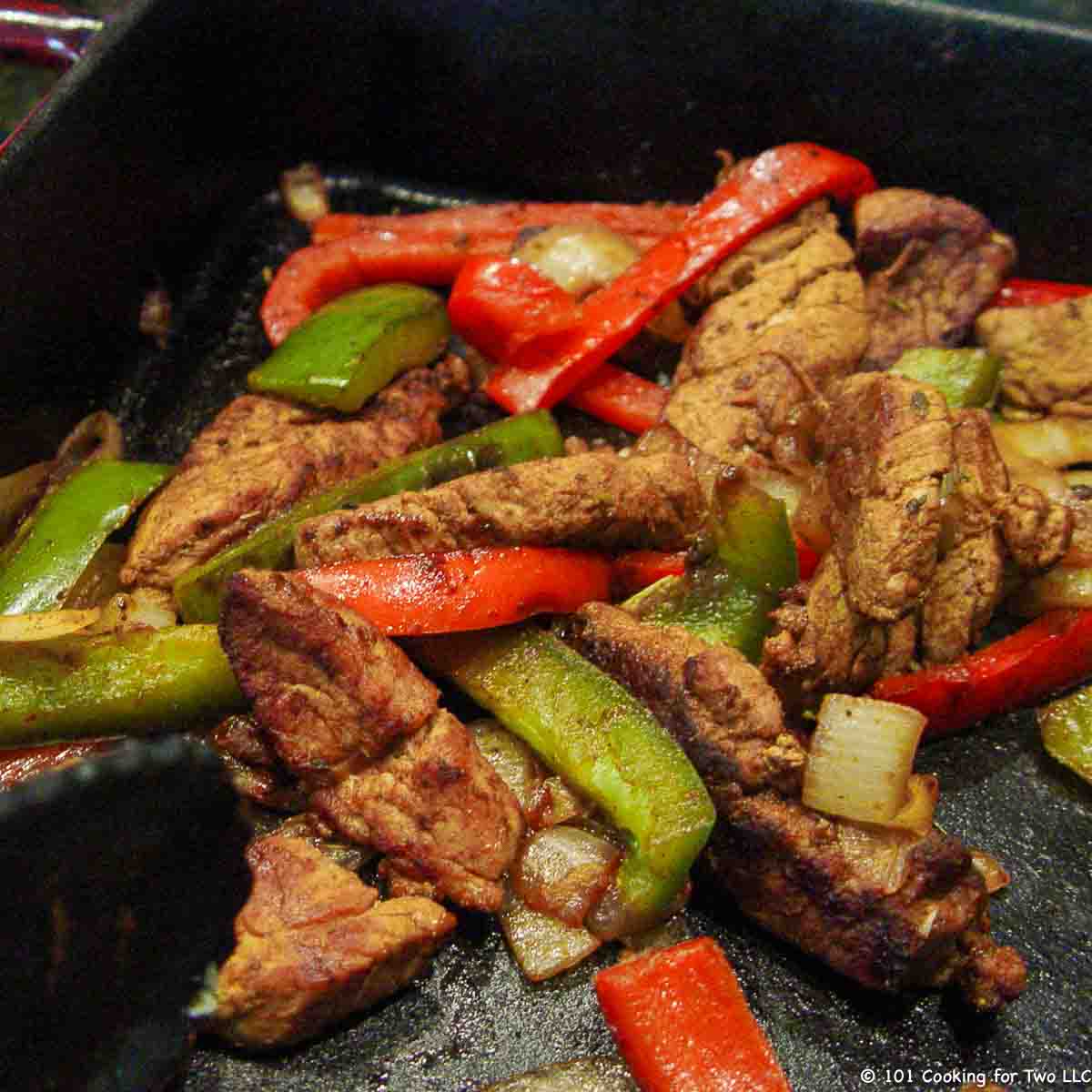 Introduction
Fajitas, which we consider Mexican, are a Texas, not Mexican, tradition — originating there in the 1970s. Initially made with skirt steak, almost every meat has been used to create this wonderfully tasty dish. Or just do a vegetarian version.
The Mexican flavors of fajitas are just perfect for pork. And by using pork tenderloin, you can have tender and moist pork fajitas on the table in less than 30 minutes.
You can do this on the stovetop or a grill, but the grill with a griddle will add some fire-roasted flavors.
Based on a MayoClinic.com recipe in addition to the great taste, this is a very healthy grilling.
My Rating

This one you could live on and be healthier to boot.
🐖The Ingredients
The Pork Tenderloin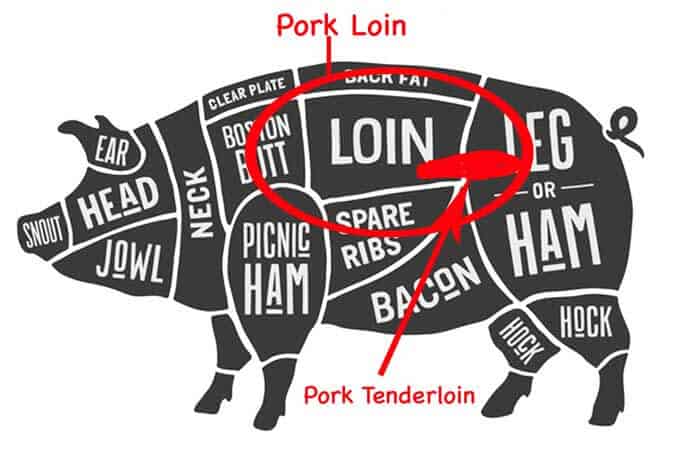 This recipe uses a pork tenderloin, which is naturally tender since it is a muscle that doesn't do much work. It will be about 1 ½ pounds, which is the perfect size for this recipe.
So people get confused sometimes. A pork loin is NOT a pork tenderloin. They cook differently, and please do not get them confused.
Seasoning
Since we are using pork tenderloin, they in no need of a long marinade to help tenderness. Also, it will pick up flavors rapidly.
This is a fairly standard combination of spices. I did increase the amount a bit to add more spice to the vegetables.
The original recipe includes Coriander. It is the seeds of the same plant that gives us cilantro. They have different tastes and uses. It does add some taste, but I suspect many of you will not have it on hand. But skip it in the recipe if you want.
♨️Grilling Method
I prefer this cooked on the grill with a large griddle. Preheat with the griddle in place to about 450° grill surface temperature. See A Beginners Guide to Grill Temperature on a Gas Grill if you have questions.
Use only higher temperature oils like corn or canola oil. This is not the time for olive oil.
When you add the pork, turn the burners up to high and leave the hood of the grill open so you can give it attention.
After the pork has had a few minutes head start, add the vegetable. Grill until the pork is browned nicely and 140°-145°. The onions should be clearing and peppers browning and tender.
♨️Stovetop Method
Use a large skillet, preferably cast-iron. You will need to cook the meat before first. It will take about 8-10 minutes to brown nicely and an internal temperature of 140°-145°.
Then remove the tenderloin and cook the vegetables for about 6-8 minutes until onions are clearing some and some browning of the peppers.
Add the meat back in and cook another few minutes and serve sizzling hot in the pan.
🥣Serving
Serve sizzling hot in the skillet; it will keep it warm for a long time. Warm some tortillas in the oven or a few seconds in the microwave covered.
Common toppings are avocados, guacamole, pico, sour cream, and salsa. Or anything else you want.
📖Related Recipes
Healthier Mexican Recipes
Grilled Chicken Fajitas in 30 Minutes
Healthier Pork Carnitas with Pork Tenderloin
Chicken Carnitas AKA Carnitas de Pollo
Healthier Chicken Enchilada Casserole in 60 Minutes
Suggested Side Dishes

🖼️Step-by-Step Instructions
Start by preheating the grill with a griddle and a tablespoon of oil. Get the temp to around 450°. Or if using the stovetop, then wait for the chopped vegetables before starting a large skillet (cast-iron preferred) over medium-high heat with a tablespoon of oil.
Mix spices 4 teaspoons chili powder; ½ teaspoon each of oregano, paprika, table salt (not pictured) and garlic powder; and ¼ teaspoon coriander (optional).
Trim pork tenderloin of any silver skin and fat. Cut in half the long way. Flip the halves of the tenderloin back together and cut into ½ inch slices. This will make them "cross-grain" and more tender.
Put the pork into a large bowl. Reserve 2 teaspoons of the seasoning for the vegetables, then add the remainder of the spice mixture and stir together coating the pork well.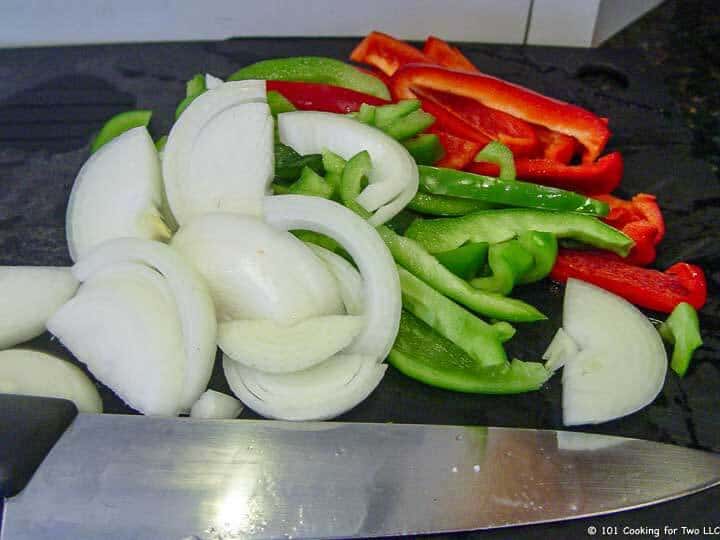 Prep some veggies. I suggest a large onion along with green and red pepper.
Grilling Method
Leave the top of the grill open at this point and increase the burners to high. Add the meat to the griddle. Stir frequently.
After a minute or two add the veggies and sprinkle with the reserved spices
Continue to stir and flip frequently. You will feel like your cooking here — total cooking time 10 to 12 minutes from the pork hitting the griddle.
Stovetop Method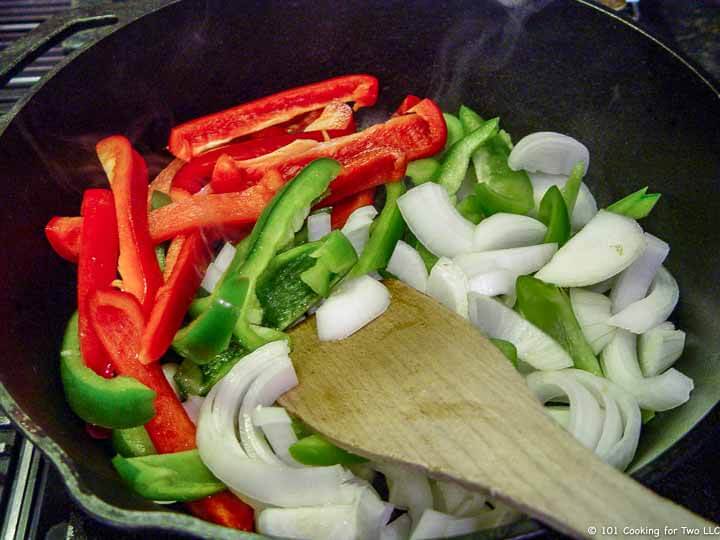 If doing a stovetop method, place a large skillet, preferably cast-iron, over medium-high heat, and add 1 tablespoon oil. If the pan is big enough, you can do the meat and vegetable together but give the meat about a 2-minute headstart.
Otherwise, cook the meat first for about 8-10 minutes until brown nicely and 140°-145°. Remove and cover. Add a bit of oil to the pan, the cut vegetables, sprinkle with the reserved spices and cook until the onion is clearing and peppers are browning some. Add the meat back into the skillet and cook a few more minutes.
Serving
Serve with warmed tortillas and toppings of your choice. I went with sour cream, cheese, and jalapeno slices. A simple way to heat tortillas is to sprinkle a dish towel with some water, put tortillas inside, and heat in a microwave on high until hot.


Do you want more recipes from 101 Cooking for Two? Sign up for the newsletter and get all posts delivered straight to your inbox!
📖 Recipe
Originally Published June 3, 2012. Updated with expanded options, refreshed photos, and a table of contents to help you navigate.