Fire up the grill for some great-tasting sirloin steak kabobs with these easy to follow step by step instructions. A standard for any grill master that you will repeat over and over this summer.

Introduction
I wanted to do some kabobs, but my search for a recipe was at best frustrating. Most have ten plus ingredients listed and involved overnight timing. What is wrong with these people?
So after reading 15 plus recipes, many with overnight marinades or 12 ingredients. Just not for me. So I used my previous sirloin steak recipes as inspiration.
My desires:
1) KISS with only a few ingredients. I used four.
2) Quick. I marinaded for 2 hours but I think anywhere from 30 minutes to 4 hours would be fine.
3) Great taste and tender. Yep, it was.
My Rating

A solid 4 but on some days it might be lower 5. A great deck grilling classic.
🐄Sirloin Steak
First, let's talk what beef. While you could use a more expensive steak like a strip or even tenderloin, this is really a sirloin steak type of recipe so let's concentrate on that.
We are going to talk American for a few minutes. The sirloin is located behind the short loin which is where most of what we usually call "steak" comes. There is the "top sirloin" which costs the most of sirloin and is most tender. It will definitely be labeled as top to fetch the premium price.
The bottom sirloin is where the sirloin steaks come from (what I'm cooking here). Also, the tri-tip roast comes from the bottom sirloin. Under that will be the sirloin tip roast.
In other parts of the world, what we call the loin area is called the sirloin and what we call the sirloin is called the rump.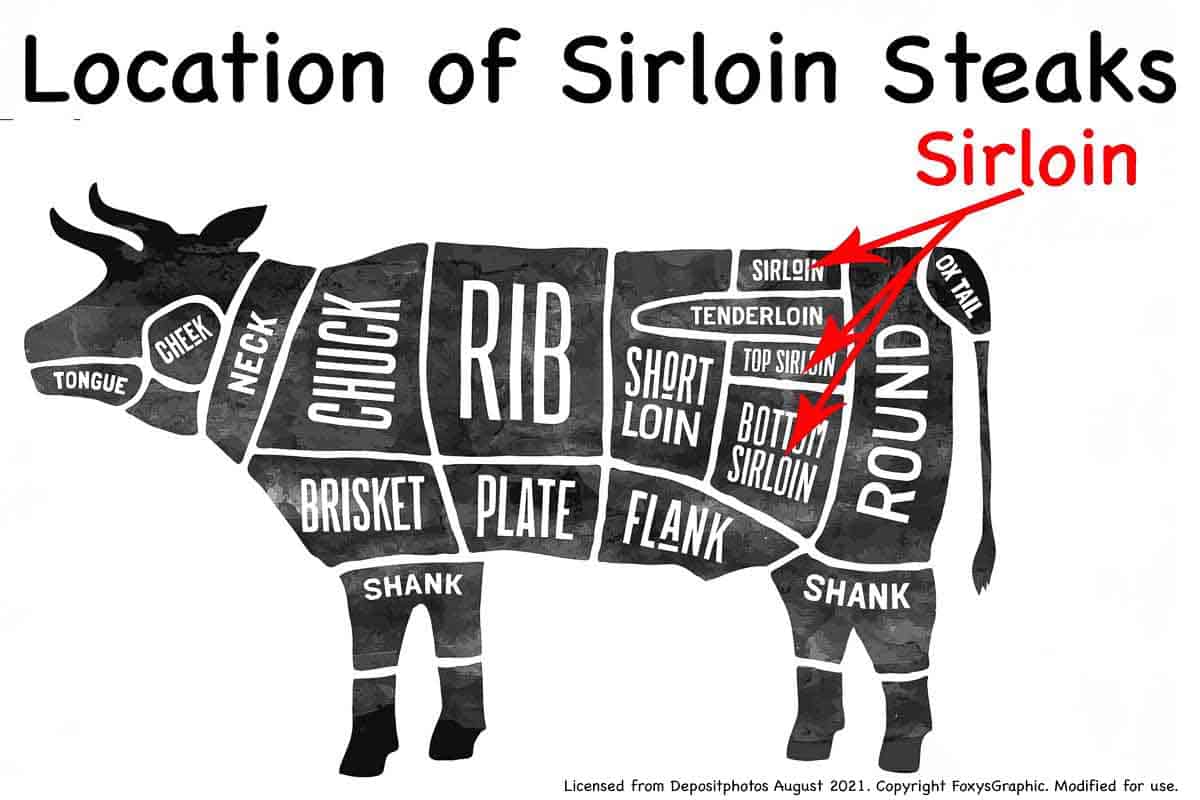 🧂Seasoning
I didn't use any salt and pepper. Why? I felt there was some sodium in the Worcestershire and soy sauces. The pepper I thought could be added later. It didn't need it. It was bursting with flavor.
📖Kabob Recipes
Buttermilk Ranch Chicken Kabobs

🖼️Step-by-Step Instructions
If using wooden skewers, pre-soak in water for 30 minutes. Metal skewers are fine.
Trim beef of any fat and cut into about 1-inch cubes.
Mix marinade 2 tablespoons Worcestershire sauce, 2 tablespoons soy sauce, 2 tablespoons water, and 1 teaspoon garlic powder.
Pour over meat and mix well. Cover and refrigerate until needed. 30 minutes to 4 hours.
Prepare any desired fruit and vegetables. Cut into chunks about 1 inch.
Preheat grill on high. Clean and oil.
Prepare kabobs by alternating ingredients. Brush lightly with oil concentrating on the fruit and veggies. Grill over direct high heat with grill lid closed until mild charring on fruits and vegetables. And the internal temperature of the beef is to your liking. About 8-10 minutes.


Do you want more recipes from 101 Cooking for Two? Sign up for the newsletter and get all posts delivered straight to your inbox!
📖 Recipe
Originally Published September 13, 2010. Updated with expanded options, refreshed photos, and a table of contents to help navigation.