Wonderful moist and tender chicken kabobs start with a short marinade that includes honey, and garlic then grilled (or baked) with vegetables making a meal the whole family will love.
Introduction
There are a lot of things to love about these kabobs. A bit of honey for just the right sweetness, and kicked up garlic what will make a garlic lover happy, but mostly it is the tender chicken and charred veggies that send this over the top.
Every year I swear that it will be "kabob" summer, but I get off task after only 2-3 recipes. I will try better this year
My Rating

I do love a good kabob. I say lower end of five.
📋Ingredients
The Chicken
This is a recipe for skinless boneless chicken breast. Generally, they will be about 12 oz each give or take a little.
Chicken thighs will work fine, but I suggest using a final internal temperature of 175°-180°. And with the final internal temperature, cooking time will go up a bit. I suggest doing separate vegetable kabobs to prevent them from burning.
The Marinade
Roughly based on an Allrecipe.com recipe but I backed off the honey and soy sauce a tad and pumped up the garlic. I find many recipes crank up the honey too much for my taste. And I backed off the soy some to keep the sodium down.
♨️Cooking
Gas Grill: This is the preferred cooking method. This recipe uses a grill surface temperature of about 450°. That is about medium or slightly above on most gas grills.
Charcoal Grill: Cooking chicken over charcoal should be over medium heat also and not over the raging coals.
For more information on grill temperature, please see A Beginners Guide to Grill Temperature on a Gas Grill.
The Oven: You can just pop them in the oven on a tray at 450° for about 20 minutes. As always, you are cooking to a final internal temperature and not by time alone. Time varies by the oven, the tray, and the size of chicken chunks.
✔️Tips
Skewers
I usually use metal skewers especially for chicken where some transfer of heat along the metal will help the cooking.
But wood skewers are fine. You must soak them in water before using so they don't burn (yes, they will burn). A warm water soak of 15-30 minutes will do.
Vegetable Kabobs
If cooked on separate kabobs, the standard onion and bell peppers will cook a bit faster than the chicken. But if mixed in with the chicken, they will take about the same time.
Some vegetables will require different cooking times. A good example would be potatoes that take much longer. So you need to be aware of the needed cooking times for your vegetables.
Recipe Size
This is a recipe that is crying to cut in half for two servings. We had company, and I needed four. So pictures were for four, so I wrote it that way. Obviously, scale to what you need.
📖Kabob Recipes
Buttermilk Ranch Chicken Kabobs

🔪Instructions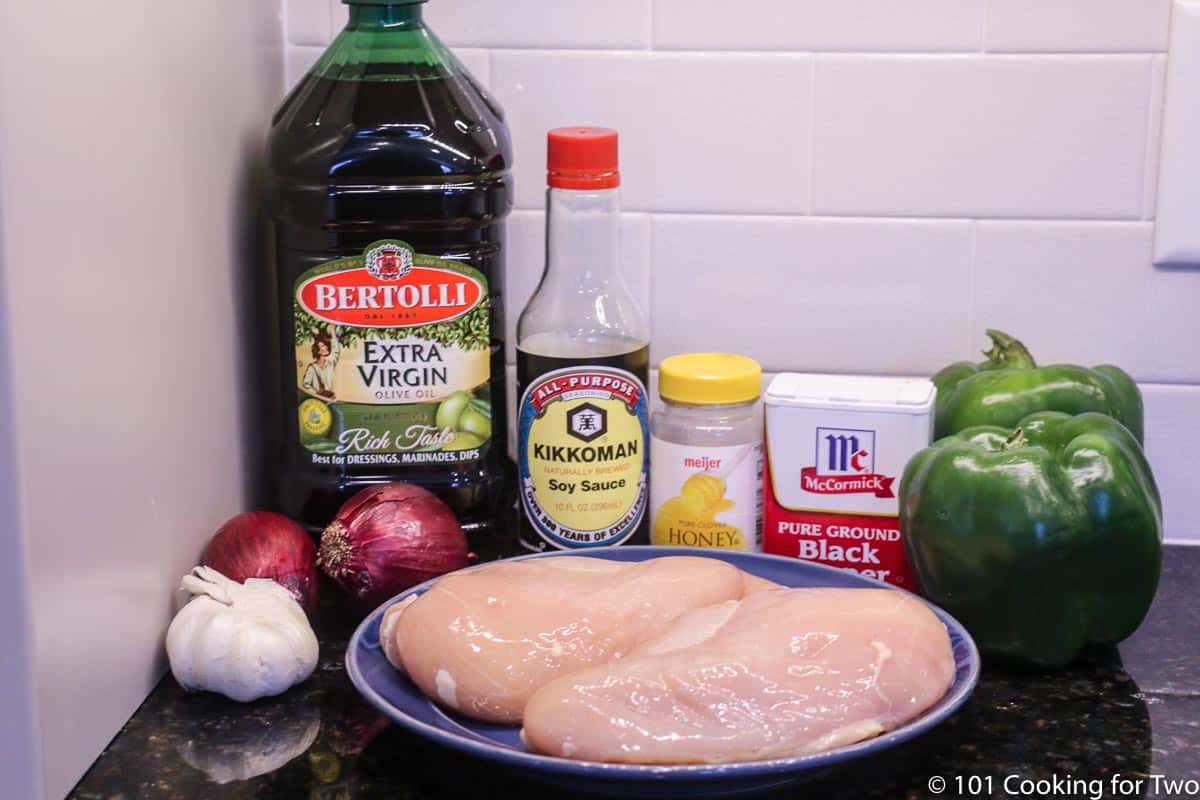 The ingredients are things I almost always have in the house.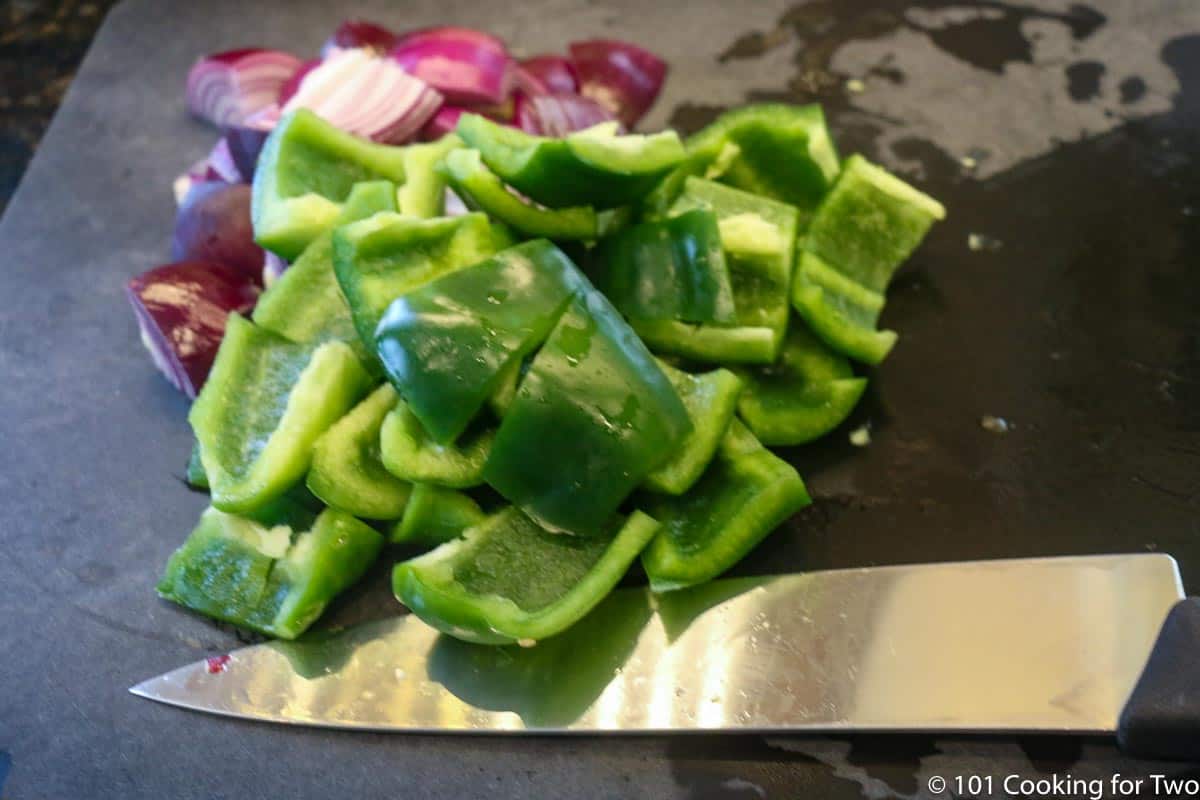 Prep veggies. I went with two peppers (any color will do) and two medium red onions. Chop into chunks.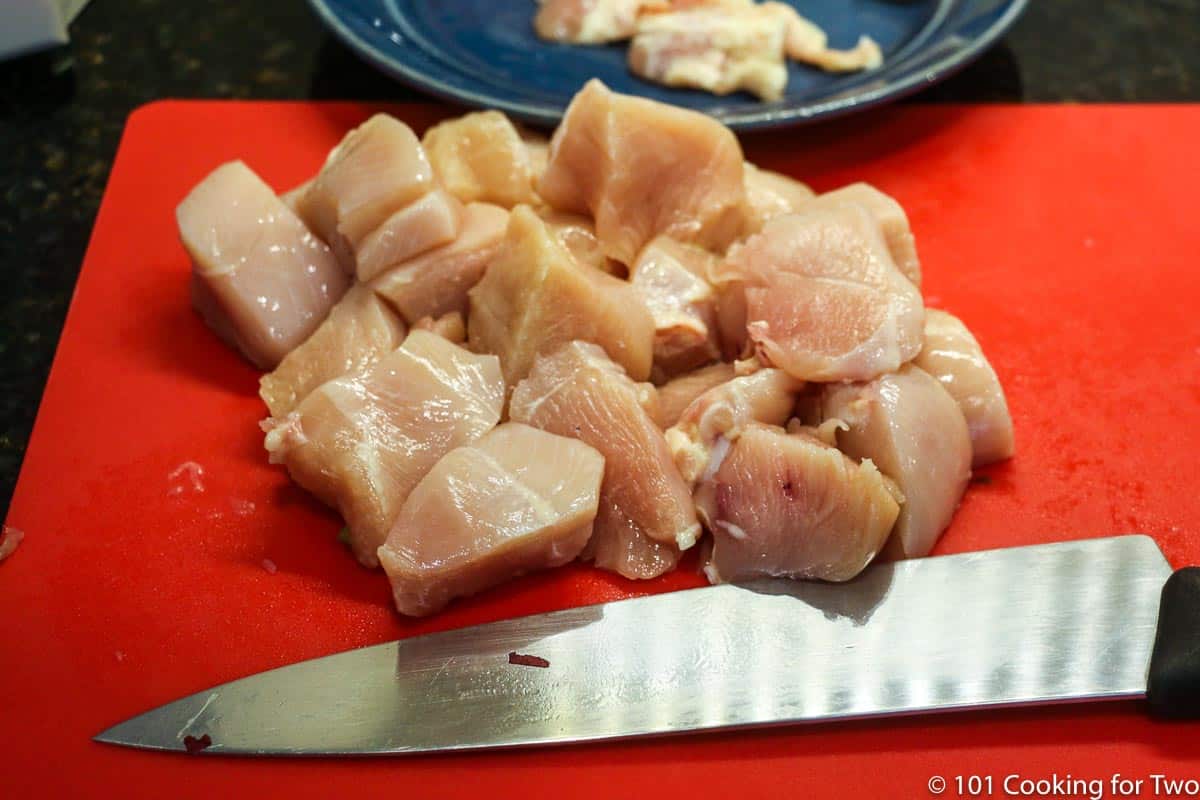 Trim two skinless boneless chicken breasts and chop into 1-inch chunks.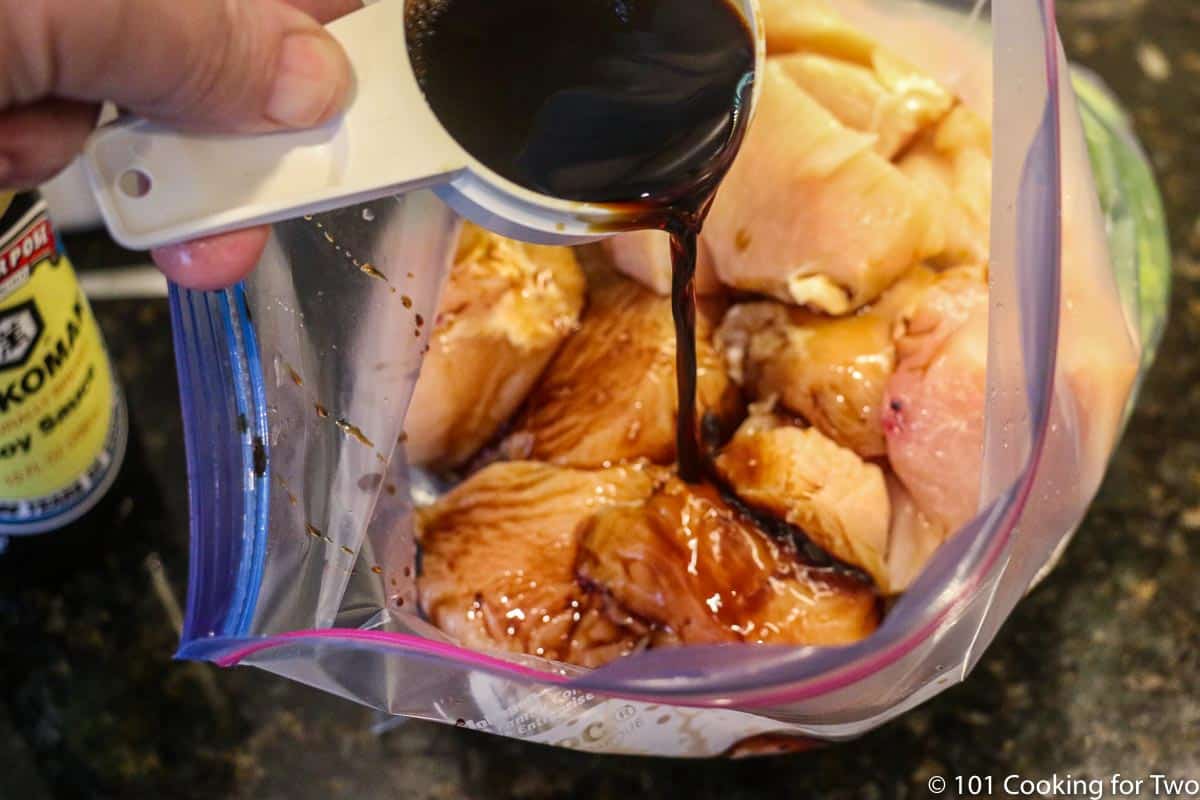 Add the chicken and veggies to a one-gallon ZipLock bag. Add ¼ cup olive oil, low-sodium soy sauce, and honey. Add ½ teaspoon pepper and four cloves of garlic crushed. Seal bag and mix well. Refrigerate for 30 minutes to 2 hours.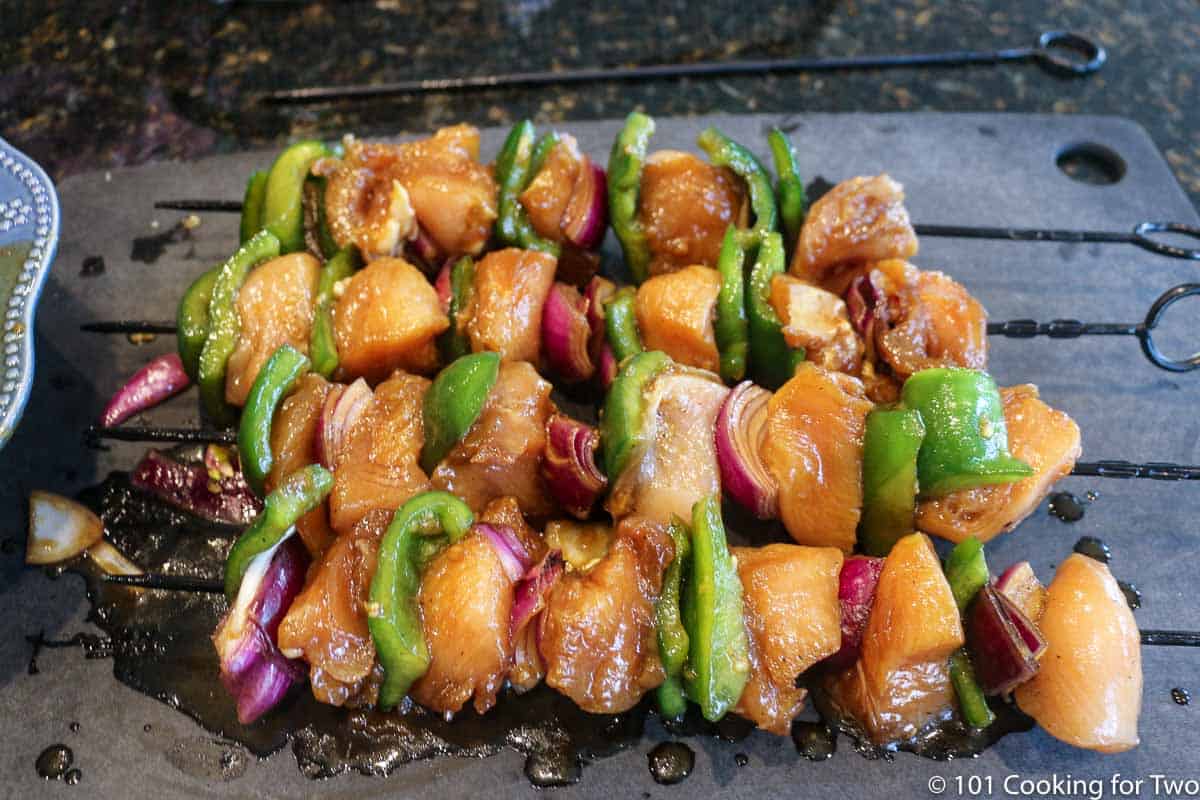 Preheat grill to 450°-500° surface temperature. Medium to medium-high on most gas grills. Place meat and veggies on kabob skewers.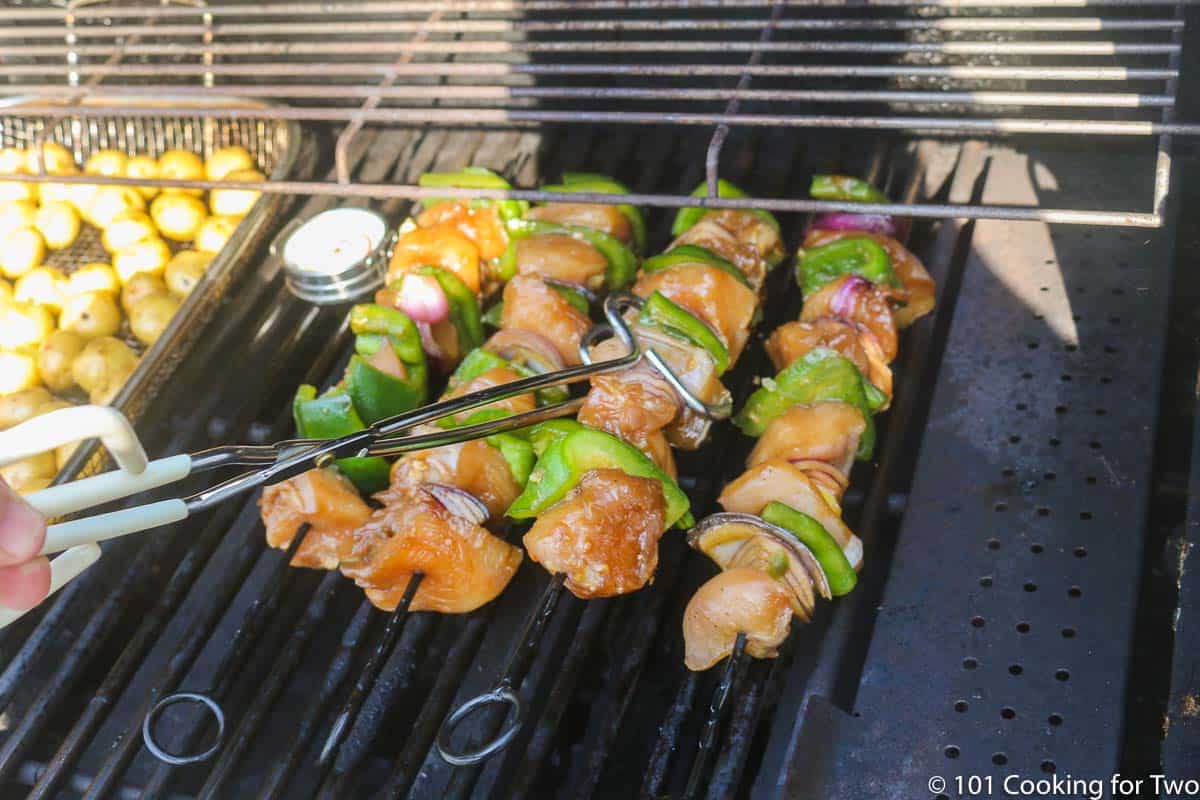 Grill over direct heat. Rotate ¼ turn every 6-7 minutes. Cook until the internal temp of the chicken is 165°. Check the thickest pieces near the center of the kabobs. Total cooking time 25-30 minutes.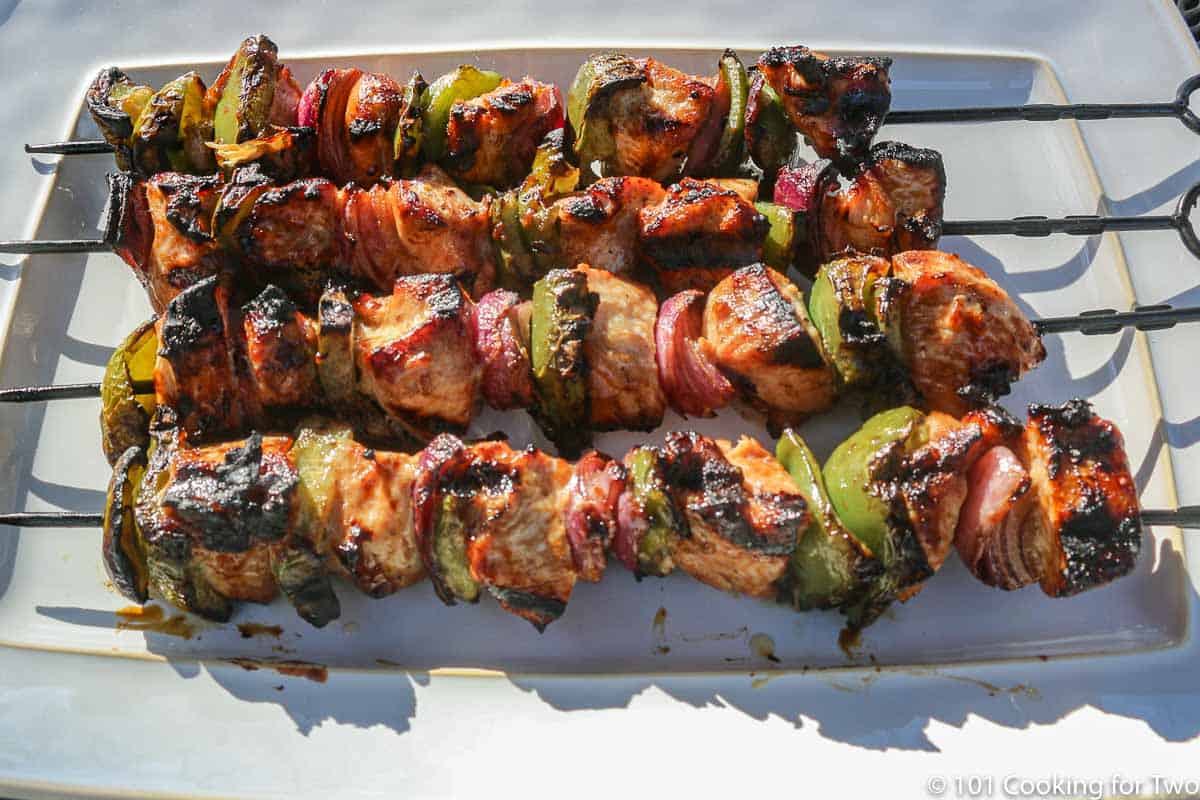 Serve hot off the grill.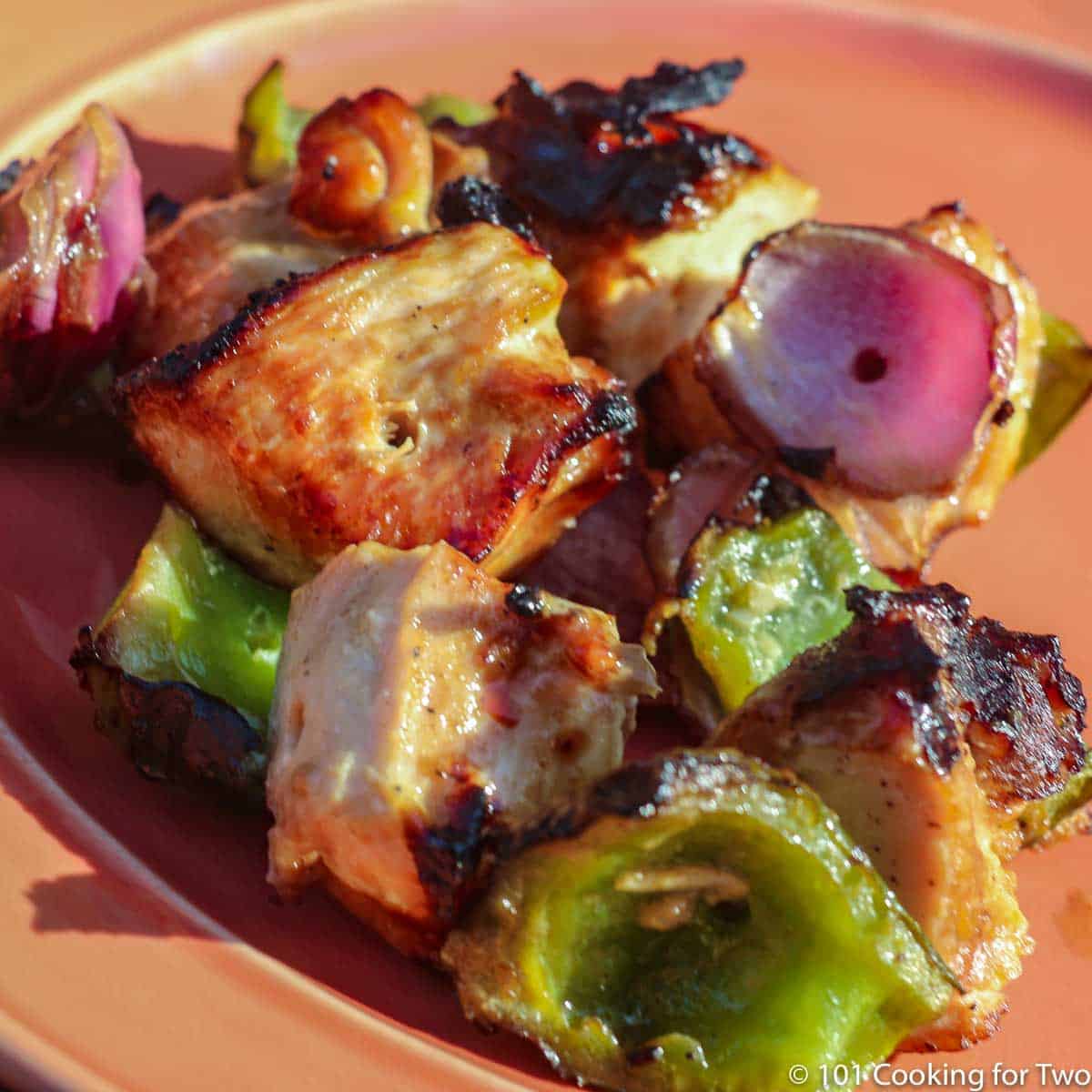 Do you want more recipes from 101 Cooking for Two? Sign up for the newsletter and get all posts delivered straight to your inbox!
📖 Recipe
Originally published April 24, 2016. Updated with expanded options, refreshed photos, and a table of contents to help navigation.