Old Fashion Salisbury Steak with onion gravy will bring back great memories. A classic recipe that your grandmother would have made. Quick and easy comfort food that makes a great family dinner.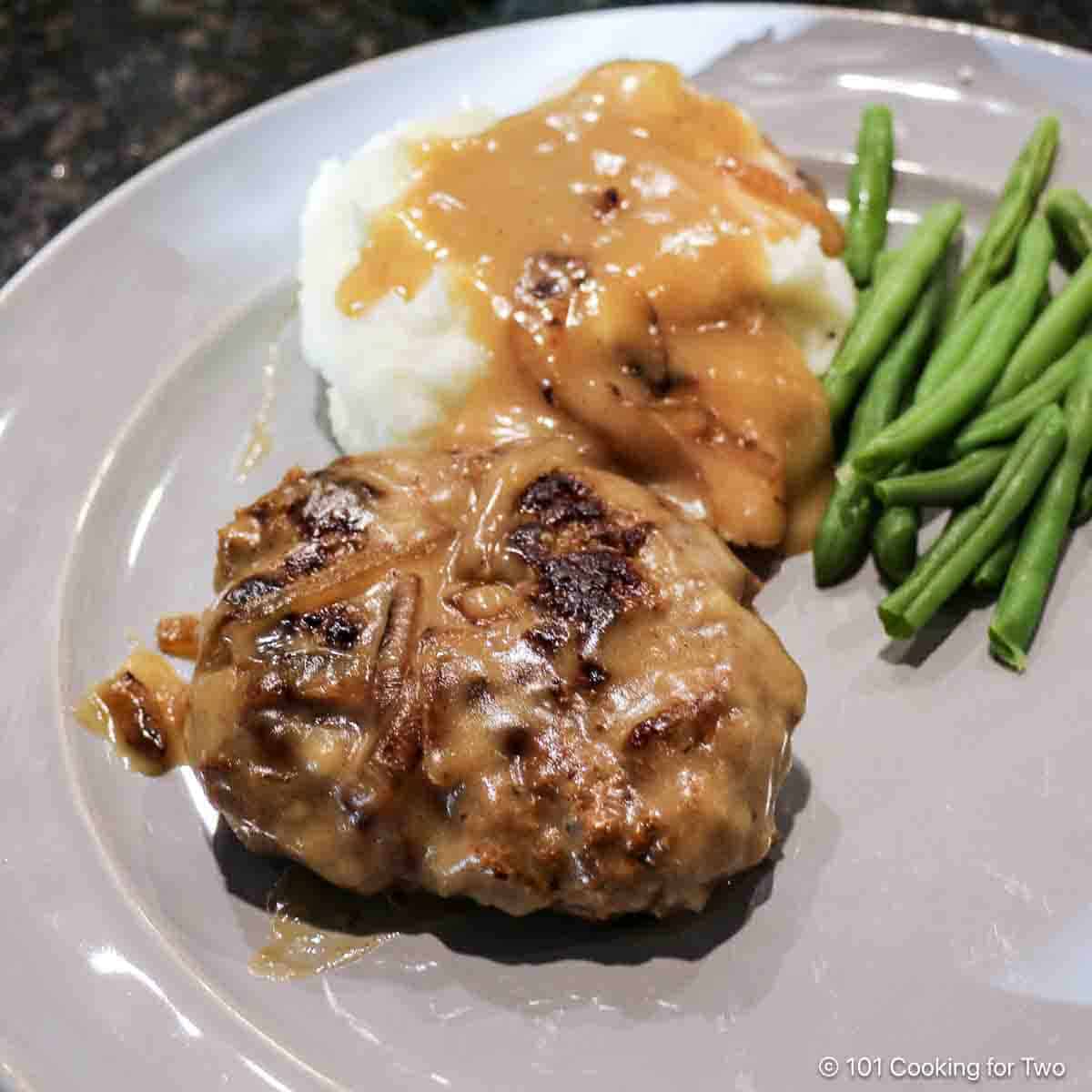 Introduction
Salisbury steak is a classic American dish with ground beef patties seasoned in various manors and served with brown gravy over mashed potatoes or noodles. Comfort food from out of the past.
This is another request by my wife, but this time, she even remembered the recipe she made, but details like exact measurements were missing. So after some searching, she found Simple Salisbury at Cincyshopper, which she based on Pioneer Woman's Salisbury Steak Meatballs.
All the right ingredients but not quite there. The recipe called for gravy mix and no onions in the gravy, but I can fix that. A few more changes, and we both felt it was just right.
My Rating

A nice comfort food. A high 4 or a low 5. I was in the mode for a classic, so a 5. All with just one pan.
🐄Salisbury Steak
This is comfort food and not low fat diet food. I suggest using standard 80/20 ground beef. That is the standard for burgers and is an excellent choice here.
Since there is no egg or anything to be a hindrance to scaling this recipe, it is the ultimate adjustable recipe. Having said that, 1 pound of ground beef is about as small as I want to go.
One more point. Once the patties are formed, compress a quarter size around and just under ¼ inch deep area on one side. This will help prevent the patties from puffing up during cooking and will help more even cooking.
Some may call this hamburger steak, but since there is a filler, that is not correct.
♨️The Gravy
Begin by caramelizing some onion and just set aside. It will heat right back up when added back in the latter. You can skip the onion if you want. Do not add raw onion to the gravy and think you can cook it well.
You can use mushrooms in place of or in addition to the onions.
We made our gravy without mix using a slurry method with flour. Plus, I added the caramelized onion for flavor.
With all that onion in the gravy, I pulled the onion from the steaks. Please see How To Make Gravy at Home for more details on how to do the gravy
🌡️Temperature
165° absolute minimum for the internal temperature when cooking ground beef. No discussion allowed. I'm playing the Doctor's card here. You will not eat or serve ground beef that has not reached 165 degrees.
The most important step in this recipe is to cook the Salisbury Steak until done safely. Accurate thermometers are a must for accurate cooking and food safety. As they say, knowledge is power. A good thermometer will take you from just an OK to an excellent cook.
I love my Thermapen. A good thermometer, like the Thermapen, will outlast a cheaper thermometer many times over and save you lots of money and heartache with improperly prepared meat. Available in The Cooking for Two Shop.
📖Comfort Food Recipes

🖼️Step-by-Step Instructions
Note while pictures are for five servings, the discussion, and the recipe is set for 3-4 servings. I adjusted.
If you want caramelized onions in your gravy, start by thin slicing a small onion. Cook with 1 teaspoon oil over medium-high heat until nicely brown. About 7-8 minutes. Set aside in a bowl.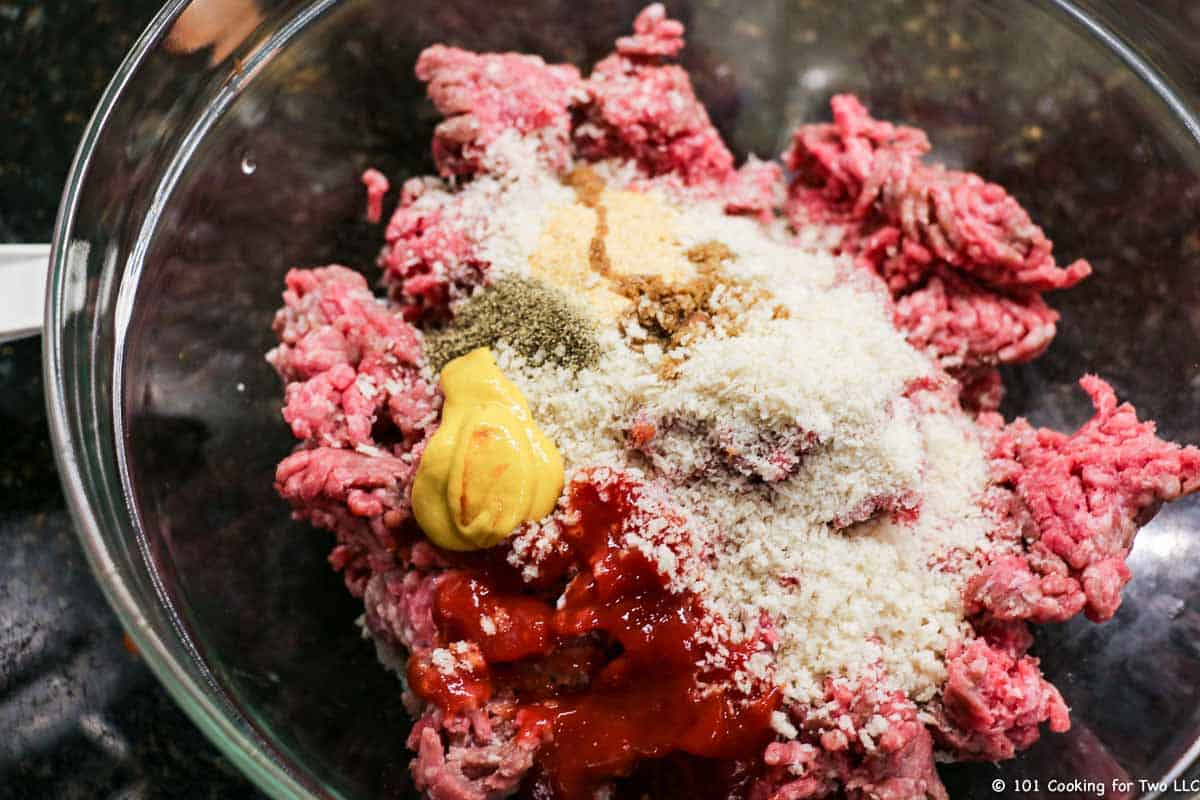 Mix 1 pound ground beef with ⅓ cup bread crumbs, 2 teaspoons ketchup,1 teaspoon mustard and Worcestershire sauce, and ½ teaspoon garlic powder. If not doing the onions, then add ½ teaspoon onion powder.
Divide one pound of hamburger into 3-4 equal portions. A quarter size indent in the middle will help prevent puffing up of the patties and make cooking evener.
Place steak patties in a large frying pan with a teaspoon of oil over medium-high heat. Flip about every 5-6 minutes until an internal temperature of about 165°. About 15-20 minutes depending on the thickness, the pan, and your burners.
Whisk 4 tablespoons flour with 1 cup beef broth. Remove the Salisbury steak to a plate and lightly tent. Pour out most of the liquid, leaving about 3-4 tablespoons of liquid. Allow the pan to cool some. Add 1 cup beef broth and bring to a light boil over medium heat.
Slowly add the flour-broth mixture while continuing to whisk. Add 1 teaspoon ketchup and ½ teaspoon Worcestershire sauce. Add salt to taste.
Whisk until nicely thickened, a few minutes. Add caramelized onions to the gravy and mix well if using.
Add steak back into the mixture, simmer a few minutes.
Serve with mashed potatoes or as you wish.


Do you want more recipes from 101 Cooking for Two? Sign up for the newsletter and get all posts delivered straight to your inbox!
📖 Recipe
Editor's Note: Originally published September 25, 2016. Updated with expanded options, refreshed photos, and a table of contents to help navigation.