Beef tips and gravy is the ultimate comfort food, with tender chunks of beef in a rich brown gravy served over noodles or mashed potatoes. Have a great homemade dinner tonight with this easy one-pan recipe.
Introduction
It is always comfort food season, and what could be better to warm you and your family than this classic hardy and delicious recipe? This economical dish has a skill level of about 3/10.
This is one of those dishes that both my wife and I grew up eating. But you just don't see or hear about it much. But it is a great family dish that you can easily whip up and have some leftovers too.
My Rating

It is just comfort food, but it is very good comfort food.
🐄The Meat
Most types of beef steak or roast will work here. Chuck, rump, or round roast, sirloin of any type, or even the more expensive steak cuts.
Personally, I do not suggest leaner meat like a sirloin tip roast even though this dish is frequently called "sirloin tips," but you want more marbling for tender meat.
If you want, a "stew meat" from your local store will work fine. But I usually chose a nicely marbled chuck roast that I could cut and trim myself.
👨‍🍳The Gravy
I used a slurry gravy method here, and it was all easily done in one pan, and there is no need to remove the meat. With this method, you can easily adjust the amount thickness of the gravy to your taste.
See How To Make Gravy at Home if you want to know more about making gravy at home.
Don't Use Corn Starch
Please do not use corn starch to thicken recipes like this. It is comfort food, and there are usually leftovers. Here I purposely cook for leftovers.
Things thickened with cornstarch will be gelatinized when cooled. It tastes ok, but the texture is odd.
🧂Seasoning
The Worcestershire sauce pumps up the beef taste.
In my house, my garlic-loving wife wants a good strong garlic taste. If you are not big on garlic, then cut it back some. You can adjust the garlic to your taste.
A Sodium Note
You will not see any added salt here. The Worcestershire sauce and the beef broth add enough sodium here. You can test taste just before serving and add some if you feel you need it. Or just let the diner salt to taste.
I would suggest low sodium broth but didn't have any for the pictures, so you will see regular beef broth in the pictures.
Most of the recipes out there use twice as much Worcestershire sauce, plus they usually add soy sauce, so the sodium will go sky-high.
❄️Storage
Good in the refrigerator for 3-4 days. It will freeze well for 3-4 months.
An easy recipe to cut in half, but I suggest freezing instead. If you cut in half, the cooking time stays the same, and you can use the other half of the can of broth for the gravy instead of water.
📖Comfort Food Recipes
Roadhouse Mac and Cheese Top rated by Food Network
30-Minute Chicken Fried Steak with Gravy

🖼️Step-by-Step Instructions
You will need 2 pounds of stew meat. I like to pick out my own using a nicely marbled chuck roast.
Trim and cut your beef into 1-inch cubes.
Chop one medium onion.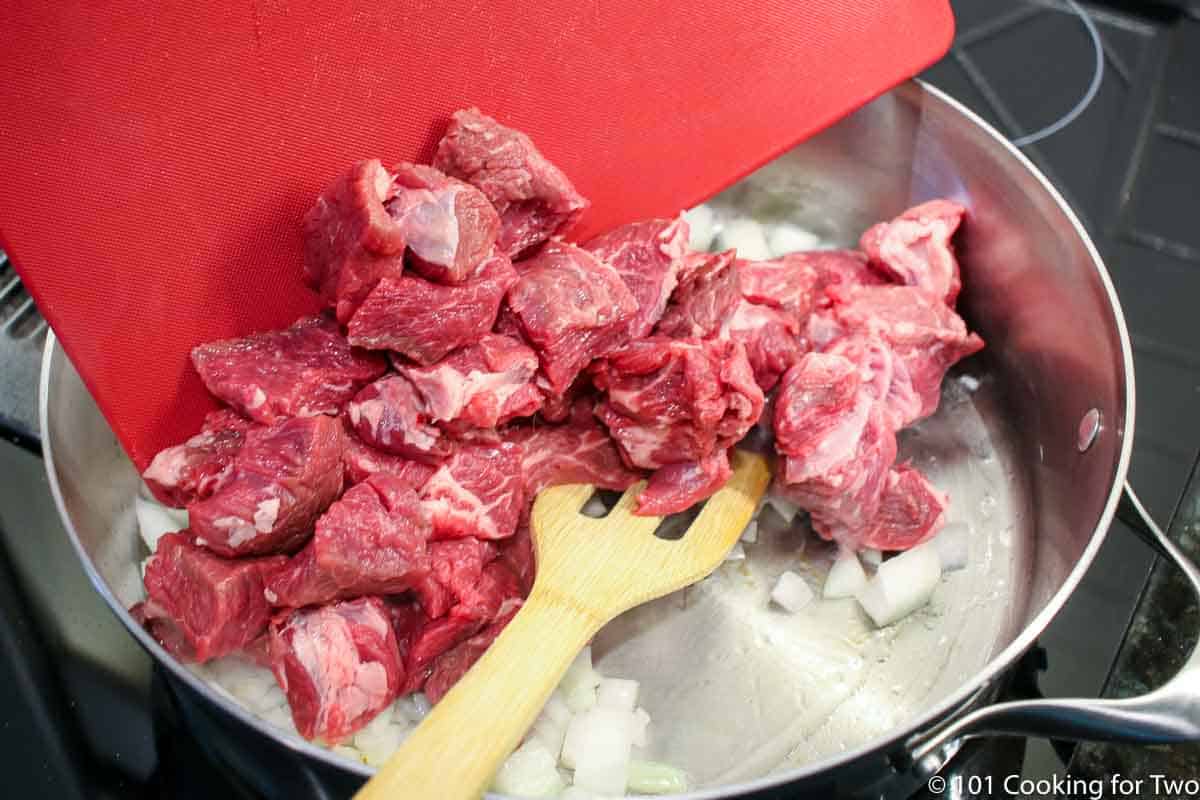 Over high heat, add 2 tablespoons of vegetable oil. When shimmering, add onion and beef.
Brown the meat for about 10 minutes. Then add 2 tablespoons Worcestershire sauce, 1 teaspoon garlic powder, and 1 teaspoon pepper. Stir occasionally until nicely brown. Add a 14-oz can of low sodium beef broth.
Bring to a boil, then decrease the heat to simmer and cover. After about 90 minutes, the meat should be fork-tender. Mix a slurry of ½ cup flour with enough water to make 2 cups. Shake to mix using a gravy shaker or whisk until smooth.
Uncover and turn the heat back to high. When boiling well, slowly add part of the flour slurry. Mix continuously and slowly add more every few minutes until the gravy is your desired thickness.
Cook a few more minutes. Server over mashed potatoes or noodles.


Do you want more recipes from 101 Cooking for Two? Sign up for the newsletter and get all posts delivered straight to your inbox!
📖 Recipe
Editor's Note: Originally Published October 15, 2017. Updated with expanded options, refreshed photos, and a table of contents to help navigation.