Now you can have great super moist grilled skinless boneless chicken breasts. Start with a combination of brine/marinade than a simple reverse searing method to keep the moisture going.
Introduction
We all grill skinless boneless chicken breasts, but so many become hockey pucks. I have published several recipes that are quite good at avoiding hockey puck-itis. But this recipe adapted from Cooks Country pulls out all the stops with great results.
When I saw this in Cook's Country, it just called my name. While I didn't stick to the script completely, the combination of a brine/marinade and reverse searing is everything you can do to keep that chicken breast moist. It works.
Will the original recipe is a charcoal grill recipe with some comments for gas, I'm keeping it all gas.
Even with my super-duper gas grill, this takes a bit longer than with charcoal. Why do you ask? Well, the radiant heat thing is the best explanation I have.
I modified the brine/marinade to make it more scalable for the number you need and defined the gas grill method more.
My Rating

I'm going with a five but a lower five. After all, it is just grilled chicken.
👨‍🍳Method
This method uses a marinade that acts like a brine, also. The second "difference" of this recipe is the indirect cooking method.
This will be a very "your mileage may vary" type of recipe. The two main problem points are:
1) The thickness and size of the chicken breast.
2) The grill... not only the power of the grill, but the configuration will affect this recipe. So keep your eyes open and the thermometer at hand.
You will be rewarded with ultra-moist chicken.
🐓The Chicken
It is always better to be cooking chicken breasts of about the same size and thickness. If one breast is significantly thicker than the others, use a meat mallet or bottom of a pan to even it out.
Also, with chicken breasts, letting them sit at room temperature for 20-30 minutes while you get the grill setup is a great help in getting the right internal temperature without burning the outside.
♨️The Grill
This is a slow grilling method that uses a "reverse searing technique" for the chicken breasts. It is initially cooked with indirect heat then finished over direct heat to finish cooking.
The method I describe here mirrors the Cook's Country method. It is a bit fussy but has been tested thoroughly and does great.
Having said that, I have done this recipe multiple times with both this reverse searing technique and my normal chicken breast technique. The results are nearly identical, and I find my less confusing. See How to BBQ Skinless Boneless Chicken Breast on a Gas Grill if you want an example.
Charcoal Grill: Since this technique uses high heat and an indirect heat area, it will be fine on a charcoal grill but the time may be a bit less.
📖Chicken Breast Recipes
How to Grill Chicken Breasts on a Gas Grill
How to BBQ Skinless Boneless Chicken Breast on a Gas Grill
A Beginners Guide to Grill Temperature on a Gas Grill

🖼️Step-by-Step Instructions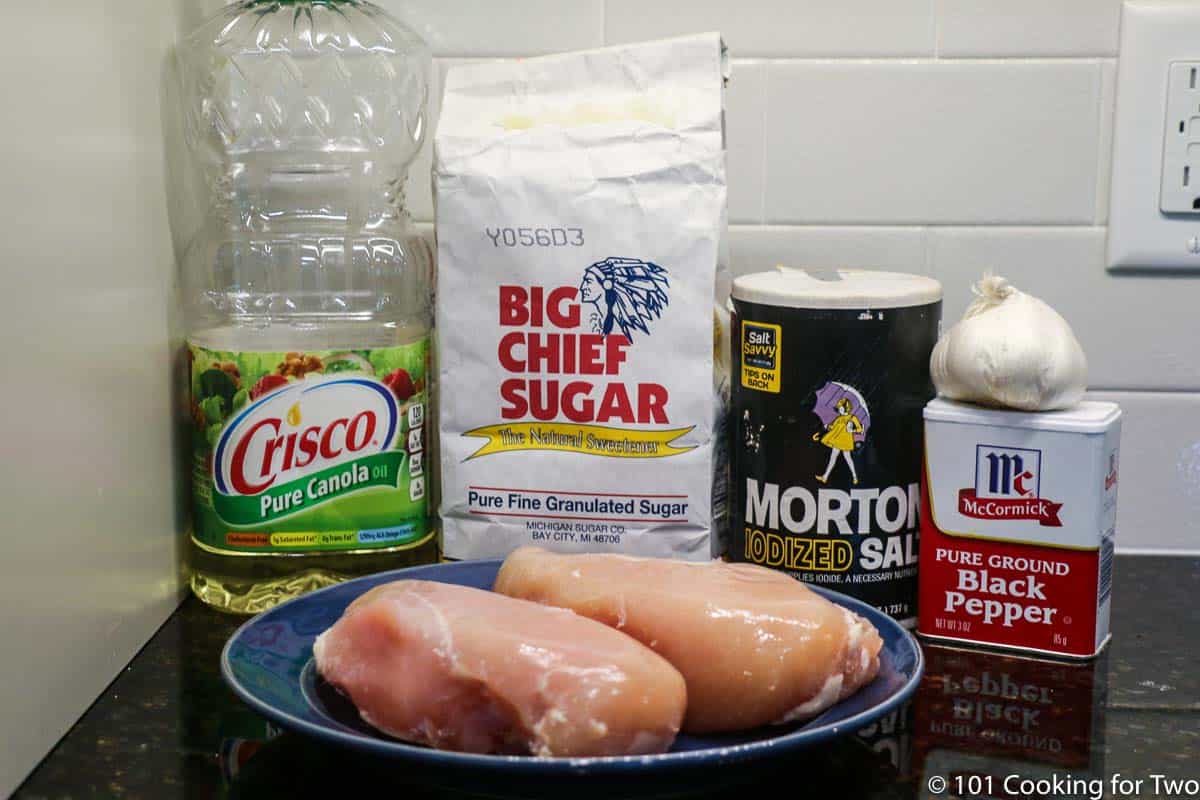 Start by mixing brine/marinade in a ziplock bag of two tablespoons oil, two tablespoons water, two cloves crushed garlic, one teaspoon sugar, one teaspoon salt, and ½ teaspoon pepper.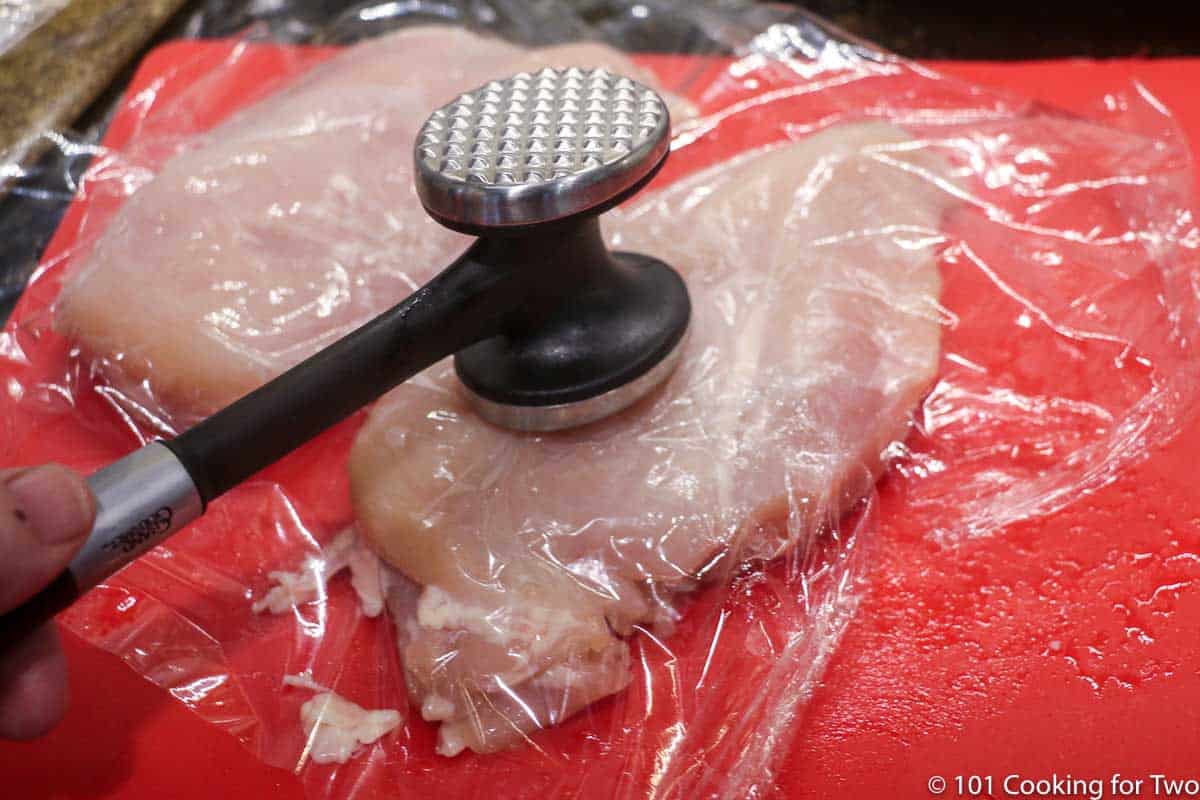 Trim chicken breasts. If your chicken is very thick, then pound that area down a little with a meat hammer to even them out some. Aim for about ¾ inch thick.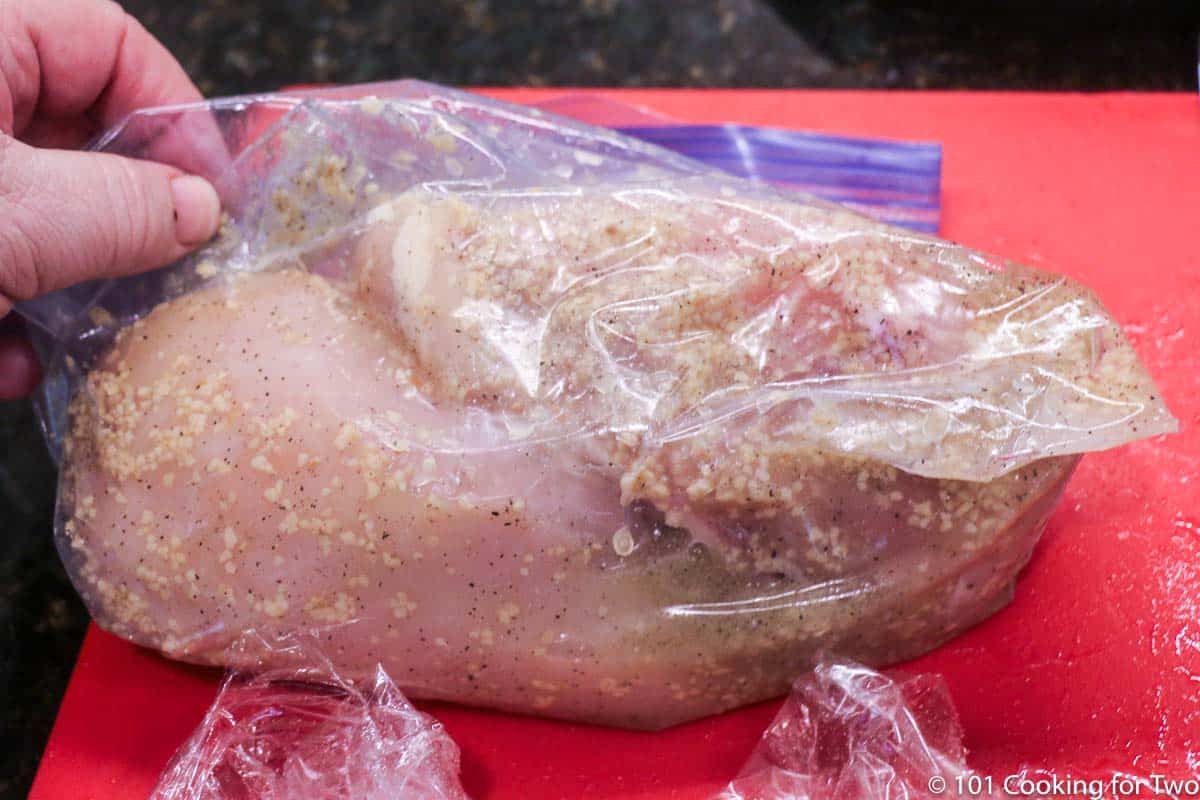 Add to the brine. Refrigerate for at least 30 minutes.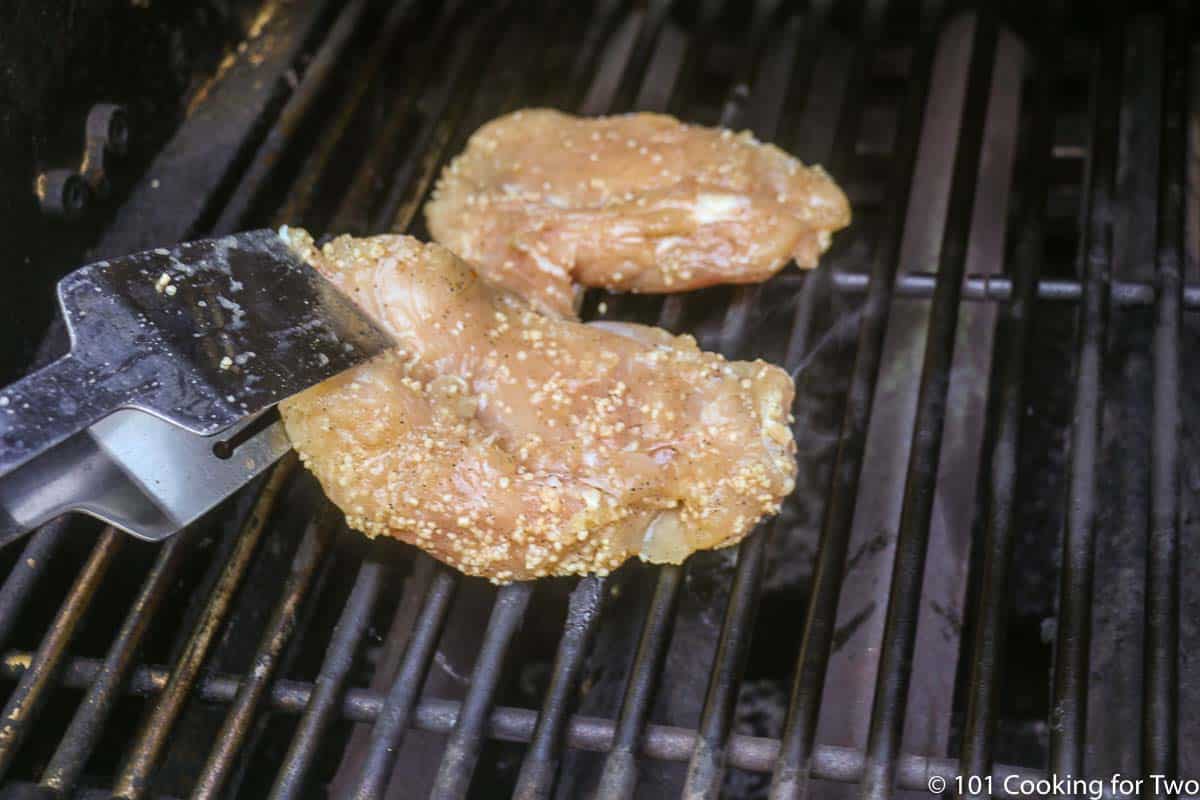 Preheat grill on maximum. Clean and oil well. Turn off half of the grill. Keep the lite burners on high. Place chicken on the side you turned off but keep the edge of the chicken breast within 4 inches of the lite burner. The thicker end of the chicken should be towards the heat.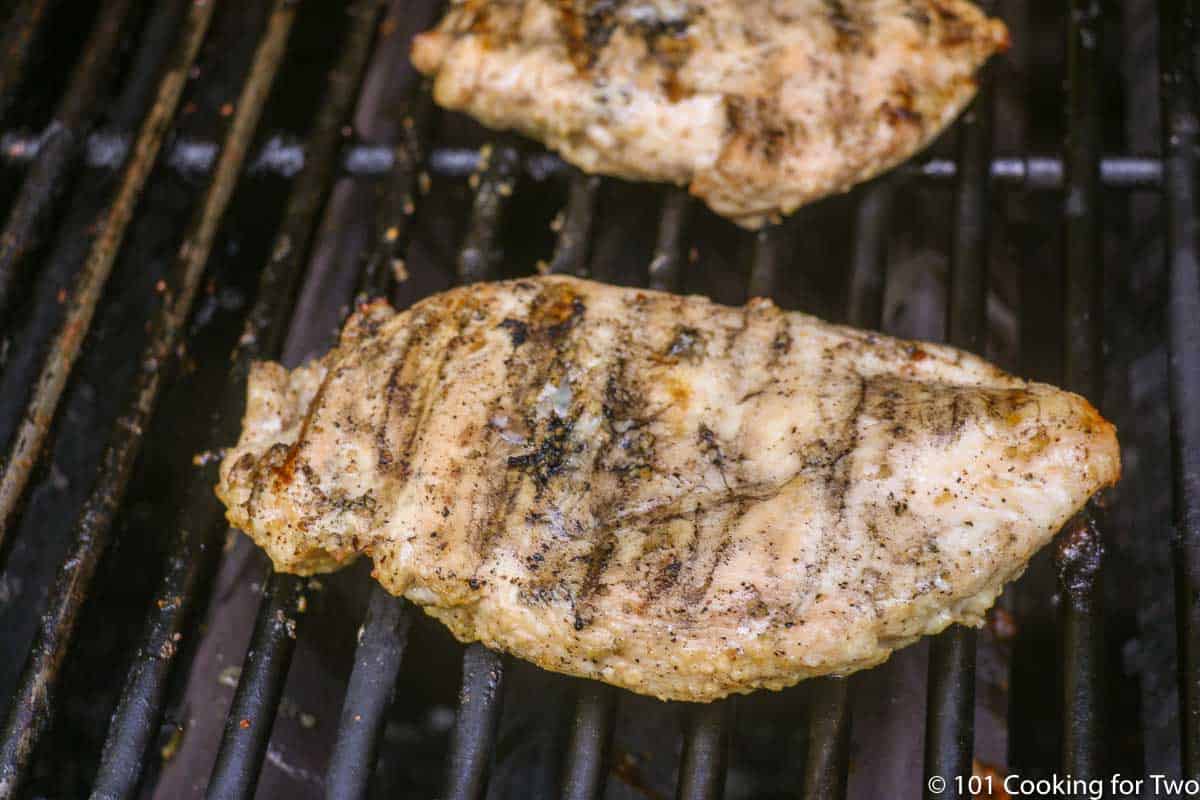 Cook undisturbed for about 10-12 minutes. You should have some grill marks and no pink left on the bottom surface before flipping. When you flip, place the thinner end to the lite burner side.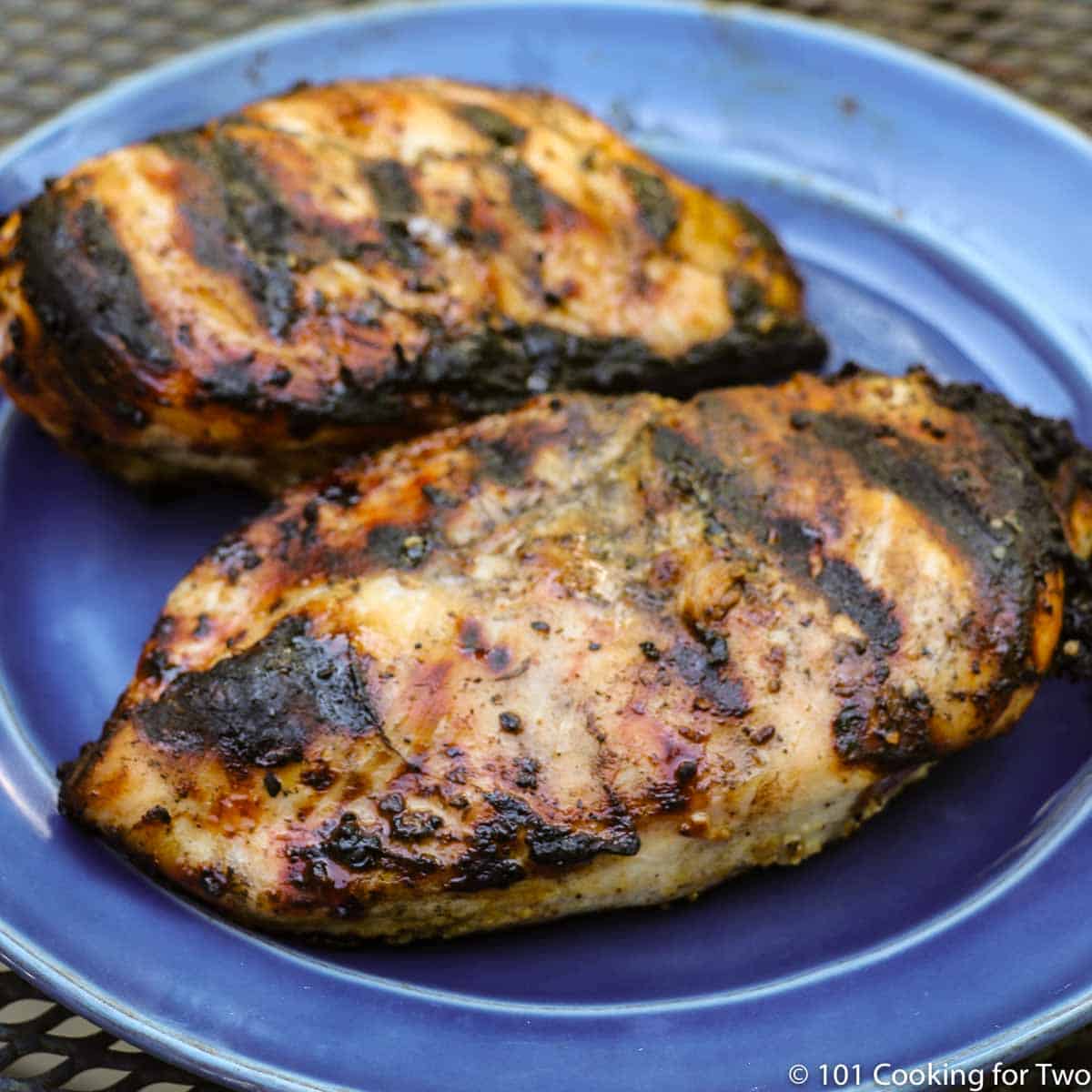 Cook until internal temp of 140°. About another 10-12 minutes. Then place over the lite burners (still on high) for about 5 minutes per side until internal temp of 165°.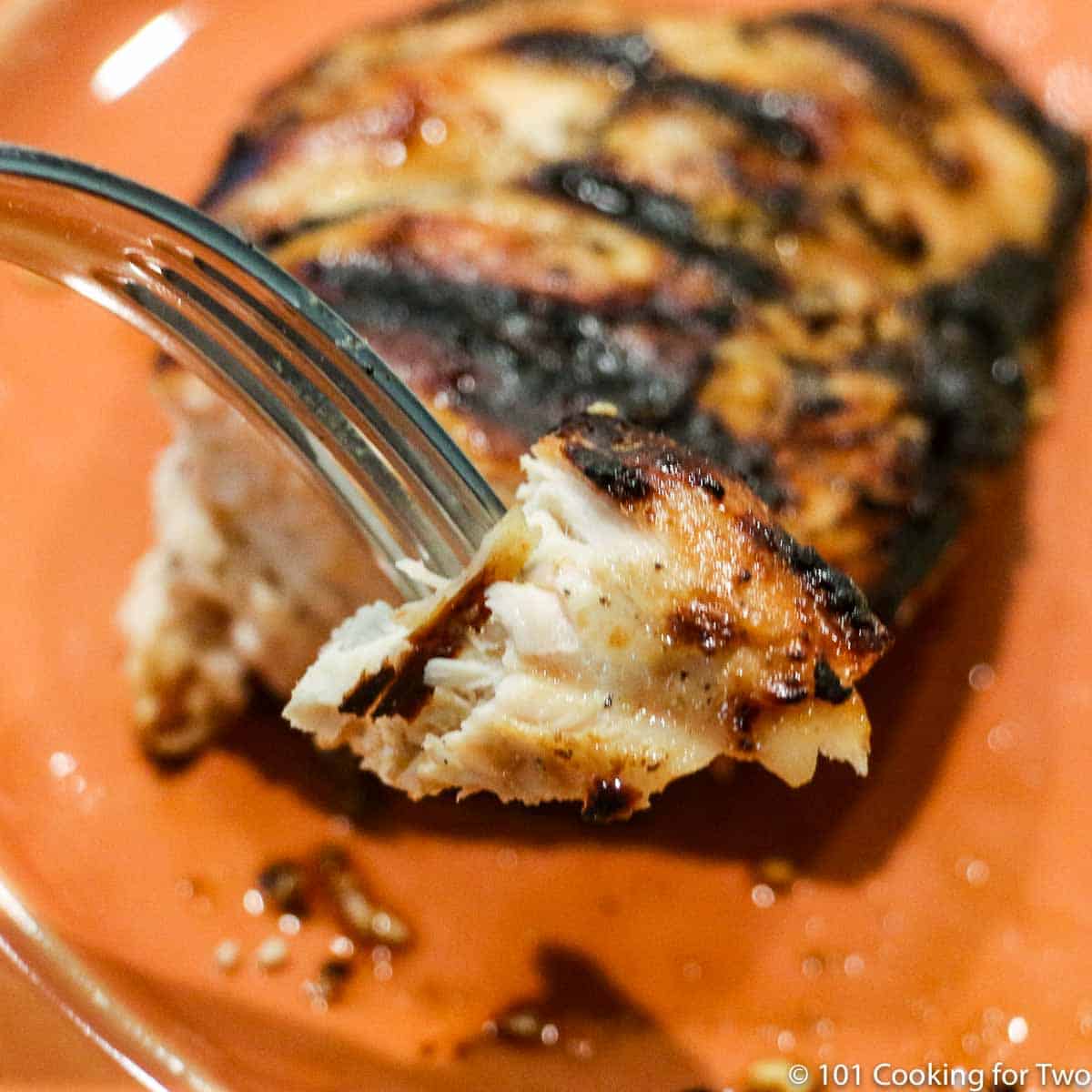 Allow to rest 5 minutes before serving.


Do you want more recipes from 101 Cooking for Two? Sign up for the newsletter and get all posts delivered straight to your inbox!
📖 Recipe
Originally Published May 22, 2016. Updated with expanded options, refreshed photos, and a table of contents to help navigation.