Great honey glaze combined with that extra grilled flavor with wonderful results. Just follow the easy step by step photo instructions. You can never have too many great chicken recipes.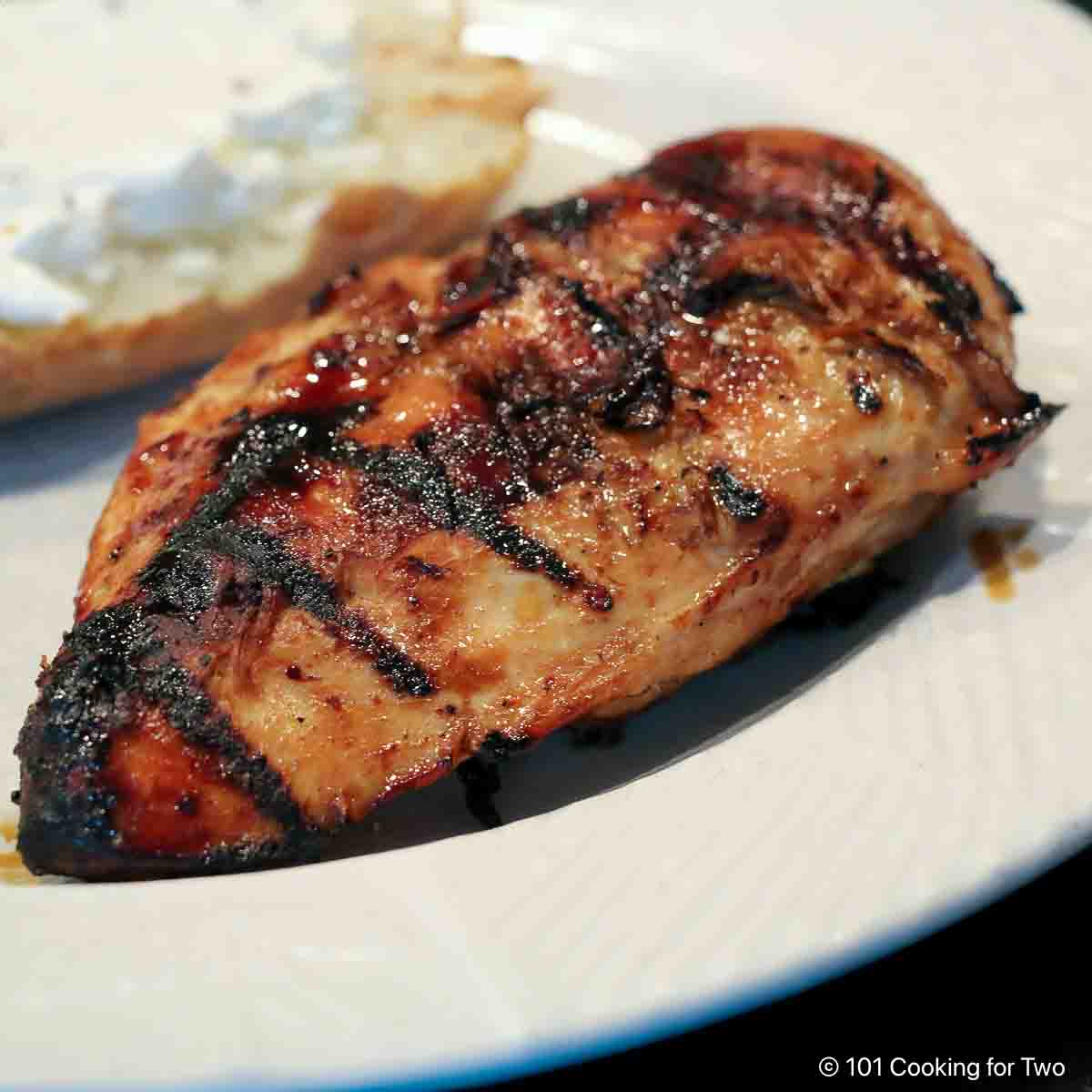 Introduction
This one is easy to do and will become the favorite recipe for many backyard grillers. Fire up the grill and have at it.
I don't have an "inspired by" for this recipe. Maybe an email from Cooks Illustrated but that just triggered the idea. After reading many recipes, I jumped in.
My Rating

A 5 coming from my wife, who is usually lower than me. I'm at a low five. To get to a full five, you need to brine. See note below.
🐓The Size and Thickness of the Chicken
The size of the breasts is also important. Try not to use those huge thick breasts. With a sugar type glaze, you will end up burning the outside before the inside gets to the safe 165° internal temperature.
If the thickness of the breasts is over ¾ inches, get out the meat mallet and get them down to about ¾ inch thick. If you don't have a mallet, then the bottom of a heavy pan will do. It doesn't have to be exact but close, please.
🧂To Brine or Not To Brine
Like all skinless chicken breasts grilled, there was some dryness, not much but a brine would make it a full 5.
A suggested brine would be two cups water and one tablespoons table salt for an hour or two. If you brine, then rinse and skip the salt before brushing with the honey mixture.
1 teaspoon table salt = 1 ¼ teaspoon Morton kosher salt = 2 teaspoons Diamond Crystal kosher salt
♨️The Grill
Finally, grill surface temperature at about 450°. You must be able to know the temperature you are cooking at to be successful doing any grilling.
I think most grilling failures are due to people driving blind. If you closed your eyes and tried to drive around the block, you probably would not be very successful. You need the information from your eyes to be successful.
Get a surface thermometer. Go to Amazon or your local hardware store and spend your $10. You will save many times that in ruined food. While you are there, get an instant-read thermometer, also.
See A Beginners Guide to Grill Temperature on a Gas Grill for a complete discussion.
📖Chicken Breast Recipes
How to Grill Chicken Breasts on a Gas Grill
Parmesan Mayonnaise Baked Skinless Chicken Breast
Pan Seared Oven Baked Chicken Breast
Garlic Lemon Marinaded Grilled Skinless Boneless Chicken Breast

🖼️Step-by-Step Instructions
Start with skinless boneless chicken breasts. Trim nicely. If you have time, brine in 2 cups water and 1 tablespoon salt for an hour or two. Be sure to rinse well after brining.
Mix the glaze of 2 tablespoons each of honey, soy sauce, lemon juice, and olive oil. Add ½ teaspoon garlic powder. Mix well. Reserve ¾ of the mixture for later.
Give each breast a little salt (if not brined) and pepper to taste then brush the glaze on both sides of the chicken.
Allow the chicken to rest at room temperature for 15 minutes (maximum) while cleaning oiling and preheating grill to a surface temperature of about 450°-500°. Medium for me but probably medium-high for you.
Place over direct heat. After about 5-6 minutes, flip the chicken and brush with glaze. Continue to flip every 5-6 minutes and brushing until an internal temperature of 165°. About 25 minutes for me. But your time may vary. Cook to the final internal temperature of 165° in the thickest area.
Allow to rest for 5 minutes before serving.


Do you want more recipes from 101 Cooking for Two? Sign up for the newsletter and get all posts delivered straight to your inbox!
📖 Recipe
Originally Published July 19, 2014. Updated with expanded options, refreshed photos, and a table of contents to help navigation. The original recipe was named honey crusted but glazed is more accurate to me.