Great beef fajitas start with a great marinade. Add strips of sirloin steak, onion, and bell peppers then cook to perfection until they are melt-in-your-mouth tender and juicy. Finally, serve it all sizzling hot with tortillas and your favorite toppings.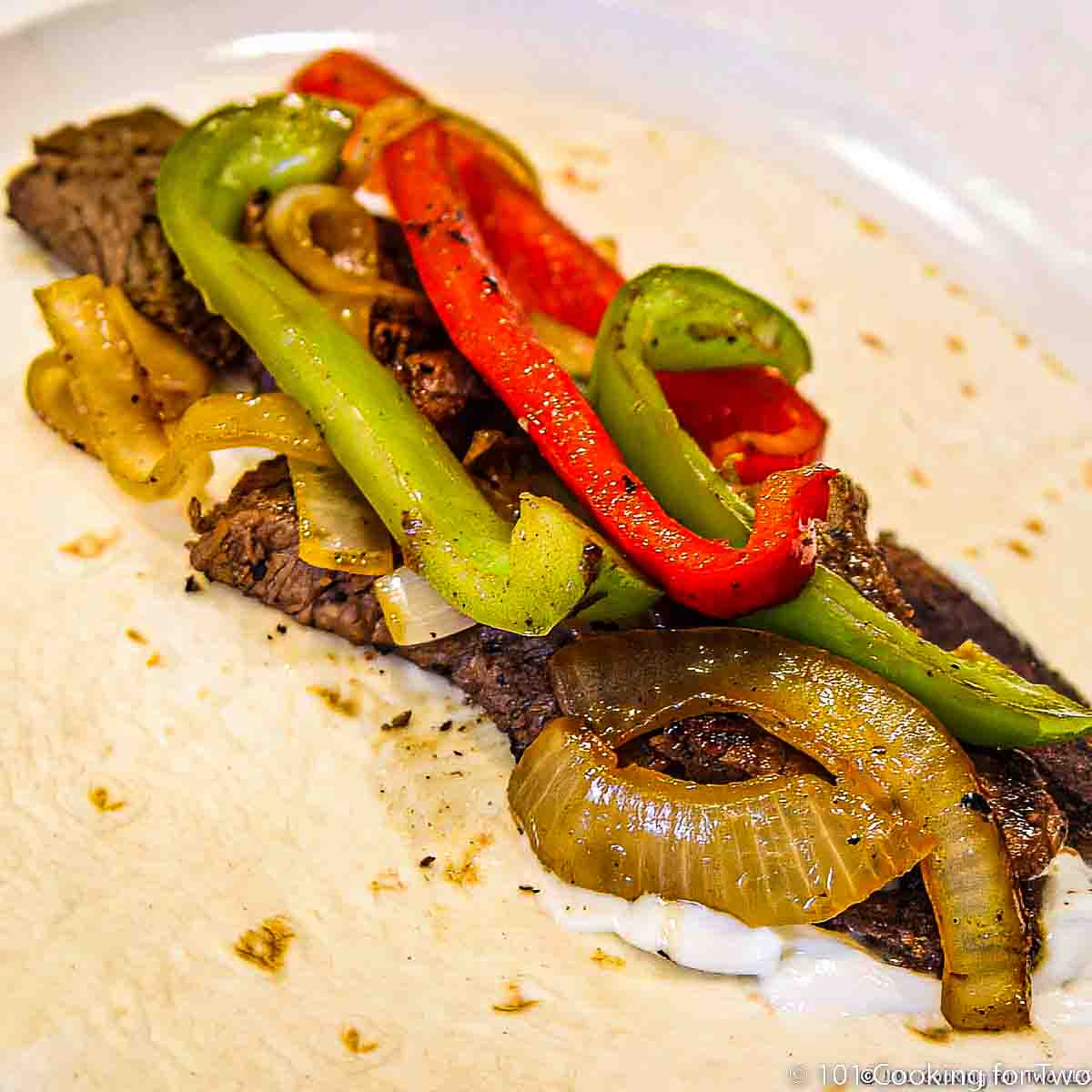 Introduction
Classic Tex Mex fajitas are a restaurant favorite that is easy to make at home. It is a quick and easy meal perfect for weeknight dinner or weekend family gatherings. Only about 30 minutes of active time.
First, a marinade with ingredients you already have at home. Slice up some sirloin steak and veggies — marinade both for an hour or overnight.
Cook the vegetables and meat. It is then time to impress your family and friends with your new specialty of the house.
Most recipes call for marinating the whole piece of beef, but I wanted more flavor, so I cut the meat thin and exposed more surface area to the flavors. It worked great.
My Rating

I love fajitas, but I tend not to order them since there is always more than I would eat. But at home, a few leftovers are great.
🐄The Beef
The most common beef used for fajitas is sirloin steak, which is both tasty and economical. Flank or skirt steak is traditionally used. But most other steaks will work well, also.
No matter what steak you use, always cut your beef against the grain. If you don't, it will be tough and chewy, but cut across the grain will be much more tender.
🥣The Marinade
My marinade was mainly from Real Restaurant Recipes, but there are many recipes, and they are quite variable, so feel free to change it around some, but you won't go wrong just following my lead.
It is best to marinade overnight, but 1 hour will do. And if you must, coat the vegetables with a few tablespoons of the marinade and cook while the beef marinades for a few minutes, then drain the meat and cook. Not quite as good but almost and much faster.
♨️Cooking
A large cast-iron skillet over medium-high heat with oil is best. It doesn't have to be cast-iron, but it retains heat well for serving and gives a great sizzle.
Cook the veggies first. When tender and browned, remove, and tent. Then immediately cook the meat. Be sure not to overcook the meat. Aim for about 140°-145°.
Add the veggies back into the skillet with the meat and cook a few more minutes to get the vegetables back to temperature.
Can I use a grill?
Sure, you can use the recommended cast-iron skillet as above or a large griddle, preferably with sides. If the griddle is large enough, you can cook the meat and vegetables at the same time since the cooking time is about the same.
Serving
Serve in the skillet; it will keep it hot and give the sizzle. Warm some tortillas in the oven or a few seconds in the microwave covered.
Common toppings are avocados, guacamole, pico, sour cream, and salsa. Or anything else you want.
📖Related Recipe
Other Grilled Fajitas
Grilled Chicken Fajitas in 30 Minutes
Suggested Side Dishes

🖼️Step-by-Step Instructions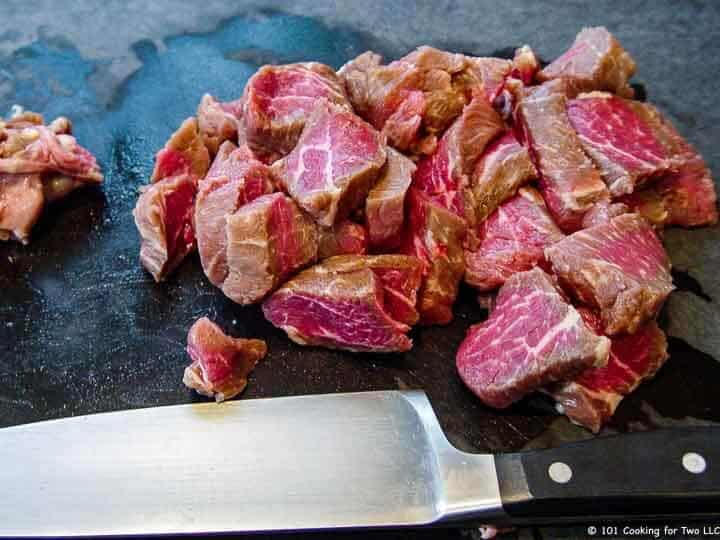 Start with about a pound of sirloin steak. Trim well and cut into strips about ¼ inch thick.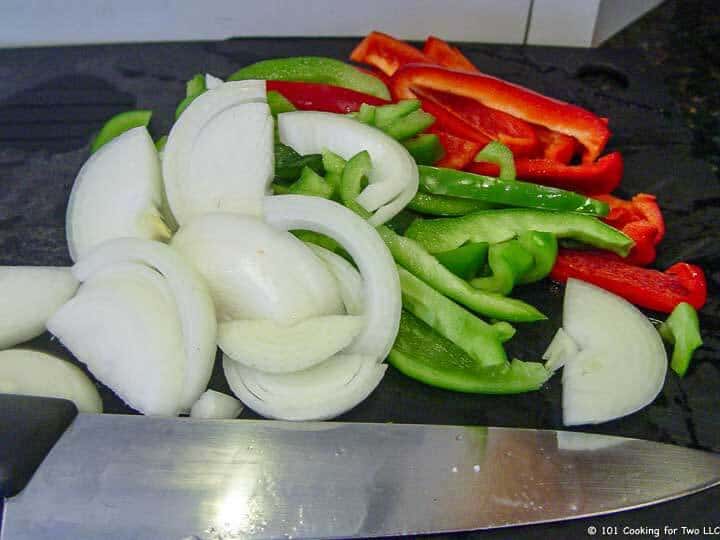 Slice up a large onion and one or two peppers. I like a medium red and green pepper. If your pepper is large, you only need one.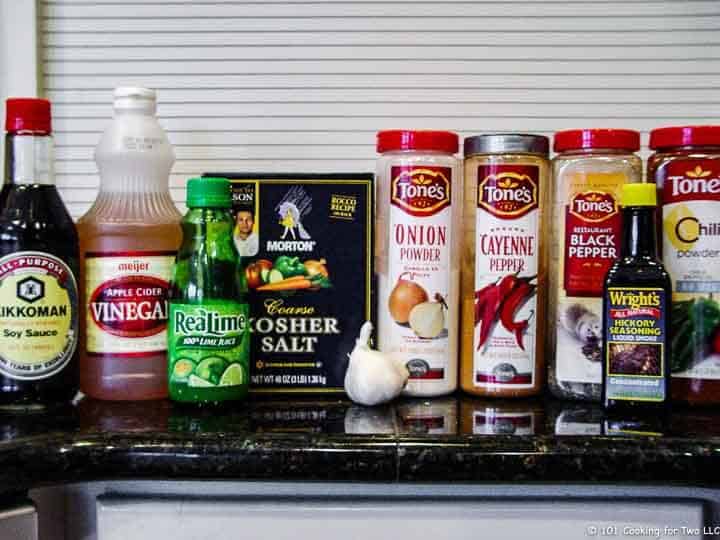 Mix marinade ingredients in a medium bowl. Add about ¾ of the marinade a 1-gallon ziplock bag for the meat. Add the remainder to a second bag for the vegetables.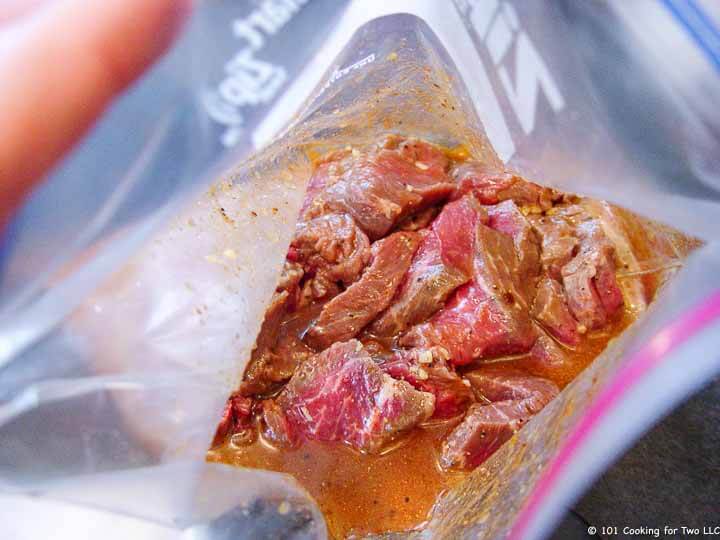 Add the beef and vegetables to their bags, mix well, and seal after removing as much air as possible. Refrigerate for a least an hour and longer if possible. Overnight would have been fine.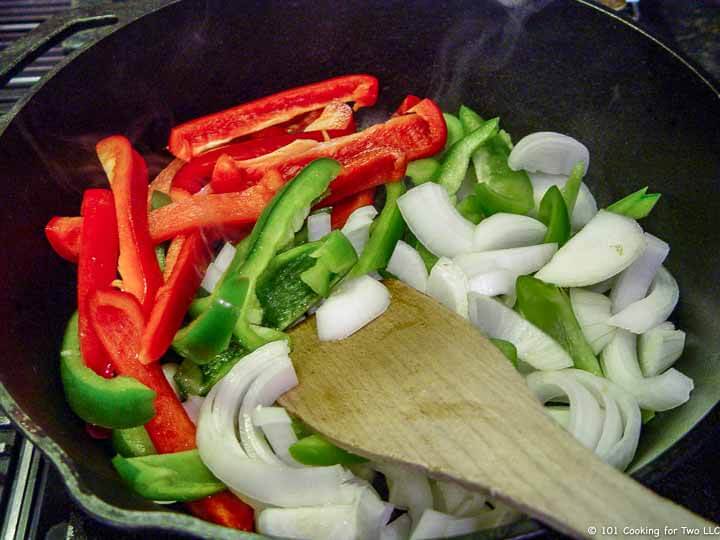 When ready to cook. Put 1 tablespoon oil in a large cast-iron pan and heat over medium-high heat. When the oil is hot, add the veggies. When onions are nicely browned (about 8-9 minutes), Remove from pan and set aside and cover.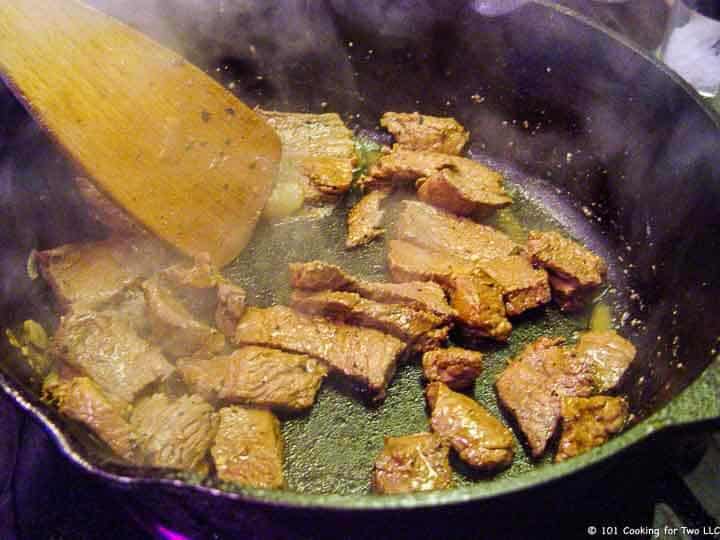 Add a little oil back to the pan, increase the heat to high and added the drained beef and cook until browned — about 8-10 minutes.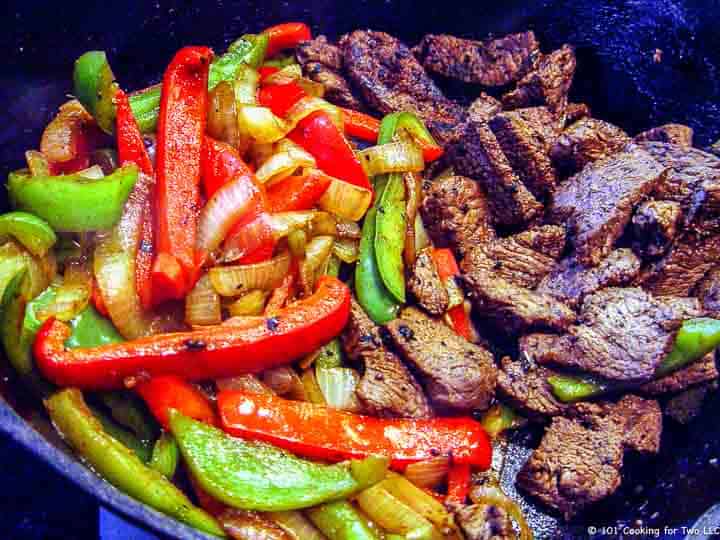 Now move the meat to one side and add the veggies back to the pan. Cook and stir for a minute or two until veggies are reheated. Then mix it all together.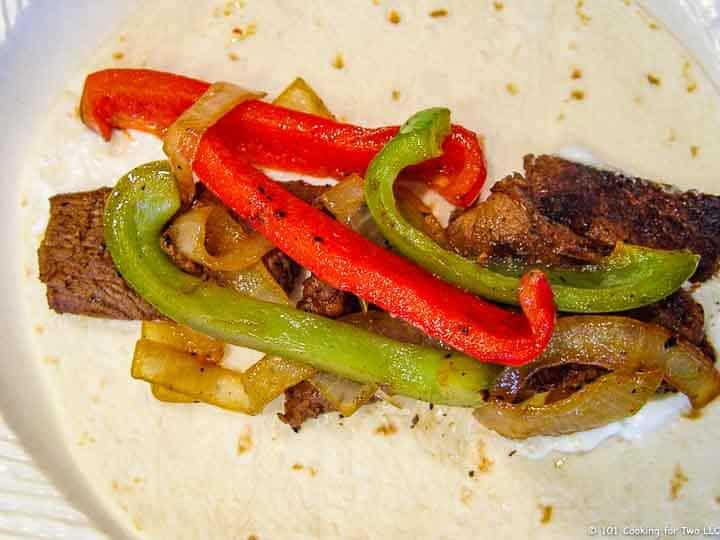 Serve with heated tortillas, sour cream, guacamole, and anything else you like. A simple way to heat tortillas is to sprinkle a dish towel with some water, put tortillas inside, and heat in a microwave on high until hot.


Do you want more recipes from 101 Cooking for Two? Sign up for the newsletter and get all posts delivered straight to your inbox!
📖 Recipe
Originally published April 6, 2012. Updated with expanded discussion and options along with refreshed photos and a table of contents.