Great tasting marinated flank steak fajitas with less than 30 minutes of actual work. The flavorful marinated veggies make a delicious filling with the steak strips for the perfect weeknight dinner.
Introduction
We all know fajitas as that sizzling plate they set in front of you at your favorite Mexican restaurant. They are usually made with grilled strips of meat with onions and bell peppers and served on fresh tortillas with your favorite toppings. Fajitas can be made with steak, pork, or chicken.
Now you can have your meal easily at home. Easy enough for a weeknight dinner and good enough for company.
Start with a spiced up Mexican marinade for both the flank steak and veggies for your fajitas. Then sear the steak over high heat while cooking the vegetables in the marinade on the stovetop. Just follow the easy step by step photo instructions.
My Rating

🐄Really good. A solid five from my wife and me.
🐄Flank Steak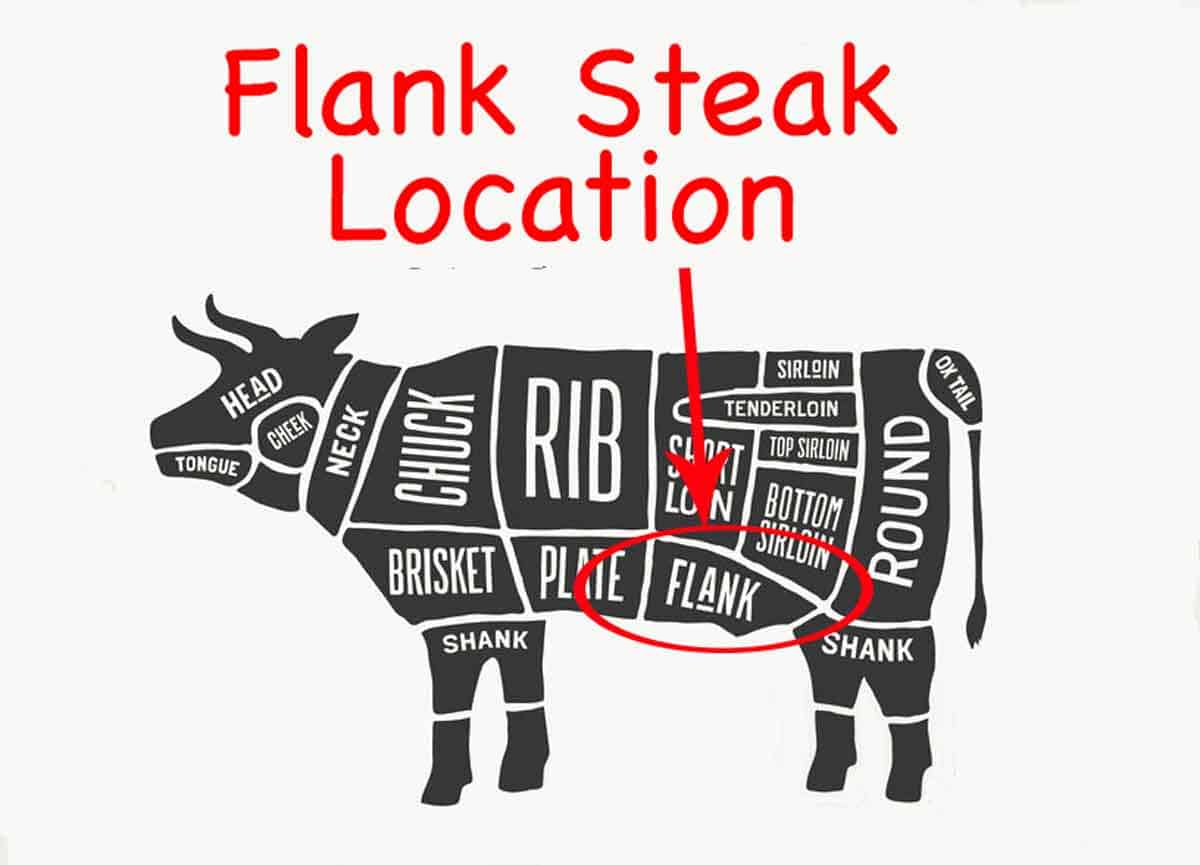 Flank steak is located on the belly of the cow near the rear legs. The skirt steak is located just in front of the flank steak. The flank is leaner and finer grain than the skirt steak. While often confused, they are not the same. Flank steak is also occasionally called "London Broil."
Flank is very lean and is generally used for grilling, roasting, or broiling. It can become tough rapidly if overcooked and should never be cooked more than medium.
It is usually cooked by searing at high temperatures to rare or slightly more and cut across the grain to help tenderness. If cooked correctly, it is tender and extremely tasty.
🥣The Marinade
Like most fajita recipes, the marinade needs to be bursting with flavor but simple. It is basically olive oil with lime juice, garlic, and great spices. You can use a different marinade, but this one is excellent.
Try to get 2-3 hours of marinade time, but 1 hour will do. Longer is OK.
♨️Cooking
The meat and vegetables are cooked separately in this recipe. Since the cooking times are about the same and you want everything hot.
The vegetables go in a hot frying pan and will take about 10 minutes.
The meat is seared for about 8 minutes on a very hot grill that is not compatible with vegetables. The cooking time of the meat can vary by thickness and exact grill temperature.
You can also cook the steak under a broiler on high for 8-10 minutes with a flip in the middle and watching the internal temperature aiming for about 130°-135°. Time will vary some by the thickness of the meat and distance from the broiler, which will vary by the oven.
✔️Tips
Never overcook the flank steak; 135 ° is the top end of the temperature range. And be sure to cut across the grain.
Serve on a warmed tortilla with cheese, sour cream, and guacamole.
Good in the refrigerator for 3-4 days but not a good leftover for freezing.
📖Fajita Recipes
Grilled Chicken Fajitas in 30 Minutes

Beef Fajitas

Easy Sheet Pan Chicken Fajitas

Easy Chicken Fajitas

Easy Pork Fajitas

🖼️Step-by-Step Instructions
Start with a good quality flank steak about 1 ½ pounds—trim if needed.
Prep vegetables. One green and red pepper cut into strips. One medium onion cut into slices.
In a 1-gallon zip-lock bag, combine the juice of two limes, 4 tablespoons olive oil, 4 cloves crushed garlic, 1 teaspoon coarse salt, 1 ½ teaspoon cumin. Mix well and add the cut veggies and the steak. Refrigerate for 3 hours or more.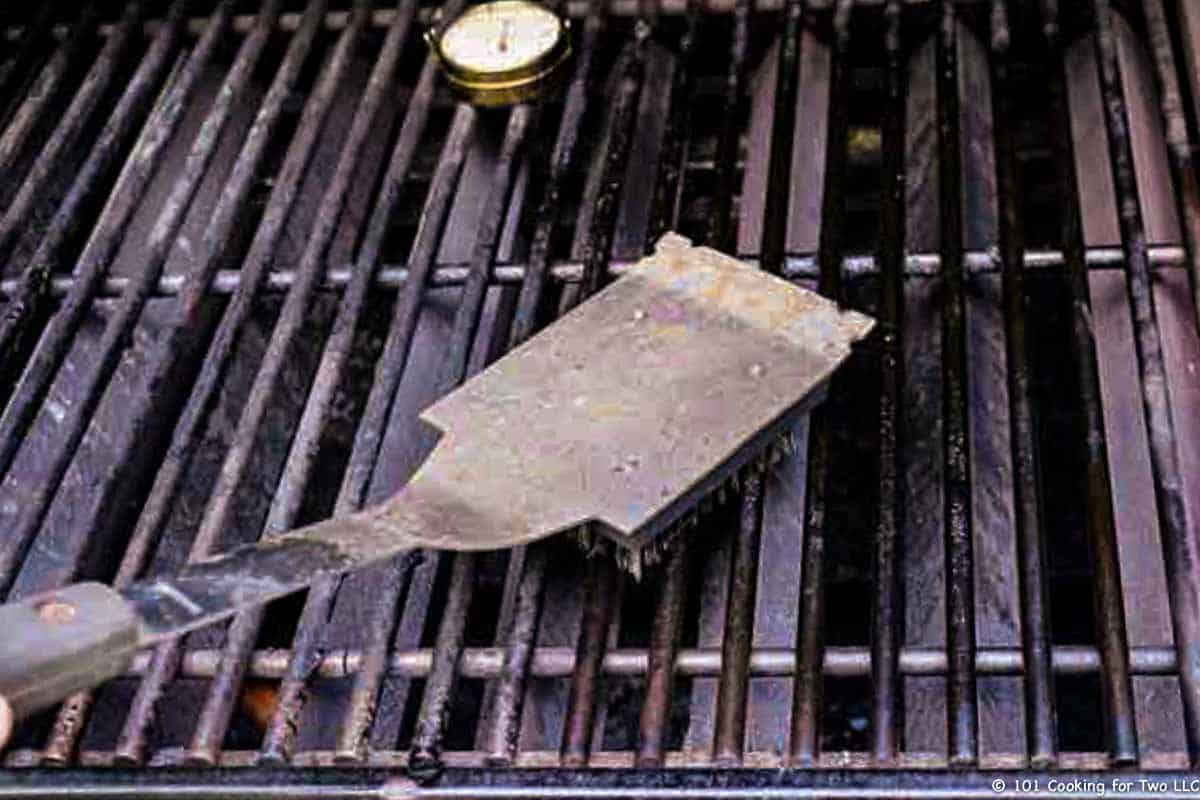 Preheat grill on high. Clean and oil grates.
Place a large pan for the vegetables over medium-high heat to preheat for about 2 minutes while putting meat on the grill.
As soon as the meat is started, add the vegetables and the remaining marinade to the preheated pan. You will cook the meat at about 4 minutes per side until an internal temperature of 130° and stir the veggies every few minutes. Cook the vegetables until browning about 10 minutes total.
When the meat is done, allow to rest for 5 minutes before cutting across grain into thin slices.
Serve on tortillas with the vegetables and trimmings.


Do you want more recipes from 101 Cooking for Two? Sign up for the newsletter and get all posts delivered straight to your inbox!
📖 Recipe
Originally Published April 30, 2014. Updated with expanded options, refreshed photos, and a table of contents to help navigation.