Kick those grilled pork chops up a couple of notches with this amazing apricot glaze. Let's take boring out of the pork chop with this simple dinner recipe. Just follow these easy step by step photo instructions.
Introduction
I love a nice grilled pork chop. But pork can lack a little in taste, so a fruity glaze is a great change of pace.
I like to grill use a 1-inch slice of center-cut pork loin as my chops. But with this recipe, you can use standard bone-in chops also.
I decided to use a simple brine to moisturize the loin before hitting the flames. I would normally use some brown sugar in a brine for pork, but here I was, adding enough sweetness later. .
My Rating

A nice change of pace 4.
🐖Pork Chops
Pork chop choices can be a bit confusing. Here is a guide to choosing.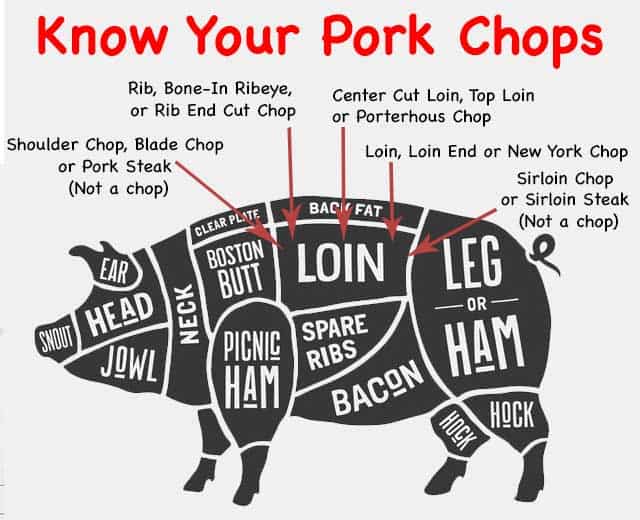 I have listed five types of chops, but only the middle three should be considered "real" chops and will all cook the same. The other two "chops" do not cook the same and, to me, should be avoided.
Any of the three "real" chops will be good choices. I generally like about 1-inch thickness. A little more or less is fine.
Bone-in or boneless chops are both good. So people think bone-in will be moister and taste better. I don't feel there is a significant difference. But bone-in does take a bit longer to cook.
🧂Brining
Brine is used to add moisture to many types of meat. While brining is optional, it is highly recommended for grilled pork chops.
A standard pork brine is 2 cups of water with 1 tablespoon of table salt. 1 teaspoon table salt = 1 ¼ teaspoon Morton kosher salt = 2 teaspoons Diamond Crystal kosher salt.
Most will add some sugar to the brine at about the same amount as the salt. Other flavors like garlic can be added.
Be sure to rinse the meat under running water after the brine. And never add seasoning with more salt if the meat has been brined.
You can skip the brine for speed, but it does add some moisture and avoids that "dry pork" thing that is easy to get. But if you grill carefully and don't overcook or use too high of a temperature, you can still get moist results.
♨️The Grill
The grill should be 450°-500° surface temperature. That is usually a bit above medium on most gas grills. If you have questions about grill set up, see A Beginners Guide to Grill Temperature on a Gas Grill.
This should work fine on a charcoal grill as well as a gas grill. Just get the heat down a little from the maximum.
⏰🌡️Time and Temperature
I like to cook pork chops to 145°-150°. My wife does not like any pink in pork, so I tend to go even a little higher to 155°. The FDA recommends 145° minimum with a 3-minute rest.
Grilling time is mostly a thickness related. A ¾ inch thick chop may only be about 10 minutes. A 1-inch thick chop is more like 12-14 minutes, and a 1 ½ inch may take up to 20 minutes.
A bone-in chop may take a bit longer than boneless. Also, the starting temp of the chop and the exact grill temperature will have large effects. As always,
COOK TO THE FINAL INTERNAL TEMPERATURE AND NEVER BY TIME ALONG.
✔️Tips
Trim the fat or not?
There is usually a layer of fat on the edge of a chop. You can trim it if you want, but many think it adds some flavor and helps prevent drying.
I do suggest if it is over ¼ inch, then trim it to ¼ inch thick. Also, it should be scored every inch to prevent cupping.
The Glaze
This recipe uses apricot jam, but you can use a different flavor. Jam usually has a lot more sugar than preserves. If you use preserves, add some brown sugar to the glaze.
📖Pork Chop Recipes
How to Grill Pork Chops on a Gas Grill
Pan Seared Oven Roasted Pork Chops
Pan Seared Oven Roasted Thick Cut Pork Chops

🖼️Step-by-Step Instructions
Only a few ingredients. My wife likes garlic in the brine. It is not in the recipe, but add ½ teaspoon to the brine if you want to try it.
Start with a brine of two cups cold water and one tablespoon salt. Add pork chops and refrigerate for 1-2 hours.
Preheat grill to a surface temperature of 450°. Clean and oil well. Mix glaze of two tablespoon apricot jam, one teaspoon good quality balsamic vinegar, and one teaspoon olive oil.
Remove pork from brine, rinse under running water and pat dry. Give them a light sprinkle of pepper then brush lightly with the glaze. If you skipped the brine, a bit of salt, also.
Place over direct heat for five minutes then flip. Flip again in 5 minutes and brush with glaze. Continue to flip every 5 minutes and brush with glaze until an internal temperature of 140°-145° about 15-20 minutes.
Remove from grill, tent lightly with foil and allow to rest 5 minutes before serving.


Do you want more recipes from 101 Cooking for Two? Sign up for the newsletter and get all posts delivered straight to your inbox!
📖 Recipe
Editor's Note: Originally Published July 18, 2015. Updated with expanded options, refreshed photos, and a table of contents to help navigation.