Better than restaurant quality, my best Chicken Parmesan can be made at home in about an hour with these easy step by step photo instructions.
Introduction
This is one of my favorite recipes and is a wonderful company recipe. But it is also great for casual dining with conversation and wine. I have used it several times as the evening meal before a major holiday like Thanksgiving or Christmas.
I always judge an Italian restaurant on their Chicken Parmesan and frequently find them lacking. Usually dry and tasteless covered by a sauce to hide their sins. I'm very picky, and mine is so much better in both moisture and taste.
My Rating

Another easy 5. I love this.
👨‍🍳Can I actually do this?
This is a modified version of a CI recipe called Lighter Chicken Parmesan. It is excellent and not too hard to make at home.
It may sound hard but look through the step by step photo instructions below. Nothing that hard to do.
If you are a beginner and you are doing this for an important meal, do a trial run. All recipes go a lot better if you have done them at least once before.
🐓The Chicken
I made chicken cutlets from large skinless boneless chicken breasts. They are generally too big to use in a recipe like this.
You could use a meat mallet to even out the thickness of chicken breasts, but the size plus the breading will be more than a serving size.
If you have smaller chicken breasts, then evening them out in thickness will work fine.
📋Ingredients
Can I Use Jar Sauce?
Sure. If you have a jar or other prepared marinara sauce you love, by all means, use it. But most are lacking in many ways.
I provided a simple marinara sauce that has excellent taste and can be made alongside the primary cooking here.
My recipe has more than you need specifically for the chicken so you will have sauce to top a side dish of pasta.
The Cheese
I find a freshly shredded Parmesan adds a lot of taste.
📖Recipes You May Enjoy
Julia Childs French Bread: Simplified
30 Minute Chicken Marinara Sauce

🖼️Step-by-Step Instructions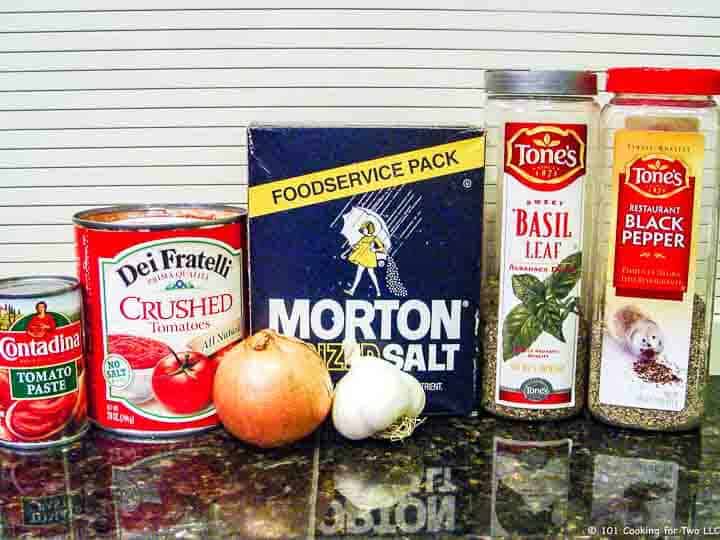 If using my sauce, start by making a simple marinara sauce. You can use another sauce of your choice.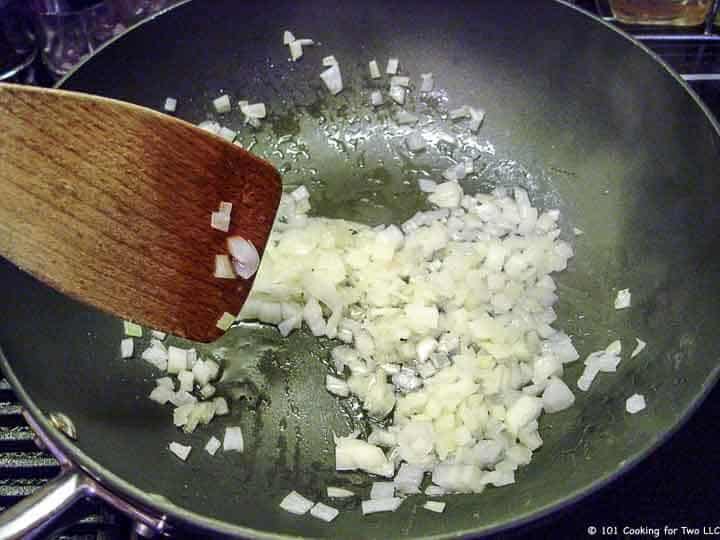 Chop one medium onion and over medium-high heat with 1 tsp of oil cook until clearing. About 3 minutes. Add 4 cloves of crushed or minced garlic and cook one more minute.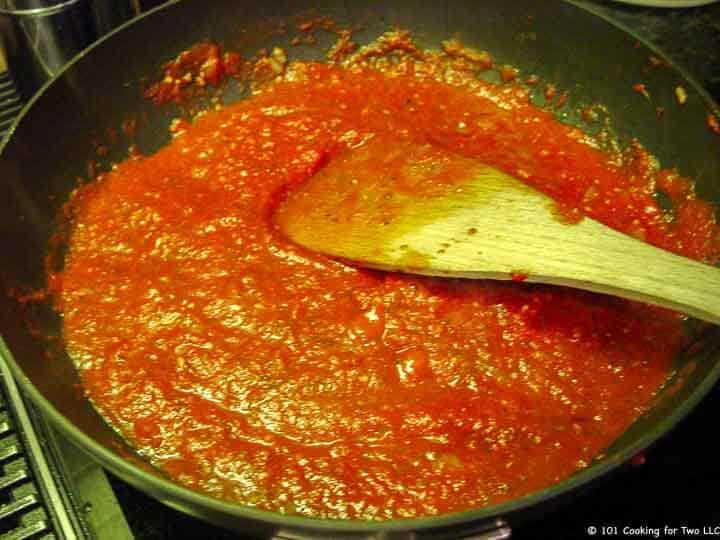 Add one large can crushed tomatoes (28 oz), one small can tomato paste (6 oz) plus 6 oz water, 1 teaspoon basil, 1 teaspoon salt, and ½ teaspoon pepper. ⅛ teaspoon crushed red pepper optional. Let simmer over low heat until needed.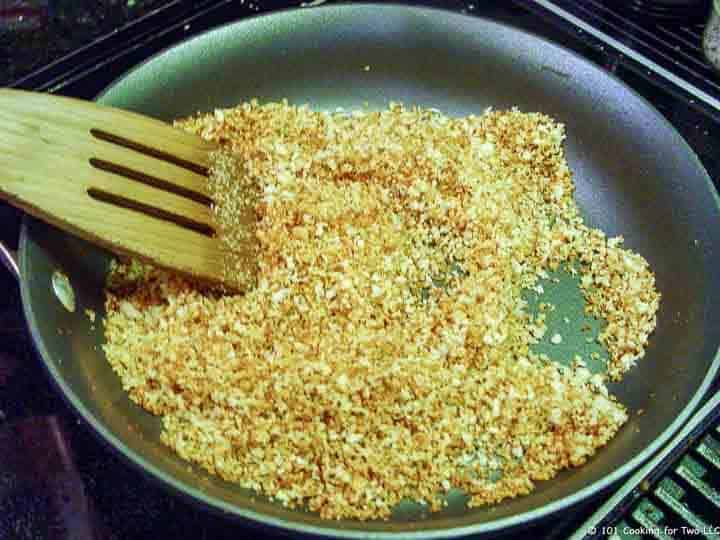 Preheat oven to 450° convection. Prep baking sheet with aluminum foil and a rack. Spray with PAM. Over medium heat with 2 teaspoon oil, brown 1 ½ cup panko bread crumbs until brown, about 2 minutes. Remove to cool.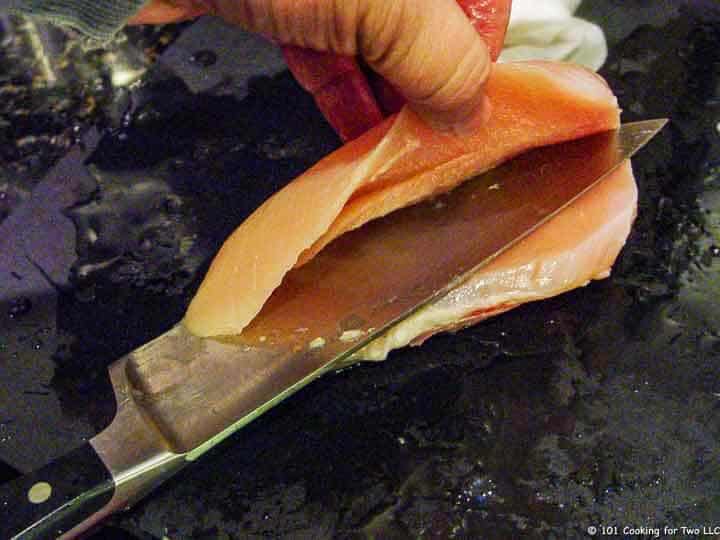 Prepare the chicken cutlets by patting dry three large skinless boneless chicken breasts. Trim and then cut into cutlets.
In three shallow pans prepare dredge line.
Pan one: place ½ cup AP flour with 1 ½ teaspoons garlic powder, 1 teaspoon salt, and ½ teaspoon pepper.
Pan two: two eggs with 1 tablespoon water - whipped together.
Pan three: the brown bread crumbs ( not hot) and 1 cup of shredded Parmesan cheese.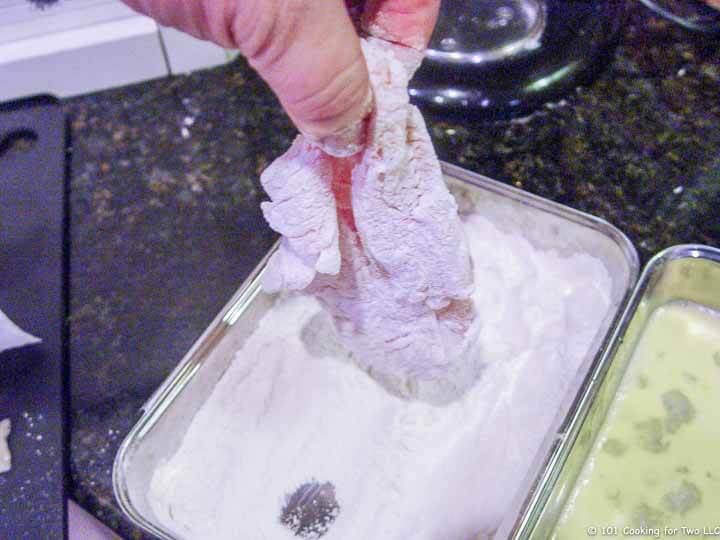 Be sure the chicken is dry and then coat them through pan 1, 2, and 3 shaking well after pan 1 and 2. Place on prepared pan.
When all are complete, add a little more of the bread/Parmesan mixture on top of each piece. Cook until an internal temp of 160°. About 20 minutes depending on the thickness of the chicken.
Remove from oven and top with about 2 tablespoons of your sauce and mozzarella cheese.
Place back in the oven for about 5 minutes until browned. Serve with pasta and the remaining sauce.


Do you want more recipes from 101 Cooking for Two? Sign up for the newsletter and get all posts delivered straight to your inbox!
📖 Recipe
Editors Note: Originally Published January 13, 2010, which was the second week of the blog. I buff up the discussion with expanded options from a November 2011 version. Photos have been re-edited from several old cookings.