Classic roasted whole chicken at home that is juicy and crispy. This is the ultimate comfort food. Just follow these easy step by step photo instructions.
Introduction
This is very close to that "ideal" recipe of just throw something in the oven and have it come out with great taste and moisture with crispy skin.
Based on a Cooks Illustrated recipe called Weeknight Roast Chicken. I took the technique and expanded the details and a few other changes.
The general idea is to preheat an oven with a skillet to 450, prep the chicken with some oil or butter, and season to taste. Put the chicken in the hot pan so the dark meat will cook faster, being in direct contact with the skillet.
Also, the pan will keep the liquid from evaporating completely for a pan sauce or in my case, gravy. Cook until breast temp of 120 and then turn off the over and let it continue to cook in the hot oven. It works well.
My Rating

A great roasted chicken your family will love.
🐓The Chicken
Cooks Illustrated called for a 3 ½ to 4-pound chicken. Mine was 5 pounds, so a little bigger. Mine took 35 minutes to reach the "turn off the oven" point vs. their 20-25. The bigger the chicken, the longer it will take.
I no longer recommend rinsing chicken. See Chicken: To Rinse or Not To Rinse? for detailed discussion. But drying the skin is critical for crispy skin.
♨️OVEN WARNING
OVEN WARNING
I have done this in three different ovens with good results, but I suspect there are some ovens that will lose heat faster and may not get to the 165 after turning the oven off. Note: This is a well tested Cooks Illustrated technique but this is my warning, not theirs.
Try not to open the oven when the oven is off. Use a remote thermometer if you have one.
If turning the oven off makes you too nervous or you don't trust your oven, leave the oven at 200°. I recommend using a remote thermometer of some type to monitor for 165° in the breasts. Never cook by time.
⏰🌡️Cooking Time and Temperature
This technique takes about 1 hour and starts with a high-temperature oven of 425° convection or 450° conventional oven but then turns off the oven and finishes cooking as the oven slowly cools. This technique addresses the need for different final temperatures for dark vs white meat.
If you want to just straight-up roast the chicken without this technique, you would generally start with a high (425 to 450) oven and then turn it down to 350° after about 20 minutes then to 350° for about another 40 minutes. But this will tend to leave the thigh area undercooked or breast overcooked depending on your choices.
Safety note: Chicken needs to reach 165° for safety. For texture, dark meat is better at 180°-185°. So you are cooking to a final internal temperature and never by time alone. So you must use a thermometer.
Remember that whole chicken vary a lot in size and sometimes thickness. So the real cooking time varies by size of the chicken and not the clock.
🖊️Notes
Oil vs. Butter
The classic thought is always to use butter. Some feel it adds some taste.
The argument for vegetable oil is several studies show the skin to be a bit crispier, and many people don't think the butter adds any taste.
The choice is yours.
Spicy Option
Do you want more taste? Kick it up several notches with a spicy rub.
Mix the spicy rub: 4 teaspoons kosher salt, 1 teaspoon each of pepper, garlic powder, onion powder, thyme and sugar. 2 teaspoon paprika and ½ teaspoon cayenne pepper (optional).
I would not do gravy if using the spicy rub.
The Gravy
I'm using the slurry method of homemade gravy in this recipe. You can easily adjust the volume to your needs. While 2 cups are enough if you just want some on the meat, you will want 4 cups if you are doing potatoes and gravy as a side dish.
See How To Make Gravy at Home for a more detailed discussion.
📖Whole Chicken Recipes
Grilled Whole Chicken on a Gas Grill
BBQ Grilled Butterflied Whole Chicken
Alabama BBQ Chicken with White BBQ Sauce

🖼️Step-by-Step Instructions
Spray a 12-inch oven-safe pan (cast iron preferred) with PAM. Place in the oven and preheat to 425° convection or 450° conventional.
Pat dry a whole chicken, tie legs together with butcher twine and tuck wings under.
Coat the surface with a tablespoon of butter or a bit of vegetable oil.
Season the chicken with salt and pepper to taste. I'm using some of my 7:2:1 All Purpose Seasoning .
Transfer the chicken to your preheated pan. Let it roast until breast temp is 120°, and thigh is 135°. About 30 minutes, it depends on size and oven.
Turn OFF oven and let set in the hot oven until breast temp is 165° and thigh is 175°+, about 30 minutes. (Please read the oven warning in the post above or the recipe card notes.) Move the chicken to a plate and pour any liquid in the chicken cavity into the pan.
Combine flour with a cup of cold water. You need 2 tablespoons of flour for every cup of gravy you are making. You can use a bowl and whisk to combine the flour and water, or I like to use a Tupperware shaker.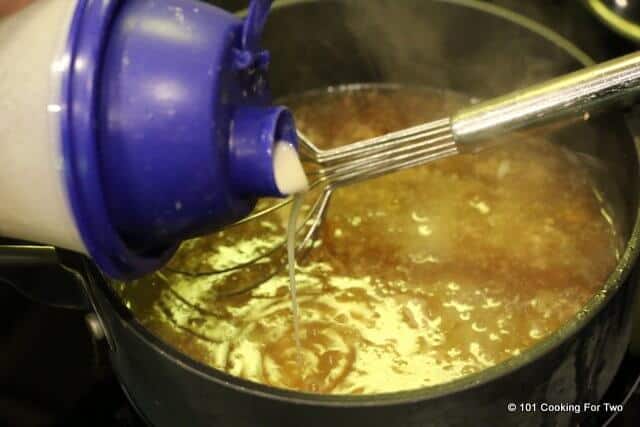 Move the pan to the stovetop and add the amount of chicken broth you want for gravy. Over medium-high heat, bring to a boil.
Slowly add most of the water/flour mixture while continuously stirring. In about 2-3 minutes, the mixture will thicken. Add more flour mixture is not thick enough and continue to stir. Continue this until the desired thickness. Add salt to taste.


Do you want more recipes from 101 Cooking for Two? Sign up for the newsletter and get all posts delivered straight to your inbox!
📖 Recipe
Editor's Note: Originally Published October 22, 2011. Refreshed with expanded and clarified instructions and updated photos.