Great taste in a classic grilled butterflied chicken. You too can grill a whole chicken and get it done just right with crispy skin and most breasts and thighs.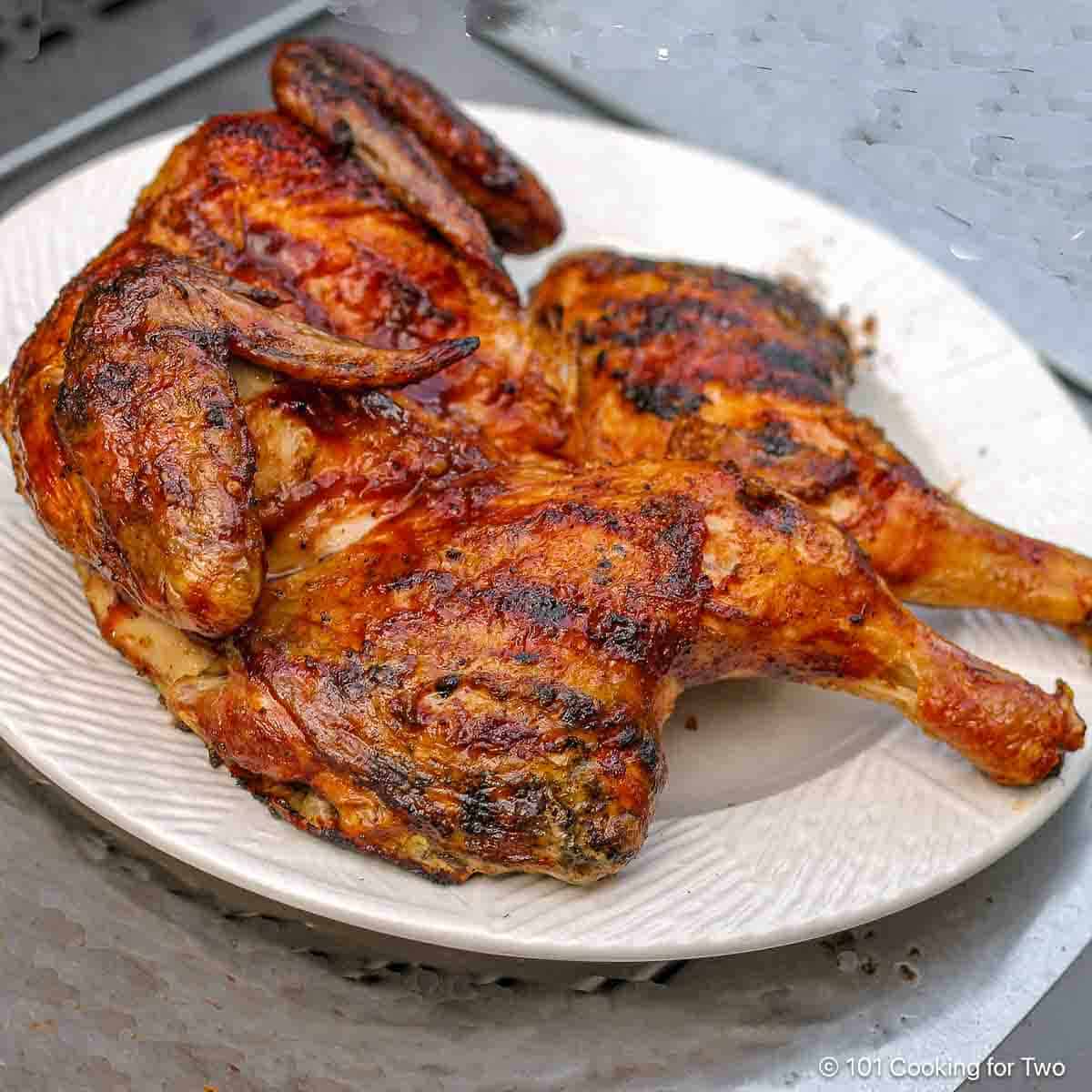 Introduction
Butterflying AKA spatchcocking a whole chicken is a traditional way to even out a whole chicken to assist in even cooking.
By flattening, it is generally easier fo get all parts of the chicken cooked correctly in a reasonable amount of time.
Why not just throw the whole chicken on the grill? Actually, you can with the right technique. it is not that hard when you get your technique down, Please see
There are a lot of articles about grilling a butterflied chicken, but most grill amateurs won't try it. I'm here to tell you it is easy, and it works.
Start with a medium-size whole chicken 4-5 pounds. Cut out the backbone with kitchen scissors. Split the breastbone a little so it will lay flat. A little salt and pepper. Grill carefully on a properly set up grill and then brush with some BBQ sauce just before reaching the final temp
My Rating

A nice solid 4.
🐓The Chicken
This recipe is for a small to medium size whole chicken. I suggest a 4 to 5-pound range. Remember that whole chickens usually come with about half a pound plus of neck, gizzard, heart, etc inside. I'm talking about the actual weight of the chicken.
We no longer wash chicken. Please see Chicken... To Rinse or Not To Rinse? for a more complete discussion.
👨‍🍳Butterflying
First, pat dry, so it is not slippery.
Remove the backbone with sturdy scissors or kitchen shears by cutting up one side of the backbone from tail to neck, then down the other side of the backbone. Discard the backbone.
I like to use a knife at this point. I make a good size cut at the front of the breast bone in the long direction of the breast bone. This helps the chicken flatten in the next step.
Flip the chicken with the breast side up. Pull out on the sides at the bottom and then put your palm over the breast bone and press down hard and it will flatten.
Fold the wing tips back under the wing to lock them in place if you can. Mine always come loose.
♨️The Grill
Get to 350°-400° grill surface temperature, which is a bit under medium for me. On most grills that is about medium. DO NOT TRUST the built-in thermometer on the lid, you must use a grill surface thermometer.
For help on grill surface temperature, please see my A Beginners Guide to Grill Temperature on a Gas Grill.
👨‍🍳Cooking
There are some general goals in cooking this butterflied chicken.
The first is to get to the right internal temperatures for safety and texture. That is 165° in the thickest part of the breast and about 185° in the thighs. By cooking longer with the skin side up, the darker meat will be closer to the heat and should cook faster.
The second is not to burn the skin. This is also helped by the same cooking technique with the skin side up longer. But fighting this will be the grill that can vary both in temperature and radiant heat. Also, the weight and thickness of the chicken is a huge variable.
So as always, we are cooking to final results and NEVER BY TIME ALONE. I give times so you have some estimates of how long something will take but in this recipe, you should cook to the final temperatures and the skin results.
Seasoning
I had a wife longing for BBQ so hence the sauce, but this can be seasoned any way you want. I will usually do my All Purpose Seasoning - 7:2:1 and 7:2:2.
Sauce Suggestions
Memphis Barbecue Sauce - A Wonderful Thing
Alabama BBQ Chicken with White BBQ Sauce - The sauce is meant for this recipe.
📖Chicken Recipes
Grilled Whole Chicken on a Gas Grill
Simple Everyday Roast Chicken with Gravy
Alabama BBQ Chicken with White BBQ Sauce

🖼️Step-by-Step Instructions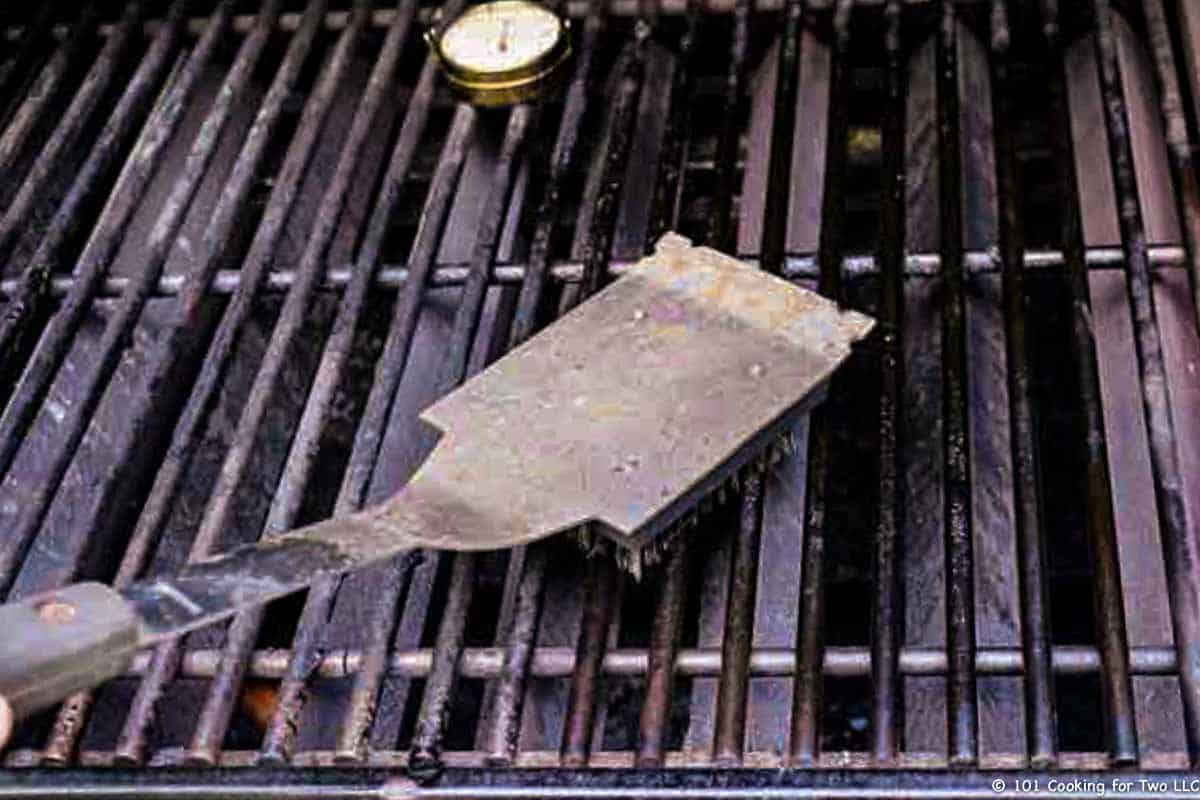 Preheat grill to a grill surface temperature of 350°-400°. Clean and oil well.
As always, we are cooking to final results and NEVER BY TIME ALONE. I give times so you have some estimates of how long something will take but in this recipe, you should cook to the final temperatures and the skin results.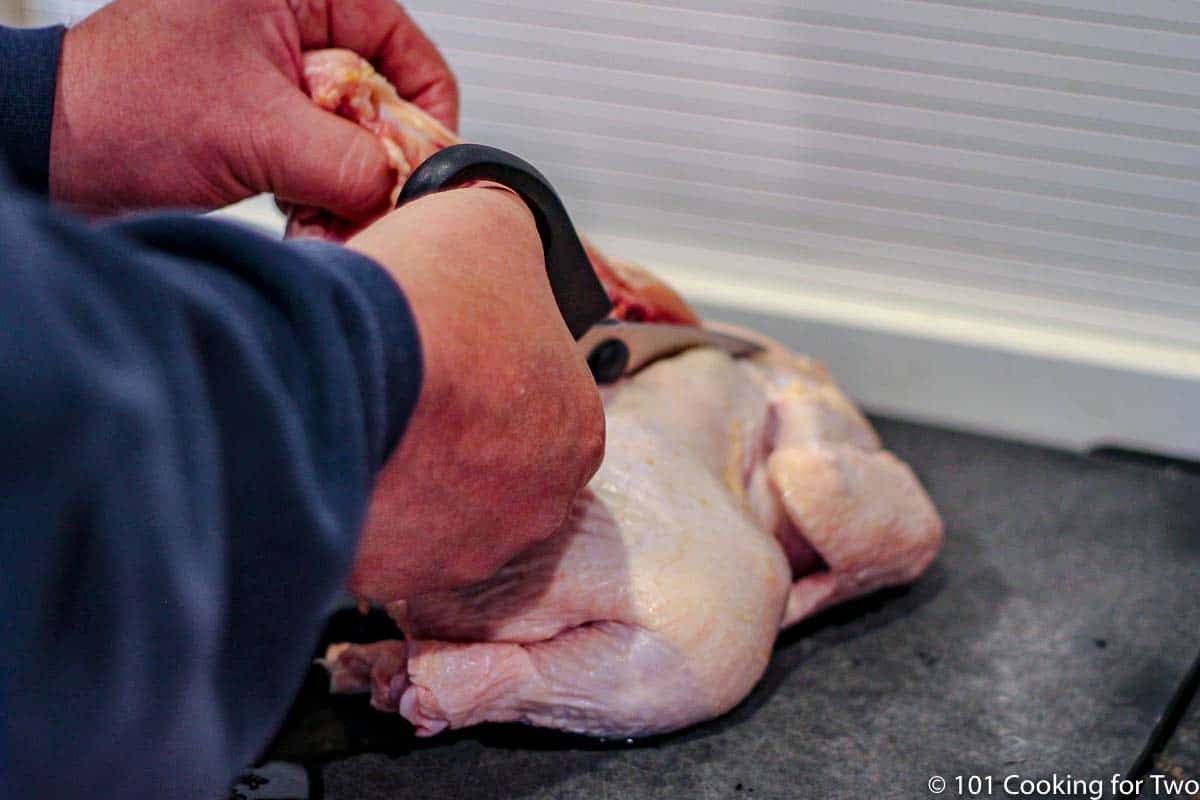 Pat dry the chicken. We no longer wash chickens, please see https://www.101cookingfortwo.com/chicken-rinse-not-rinse/). Cut the backbone out of the chicken with sharp kitchen scissors. You could use a knife, but the scissors are much safer and work great.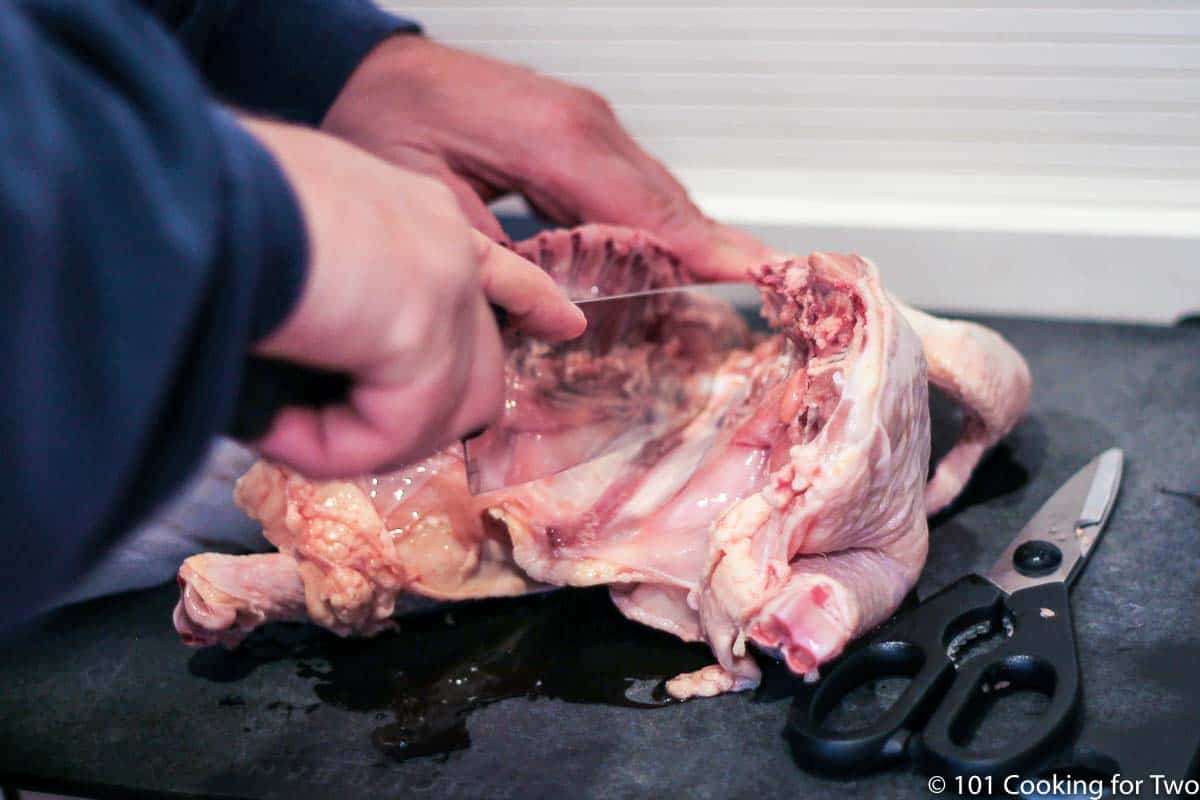 With a large knife, give the breastbone a large nick in the front of the chicken to help the bird lay flat.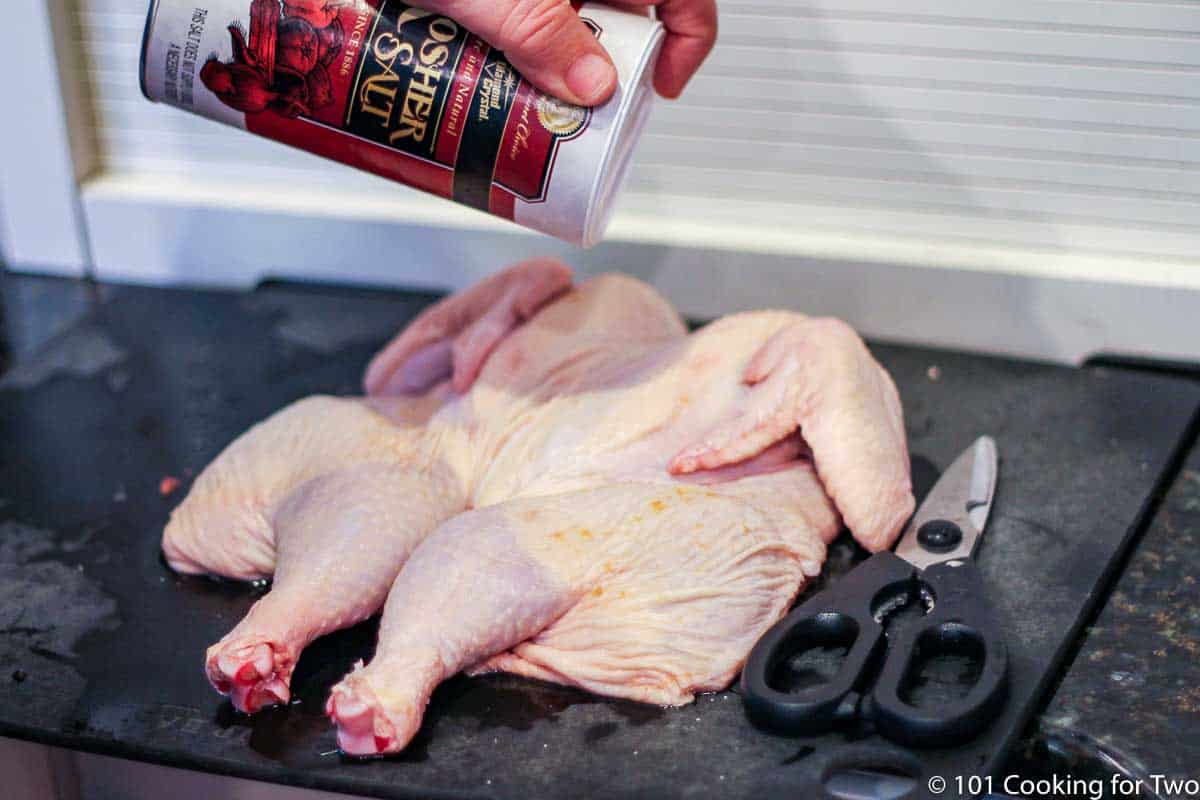 Give all sides of the chicken a brush of oil and a good sprinkle of coarse salt and pepper. You could use any seasoning you want here.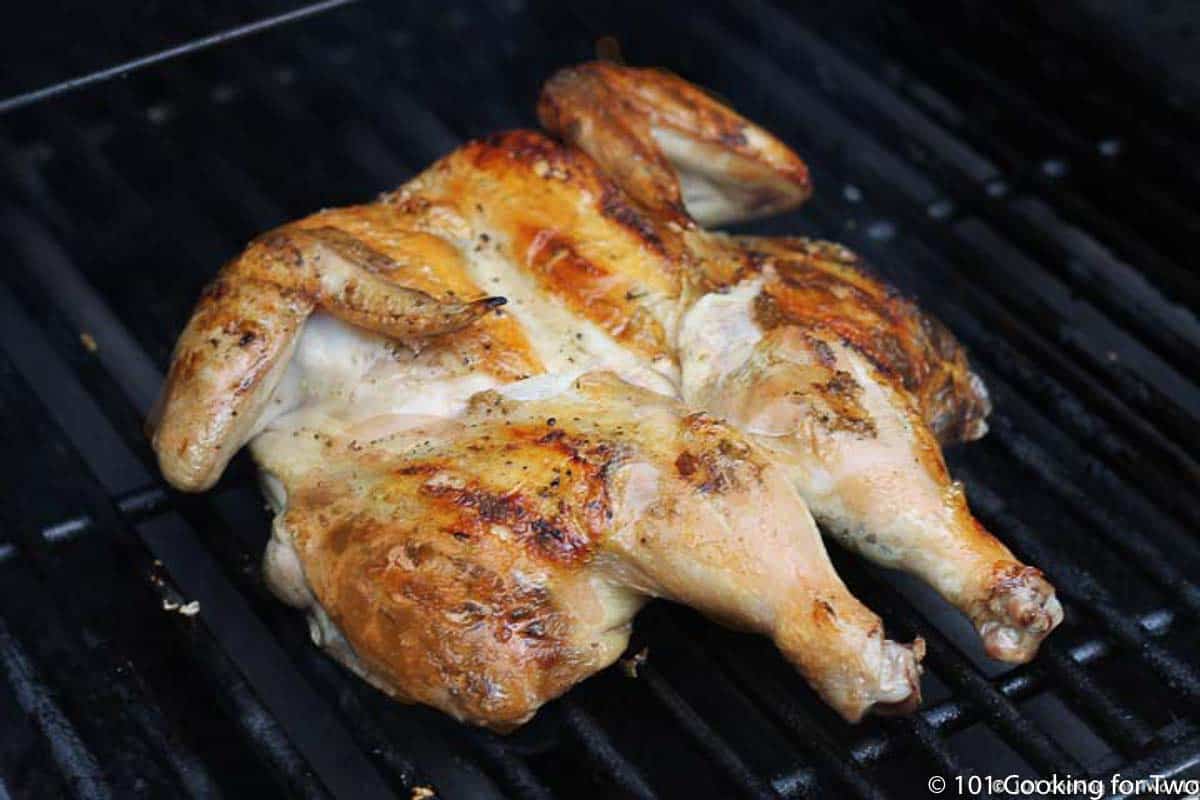 Start with the skin side up for 10 minutes. Then flip to skin side down for 8-10 minutes. Watch the color and don't over-brown the skin. Flip back to the skin side up and cook until 160° in the breast and about 175°-180° in the thighs.
These times are ESTIMATES due to variability in grills and chicken size. So we are cooking some, flipping to get the skin mostly done, flip back to skin up to finish.
If one of the internal temperatures is not high enough, turn off part of the grill and rotate to cook that area over the active heat until it catches up, then continue with the sauce.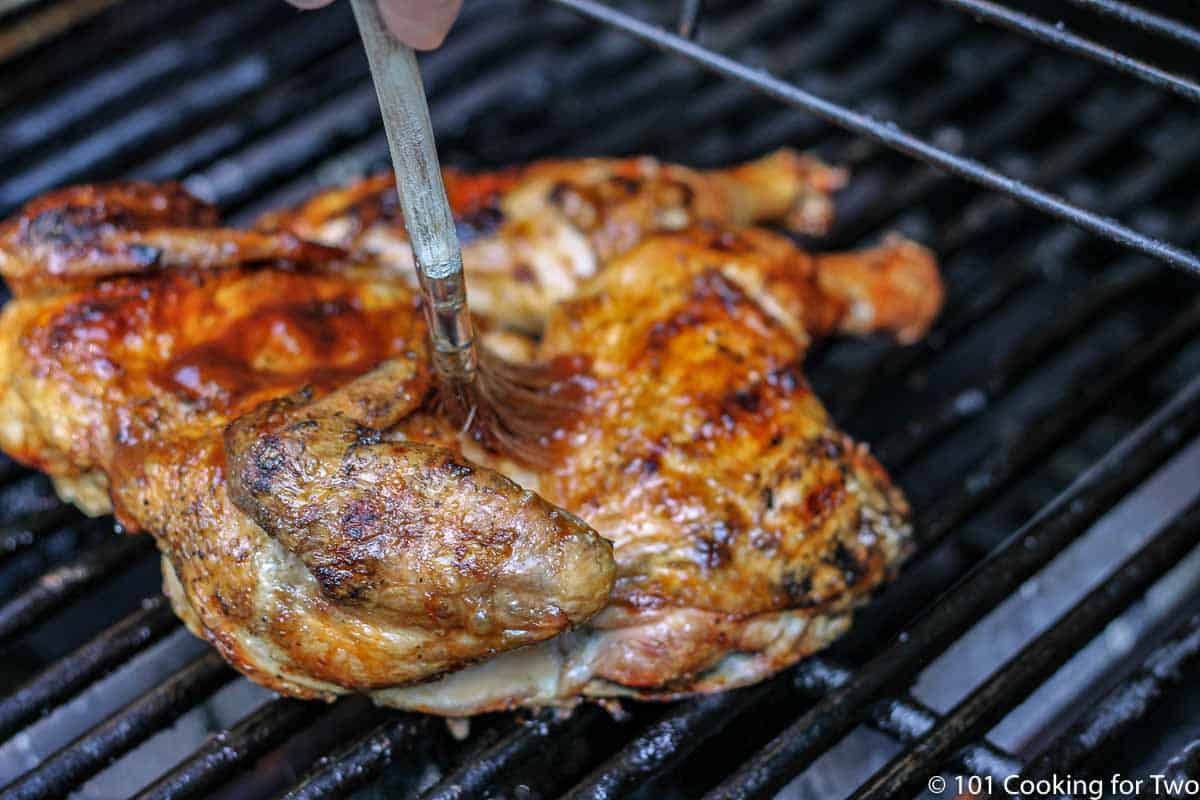 Give the chicken a good brushing of BBQ sauce of your choice (skip if not doing BBQ). Grill, another 3-4 minutes until the sauce, is browning well, and the temperature is 165° and the thighs should be about 180°-185°.
Let sit for 5 minutes then cut and serve.


Do you want more recipes from 101 Cooking for Two? Sign up for the newsletter and get all posts delivered straight to your inbox!
📖 Recipe
Originally Published June 23, 2013. Updated with refreshed photo along with updated options, discussion, and instructions to reflect current technique.