Honey garlic glazed grilled pork tenderloin is bursting with great flavor. Get a company-worthy pork tenderloin with these easy step by step photo instructions.
Introduction
I love grilled pork tenderloin, and I have lots of variations. It's a great "cooking for two" meal and is always a step up from a pork chop. I started with a nice honey garlic glaze coating and carefully grilled to get this great variation.
My Rating

A nice strong four heading to a five. My wife, who was not hungry, had two servings.
🐖Pork Tenderloin
The tenderloin refers to the psoas muscle along the lower back. It is chicken tenders in the chicken or beef tenderloin (filet mignon) in cattle. The psoas is generally most tender cut since it is not used for movement.
I always think of a pork tenderloin as having three sides since they are almost triangular in shape. So a "flip" is just a third of a turn, not 180 degrees.
But please note that pork lion is different and must be cooked differently. Pork loins will weigh 5 pounds or so. Most pork tenderloins are about 1 ½ pounds. Please do not confuse the two.
Should You Brine?
You can if you want, but tenderloin is not nearly as needly of brine as pork chops or pork loin.
If you decide to brine, I suggest 2 cups of water with 2 tablespoons salt for 1-2 hours in the refrigerator. Be sure to rinse well when done and pat dry. Also, be sure to use low sodium soy sauce if you brine.
♨️The Grill
Grill surface temperature needs to be about 450°. You can not cook this on high heat. It doesn't work well for thicker meat, and especially with the honey, you will burn the outside before the inside is cooked.
Please see A Beginners Guide to Grill Temperature on a Gas Grill for details about grill surface temperatures.
Can I use charcoal? Yep, but you need to create a cooler zone for the tenderloin. And remember you are cooking to a final internal temperature.
🌡️When is the Tenderloin Done?
I like a touch of pink, which is about 145° and takes about 25 minutes. Do not cook by time alone. Use a thermometer. Time to get to your final temperature varies by weight of the tenderloin, exact surface temperature of the grill, and the tenderloin at the start.
Your cooking time will vary so cook to final temperature NOT BY TIME ALONE.
📖Pork Tenderloin Recipes
How to Grill a Pork Tenderloin on a Gas Grill
Alton Browns Chipotle Lime Pork Tenderloin
Cinnamon Honey Grilled Pork Tenderloin

🖼️Step-by-Step Instructions
Preheat grill to a surface temperature of about 450°. Clean and oil well.
Mix honey, soy sauce, and garlic powder.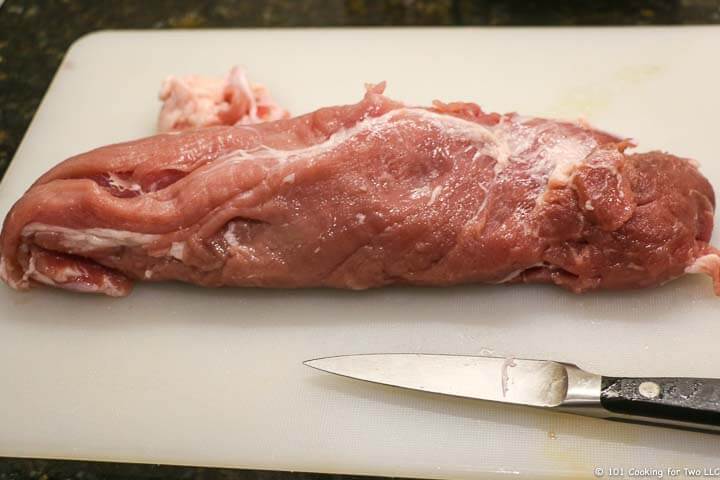 Trim pork tenderloin of any silverskin and membrane.
Brush the honey glaze on the tenderloin.
Place over direct heat on the grill. Grill for five minutes, rotate one-third then brush the grilled side with more honey mixture. Repeat this twice more. Then continue to grill and rotating every 5 minutes until an internal temperature of 145° to 150°. A total cooking time of 25-30 minutes. Be sure to cook to the final internal temperature and not by time.
Allow to rest for 5 minutes before cutting.


Do you want more recipes from 101 Cooking for Two? Sign up for the newsletter and get all posts delivered straight to your inbox!
📖 Recipe
Editor's note: Originally published June 20, 2015. Updated with expanded options, refreshed photos, and a table of contents to help navigation.