Fall apart tender pork chops smothered in green pepper and gravy. It makes your mouth water. Nothing is more comforting than pork chops with gravy — all without cans of soup or envelopes of chemicals.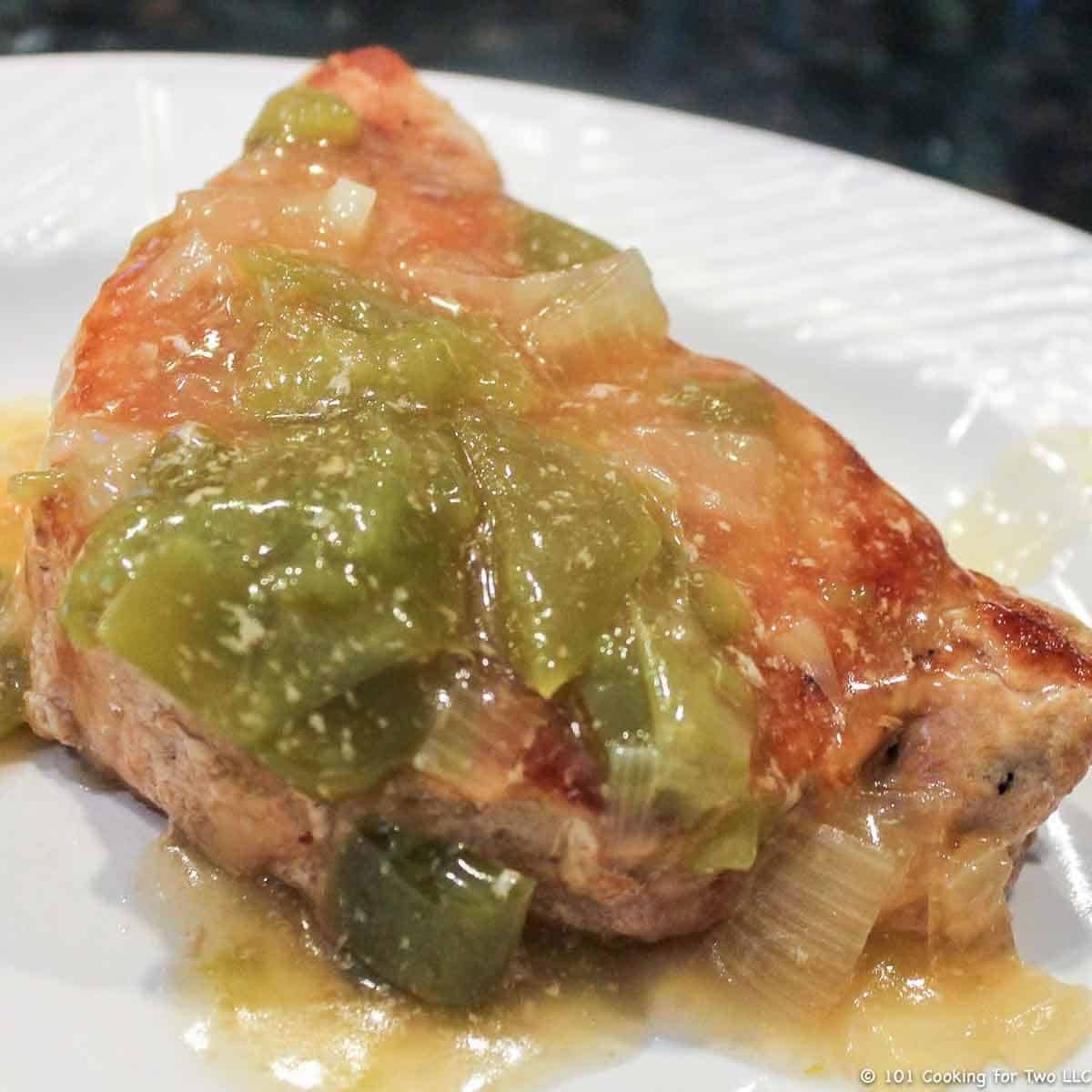 Introduction
Nothing is more comforting than a gravy covered pork chops. Add in some green pepper, and you have a recipe you will repeat over and over.
I choose a couple of 1-inch thick boneless chops. Added a nice brown in a pan before loading them into a crock pot with onion, green pepper, and garlic.
Add some broth for moisture and cook until fall-apart tender. Then make a simple gravy with the liquid.
My Rating

A nice medium 4. This is an easy cook that will be hard not to like.
🐖Pork Chops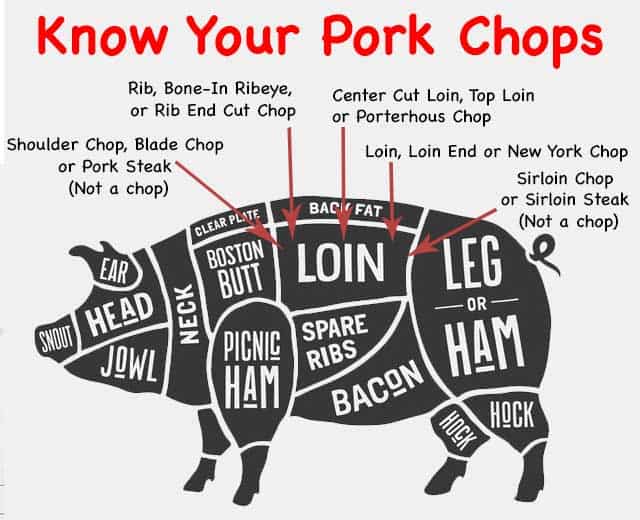 Real pork chops are the middle three in the above diagram. The ones on the ends are frequently sold as chops but don't believe them.
I frequently pick up a whole pork loin when they are on sale and cut it myself. Half the price and they will freeze great for 3-4 months. But the biggest plus is I always have them on hand.
For this recipe, bone-in or boneless is fine, and any reasonable thickness should work.
Peppers and Onion
I felt this recipe needed other flavors and also wanted the chops off the bottom of the crock pot. I originally did a full medium onion and green pepper but now suggest half of each. They will freeze well or use it in other recipes.
♨️Gravy with Crock Pot Recipes
The issues of making gravy for crock pot recipes is why you see so many cans of soup and envelopes of gravy mix. If you want fewer chemicals, you need to adapt.
I don't feel there is a good way to make acceptable gravy in the crock pot. I suggest moving the liquid to a saucepan.
Corn Starch
The first way of making gravy is by using corn starch. You will need about 1 tablespoon of corn starch per cup of liquid. Mix your corn starch with a little cold water to make a smooth slurry and add it to the hot liquid. You will see this commonly done with crock pot recipes. I never seem to get acceptable thickening in the crock pot.
The problem with corn starch is the problem with reheating or freezing. Liquids thickened with corn starch get gel-like and do not reheat or freeze well. It is all a texture thing; it is still safe to eat and tastes fine if you can get over the texture issues.
Thickening with Flour
The traditional way of thickening with flour is to make a roux with fat and the flour, then add liquid to it. A roux-based gravy doesn't work well for me when the liquid is mixed with things like pepper and onion.
The second way to make gravy with flour is called the slurry method. Very similar to the corn starch method. It does require 2 tablespoons of flour per cup of liquid is being thickened. This works best when the liquid being thickened is boiling, and the flour mixture is slowly whisked into the liquid.
The good news about using flour is a gravy made with flour will reheat and freeze well.
I suggest using the slurry method with flour. For more information on making gravy, please see How To Make Gravy at Home.
📖Pork Chop Recipes

🖼️Step-by-Step Instructions
Start a couple of 1-inch pork chops. I'm using trimmed slices of pork loin — salt and pepper to taste.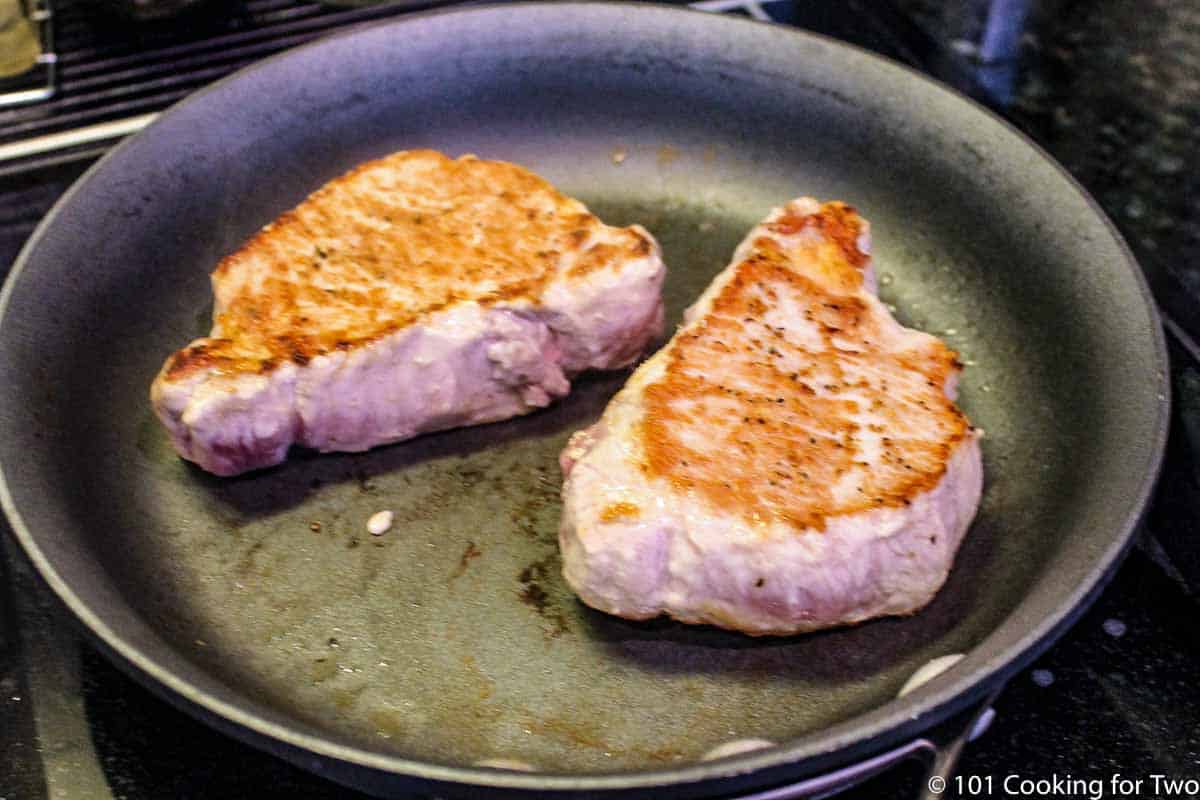 Heat one teaspoon oil over medium-high heat. When hot, add the chops and brown each side for 3-4 minutes to get the color you like and add some taste.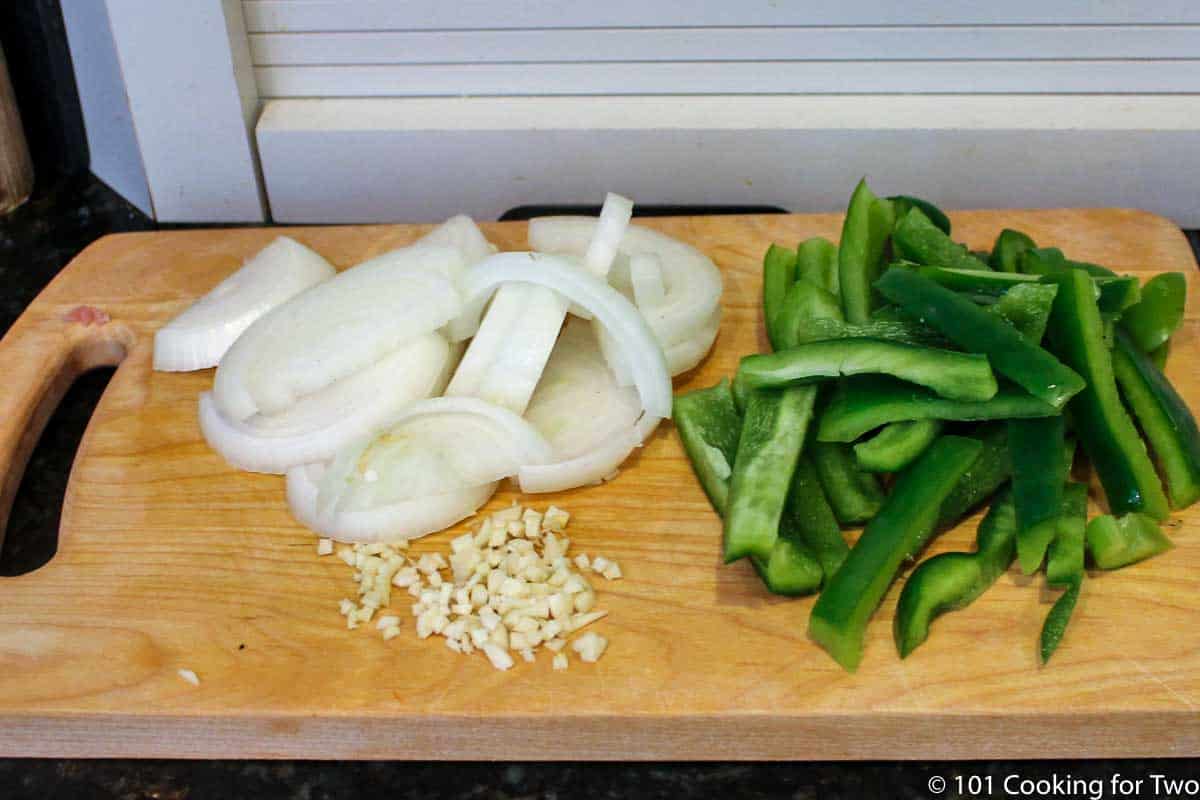 While pork is browning, slice one medium onion and one green pepper. Also, crush 1-2 cloves of garlic. For the two pork chop version, you only need half the pepper and onion.
Add half the veggies and garlic to the bottom of a small crock pot. Add the pork on top, add the remaining of the veggies and garlic. Add 1 cup of chicken broth and ½ teaspoon Worcestershire sauce.
Cook on high for 2 hours on high or 4 hours on low.
For gravy, mix 4 tablespoons flour in 1 cup of chicken broth until smooth. Move the chops to a plate and pour the liquid in a pan over medium-high heat and bring to a light boil. Slowly pour in the thickening liquid while stirring vigorously until starting to thicken. At that point, stop adding the thickener and continue to stir and simmer for a few minutes until gravy is done. Add salt and pepper to taste.


Do you want more recipes from 101 Cooking for Two? Sign up for the newsletter and get all posts delivered straight to your inbox!
📖 Recipe
Originally Published July 20, 2013. Updated with expanded discussion, refreshed photos, and a table of contents to help navigation.