Some potato, a little onion, and a grill pan. That equals crispy grilled potato slices that will go with almost any grilled meal. Just follow the easy step by step photo instructions.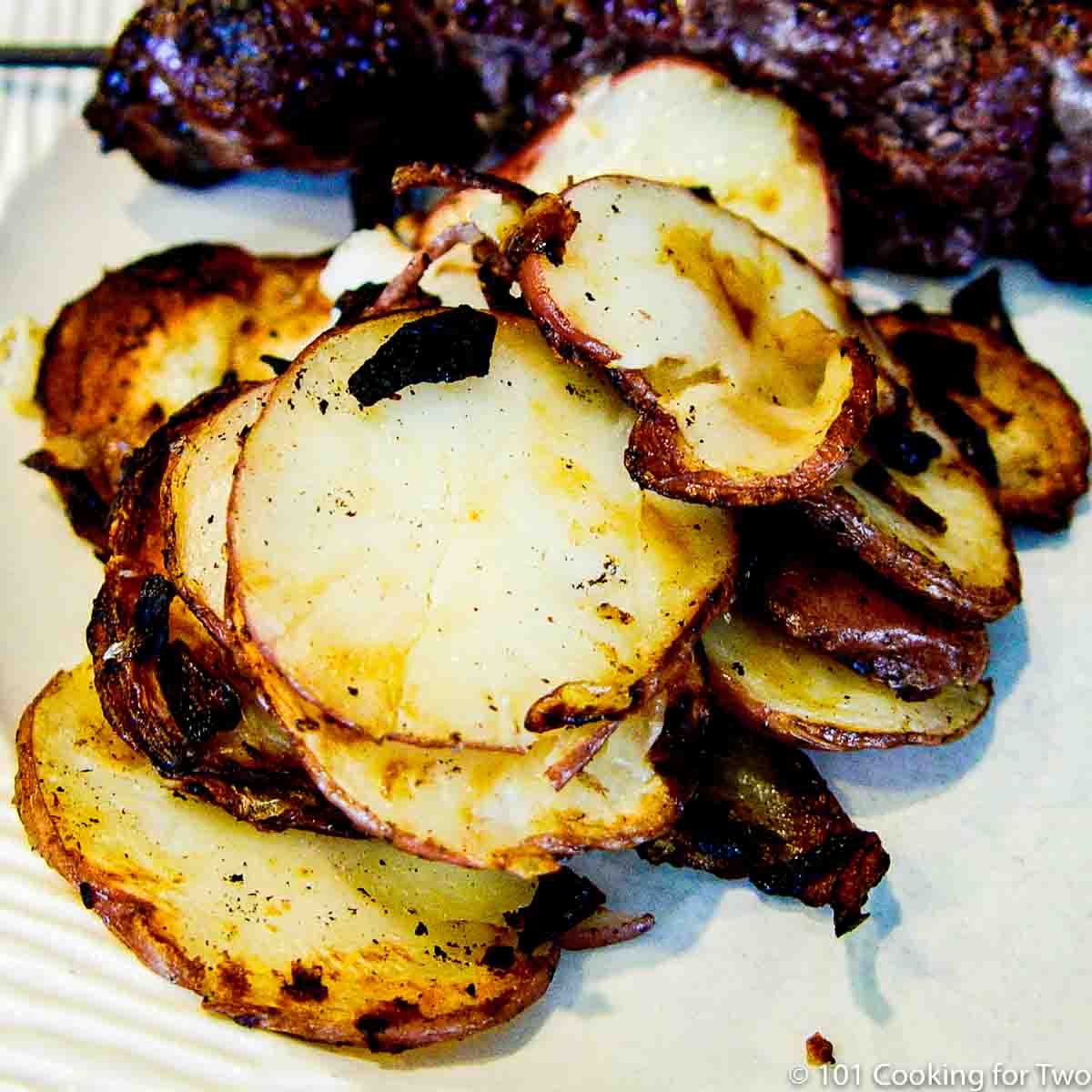 Introduction
I'm always in search of a good side dish for a grilled meal. This fits most grilled meals with some great taste and crispiness.
Start with your grill already heated for the main course. Slice some potatoes thinly, about ¼ inch. I like red potatoes for this since the skin will caramelize some on the grill and add something extra.
The slices must be thin, or they will not cook completely. Add some chopped onion and olive oil. A little salt and pepper. Grill over a little heat for 30 minutes. Now you have a side that almost everyone will enjoy.
My Rating

I'm happy with it. It did need a little more attention than I wanted.
🥔Potatoes
Any potatoes will do, but I suggest avoiding my favorite russet potatoes.
There are several hundred types of potatoes, but I like to divide them into russets potatoes and thinner skin types. Russets are picked when mature and tend to have more starch, but for a recipe like this, it is the thick skin I prefer not to have.
I think any thinner skin potatoes like Red, Yukon Gold, young or baby potatoes would be fine in this recipe. Red potatoes are commonly available and do very good in this recipe.
Thickness Is Important
The key to this recipe is really the thickness of the potatoes. ¼ inch thick, please. Less will break apart, and thicker will just not get done in the middle.
At What Temperature is a Potato Done?
I like to use 200°-210°. Cook's Illustrated recommends 205° to 212°. Potatoes are very forgiving, so a little over is better than under. 200° is usually ok, but 190° is not done.
With this recipe, just going by the browning and fork-tender is fine and seems always to work. If in doubt, check with an instant-read thermometer.
👨‍🍳The Onion, the Oil, and the Pan
The onion adds a lot of flavor. You could argue it is overcooked. I think it is just great. Skip it if you want or add it halfway through the cooking if you don't want it done crispy.
The olive oil does fine on the grill with this recipe since we are using medium heat. If it is smoking, you have it too hot. If you are worried about it, use a higher temperature oil.
I think a cast iron pan works great here. A standard grill pan is also good, but something with sides is preferred.
📖Grilled Side Dishes
Grilled Whole Baked Potatoes without Foil

🖼️Step-by-Step Instructions
Start with a hot grill and turn one side to medium or medium-low if you have a hot running grill to get a surface temperature of 400° to 450°.
Clean and slice four medium red potatoes into ¼ inch slices. Chop one medium onion.
Mix the potato and onion with 2 tablespoon olive oil. Add ½ teaspoon salt and ¼ teaspoon pepper and mix well.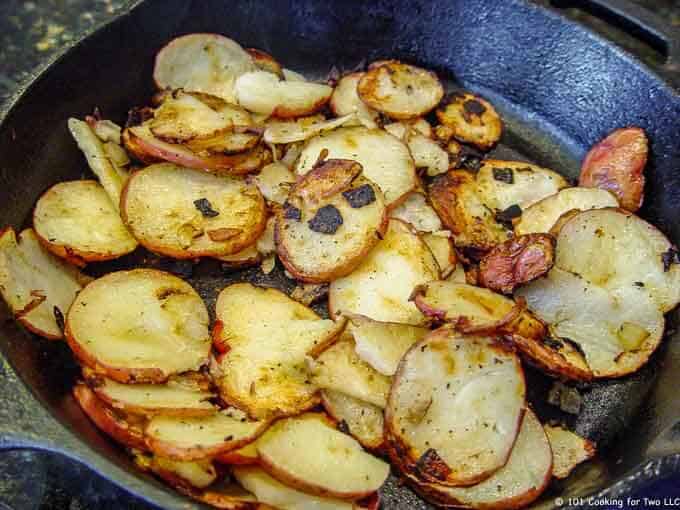 Put in a 12 inch cast iron pan over the medium heat side of the grill. Stir every 5 minutes or so and occasionally rotate the pan. It is done in about 30 minutes with an internal temperature of about 200° or a bit more.


Do you want more recipes from 101 Cooking for Two? Sign up for the newsletter and get all posts delivered straight to your inbox!
📖 Recipe
Originally Published May 12, 2019. Updated with expanded options, refreshed photos, and a table of contents to help navigation.