No tie for dad this year, it's time for some great steaks for Father's Day. Good old dad needs and deserves a nicely done steak. And you can deliver it with any of these recipes by just following the easy step by step photo instructions.

Introduction and My Rating
So you have a choice about what to get dad for Father's Day, a tie, or steak. Speaking as a dad, I want the steak. Make it a tradition, so you are covered every year, an easy choice-steak.
🐄Types of Steaks
There are eight beef quality grades from the USDA, but we are only going to discuss three: Prime, Choice, and all the others. You will not be buying (I hope) beef lower than Choice.
Only about 2 percent of all beef will grade out to be prime. But over ⅔ of all beef will be graded as choice.  Prime will cost more (about double), but for a special occasion is worth it to me. But Choice beef is an excellent value, just look for a well-trimmed and marbled steak.
The grading is based on the degree of marbling (the fat in the meat) and the age of the animal. The marketers try to confuse things with their branding but just pay attention to the USDA grade.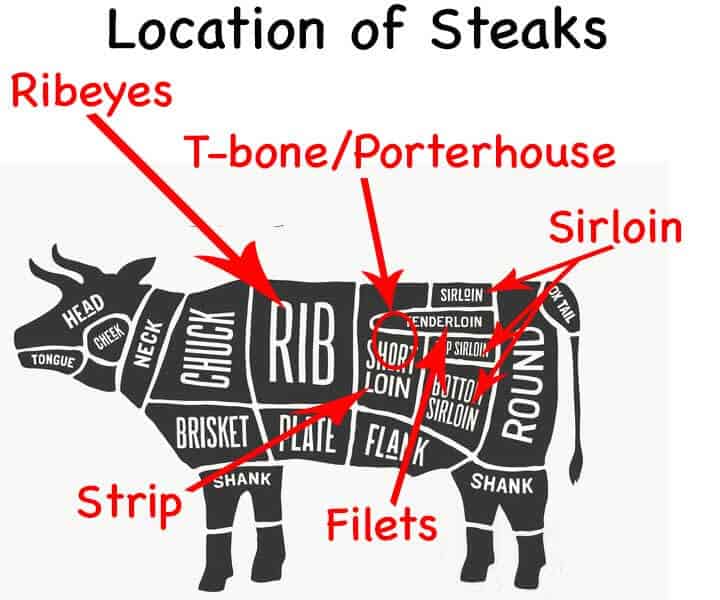 ♨️Cooking Steaks
I have included both grill and stove based recipes but want to emphasize that you must (MUST) be able to check the internal temperature of your steak, or you will most likely be very disappointed with the results.
All recipes state the need for an instant-read thermometer, but people still try to cook by time only. Please do not be that cook. Check The Cooking for Two Shop if you need a suggestion.
Grilled Steak Recipes
The traditional way to cook a steak. Some use high heat, and some use medium heat. Please read the instructions closely. If you need help with the grill temperature, please check A Beginners Guide to Grill Temperature on a Gas Grill.
Stovetop To Oven Steak Recipes
These recipes work great with cast iron pans, but any oven-safe fry pan will work nicely.
Steak Add-On Recipes
Other Recipe Roundups
Have a great Father's Day.
Originally Published June 11, 2019. Updated with expanded options, refreshed photos, and a table of contents to help navigation.