A great-tasting pork tenderloin sandwich without all fat and mess of frying. A healthier version of that great Iowa comfort food. Just follow these easy step-by-step photo instructions.
Introduction
My first memory of the tenderloin sandwich was at the local A & W drive-up (not a drive-thru) restaurant in the early 1960s. They were huge, crunchy, and a wonderful greasy deep-fried treat. Please notice, you don't need to say "pork tenderloin," but just "tenderloin" is sufficient for those "in the know."
This is Iowa comfort food although I will give a shout out to Indiana since they worship the same simple sandwich.
The local newspapers and pork organizations will have yearly roundups or "awards" of the best pork tenderloin sandwiches. And these are highly prized awards that the restaurants will use for bragging rights.
My Rating

This is a double five. For me a nice solid lower 5. My wife (who will almost never rate) gave a strong five after she ate two sandwiches with the second being a "double".
👨‍🍳The Recipe
After the success of my oven-fried chicken recipe, my wife suggested this variation. I didn't know she was a fan of Iowa comfort foods.
This is my Crispy Oven Fried Chicken meets my Iowa Breaded Pork Tenderloin Sandwich with some great taste in an easy recipe to make and scale to your needs.
The deep-fried version is much fattier, and that is part of the taste, but this version gives some of that taste too. But deep-fried is a big mess to make at home.
🐖What Meat for Pork Tenderloin Sandwiches?
You would think it is pork tenderloin, but you are wrong usually. It is almost always pork loin (think boneless pork chop here).
Most of these are made with pork loin that is mechanically tenderized. In most grocery stores in Iowa (I'm thinking of you Hy-Vee) and some other states, the tenderized pork loin is common—specifically for this sandwich. Many times sold already breaded.
But, I suggest using pork tenderloin which is more "tender", tastier and my preferred meat here. Since the meat is smaller in diameter, I butterfly slices and flatten them.
Remember, a pork tenderloin is not a pork loin.
🧂The Spicing
The spicing is a bit bland. OK very bland but that is the norm for these. Feel free to go wild with the spicing since this can handle it.
♨️The End Point and Serving
Lastly, the "done endpoint". I have been known to be attached at the hip to my thermometer. Not here. The meat is done long before you have the right browning. It stays moist in the breading, so all is well but go by crispiness and color, not temp on this one.
Serving is on a soft white bread bun usually with only lettuce, tomato, onion, and pickle.
📖Pork Tenderloin Sandwich Recipes
Iowa Breaded Pork Tenderloin Sandwich
Grilled Pork Tenderloin Sandwiches; Memphis Style
Easy Crock Pot Shredded Pork Tenderloin

🖼️Step-by-Step Instructions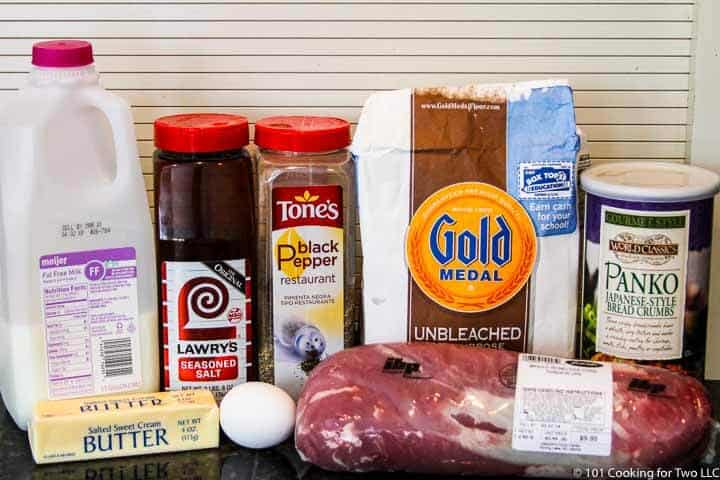 Preheat oven to 350° convection or 375° conventional.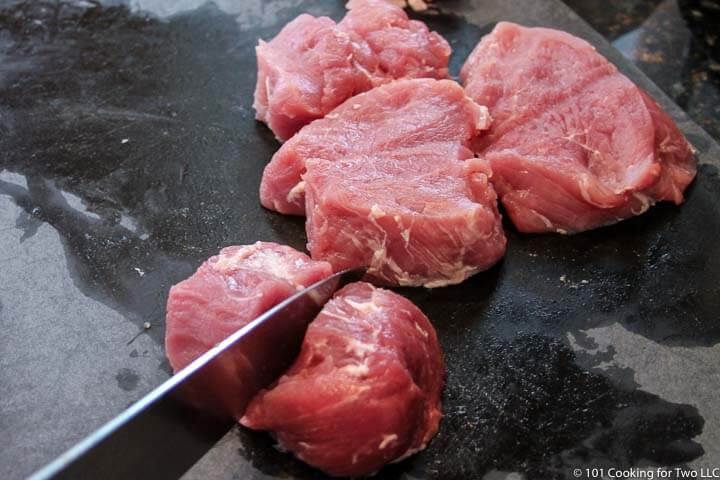 Trim a pork tenderloin of any visible fat and the silverskin. Cut the tenderloin into four approximately equal pieces by weight. Next "butterfly" the pieces. Do this by cutting ¾ of the way through and fold it back to double the size. On the thinner end which would be longer do two cuts one-third on opposite sides of the meat.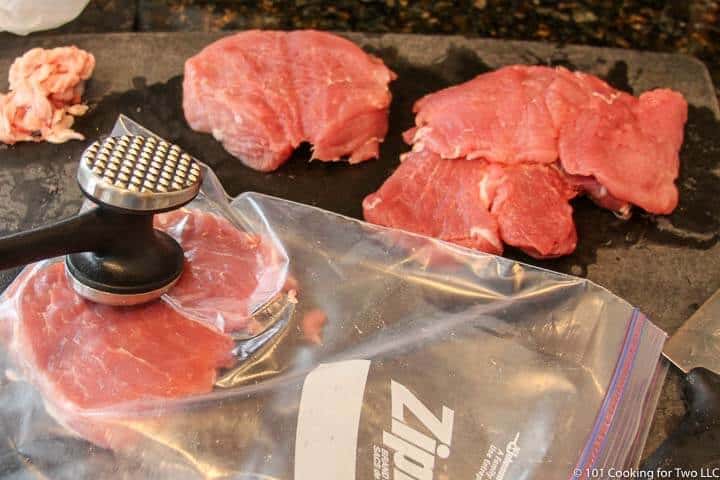 Next cover with plastic wrap or place in a zip lock bag and pound to about ½ inch thick or thinner if you want.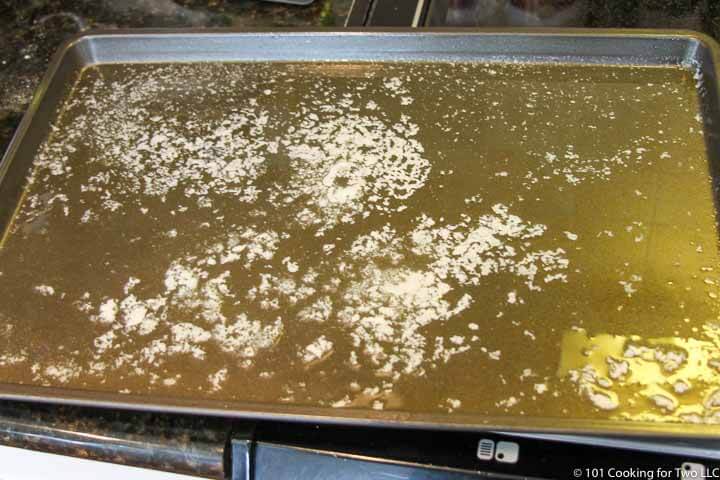 Place 4 tablespoons butter on a large baking tray and place in the oven for a few minutes to melt the butter.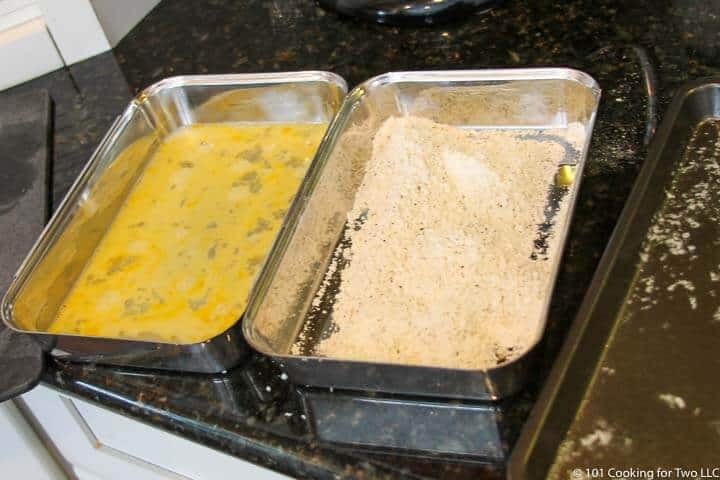 Set up two pans. In the first, combine one egg and ¼ cup milk. Whip well. In the second pan, ½ cup flour, ½ cup Panko bread crumbs, one tablespoon seasoning salt, and ½ teaspoon pepper.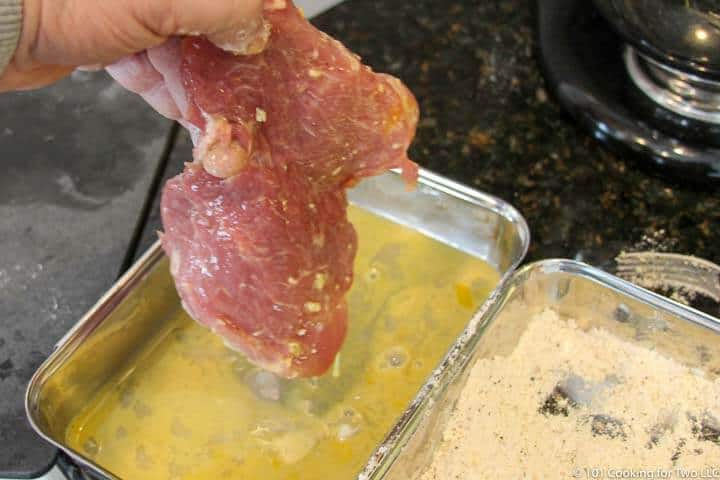 Start with coating the meat with the egg wash. Shake to remove excess.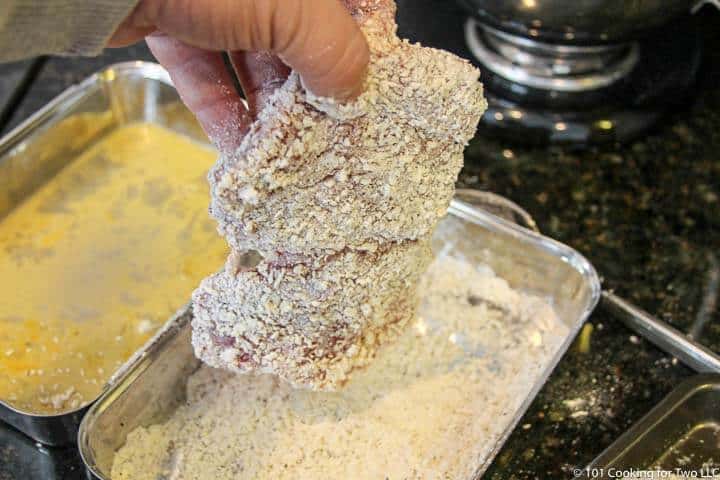 Coat well in the flour mixture and shake off excess.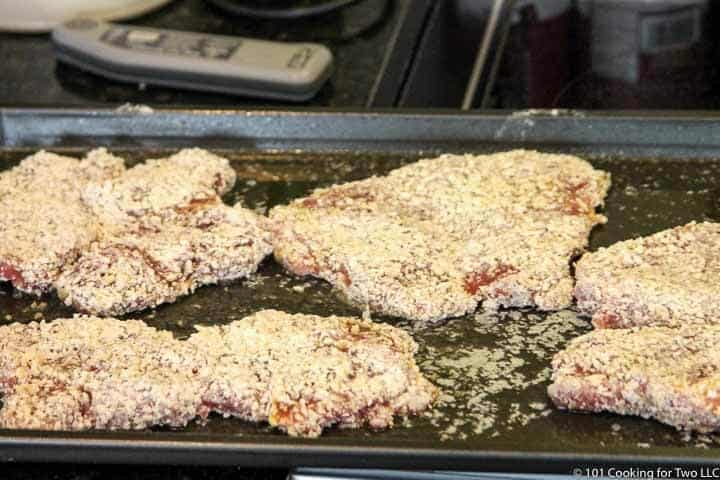 Place on the tray with the melted butter. Try to let them set for 5 minutes or so to help the coating stick.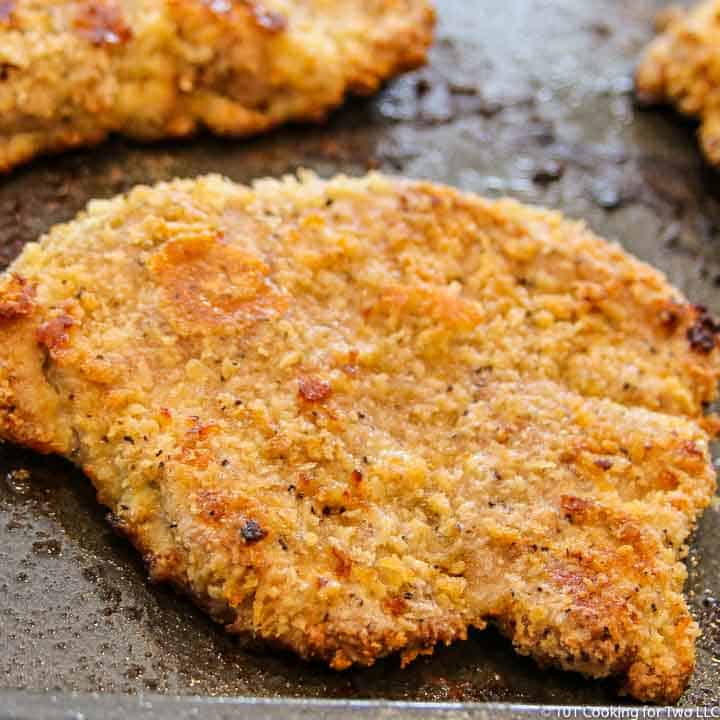 Place in the oven for 20 minutes. Flip and bake another 10 minutes until golden brown. Serve hot.


Do you want more recipes from 101 Cooking for Two? Sign up for the newsletter and get all posts delivered straight to your inbox!
📖 Recipe
Originally Published March 8, 2014. Updated with expanded options, refreshed photos, and a table of contents to help navigation.