Break the burger habit with this five-star Grilled Pork Tenderloin Filet Sandwiches with great Memphis seasoning. Easy to follow step-by-step photos.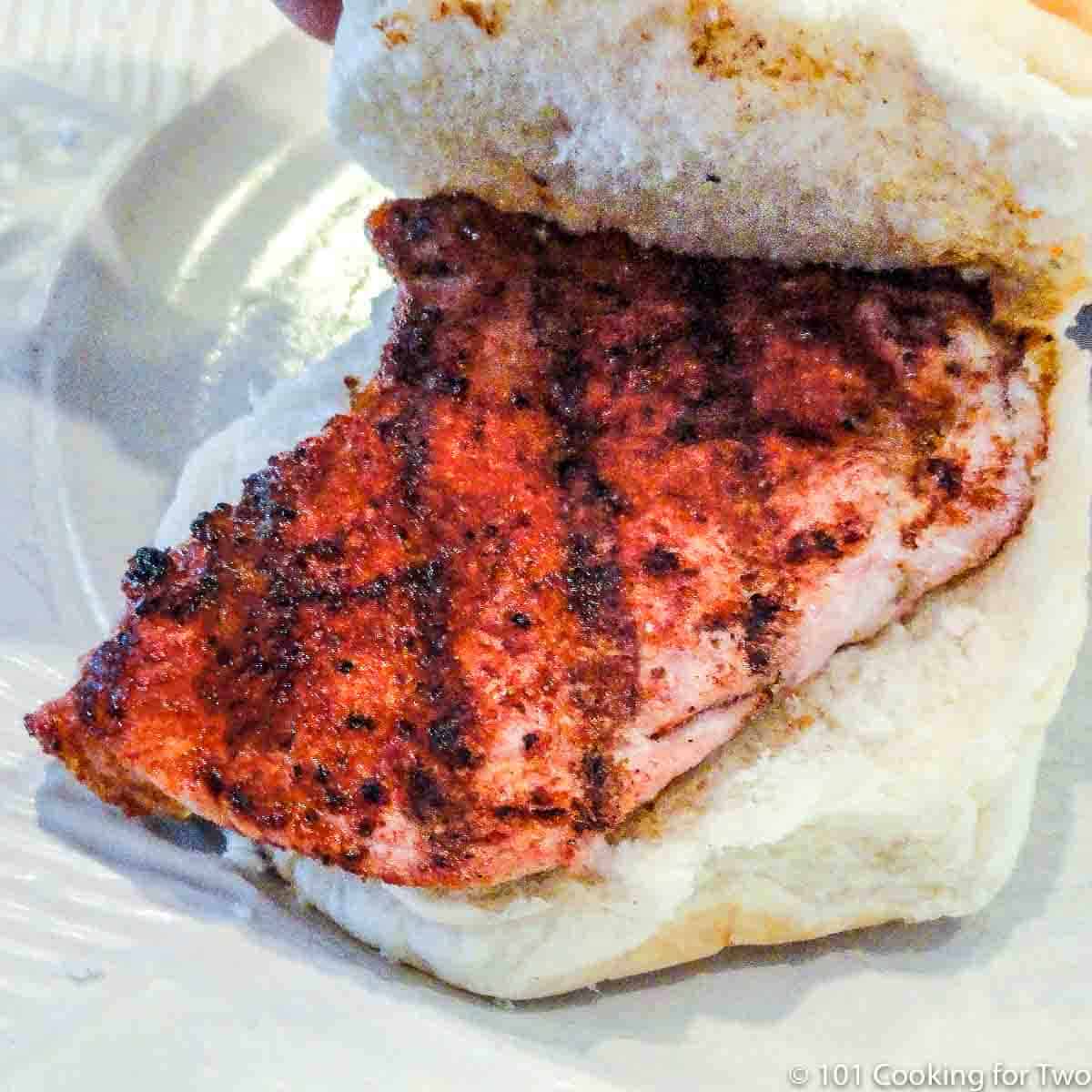 Introduction
I love pork tenderloin sandwiches. I'm from Iowa, and it is in the blood. But Iowa Pork Tenderloin sandwiches are not grill friendly due to the breading. Time for a change-up.
Based on my Memphis pork tenderloin which has been one of my top recipes for years. This is a quick version for a wonderful easy grill recipe that will leave them all begging for more.
Take a pork tenderloin, trim, cut into 1-inch slices, pound into ¼ inch thick pieces, spice and cook over high heat for 8-10 minutes and serve.
My Rating

An absolute 5.
🐖Pork Tenderloin is Not Pork Loin
First, be sure you have pork tenderloin, not pork loin. For some reason, this is a common confusion.
I have many commenters complain that a pork tenderloin recipe didn't work well on their 5-pound "pork tenderloin." I now ignore those comments since it is impossible to have a 5-pound pork tenderloin and I'm polite by nature.
Pork tenderloin is a different cut of pork. Frequently sold in two packs in the US but not always. Single pork tenderloin is usually about 1 ½ pound. Some are 1 pound, but I don't think I have seen a 2 pound tenderloin.
I cut mine into 1-inch slices and got seven servings, but you should have 6-8 depending on the size. The thin tail end should be cut 2 inches then cut in the middle and folded over before flattening.
You could easily prep these ahead and cook a large number quickly for a party.
♨️The Grill
This is a recipe that calls for a medium grill surface temperature of 450-500 degrees. If you need to know more about grill surface temperature, please check my tutorial.
A Beginners Guide to Grill Temperature on a Gas Grill
📖Pork Tenderloin Sandwiches
Iowa Breaded Pork Tenderloin Sandwich
Oven Fried Pork Tenderloin Sandwiches

🖼️Step-by-Step Instructions
Preheat grill to 450° which is medium to medium-high on most grills. Clean and oil grill.
Trim any fat and the silver skin from the tenderloin. Cut into 6 to 8 slices of 1 to 1 ¼ inch except the thin tail should be about twice as long and the thick end a little less.
Place pieces one at a time into a thick plastic freezer bag, place on a solid surface with the cut edge facing up/down. Pound into flat fillets about ¼ inch thick. With the thin end, place the cut edge down and hand press down on the piece to flatten and then pound into shape.
Mix the Memphis Dry Rub: 2 tablespoon paprika, 1 tablespoon brown sugar, 1 tablespoon kosher salt, 1 teaspoon black pepper, ½ teaspoon chili powder, ¼-1/2 teaspoon cayenne pepper, ½ teaspoon dry mustard, ½ teaspoon garlic powder, and½ teaspoon onion powder.
Apply the spice mix (or seasoning of your choice) liberally to both sides of the filets.
Place over direct heat and cook for about 4-5 minutes per side to an internal temp of about 150°. Always cook to a final temperature and not by time.


Do you want more recipes from 101 Cooking for Two? Sign up for the newsletter and get all posts delivered straight to your inbox!
📖 Recipe
Originally Published March 25, 2011. Updated with expanded options, refreshed photos, and a table of contents to help navigation.